News
DeLaet Displays Playoff Growth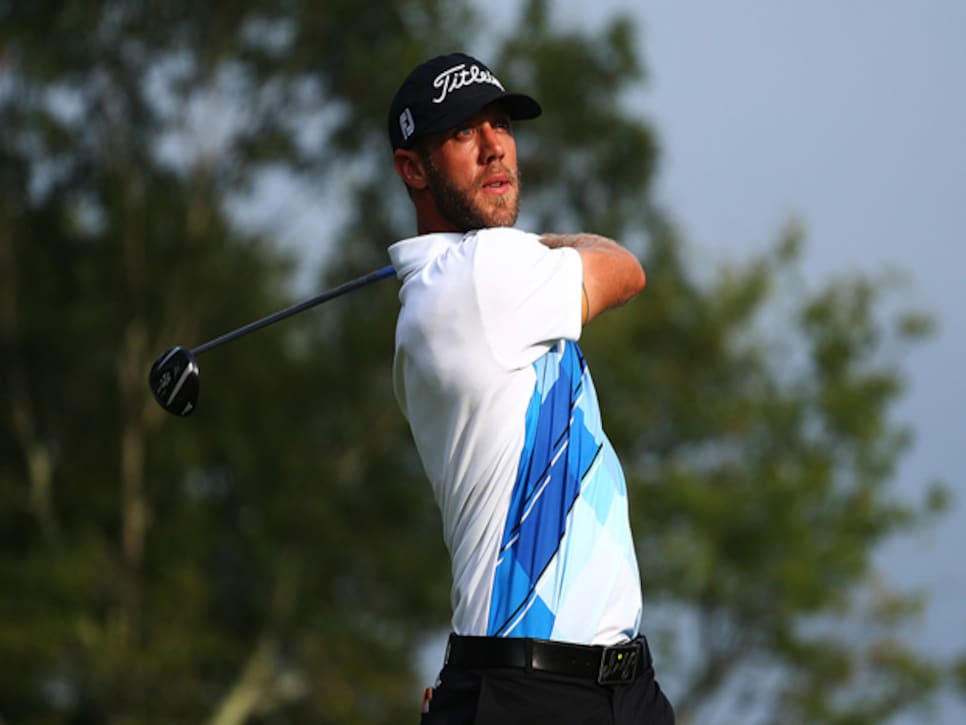 Graham DeLaet began growing his playoff beard 10 days before the start of the Barclays, the first of the PGA Tour's four season-ending FedEx Cup events. "It's just kind of normal if you're a Canadian and you're in the playoffs," DeLaet said walking the 15th hole at Conway Farms during the pro-am at the BMW Championship. "You just kind of grow your beard until your team is out."
DeLaet ensured he would be in through the tour's version of the Stanley Cup Finals, the Tour Championship in Atlanta, by finishing T-2 at the Barclays and solo third at the Deutsche Bank Championship. Those two performances also locked up an automatic spot on the International Presidents Cup team. The Cup rookie promises to arrive next month at Muirfield Village GC clean shaven.
"I'm starting to get a little sick of it," DeLaet said, tugging on his whiskers. "I was tweeting to Jordan Spieth, congratulating him on getting [his] Presidents Cup pick. I told him, 'You couldn't tell how happy I am because of this ridiculous thing on my face.' He said something about how he noticed a little bit of gray in it when we played last week. This 20-year-old punk."
At 31, DeLaet may be 11 years older than the American phenom, but he is also new to the heights of the game Spieth has quickly experienced. A native of Weyburn, Saskatchewan, a farming town of 10,000 not far from the fabled hockey hamlet of Moose Jaw, DeLaet grew up idolizing Clarke Gillies, Doug Small, Brent Gilchrist, Don Saleski and the other NHL stars who played their junior hockey in the Canadian heartland.
"When I was a kid, I wanted to play in the NHL," DeLaet said. As an offensive-minded center who could put the puck in the net, he had the skill to make summer travel and provincial teams, but lacked the type of speed he has in his golf swing to play at the next level. Self-taught on the nine-hole course in Weyburn that didn't have a head pro, DeLaet played himself onto the golf team at Boise State (where he won 10 college titles from 2002-06) and eventually the PGA Tour through Q school in 2009.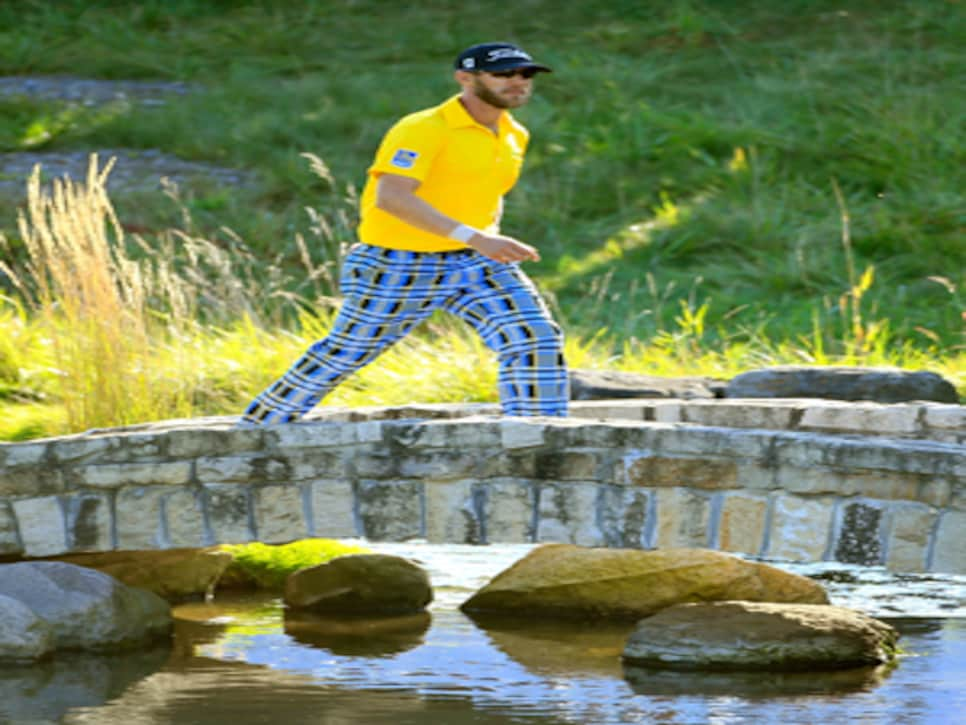 Entering the BMW, DeLaet ranked first on tour in 2013 in total driving and third in greens in regulation, having become a prototype for how technically simple an athletic golf swing can be. "[Sean] Foley always texts me after good tournaments [saying], 'You're killing me, Bud.' " DeLaet says of his fellow Canadian. "More than anything [hitting a slap shot] is the same kind of athleticism through the ball. I'm not mechanical."
His colorful dress and gifted swing have helped the 5-foot-11 DeLaet stand out, drawing the respect and attention of Presidents Cup team leader Ernie Els. "The unreal talent, it's easy to see that in that guy," Els said at Conway Farms. "He's got a beautiful on-plane swing, and he's a very strong player. I think he's going to be great. He might screw up, but it's not going to deter him. He's one of those guys who is really headstrong."
DeLaet has climbed to No. 34 on the World Ranking and become increasingly more confident in the spotlight, whether in a pairing with Els at the Deutsche Bank or grouped with Phil Mickelson and Matt Kuchar at the BMW, where he eventually finished T-28. "If I'm going to win the golf tournament, I've got to go through those guys anyway, whether I'm paired with them or not," he said.
That DeLaet is even talking this way is somewhat of a miracle. After reaching his goal of playing on tour, DeLaet hurt his back during his rookie season and sat out most of 2011 having undergone a microdiscectomy for a herniated disk. The pain was so acute DeLaet couldn't sit for more than 10 seconds and had to eat his Christmas meal in 2010 lying down.
Along with getting healthy, DeLaet spent his time after the surgery rounding out his skills by working with former tour pro Gabriel Hjertstedt on his short game. His strokes gained/putting rank has improved from 156th to 67th since last year, and he holed key putts on the 72nd hole at the Honda Classic (for a top-10) and Deutsche Bank (to break out of a five-way tie for third). His proximity to the hole from 50-125 yards has also improved more than 100 spots, from 155th to 48th.
"He really didn't have a short game to the level a top-10 player in the world needs," said Hjertstedt, who along with Boise State's Kevin Burton is the only coach DeLaet has ever had. "Like his wedges. Rarely does he hit a full wedge now. He's always coming in with a cut shot or a draw and always 80 percent."
DeLaet will reach out to Mike Weir before the Presidents Cup. He wasn't at Royal Montreal in 2007 when Weir beat Tiger Woods in singles, but he watched from Weyburn and has taken great inspiration from one of Canada's all-time sporting heroes. The two played a practice round at the Travelers Championship this summer and connected at Muirfield Village in May when captain Nick Price assembled potential members of his team.
When Adam Scott spoke to that group about what it means to compete in the event, DeLaet had goose bumps. Two days later he pointed to a photo on the wall in the scoring area of Muirfield Village, the course resplendent in its fall colors and made the promise to return in October with a team uniform. At the time he was 29th in points. He ended up qualifying eighth.
"It's amazing how fast things happen," he said. "No matter who I get paired with, I'm going to have the time of my life."
When Adam Scott came off the eighth green at Shinnecock Hills GC on Sept. 9, he needed one more birdie to set the course record (63) from the back (red) tees. The Masters champion proceeded to sink a breaking 12-footer on the ninth hole (after getting a "good read" from longtime club caddie Lenny Bummolo) to break Ray Floyd's mark set Aug. 4, 1996. Scott was playing with Shinnecock Hills member Jimmy Dunne, who shares the course-record 63 from the shorter member (green) tees, as the Australian made eight birdies and a bogey playing from 6,781 yards. Of the various course records Scott holds, this one resonates on many levels. "It's pretty cool," Scott said at the BMW Championship. "I guess because the members got so excited when I came off the course. It's their club, which they're really proud of, and it's one of the best tracks in the world for sure. We're so used to playing in competition you forget how big that stuff is to the regular guy. I felt a sense of achievement, absolutely, especially to beat Ray Floyd."
If Brendon de Jonge needed to validate his Sept. 4 captain's pick for the International Presidents Cup team, he did it at the BMW Championship, where his T-18 finish left him 27th in the FedEx Cup Playoffs standings and qualified him for the Tour Championship. It also guaranteed him a spot in all four major championships in 2014. The Zimbabwean has never played in the Masters or British Open and has just one U.S. Open start (T-33 in 2010). De Jonge was sweating out whether countryman Nick Price would pick him for the International squad until the captain called him the night before the announcement to calm his nerves. "Go have a couple beers," Price said, "you're on the team."