News
Open Success Often Hinges On The Ability To Handle Failure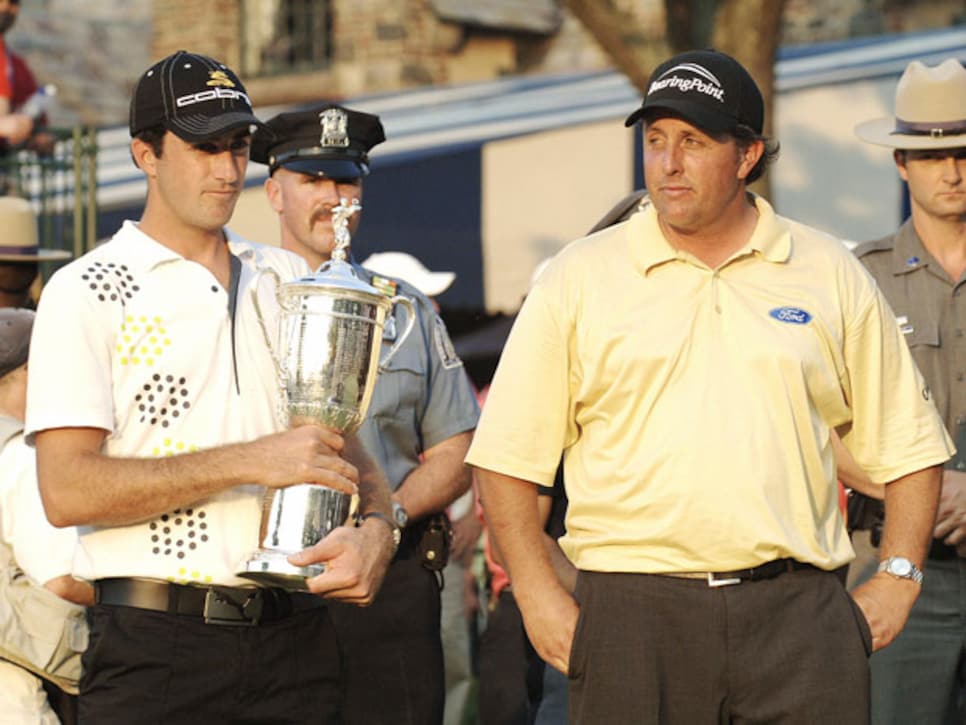 "I'm willing to bet that the winner at Olympic will be the guy who hangs on down the stretch, to the point where he will feel like he isn't even playing well. That was the case for me in 2006."
The best piece of U.S. Open-related advice I ever received came from someone who never played in the event. Well, not the male version anyway. Six years ago, just before the final round at Winged Foot, LPGA Hall of Famer Judy Rankin (whose son is married to my wife's sister) told me not to get disheartened by anything going on out there, "because," she said, "everyone wakes up on Monday morning, looks at the newspaper and is surprised by the score that won the U.S. Open the day before."
Those were prophetic words. I won the championship in 2006 mostly by hanging in while others -- notably Colin Montgomerie and Phil Mickelson -- made mistakes over the closing holes. At the end I was basically going backward slower than everyone else. But that style of golf invariably wins the U.S. Open. Yes, I played great, but it wasn't the kind of great you see elsewhere inprofessional golf.
No one hits all the fairways at the U.S. Open. And no one -- unless you are my compatriot David Graham at Merion in 1981 in the final round -- hits all the greens either. So you have to get up and down a lot for par. I don't remember holing any real "bombs" at Winged Foot, but I'm sure I didn't miss many six-footers for par. And, more often than not, I got down in less than three shots from inside 50 yards. All of which is taxing on the brain even when you are doing it well.
So my mental preparation for the U.S. Open is very specific. There's an adjustment to be made from the type of golf I play most weeks on the PGA Tour. For one thing, I'll be making more bogeys and fewer birdies. And for another, I'll have to change my thinking on what represents an acceptable number of greens hit in regulation. That's a fair amount of stress, so a particular and largely unfamiliar mentality is required.
I'm willing to bet that the winner at Olympic will be the guy who hangs on best down the stretch, to the point where he will feel like he isn't even playing that well. That was the case for me in 2006. I was doing well and playing well, but it didn't feel that way, not when I was making a bogey every third hole or so. I was five over par for 72 holes at Winged Foot, a score that would likely put me last in almost any "normal" event. So you have to be ready for an unusually taxing struggle.
There are exceptions though. Last year at Congressional wasn't your typical U.S. Open. When Rory McIlroy quickly reached 11 under par for 36 holes, many players were caught off guard by the sudden need to revert back to tour-like levels of aggression. But that was unusual, a state of affairs provoked by particularly wet weather in the lead-up to the championship.
On tour, birdie putts in the eight- to 20-foot range are what normally decide who wins. But in the U.S. Open, shorter par putts are invariably key. Most days most players face maybe eight or nine par putts in the three- to 10-foot range. And it is the holing and missing of those that dictates who wins and who loses. If you want to be the champion, you probably have to make almost all of them. Putting and patience are that vital.
So is driving, of course. But I spend my whole life trying to hit it straight off the tee, so I'm not sure what I can do any differently to prepare for that. Trying to hit drives "straighter than straight" doesn't seem like a productive use of my time.
Still, from what I hear, Olympic's typically sloping fairways will be narrow. Or at least play that way because of the negative cambers. So shaping shots "into" the slopes is going to be a useful attribute to have. What I might change once I see how the course is playing is the composition of my set. I may throw in an extra wedge or a lofted wood that is handy from the rough.
What I do expect -- in response to the record scoring we saw from Rory last year -- is a course that is set up brutally hard. I hope not too hard though. I have always loved West Coast U.S. Opens. I enjoyed Pebble Beach, and Torrey Pines was great. I hope to enjoy Olympic most of all.