News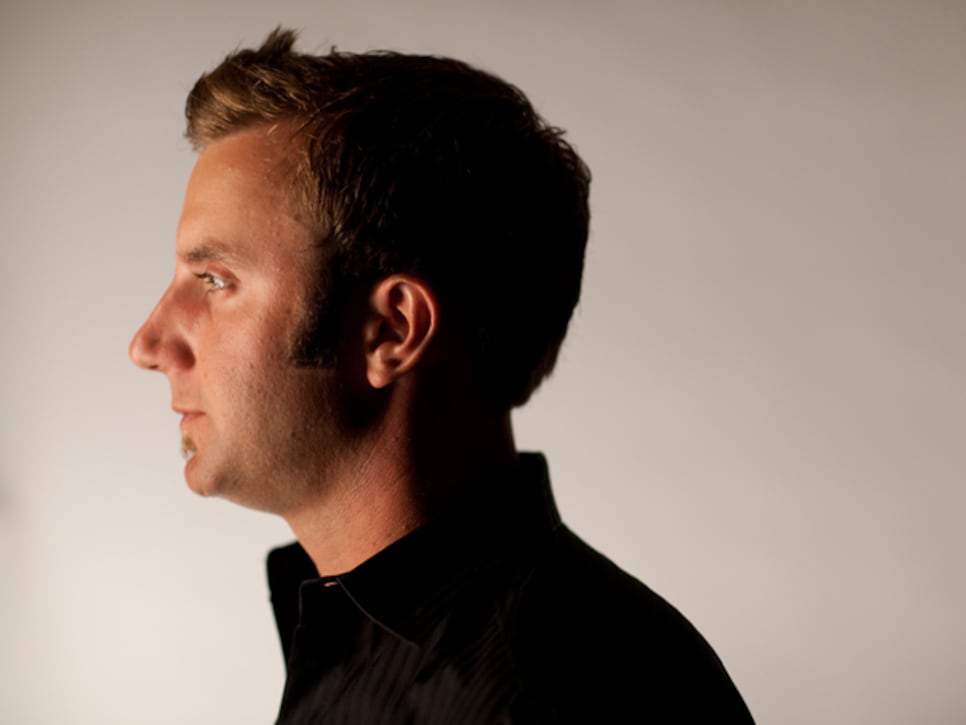 It was early in the morning, though the time doesn't really matter, and the gate at Dustin Johnson's house wouldn't obey the code. Carrying a cup and dressed in sweat pants, he walked down the driveway to trip an electronic sensor -- the one that usually lets people out instead of letting them in -- with a motion of his right leg as nonchalant as dragging his toes through hot water to test the temperature. The right option can open doors.
The house is in Jupiter, Fla. If the British Army was ever trapped in the Palm Beaches the way it was at Dunkirk, the professional golfers along the banks of the Loxahatchee River would have enough skiffs and speedboats among them to ferry a couple of divisions across the Jupiter Inlet all by themselves. Johnson has a dock with a 36-foot Yellowfin and a 243cc Everglades, both suspended out of the water by hoists, at least until after his game with Michael Jordan, the local touring pros' personal high-yield money market fund. There's a beanbag toss in the backyard with the Ryder Cup logo for a target. Johnson has two dogs, Daisy the Goldendoodle and Charlie the Labradoodle, though in all honesty, Charlie got seriously shorted in the doodle department. The living room furniture is covered with beach towels because they have the run of the joint.
The tour of the house is matter of fact. There are a bunch of bedrooms. Paulina Gretzky, Dustin's fiancée, is in one of them. She doesn't come out. His brother and caddie, Austin, who has a business degree from the College of Charleston and goes by the initials A.J., does. He stops in the kitchen on his way to the gym. He trains more than D.J. but shames his older brother into joining him more and more. There's a pool table over the multi-car garage and an Aston Martin in it, parked near a set of free weights. Neither the car nor the weights look like they get out much. There's a plush theater room and a case with some crystal trophies and an office with the scorecards from several of Johnson's eight tour victories on the wall. One supposes the pool table sees more action than the desk. A magnum of wine just arrived from Chile. Dustin begins to open the package, but it's wrapped so securely you'd have to have close-combat training to get into the thing, so he leaves it for later. There's a baseball on his desk in a cup. It's scuffed on one side. He used it the week of the U.S. Open at Olympic Club when he threw out the first pitch for the San Francisco Giants, but it was Matt Cain who threw the perfect game that night. In the driveway there's a big truck with big wheels and a '67 black Pontiac parked off to the side protected by a car cover. He bought it from the guy who built his house in Myrtle Beach, S.C., before he moved to Florida. He says he had the whole thing reupholstered. Sometimes in life the upgrades are under wraps.
In between throwing a super-sized tennis ball to the indefatigable Charlie, we talk. He doesn't say much. The gate seldom opens all the way. Someone's trapping and killing dolphins on CNN on the big screen. Johnson stops everything to watch. The cruelty makes him angry. Does he ever imagine how lucky he is to have traveled the path he has traveled to arrive in such a grand house down by the river? "All the time," he says.
If the question is who the best athlete on the PGA Tour is, Johnson's name is the answer you almost always get. But, even at 6-foot-4 and 190 with the oily gait of a jungle cat, when the object is to put a ball that's 1.68 inches in diameter in a hole in the ground that's 4.25 inches across, your vertical leap is pretty much irrelevant. His talent is not. Given their customary Tuesday money games, Phil Mickelson and, by extension, his caddie Jim Mackay, have played about as much golf as anyone with Johnson. Mackay has been effusive in his praise, placing Johnson very nearly in the category of a Tiger Woods or a Mickelson. Phil is a big fan of big power, some would argue so much so it's worked to his detriment from time to time. "He's an incredible driver of the golf ball," says Mickelson. "Not only is he extremely long but, for his length, he has incredible accuracy. I think that's how you've got to win tournaments."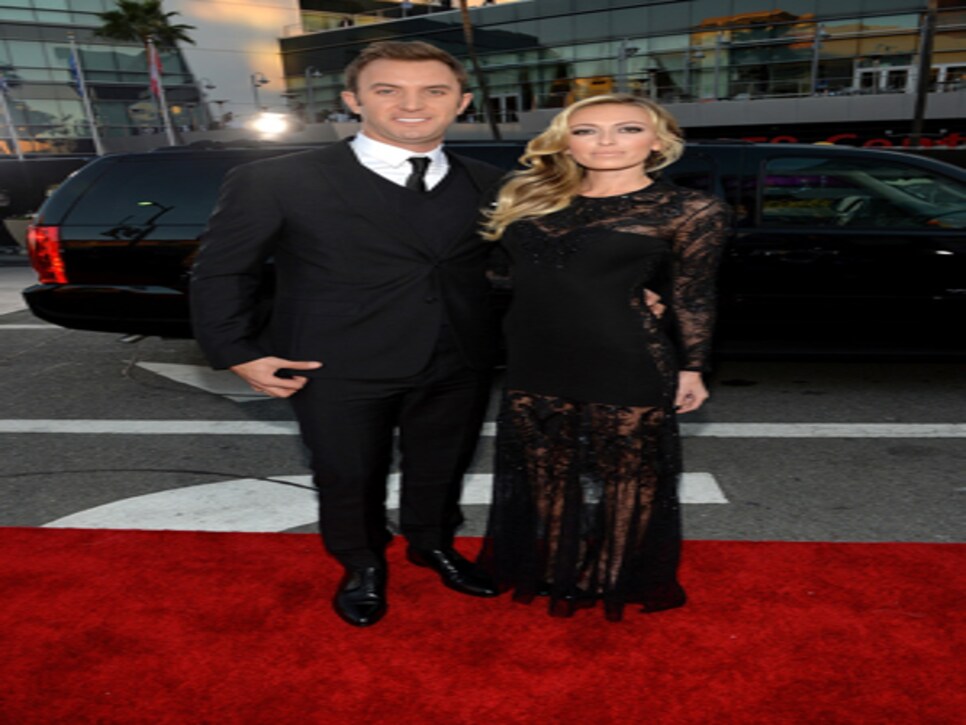 Johnson already has a wraparound-able victory this season in the WGC-HSBC Champions in Shanghai last November, where he went head-to-heads in the last round against Europe's last two Ryder Cup heroes, Ian Poulter and Graeme McDowell. He says it's his most meaningful victory so far, mostly because of the guys he had to beat. Johnson doesn't devalue his competition. Quite the opposite. He has had his flirtations with the majors -- the penalty for grounding his club that kept him out of the playoff at Whistling Straits in the 2010 PGA Championship; the U.S. Open at Pebble Beach two months earlier when he spit the bit, and a three-shot lead on the opening holes Sunday while McDowell snatched away the trophy; an out-of-bounds second on the 14th at Royal St. George's just as he was closing in on Darren Clarke in the 2011 British Open. If you're not Jack Nicklaus or Tiger Woods, these are the close calls that crystallize the grit of success. Tom Watson learned from his. Bobby Jones did too. Mickelson went through plenty of it before he achieved liftoff in the 2004 Masters at age 33. "I know what it takes to get there," says Johnson. "Anytime you're playing a major, the last four or five holes, it's not going to be easy. It's never a guarantee. It's never easy."
Johnson, who will turn 30 in June, has arrived at a crossroads, both personal and professional. This is not the first time. In his middle teens, it would have been fair to characterize him, at the very least, as wayward, if not at risk. He was involved in minor crimes that escalated out of control when a young adult intimidated Johnson and other young friends into committing bad acts. That person, Steven Gillian, is in a psychiatric prison in South Carolina serving a life sentence for murder. There is no equivalence between the crime he committed and the mistakes Johnson made, nor should anyone have to be reminded endlessly of the ill-advised things one did at 16. It's enough that their universes touched, even briefly, and Johnson got out.
"It could have gone a lot of different ways," says Johnson. "I had some help from some good people and ended up picking the right path."
The good people included one of his coaches at Dutch Fork High School outside of Columbia, S.C., Chris Miller, who is now the managing director of the South Carolina Junior GA, and his coach at Coastal Carolina, Allen Terrell, who has left coaching but partners with Johnson in a pair of golf schools, one in Myrtle Beach and one in Florida. It was Miller who called Terrell asking him to consider Johnson when no other college would touch him because of his juvenile record.
"Dustin and Austin both were pretty good kids, they really were," says Miller. "It wasn't like [Dustin] was a troublemaker. We couldn't leave this kid on the curb. You never know what could have turned out. If he'd been anywhere else, he'd be washing cars right now playing on the Wednesday circuit at local golf courses."
Terrell took a chance on Johnson. "Going to Coastal was one of the best decisions I ever made, getting out of Columbia," Johnson says. "Coach Terrell, he instilled all the things I needed to have, self-discipline and responsibility. All the things I was lacking. And I could be better at it. Everything's starting to come around."
There is something there worth building on. Of all the rules snafus of the past couple of years, who handled theirs with more dignity than Johnson did at Whistling Straits? Yet, he was named in Vijay Singh's lawsuit against the PGA Tour as one of the players whose record of any possible violations of the tour's Anti-Doping Policy was being sought by Singh's lawyers in discovery. Though Johnson had a DUI in South Carolina in 2009, the same year that he was pardoned by the state for his actions as a youth, he insists he's never been suspended by the tour. One can only suppose Singh's lawyers want to know if there was any reason he should have been. The tour's lawyers, on the other hand, have characterized it as a fishing expedition.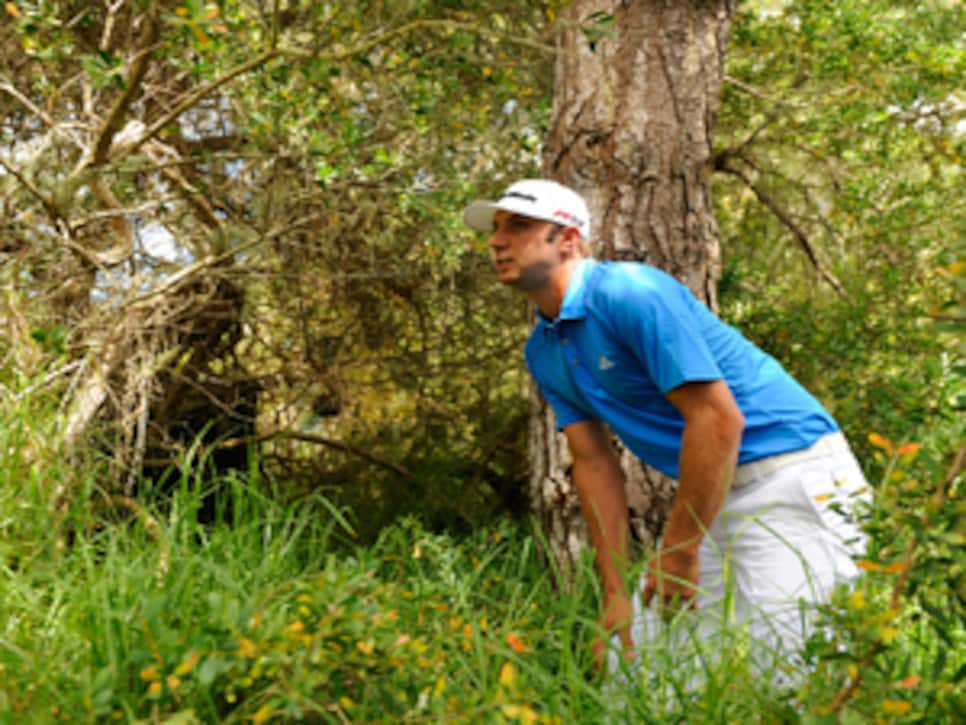 final round of the 2010 U.S. Open (above)
but it was a mere prelude to his grounded-club
penalty at that year's PGA (below). Photo: Dom Furore
"Obviously, I'm getting older. Kind of settling down a little bit," Johnson says. And, golf is no stranger to, shall we say, self-indulgent conduct. While the exploits may not have been entirely the same back in Ray Floyd's day, the newly appointed Ryder Cup vice captain was known to enjoy the bachelor lifestyle in the era when golf and Hollywood strolled arm and arm.
"I was a young guy. I was enjoying the environment, if you will," says Floyd. That ended when he met and married Maria, his wife of nearly 40 years who passed away in 2012. Floyd has often repeated the story of his life-altering revelation. He and Maria were in a hotel room in Jacksonville. He had withdrawn from a tournament and was hell-bent for a racetrack in Miami. Throwing his clothes in a suitcase, he told Maria to pack. She refused. She told him he was still young, just 31, and if there was something else he wanted to do in life, well, he should make up his mind and do it. Otherwise, man up. "That was like hitting me beside the head with a bat," says Floyd. "From that day forward, I never gave it less than 100 percent. I've known players through my years that had the ability but they didn't have the support behind them. It's a very, very difficult career path. Nothing says that all of a sudden something happens, your abilities lessen, injury -- many things that can all of a sudden wake you up, and now it's too late. You didn't give it your best. I was blessed. I played from 20 to 30 just rambling around. Then from 30 forward, I got my act together."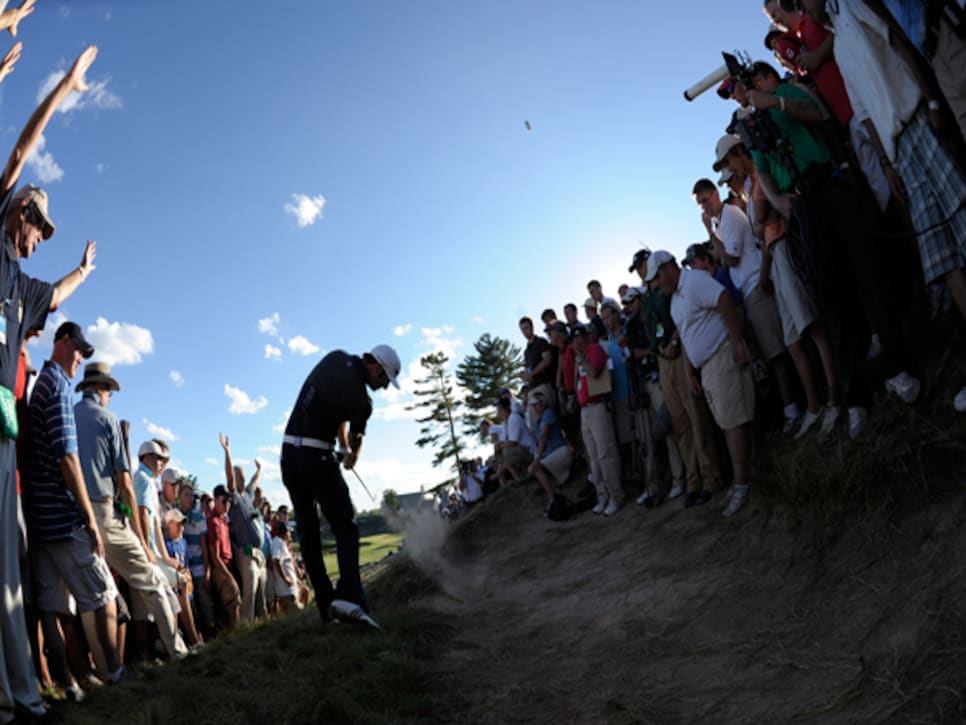 Johnson has gotten close enough to get a glimpse of what it takes. Has he gotten wise enough?
He and Paulina are to be married in the fall, sometime after the Ryder Cup, probably in Los Angeles. Famous before she was born, will the 23-year-old model, veteran of the club scene, siren of the selfies, the deputy in "Girls, Guns and Gambling" and Bikini Girl Daisy in Adam Sandler's 2013 sequel to the movie "Grown Ups" be that kind of anchor in their lives? "It's probably the best thing that's ever happened to him," says Terrell, who traveled with the couple in China. "She's a great lady. She's tough as hell. It's what he needs."
Certainly, Johnson has been embraced by the Gretzky family and it by him. Even with a superstar father, an actress mother and a Maxim cover girl daughter (plus her four siblings, one of whom plays professional baseball), the Gretzkys may be the most normal nuclear family Johnson has ever known. During a career as the greatest goal scorer who ever laced up skates, Gretzky enjoyed the protection of his teammates. If you think quarterbacks are shielded in the NFL, pity the poor fool who took a run at The Great One. After having played together twice in the AT&T Pebble Beach National Pro-Am, it now seems more like it's Wayne who has Dustin's back, maybe less an enforcer than a reinforcer. And who better to offer advice on how to deal with everyone who wants a piece of an athlete of means than someone who was an idol to an entire nation?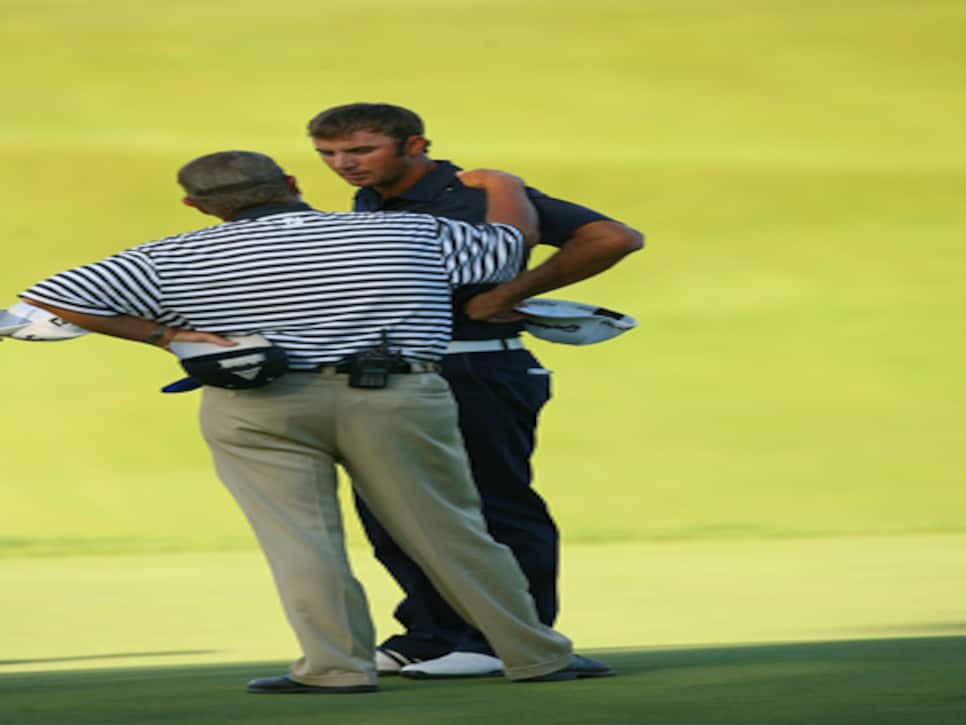 "I tell him the simple thing my dad always said, 'You treat people the way they want to be treated,' " says Gretzky. "We're not always going to be perfect. We're not always going to say the right things, but you can be respectful. You don't want to disappoint people but, ultimately, it's hard to appease everyone. We've all gone through it as athletes. He's going to go through it. Someone asked me the other day, 'Do you talk to Dustin about winning?' Listen, he's won eight times. He's a great player; he's a great athlete. He's very dedicated to becoming one of the greatest golfers that ever played, and it's tough because there are so many great players. But, he practices hard, he prepares hard and when you get in that mode, that's all that you can ask for."
Johnson does have work to do. For someone who drives the ball so brilliantly, he fails to take advantage of his best weapon because of a sloppy wedge game and an inconsistent putter. Last season, his greens in regulation, averaging the stats from 75 to 125 yards, placed him somewhere in the range of 160th on tour. His strokes gained/putting was 117th. After deciding to skip the parties at the Waste Management Phoenix Open in favor of the one for Wayne's birthday, Johnson stopped in Las Vegas to see Butch Harmon. It was the first time they'd been together in months. "He's working hard on his golf swing," says Harmon now. "He says he's dedicating this year to working harder. He's got all the talent in the world. If he puts in the time, he will be fun to watch."
Despite a 73 in the final round that cost him a successful defense of his Hyundai Tournament of Champions title and a quick exit from the WGC-Accenture Match Play Championship, Johnson has players looking over their shoulders. He mounted Sunday charges with a pair of 66s to finish T-2 at Pebble Beach and solo second in the Northern Trust Open at Riviera CC.
Talent and potential come with use-by dates stamped on them. And crossroads come with signs. W.H. Auden read one of them this way: "All we are not stares back at what we are." For good or for ill, for better or for worse.