News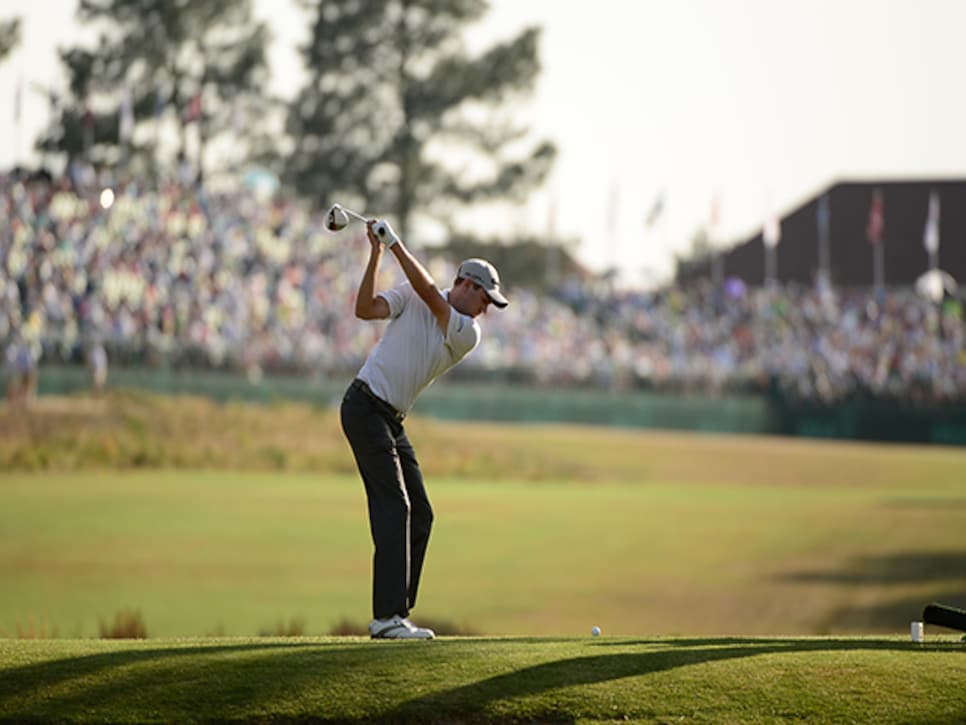 Martin and Carol Todd led the Cary (N.C.) caravan down U.S. 1 last Saturday to have lunch with their son and his pregnant wife at the Carolina Hotel. That Brendon Todd had a 3:25 p.m. tee time in the 114th U.S. Open at Pinehurst hardly came up in the conversation. Martin and Carol talked instead about what Brendon's brothers were doing, what his brothers' kids were doing, what was going on at home, what was new with their new house. Brendon and Rachel are expecting in September, right around the time of the Ryder Cup.
"We didn't talk much about golf," said Martin, a straightforward Pittsburgh native who moved his family to North Carolina when Brendon was 11. "We didn't rehash. Maybe next week."
Brendon played his high school golf in Cary, but these were his first rounds on Pinehurst No. 2, and his first in a major championship. So to have Todd even in the conversation for the trip to Gleneagles this late in the points race is ridiculous considering where he was in his pro career just two years ago. Ranked 497th in the world going into the 2012 Travelers Championship, Todd continued to spiral down the World Ranking to 649th by the 10th week of the next season. He was back on tour only after qualifying through a top-25 ranking in 2013 on the Web.com Tour, where he won an event.
But starting with his victory at the Byron Nelson Championship in May, and through the first two rounds on a fabled course about an hour from his home, he has become the most consistent American through the late spring stretch of the PGA Tour schedule. He backed up his win with a T-5 at the Crowne Plaza Invitational at Colonial to move into the top 60 in the world and qualify for Pinehurst. In his next outing (Memorial) he finished T-8 and entered the U.S. Open 14th in the Ryder Cup standings, one slot behind Webb Simpson. Todd's play was something captain Tom Watson surely noted in his number crunching, highlighted by Todd's top-10 ranking in scrambling and strokes gained/putting. (Todd and Watson have discussed the Cup hopeful's taking a swing by Gleneagles next month.)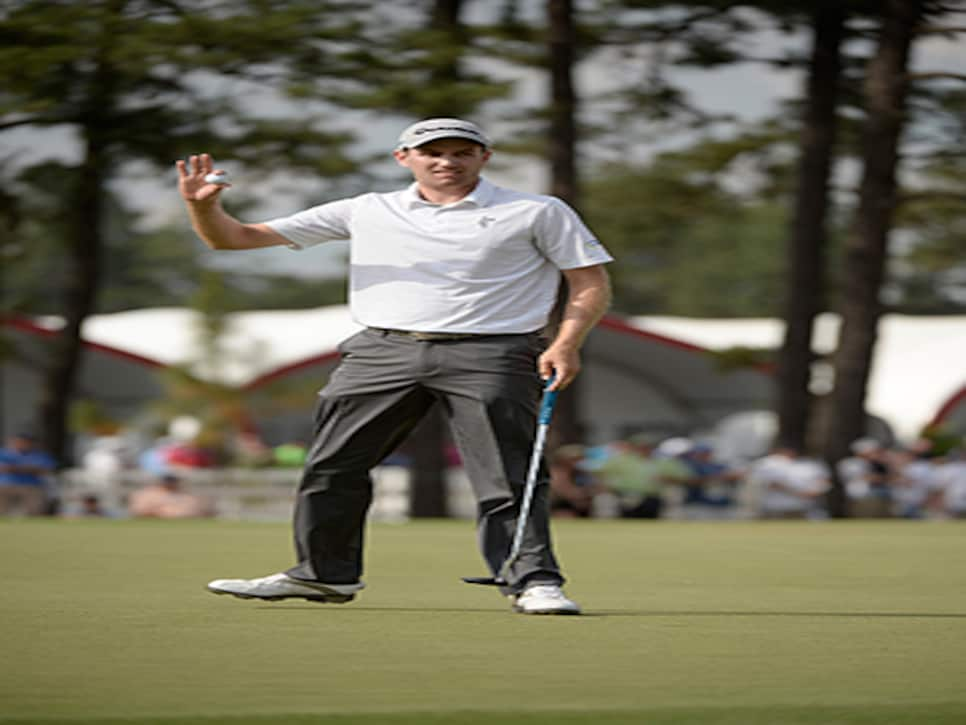 Following Martin and Carol on the road to Pinehurst were some of Brendon's friends from Green Hope High School and Prestonwood CC. Back in the day, Todd was the best junior in the state, winning the North Carolina high school championship his freshman, junior and senior years. He owned Simpson, the 2012 U.S. Open champion, and also teamed with Webb to win the 2001 North Carolina Four-Ball as high school juniors.
While Simpson stayed at home and went to Wake Forest, Todd went to Georgia, won a team national championship in 2005 and was an All-American. But while Simpson was winning a major and playing on Cup teams, Todd kept his career alive by competing on the eGolf Tour. They were reunited at a cookout hosted by Simpson's parents Tuesday night before the Open at their home at CC of North Carolina.
"We stayed close since he kicked my tail when I was 13 at Pine Needles," Simpson said in his pre-tournament news conference. "I love Brendon's game. He's a grinder, and he just continues to work hard and it's paying off, for sure."
Todd reset his career by working with Bill McInerney, a sport psychologist and performance coach based in Boston, and Scott Hamilton, a swing instructor from Cartersville, Ga., who works with a stable of tour pros that includes straight-hitting Boo Weekley and Todd's college teammate, Chris Kirk. When Hamilton started getting Todd to hit fairways, McInerney's work became easier. "Rather than what Brendon did in the past, we looked at his struggles as a way to learn," McInerney said. "It's a nice way to go into every day, a way to create more fearlessness."
There was no way to prepare Todd for what awaited three hours after lunch with his parents. The final group of the Open, paired with runaway leader Martin Kaymer, was too much for Todd's short game to overcome. He shot 79 and was literally left in the dust of a sunbaked course.
But in typical fashion, Todd rehashed it on his own and came back strong. "Unfortunately, I've been through it before. The first time I tried to win [in the 2008 Athens Regional Foundation Classic] on the Nationwide Tour, I shot 80 the last day," he said. "I was fortunate in Dallas [at the Nelson] to hold on to that lead. This was sort of that first time I was in the hunt in a major, and my game really wasn't there today. But that's OK."
Todd was better in the Sunday pairing with fan favorite Phil Mickelson. With the edge taken off by that 79, he closed with a 69 (three strokes better than Mickelson's score) to finish T-17 and moved up to a career high of 52nd in the world. Rehashing this one in his self-evaluation grades to McInerney: He joined Kaymer and Keegan Bradley as the only players in the field to shoot three rounds in the 60s. For bragging rights, he beat his good friend Simpson by six shots. Some things never change, except for Brendon Todd, who came out of his first major feeling that when he comes ready to play, and his game is on, he can compete.
Heading back home on Sunday night, nobody was prouder than Martin and Carol Todd. As they say in Carolina, their local boy had done good.
The sensitivity expressed by Shane Lowry and Kevin Stadler following their weight-themed pairing by the USGA at the U.S. Open was lost on the third member of the group. Unlike the burly Lowry, who wrote a column for an Irish newspaper, or Stadler, who fumed about the blue blazers pairing him with big playing partners for a second time, Brendon de Jonge seemingly had no problem with it. In fact, he just rolled with it and finished T-28 after contending Friday and Saturday. "I wasn't offended in the least," he said. "No big deal." When asked if he was in the 225-pound range, de Jonge smiled warmly and said, "Well over two and a quarter . . . [closer to] two and a half [250 pounds]." As the smile grew even larger, de Jonge added, "I've got big bones."
Brooks Koepka and his caddie laughed coming up the 18th fairway at Pinehurst No. 2 on Thursday as scoreboard operators started taking down his name. "They could have waited five minutes," Koepka joked. Turns out, they needed to keep his name handy. By day's end Sunday, Koepka was T-4 with Keegan Bradley, Jason Day, Dustin Johnson and Henrik Stenson. Besides providing him an exemption into next year's Open and a Masters invitation, the finish earned the former Florida State golfer enough FedEx Cup points to clinch full exempt status on the PGA Tour for 2014-15. Last week, in his fourth major championship, Koepka was asked to play a practice round with Rory McIlroy. At last year's PGA Championship, he was paired in the final round with Tiger Woods. For the 24-year-old who ultimately wants to be a global player like McIlroy and Woods, it all started when he earned exempt status on the European Tour via three Challenge Tour wins in 2013. Of his new option of playing full-time in the U.S., Koepka said: "That's where everybody wants to be."