News
Country Boys' Milestone Year Recalls Whispering Jim Turnesa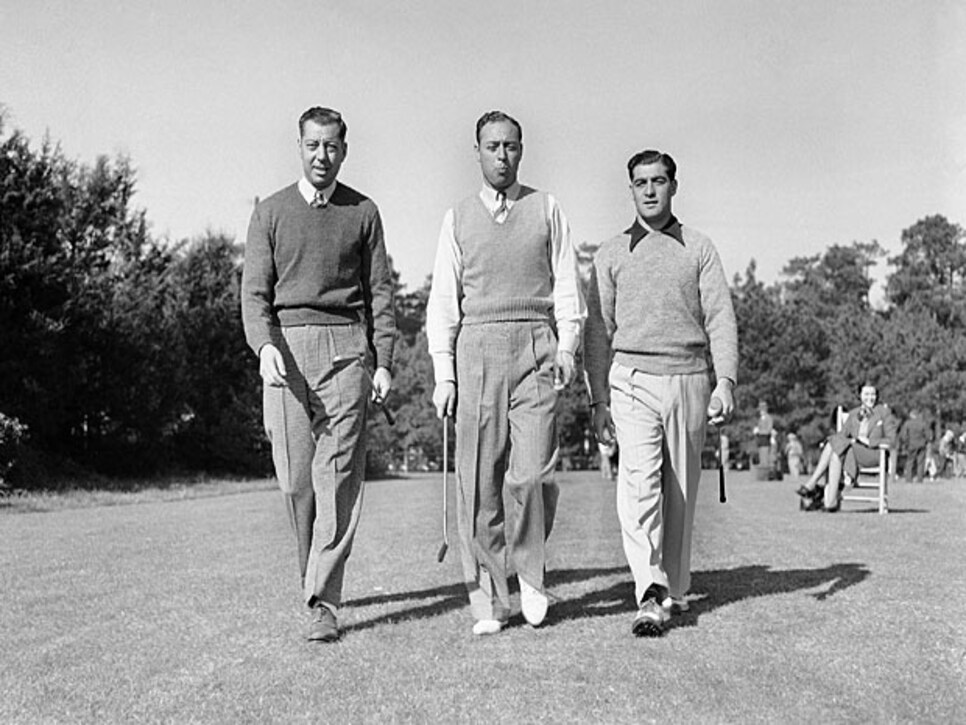 Left to right: Joe Turnesa, Mike Turnesa, and Jim Turnesa at the 1936 PGA Championship, Jim's first appearance at the tournament.
On the centennial of the birth year for American golf's original "Big Three," it is appropriate to also commemorate the country's lesser-known "Super Seven." That would be the Turnesa brothers, who made a considerable mark in golf despite odds much larger than the bed they shared growing up as the sons of an immigrant Italian greenkeeper outside New York City.
"God forbid anybody should wake up who was sleeping in the middle to go to the bathroom," says Mary Turnesa, 98, widow of one of the siblings, Mike. "He never got his place again. I can't imagine that, seven little boys--or maybe not so little--in the same bed."
The sixth of those seven brothers, Jim, was, like Byron Nelson, Ben Hogan and Sam Snead, born in 1912. Sixty years ago, in 1952, he ended decades of family frustration in the PGA Championship by defeating Chick Harbert, 1 up, in the 36-hole final at Big Spring CC in sweltering Louisville. Three down after 18, Turnesa never led until his par on the 36th hole secured the Wanamaker Trophy and a popular victory for the taciturn fellow with the nickname "Whispering Jim."
"I knew you people were pulling for Jim Turnesa to win," Harbert told the gallery, "and believe me, had I not been playing against him, I would have been pulling for him too."
Turnesa's triumph made up for his loss to Sam Snead in the 1942 final, brother Joe's runner-up finish to Walter Hagen in the 1927 title match and brother Mike's loss to Ben Hogan in the 1948 final. More amazing than the brothers' previous close calls in the PGA or Joe's runner-up finish to Bobby Jones in the 1926 U.S. Open (or youngest brother Willie's national amateur championships) was that they had even taken up golf in the first place.
Through the generations, golfers from Gene Sarazen to Calvin Peete to Vijay Singh have defied modest circumstances and figured out a way to stardom. Never, however, have so many from one family been so upwardly mobile in the sport as the Turnesas, rising as they did from meager roots in Westchester County, N.Y., to lift important trophies and become friends with celebrities such as Ed Sullivan and Bob Hope.
None of it--the 23 combined tour victories by Joe, Mike and Jim; two U.S. Amateur titles and a British Amateur crown for Willie; club-pro careers by Phil, Doug and Frank--would have happened if Vitale Turnesa hadn't taken a long walk from crowded lower Manhattan to the appealingly open spaces of Elmsford, N.Y., in 1904, where a golf course, Fairview CC, was under construction. Vitale re-settled his growing family in Elmsford, trading his job shining shoes on a commuter ferry to working on the construction crew at Fairview. He would become its greenkeeper, tasting the soil to see what it lacked, while his sons couldn't get enough of the game played on all that green grass.
Even though the Turnesas didn't have the run of the club, they sneaked on when they could, often until their dad chased them away. They improvised a course in their backyard and nearby fields, calling it "Turnesa Country Club," gaining an understanding of the game through trial and error and each other. "My husband never took a golf lesson," Mary Turnesa says. "None of the boys ever did. [They were] self-taught. You've got to do what your bones, your body, are telling you."
Vitale and his deeply religious wife Anna's home was dominated by a shrine to their Catholic faith. Anna hoped her sons would become priests, but they had other ideas.
"They wore a hole in the living-room rug where they would swing in the house," Mary Turnesa says. "The carpet was worn out, just in one spot, where the [impact] position was. They did nothing but talk golf."
When interacting with others, the older Turnesa boys, their formal educations brief, were often reserved. "They did it all without fanfare," says Mary, noting her husband had only a sixth-grade education but went to night school after they married to broaden his horizons. Their son, Jim, remembers the dictionary his father loved to read in the pro shop at Knollwood CC, where he was head pro from 1942-86. Willie, whose brothers paid for his college education at Holy Cross, paid back their largesse in a big way by co-founding the Westchester GA Caddie Scholarship Fund in the 1950s, a program that has helped thousands of students further their education.
A century since Jim Turnesa came into the world, golf has changed a lot. But the dreams of golfers--they remain as recognizable as the ones hatched in that crowded bed so long ago.