The Loop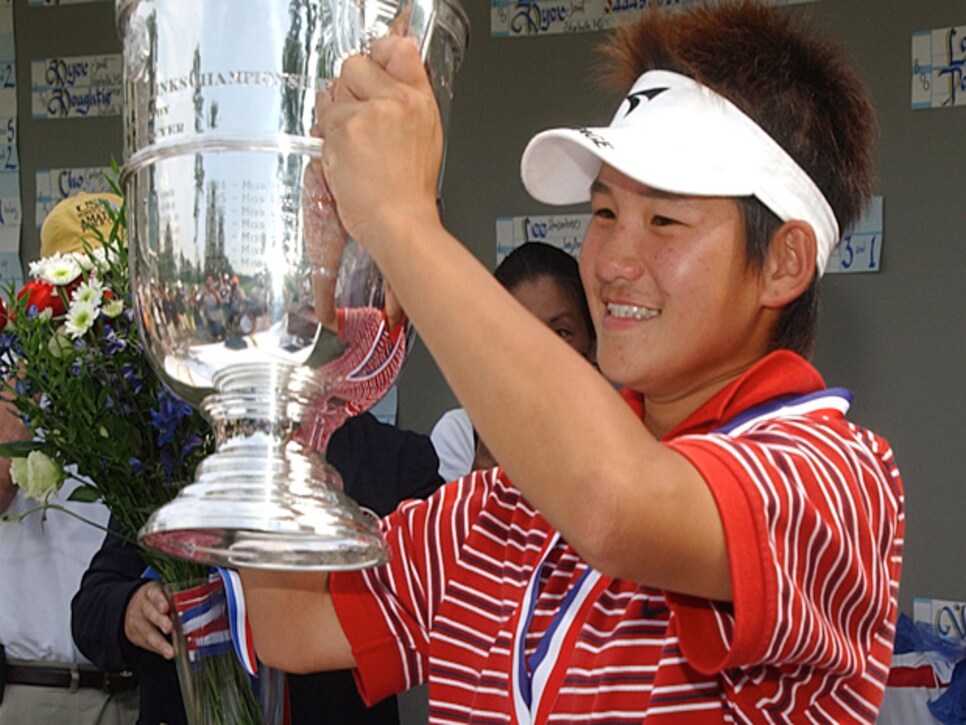 Yani Tseng celebrates after defeating defending champ Michelle Wie in the finals of the 2004 WAPL.
The first time I wrote about whether the U.S. Amateur Public Links Championship had lost its way was in 2001. I attended the APL that year at Pecan Valley GC in San Antonio, a course that, given the USGA's announcement earlier this week that it was "retiring" the tournament, ironically closed its gates in 2012. It was July and sultry in Texas, but that didn't faze the majority of the field because the majority of the field (92 out of 156 to be exact) were high school or college-age golfers used to heat and humidity that accompanied the summer amateur circuit. Indeed, for an event billed as the chance for blue-collar Joes to find out what it's like to live like Arnold Palmer, if only for six days, there surprisingly appeared to be a lot of players who wouldn't have known a W-2 from a rock group.
"Everywhere you turn there's a kid who could be my son standing on the tee," joked Steve Poulson, a 44-year-old video game designer from Salt Lake City who qualified for the first APL in five tries.
Of course, I did find competitors, such as Poulson, who fit the working-class aura. One player I wrote about in my Golf World feature was a 34-year-old high school algebra teacher named Jeff Chandler from Kenton, Tenn. Chandler estimated he played less than once a week on average, with his day job and raising his family occupying most of his time. He was genuinely excited to be able to play in a national championship, figuring that qualifying for the U.S. Amateur would be unlikely given his occupation and preoccupations.
Stories like that heartened me because it suggested that there still might be a place for this championship, still a reason to put on the event for a segment of golfers who consider themselves nobodies with a dream.
More than 11 years later, when I learned the USGA had finally decided that its fourth oldest championship wasn't really serving very many nobody dreamers any more, my first reaction then was sadness. But that lasted only for a short while as I came to appreciate the truth. Not much has changed since I wrote that 2001 feature story. Although the championship was still the brass ring for a handful of public golfers, that number had dwindled still further in the last decade. The championship no longer was serving its original purpose, and hadn't for some time now.
I've read the outrage from folks on Twitter the last few days about the USGA's decision to stop conducting the event, along with the Women's Amateur Public
Links, after 2014. Many folks say it's a slap in the face to public players everywhere, an executive committee stuffed with country club elites snubbing their noses at average golfers. On the surface, I can understand how it would appear to be so. But I think that view is backed by more sentiment than substance.
It's hard for me to get past the fact that you have to go back 17 years, to 1996, to find the last player who wasn't in college, just out of college or just entering college who won the APL title (Tim Hogarth). The last time a true blue-collar golfer won the title was 1984 (truck driver Bill Massey). For an event that has had a roll call of WPA workers, trucking company representatives, tavern owners and electrical engineers crowned champion, the disconnect is obvious. Of the six APLs that I've attended personally, only twice was a semifinalist not in college.
A similar scenario exists with the WAPL, which the USGA inaugurated in 1977. During its entire history, the oldest player to ever win the title was Amy Fruhwirth, who was all of 23 when she was victorious in 1992. The most notable winner of the championship was not someone from the working world, but a 13-year-old middle- schooler from Hawaii -- Michelle Wie -- who would hardly be held on a pedestal as the face of public golf. I've covered six WAPLs as well, and at times I wondered upon arriving at the host course whether I had mistakenly traveled instead to an AJGA event.
For me, the best argument made by those disappointed with the USGA's decision is that many of the young players that now constitute the majority of the field at both the APL and WAPL come from backgrounds where public golf was the only avenue for them to pursue the game. Despite, in many instances, financial challenges, they managed to develop into standout players whose hard work is rewarded when they advanced through sectional qualifying into national championship proper.
Certainly, those golfers are to be commended for their efforts. But they are not the populace that the APL or WAPL was originally intended to serve. Those players have the opportunity to compete and thrive in other USGA championships -- the boys and girls juniors and the U.S. Amateur and U.S. Women's Amateur championships -- and they often do. However, their presence at the APL and WAPL comes at the expense of their older counterparts. They take the spots that adult public golfers claimed in previous generations, squeezing out the everyday municipal golfer that was supposed to be the championship's target audience.
When I've previously written about what might be done to save the APL/WAPL, one of my suggestions has been to prohibit college players from being eligible. More often than not, these golfers have access to private facilities through the teams they play on, so characterizing them as "public" players seems a bit disingenuous anyway. Tom O'Toole, the USGA championship committee chairman, said that idea was discussed and evaluated, but that ultimately it didn't resolve the question of whether the mission of the event was still being achieved.
The point that resonated with me the most in listening to the USGA was something that John Bodehamer, the association's senior managing director, rules, competitions and equipment standards, said to me when trying to explain why the they would shutter championships for the first time in the USGA's 119-year history.
"What it all boiled down to was an essential question," Bodehamer said. "If we were starting over today and founded the USGA, starting the championships, would we created these two championships today? And the answer is no because the original mission is no longer needed."
I'm not 100 percent sure I agree with his later point. The idea of championships for true public golfers might not be needed, but they certainly are events that would be worthwhile and appreciated.
Sadly, the APL and WAPL, at least as they are today, aren't those championships any more.
-- Senior Writer Ryan Herrington covers college and amateur golf for Golf World.