News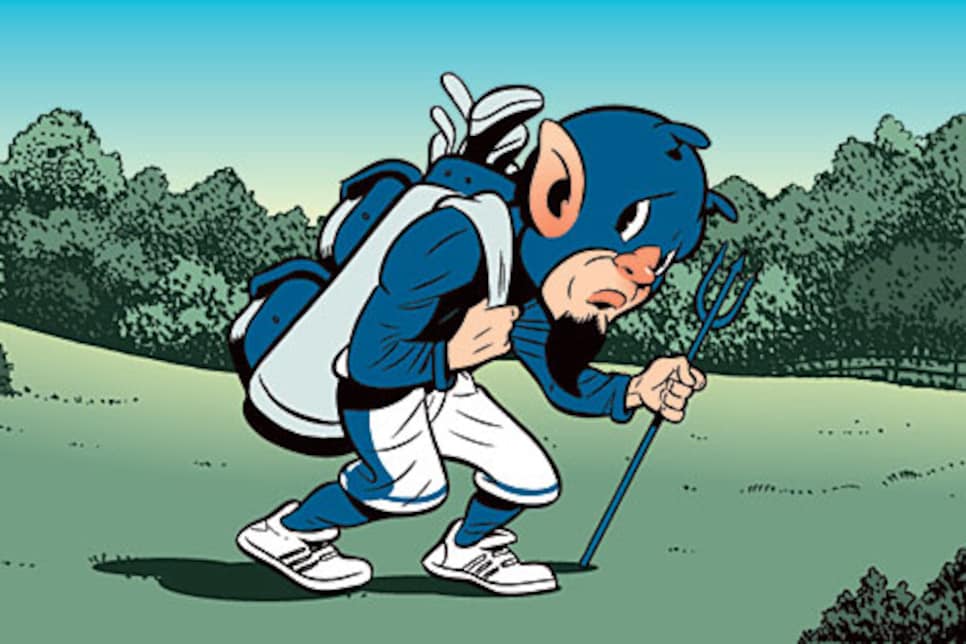 By the time college seniors reach the midpoint of their final semester, nostalgia often has become a familiar acquaintance. At least that's the experience for Amanda Blumenherst and Jennie Lee. Set to graduate from Duke University in two months, the standout golfers admit their minds have wandered lately toward all things sentimental. Attending her final basketball game at Cameron Indoor Stadium, Blumenherst said she literally got teary-eyed, while Lee has a "must-do" list of campus activities for the coming weeks, taking a nap in Duke Gardens at the top.
A similar wistfulness has begun to surface on the golf course as well. "Every time we tee off [at an event]," Blumenherst says, "someone always seems to mention, 'This is the last first shot at such-and-such tournament.' "
Earlier this month at Red Tail GC near Orlando, it was the last first shot at the UCF Challenge, an event the Blue Devils won in 2007 and 2008, two of 19 team victories Blumenherst and Lee have been part of during their All-American careers. Both professed to be hitting the ball as well as they had all semester after playing practice rounds with teammates Alison Whitaker, Kim Donovan and Yu Young Lee and believed the squad would contend against a field with 12 of the country's top-15 teams.
Fifty-four holes later, all the fond memories of the past, however, had failed once again to change the harsh reality of the present for the 2008-09 Duke women's golf team.
After a decade of dominance that included five NCAA titles (two with Blumenherst and Lee on the roster), the Blue Devils are in the midst of their most difficult season since the mid-1990s—and running out of time to reverse it.
A 20-over 884 showing at Red Tail left the Blue Devils in 13th place, 34 strokes behind victorious UCLA, 27 back of Arizona State and 12 behind USC, the Pac-10 trio considered the favorites as the NCAA postseason approaches. It wasn't just Duke's worst performance in seven starts this season, but also its worst showing in any event since finishing 14th at the 2000 NCAA Championship.
"We wanted our senior year to be memorable. Right now, though, we're making different memories than we expected," says Blumenherst, the nation's top collegian the past three years, who has a 72.75 average as a senior but just two top-10s after never finishing worse than T-10 in her first three years.
By this point in each of the past five seasons, Hall of Fame coach Dan Brooks' squads have had no fewer than three victories. Yet with two regular-season events left before next month's ACC Championship, Duke has won just once (the Hooters Match Play) and finished in the top five only three times. Ranked eighth in the Golf World/NGCA coaches' poll, the Blue Devils' record against the rest of the top 10 is 7-24.
"Our team is having to do what all golfers have to do," says Brooks, back at full strength after missing much of the fall while addressing a medical scare involving his hearing—a foreboding sign of the season to come. "They have to keep getting after it, remain patient and stay focused."
Of immediate concern for Duke fans is the health of Whitaker, a 23-year-old junior from Australia who has yet to play all three rounds of any tournament this spring after straining her back during an aerobic workout Feb. 10. In the four rounds she has failed to start, the Blue Devils have been forced to play just four golfers. In the five she has played, she has shot no lower than a 77, with an 80.4 average.
"It's getting better, but I'm still never really sure how it's going to feel each morning," says Whitaker, who undergoes regular massage therapy to loosen her muscles. "The best thing for it is rest, but we don't have that luxury."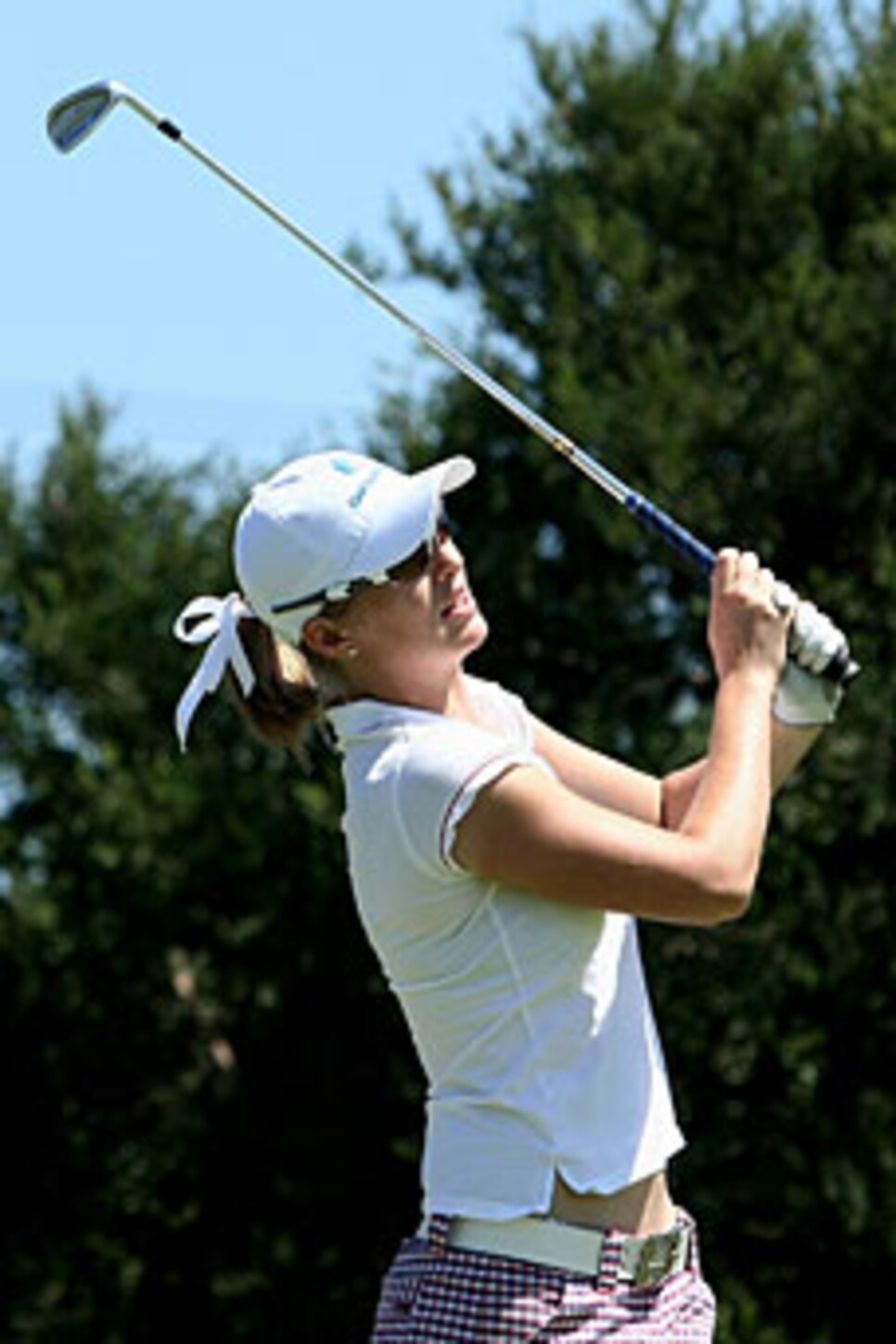 Indeed, Whitaker has had to keep playing despite the injury because the Blue Devils have just five players on their roster. A lean line-up is something Brooks has lived with in the past—winning NCAA titles with only five in 2005 and 2006—but this time it wasn't by choice. Instead it resulted from circumstance when freshman Mina Harigae, the team's leading scorer through the fall with a 71.13 average, announced Jan. 10 she was not returning to school in the spring.
A former U.S. Women's Amateur Public Links champion and U.S. Curtis Cup team member, Harigae says she wanted to focus solely on her game in order to turn pro by the summer. Her departure actually wasn't a shock to teammates because the California native seemed to have trouble getting comfortable so far from home.
After addressing Harigae's departure in a meeting in early January, the Blue Devils say they have moved on, their spirits buoyed by Brooks' return. Doctors still aren't sure just what went on with the 50-year-old, who in early October began hearing a roaring sound in his head. Lying down only exacerbated the problem, which became so intense that on three occasions he rushed himself to the emergency room.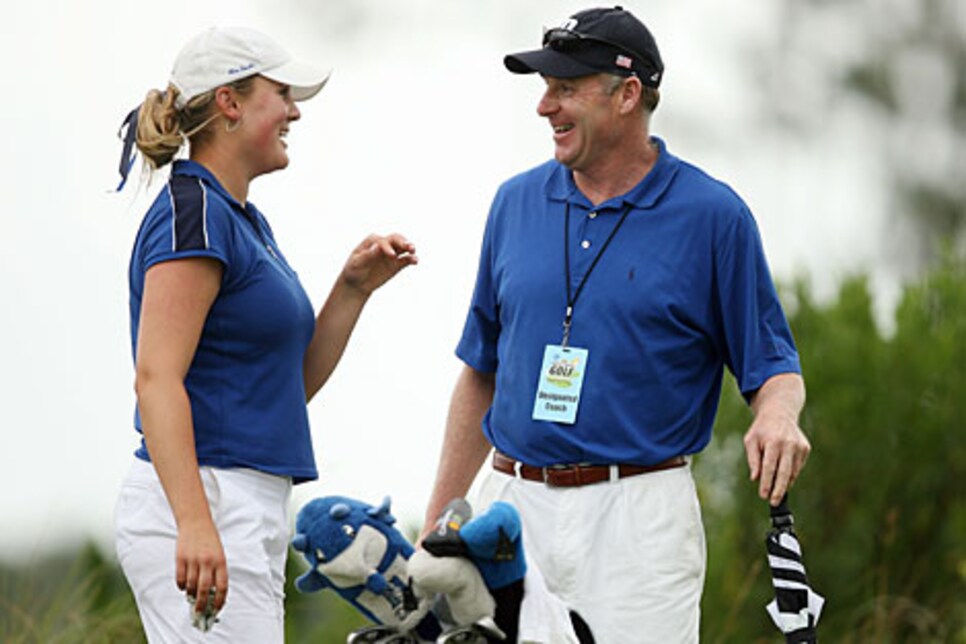 "I got really scared that I was going to lose my hearing entirely," says Brooks, who has been deaf in his left ear since his youth. "I slept sitting up each night, although most nights I got lucky to get any sleep at all. It was a nightmare. A living breathing nightmare."
Told it could be anything from a viral problem to autoimmune inner-ear disease to Meniere's Disease, the all-time winningest coach in women's golf temporarily stepped away from the post he had held at Duke the previous 24 years to seek treatment, handing the coaching duties over to first-year assistant Jan Dowling.
As the fall progressed Brooks began taking a diuretic and changed his diet (keeping his daily salt intake to no more than 1,000 mg) to manage his fluid levels. Slowly, the ringing began to dissipate. After spending most of December recuperating at his parents' home in Oregon, Brooks returned to Durham, N.C., at the start of the year refreshed and inspired. "The difference from last fall is obvious," Dowling says. "He's got his energy back."
Possessing a decidedly optimistic outlook of late, Brooks is convinced there is time for his team to turn things around. The simple fix, of course, is for each player to step up her game. With a six-under 210, Jennie Lee posted the lowest 54-hole score of her career at UCF and has a 72.11 average to lead the way. Donovan (76.18), a sophomore from Hopkinton, Mass., and Yu Young Lee (77.6), a South Korean-born junior, have showed glimmers of improvement in practice but have shot just one sub-par round combined this spring.
Much of the burden, then, falls squarely on Blumenherst, something the 22-year-old from Scottsdale freely accepts. "I'm just trying to tell myself it's one tournament at a time, one hole at a time. I think I lost sight of that," says the reigning U.S. Women's Amateur champion, hinting that putting a bow on an already illustrious college career may have gotten the best of her. "You're trying too hard to get awards instead of just staying in the moment."
With a much-anticipated pro career set to begin at the end of May, Blumenherst's challenge is to resist gazing into the future at the expense of the present. Luckily, there is plenty still to play for. At the ACC Championship, Blumenherst can become the first female golfer to win a conference title four straight years (plus there is Duke's 13-year streak of team titles still at stake). She also is one shy of equaling Mary Anne Widman's all-time Duke victory mark of 12, a record most assumed Blumenherst already would have wrapped up by now.
"We can still have the last laugh," insists Jennie Lee, exemplifying the team's collective stiff upper lip. "We have a lot of faith in ourselves and the team. We're just trying to keep things very positive."
Mind you, that just might be the nostalgia kicking in again. Without question Lee and Blumenherst want to keep any smudges left on the program's storied history to a minimum. Still, if the duo needs any solace, it is this: Regardless of how the semester plays out, it will have no impact on the fact that their college careers will long be remembered, even if their senior year turns out to be something they'll want to soon forget.