News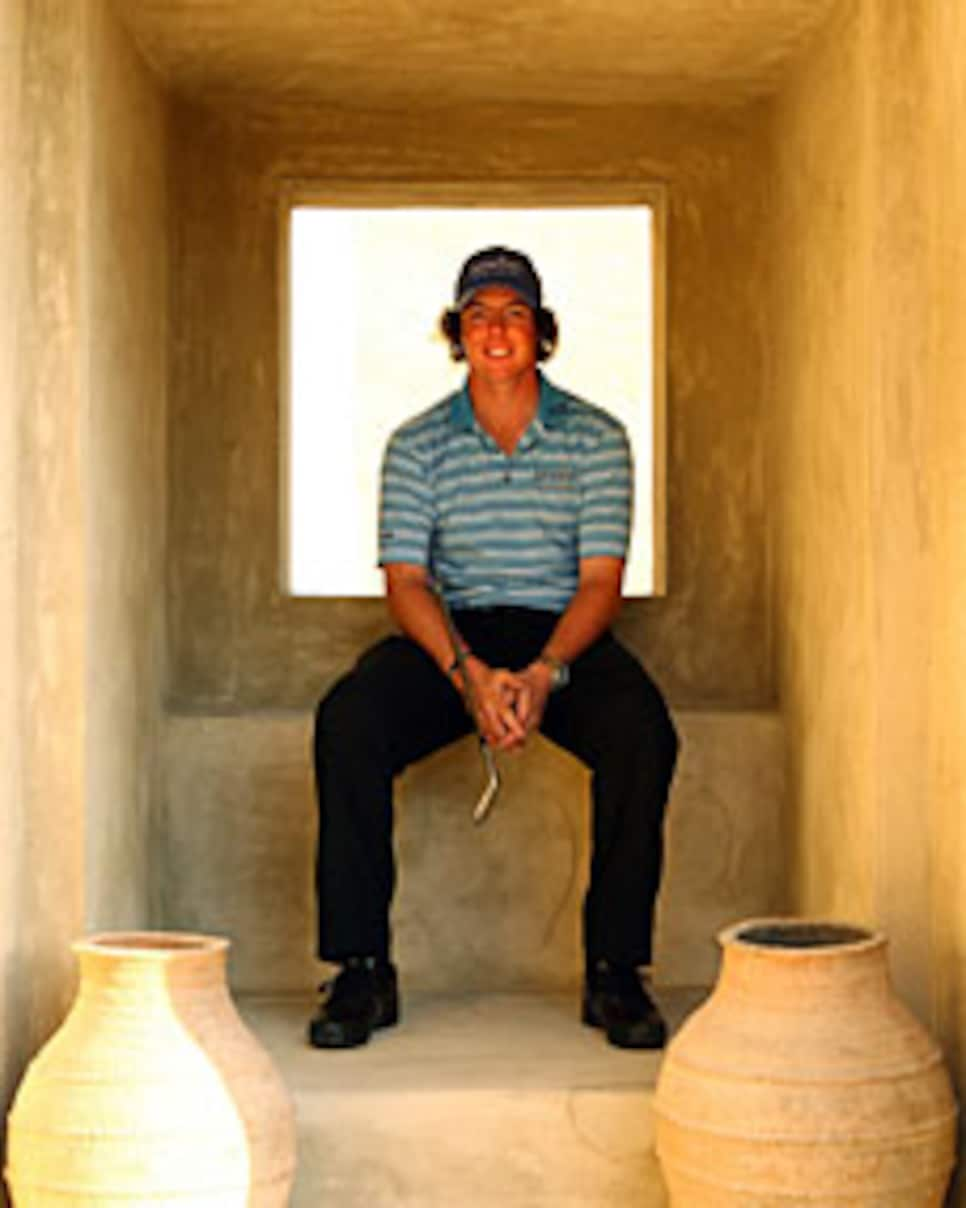 ComFORT ZONE: Whether in Dubai (above) or Arizona, where he was T-5, McIlroy is a cool customer off and on the course.
Few things in life are more disappointing than the discovery that a sporting hero admired from afar is unworthy of that adulation. Once in a while, however, instinctive and distant fondness for a celebrity proves grounded in reality. Once in a while, what it says on the label is gratifyingly accurate.
Rory McIlroy—whose T-5 at the WGC-Accenture Match Play Championship can only be considered a break-out performance if you haven't been paying attention to what he has done in the rest of the world—is the real thing. The Irishman is one of those genuine people, despite the fact his pixie-like features and unruly mop-top hairdo support the first impression that European golf's latest star can't possibly be 19 years old. Not yet, anyway. Seated alongside him as he strolls with characteristic aplomb through a phone interview with British journalists, the temptation to ruffle those flowing locks or pat him playfully on the head is difficult to resist.
It is best not to be too taken by his fresh-faced appearance, however. In terms of dealing with media demands, he is an old hand. His first interview, he reckons, took place when he was "6 or 7."
"Even before the 2007 British Open at Carnoustie [where McIlroy won the silver medal awarded to the low amateur], the decision already had been made about Rory turning professional two months later, right after the Walker Cup," says his manager, Andrew (Chubby) Chandler. "So we were trying to get a few things in place for him. On the eve of the event we were sitting on the patio in front of the hotel behind the 18th green. I told him what invitations he already had, before mentioning I had booked him a day of media training at the end of August.
"He didn't say anything, but he did look at me a bit sideways," Chandler says. "Four days later, he had been live on the BBC after every round. On Sunday night I took him aside and told him I had canceled the media training."
McIlroy's natural charisma and friendly off-course persona shine through inside the ropes, too. The Belfast native plays with a refreshing briskness and a disarmingly youthful innocence and charm, set alongside a swing acclaimed coach Bob Torrance hails as "brilliant," "oily" and "very natural." Whatever, it has carried its owner from prodigy to world No. 1-ranked amateur to European Tour card holder (in only two events)—and now, after his victory in the Dubai Desert Classic last month, to the first of what would appear to be many wins as a professional.
Next stop America. In Tucson, his first U.S. event, McIlroy beat Louis Oosthuizen, Hunter Mahan and Tim Clark before losing to eventual champion Geoff Ogilvy. "He is by far the best young player I've ever played with," says Ogilvy, who beat McIlroy, 2 and 1. "He hits the ball well, chips and putts well and his demeanor is fantastic. The hype is fair because he's the real deal."
McIlroy will play five more times in the U.S. through the Masters. "It is great for my confidence that I have come out in my first event in America and done so well," he says. "There are a lot of positives from it that I will take into the next two weeks."
It remains to be seen whether McIlroy eventually will join the PGA Tour. "I'll try and become a world player, play the World Golf Championships and majors and then just pick and choose some of the European Tour events and some on the PGA Tour," he says. "The European Tour has been very good to me, given me a lot of invites as an amateur, and I'll always support [them]. But I don't know, at the end of this year, I'll think of taking up membership out here. It's what I've learned—the guys that try and play the two tours, it is quite tough with all the traveling back and forth over the pond. So I just have to weigh all the options and see what I get out of it. I've always enjoyed playing golf over here, and I would love to play a little more."
Chandler, however, isn't so quick to point his hot-shot prodigy toward America just yet. "There's absolutely no point in him taking out his PGA Tour card," Chandler told the Irish Times before the third round of the Match Play. "Suddenly he has got to play 15 tournaments. Suddenly they start dictating to you."
Regardless of where he plays, McIlroy knows he isn't yet a fully qualified golfer. Apart from the fact his long-time girlfriend, Holly Sweeney, is still at school in Belfast, his reaction to his triumph in Dubai speaks both to his youth and a growing maturity far beyond his teenage years.
"I learned a lot on the back nine in the last round," he says. "I had a six-shot lead with six holes to play and only won by one. What that showed me is that if I'm six shots back with only a few holes to go, I can still win from there. I learned that if I'm in that position again, I still have to work hard, I still have to hit good shots and I still have to hole the putts."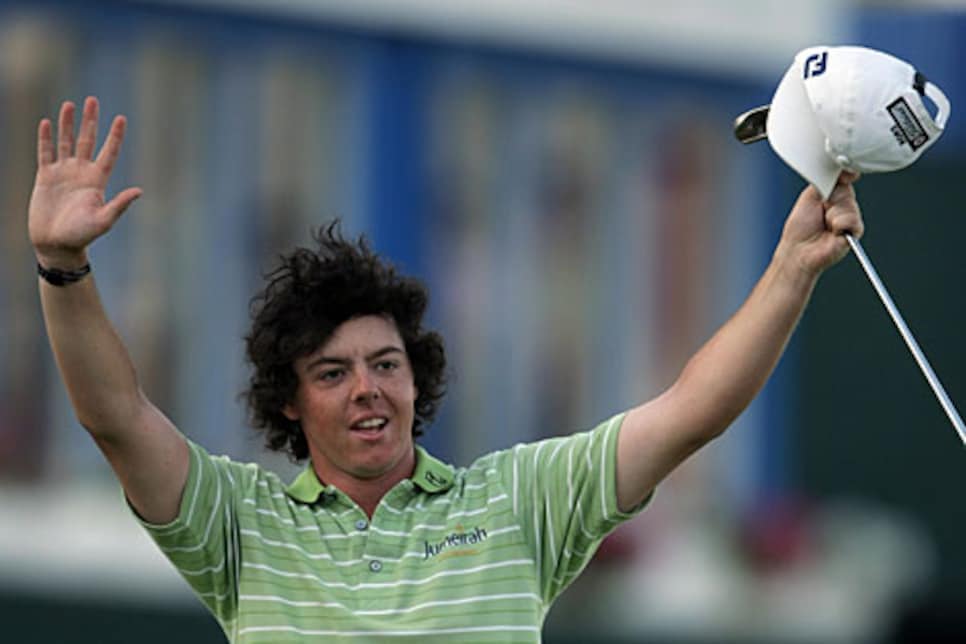 The youngest man ever to break into the World Ranking's top 20 has been holing putts since age 2, when his father, Gerry, first put a plastic club in his hands. "When Rory was growing up we bought him a tape, 'Nick Faldo's Masterclass,' " explains his father, formerly the bar manager at Holywood GC and once a scratch player himself. "He watched it all the time, to the point where he started calling himself 'Rory Nick Faldo McIlroy.' That was his name for a while. All I had to do was put that video on and he would sit and never say a word. He was glued to it. At that time, too, I used to play a bit, and he would come with me to the range. It was always a crying match to get him home. He wanted to be left there."
The club let Rory become a member when he was 7. "At that time his bag was as big as he was," Gerry says. "He was small growing up. We had to stuff newspapers down the bag so that his clubs would stick out enough that he could reach them. At one stage his mother had to put a cushion down there."
Still, for all his precociousness, it wasn't until the McIlroys made their first trip to the U.S. that Gerry thought he had a future star on his hands. "We took Rory to Doral [for the Publix Junior] when he was 9," he recalls. "I didn't know how well he would do against other kids. But he won by four or five shots. I remember saying to my wife, 'This wee boy is really good.'
"Anyway, I took on three jobs, and Rosie worked night shifts to earn money," Gerry says. "We saved it all for our holidays. We would spend four or five weeks playing all the junior events we could find. I knew if we didn't make that effort we would never know how good he could be. I didn't want to have any regrets.
"He's an only child, so he got everything from us," Gerry says. "I'm proud of his golf. But the best thing about Rory is his honesty. He was brought up to be that way. And he has retained that quality."
In Dubai, McIlroy's legend was further embellished. Mark O'Meara, who was paired with McIlroy during the first two rounds, said McIlroy's swing is "technically better" than Tiger Woods' was at the same age. There were other adulatory press tales. As you would expect, the flurry of hyperbole was followed by a few "hang on a minute" pieces on the American side of the Atlantic.
Typically, however, the most down-to-earth assessments come from inside McIlroy's camp.
"Rory has always been different from the others," says Michael Bannon, professional at Bangor GC and McIlroy's first and only swing coach. "He was always beyond his years. He has always been able to hit shots any shape or height. And now he has reached the stage where, on the course, all he does is look at the target and go.
"His strengths are mental," says Bannon. "He has the spark you only see in a few people. He'll never be happy with where he is. He always wants to get to the next stage."
Although McIlroy clearly possesses a driving ambition, there is indeed a sense of proportion about where he stands golfing-wise. He has a reflective naturalness when the subject of his own abilities comes up.
"He has the spark you only see in a few people. He'll never be happy with where he is. He always wants to get to the next stage." Michael Bannon
"I've seen a couple of stories questioning how good I am," McIlroy says with a smile. "And it's a reasonable question, I suppose: How can anyone be ranked 16th in the world and not have played on the PGA Tour? But that's how the system works.
"I know how good I am and can be, though," he says. "I've played with Sergio [Garcia]. I've seen how good he is. I've played with Adam Scott and seen how good he is. They've won huge events, and they're both great players. But I've seen enough to know I'm not far away from their level."
McIlroy calls the comparisons to Woods both flattering and daunting. "It comes with a lot of expectations," says McIlroy, who would have played Woods in the third round at Dove Mountain had Clark not upset the World No. 1. "I'll never be able to do what Tiger has done. He has brought so many people into the game, those who would never have played but for him. He's a great golfer, but he's a great role model, too. If I'm able to do half of the things he's done, I'll be more than happy."
McIlroy, in fact, is something of a Tiger almanac, a source for any number of arcane facts and figures regarding the man who replaced Faldo as his golfing hero. "He can run 100 meters in less than 11 seconds, you know," says McIlroy. "And he once ate nine or 10 tacos before a college match."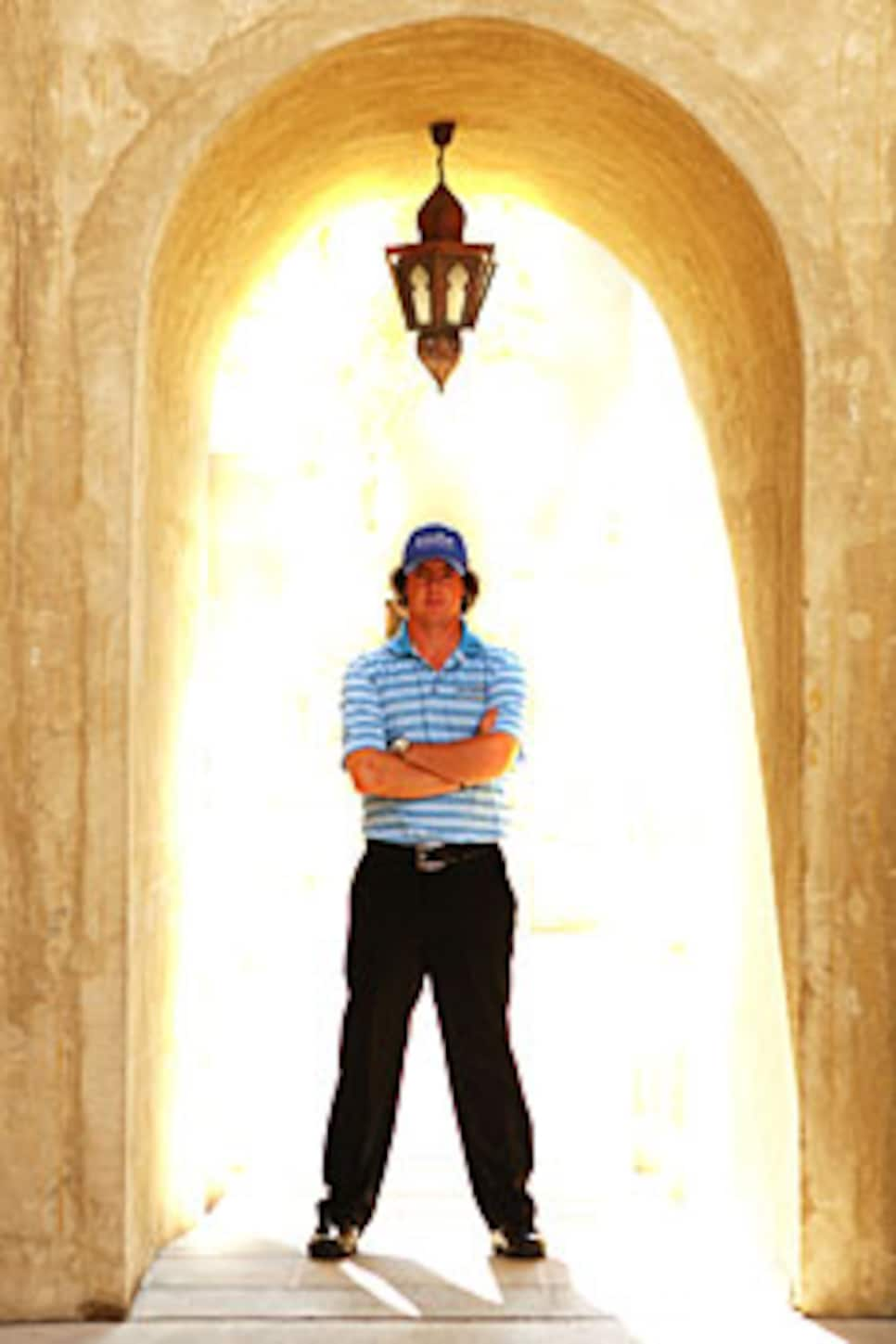 Anyway, while McIlroy won't be challenging Woods—bad left knee or no bad left knee—to wind sprints any time soon, he is keen to make up for the near-miss in Arizona with a practice round at Augusta National. O'Meara has promised to try and set one up.
"I bit his hand off when he made that offer," says McIlroy, who still has the ball O'Meara signed for him at Wentworth during the 1999 World Match Play Championship. "But I tried to look casual. I'm a huge Tiger fan. I always said to myself that if ever I was asking for his autograph and everyone was screaming 'Tiger,' I'd be calling out 'Eldrick, over here.' He'd have to notice that."
Too late. It's safe to assume that Woods has taken note of McIlroy's growing presence within the game he has dominated for the last decade. Which is as it should be. After all, good things should happen to good people.