News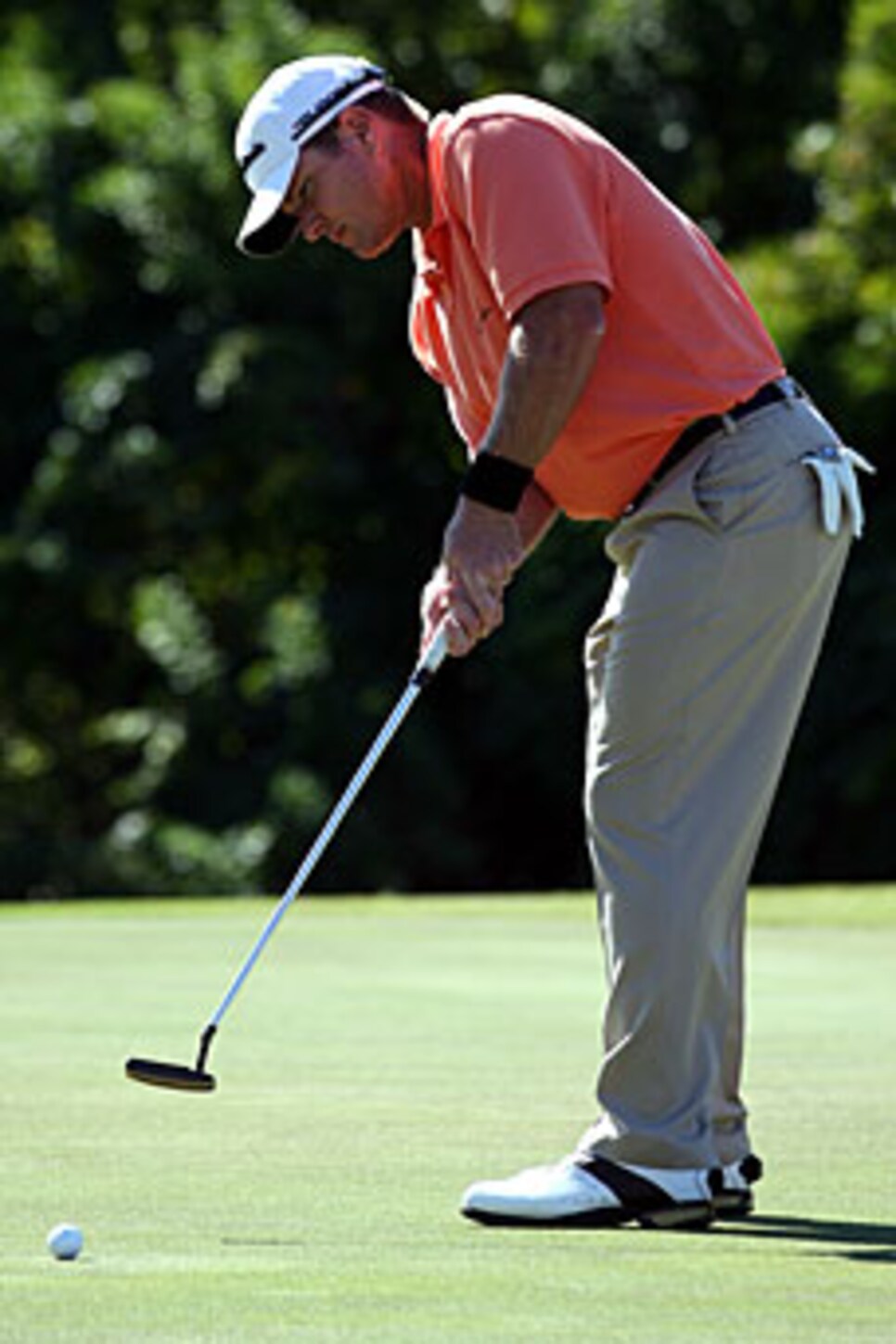 Verplank has stayed loyal to his Anser putter for 24 years on tour.
The most popular putter style of all time started with a drawing on a 78 r.p.m. record jacket.
That is the canvas Karsten Solheim—a Norwegian-born engineer who worked on jet fighters and missile guidance systems—used to sketch the Ping Anser putter in 1966. After Solheim's patent was granted in 1967, tour players flocked to the club. They still do. At last week's FBR Open, 10 players used Ping Ansers, including Scott Verplank, who has wielded his almost exclusively for 24 years. About 40 others used an Anser-style putter from other manufacturers (when the patent expired in 1984 it spawned a slew of copycats).
Solheim's brainchild was the result of trying to lower his scores by applying "the simplest laws of physics and mechanics" in a putter. He had early success with his 1-A model, but the Anser became the gold standard.
The record-jacket drawing was not unusual for Solheim. "He was a paper-and-pencil designer," said Ping CEO John A. Solheim of his father. "He drew things to get his point across."
Karsten wasn't the only one in the family who knew how to get their point across. Karsten told his wife, Louise, he would find an answer to the flaws of other putters. The day before Solheim's putter was produced, the couple was going over final details at the engraver when Louise suggested a name: the Answer. Karsten balked, saying it was no name for a putter and, besides, it wouldn't fit on the toe. Louise held firm, saying, "Just leave out the w." Karsten, short of a better idea, acquiesced.
Originally called a "plumber's nightmare" due to its unusual hosel design, the club also encountered some durability issues. The first putters were made of brass—a soft metal. One day Solheim approached Arnold Palmer and handed one to him. Palmer looked at it and told Solheim the face was caved in. Someone had dropped the club and dented the face. From that point on, Solheim used high-strength manganese bronze instead.
Although Solheim missed out on Palmer, the Anser caught on with most everyone else. "It took off like a rocket ship," said Solheim. "George Archer was one of the best putters on tour and won the first major with it at the 1969 Masters. Gene Littler used it, as did Gary Player and Tony Jacklin."
According to Solheim, at its high-water mark in the mid-1970s more than half the putters in play on the PGA Tour were Ansers. The club dominated sales at retail, too.
The success came at a crucial time for Solheim. When he was about to be transferred by General Electric, Louise convinced Karsten he could go into the club-making business fulltime. A few generations of golfers are happy he did.
Coming into the FBR Open, James Nitties had been struggling with his ball flight. Stuck in a rut where his misses habitually went low and to the right, Nitties changed to TaylorMade's adjustable R9 driver and moved the face angle one degree closed. Nitties used the club in finishing T-4—his best showing on either the PGA or Nationwide tours.
Rocco Mediate has a reputation as an everyman and that goes for his equipment as well. Mediate uses Callaway's game-improvement X-22 irons as well as the new Big Bertha Diablo driver (8 degrees), a club the company touts as having the ability to "help golfers square the clubface at impact, especially when swinging aggressively." ... That odd-looking putter Fred Couples used at the Bob Hope was the latest creation from Scotty Cameron, a mallet dubbed Kombi. The club, which looks like a cross between a Cameron Detour and a Ping Craz-E, was used at the FBR Open by Jason Gore and Brett Quigley and will be available this April in conventional and long (Cameron's first long putter in three years) versions. ... Ball watch: Titleist had 95 balls in play at Scottsdale (Callaway was next with 15), with the 2009 version of Pro V1/V1x being used by 43 players. The 2007 models were teed up by 35 players while 15 pros used the 2005 iteration. Two players, Ted Purdy and D.J. Trahan, still use the 2003 version of the ball.