News
Friendship Links Palmer and Hope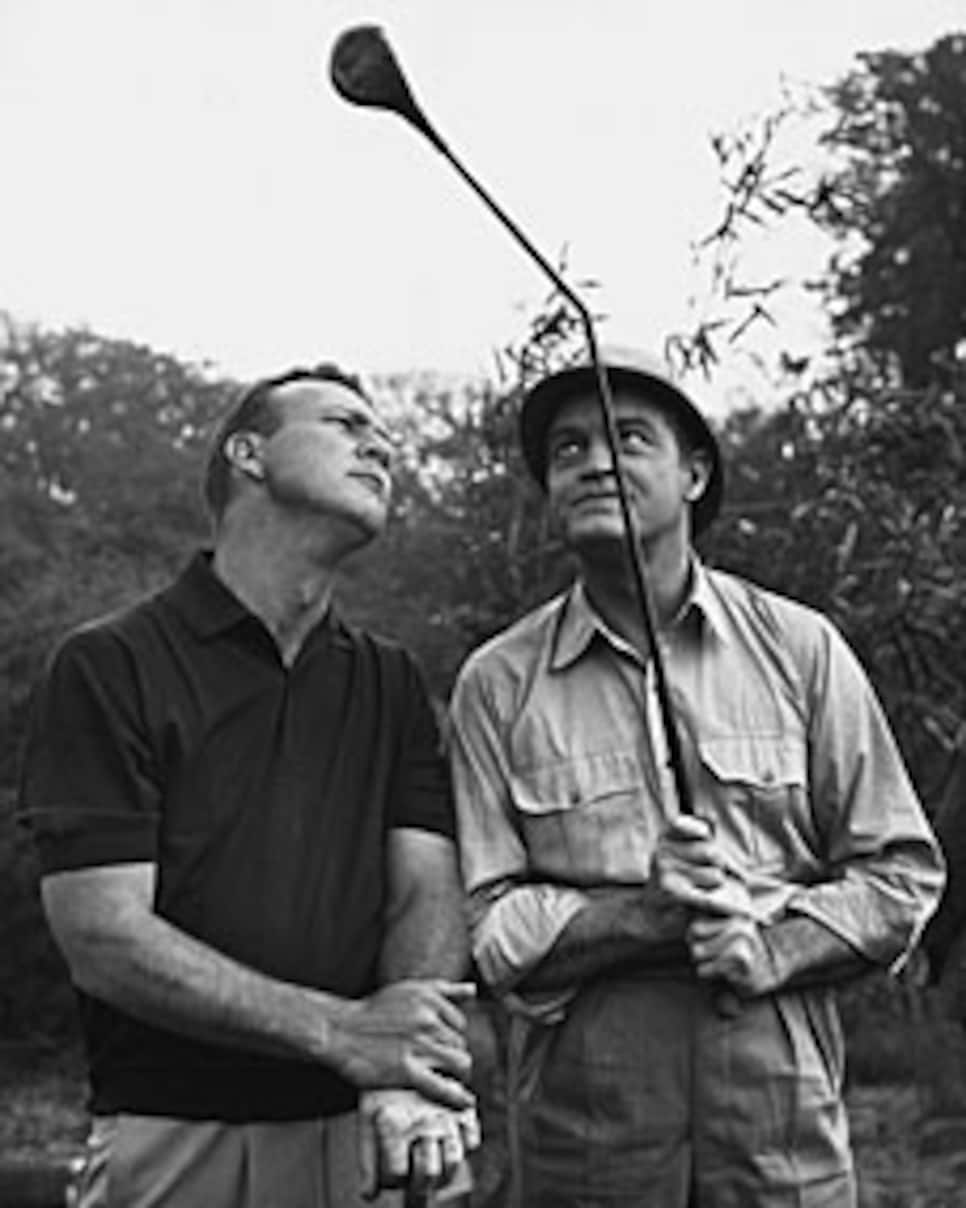 Palmer, Hope on the set of "Call Me Bwana."
On the 18th green at the 1973 Bob Hope Desert Classic, 43-year-old Arnold Palmer marked his ball, then turned and eyeballed Jack Nicklaus' 30-footer for eagle as it crawled toward the cup, then slid by.
"What are you trying to do?" Palmer asked.
"Trying to beat you," Nicklaus said with a smile.
Not that rainy day in the desert. When Palmer's putt dropped, America's most beloved golfer had won the Hope for a record fifth time and moments later he was waiting to be presented with the $32,000 check as America's most beloved comedian impatiently looked around.
"Who's got the money?" Hope asked, annoyed at the confusion.
"What are we going to do, just talk about it," Palmer joked. "Look, I really need the money. It's been a long dry spell." At the time he had not won an individual PGA Tour event in 19 months, and it would be the last of his 62 tour victories.
Now Arnold Palmer, who shot his age, 71, in the 2001 Desert Classic, and Bob Hope, who died at age 100 in 2003, are together again. Palmer is the official host this week for the late comedian's namesake tournament in Palm Springs. Hope made more than 50 movies and dozens of TV specials, entertained American troops around the world and hosted the most Academy Award shows, but he liked to say, "Golf is my profession. Show business is just to pay the green fees." He even introduced Palmer to show business.
In the 1963 movie "Call Me Bwana," starring Hope and Anita Ekberg, Palmer wandered through a tent flap looking for a golf ball that Hope's character mistook for an egg. But Palmer remembers his appearances on Hope's television specials as more difficult, saying, "Bob could miss a line. I couldn't." Not that Shakespeare had written the lines.
When Hope asked on one show, "How come you never invited me to appear on 'Challenge Golf'?" Palmer replied, "We don't do comedy, Bob." When Hope explained, "I mean to play golf," Palmer dead-panned, "We don't do comedy, Bob."
When Hope boasted, "They tell me I have a picture swing," Palmer said, "True. I saw your last picture. Funnee." It prompted Hope to say, "My short game is good." Palmer countered: "That's right. Unfortunately, your short game is off the tee." When Hope asked, "With my game, what can I do to be a consistent winner," Palmer said, "Cheat."
Hope often professed that his lowest handicap was a 4. Until his last years he played everywhere and anywhere when on tour or on a movie location, not just at the Desert Classic or with his pals at Lakeside CC near his home in the Los Angeles area.
"On a good day Bob could shoot 80 in the years I played with him," Palmer says. "He was long enough to get to the par 4s in two. He took his golf very seriously. He loved new equipment. On the first tee, he always wanted to know where his strokes were. He was very precise. At a Phoenix pro-am one year, the weather was cold and drizzling, then it turned to snow, but he was playing well. When he made a 15-footer at the ninth for a 35, there was snow on the balls so they had to call it. He was really annoyed."
At the Desert Classic, Hope often played with a president, or two, or three. In 1995 the feature fivesome was Bill Clinton (the only sitting president to play), George H.W. Bush, Gerald Ford, Hope and defending champion Scott Hoch. Another year, Palmer remembered a fan wandering into the first fairway when Ford, who was known to spray his shots, was about to tee off. "As the marshals hurried to get the guy," Palmer recalls, "Bob yelled, 'Don't worry. In the middle of the fairway, you're perfectly safe.' "
Palmer's 42 appearances helped the Desert Classic distribute $45.5 million to more than 40 Coachella Valley charities, notably the Eisenhower Medical Center named for President Dwight D. Eisenhower. Hope first met the man known as Ike, then an Army general, during a USO trip to Algiers during the North African campaign in World War II. As an avid golfer, Eisenhower, a longtime friend of Palmer, often visited the Desert Classic; he was accorded such an ovation there in 1968 that he wept. "I haven't bawled like this in 40 years," he said.
The Eisenhower Medical Center now includes the Arnold Palmer Prostate Center in Rancho Mirage; prostate cancer surgery had forced him to miss the 1997 event. One more reason for the bond between America's most beloved comedian and America's most beloved golfer, who has been a television spokesman for so many sponsors for so many decades, as Hope had. "Phil Harris liked to joke," Palmer once said, referring to a legendary Hollywood ham, "that I've driven Bob to do Amway commercials."