News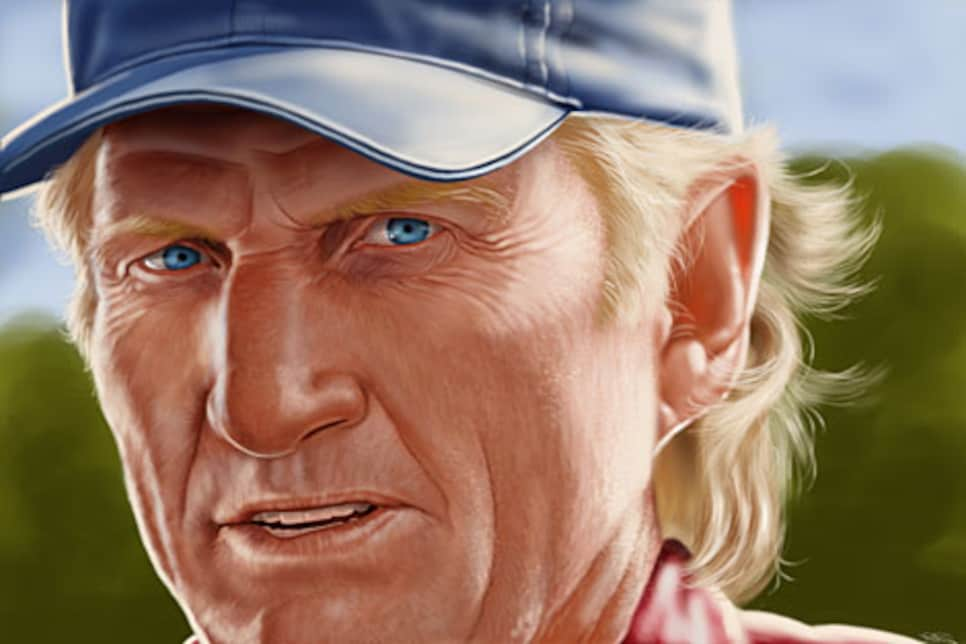 Framed photos of their honeymoon at the pyramids were still lining the baseboards of Greg Norman's new office in West Palm Beach, Fla. It was a cool autumn day in late October, and sitting comfortably in a brown leather chair next to his bride, Norman was read a laundry list of his accomplishments in 2008, a year in which he remarried, re-launched his career and re-established himself as one of the game's true rock stars.
There was his appointment as the International team's Presidents Cup captain, signifying détente in the decade-long cold war with PGA Tour commissioner Tim Finchem. There was the culmination of his costly divorce—and subsequent marriage to one of the greatest tennis champions of all time, Chris Evert. There was the out-of-nowhere third-place finish at the British Open, a performance that resonated not only at Royal Birkdale, but back home in the United States and Australia, where the 53-year-old served as entertainment for the first major championship without Tiger Woods in more than a decade. And now, it was pointed out, he was helping to organize Chrissie's celebrity tennis tournaments, one of which was planned that coming weekend in Delray Beach involving a star-studded cast.
That's when the Shark raised his hands, and said, "Uh-huh. That's my beautiful wife. She does that. I'm there for her if she needs me." Then, realizing the honey-do list really wasn't that taxing—and that she was sitting in the chair, legs crossed, an arm's length away—he listed the charities she's involved with, the hospital that bears her name. Although they are both alpha dogs, there is a part of Norman who clearly is in love not only with Chris Evert, but the idea of reinventing his career because of Chris Evert.
That was clear when he walked out of the clubhouse at Birkdale that Sunday night in July, when he came within nine holes of becoming the oldest major-championship winner in history, only to fall short on the back nine to Padraig Harrington and Ian Poulter. Chris was there, the last one out of the pro shop, holding one more bag of Open Championship memorabilia. Greg had just finished his locker-room interview with many of the same writers who stood beside him at Augusta National, Shinnecock Hills, Inverness and some of the other painful closing interviews in his career.
"Can I get you a beer?" she asked.
"All I want is you," he said.
And with that as their exit line, they headed to the car park, hand-in-hand, paparazzi shooting until the door closed on their Range Rover.
"Nobody carries himself like Greg," Evert said, three months later, talking about the reaction that performance received around the world. They could tell by the text messages flooding their cell phones that week, and from the non-golfers who would introduce themselves to Chrissie when they returned home after the Senior British Open.
"Larry Gatlin, every day, sometimes twice a day [would send a text]," Norman added. "He's a sweetheart of a guy, we're really good friends. He'd write, 'I went outside, stood closer to the ball, and I really played well today.' Or, 'I'm going to write a song about, 'Over 50.' It was incredible the number [of texts messages and e-mails]. You feel it, obviously."
Gatlin's reference to moving closer to the ball was the trigger Norman found during one of his last practice days before the Open while still on the cold and damp practice ground at Skibo Castle in Dornoch, Scotland. At one point during those sessions, which came after the trip to the pyramids and a South African safari, Norman came back to their room in the castle and confided in Chris that he was thinking about withdrawing from the Open.
Evert served as a sounding board, and once Norman made the decision to honor his commitment to the RA, she put an idea in his head: use the week as a warm-up for the Senior Open. Nobody would be expecting much and with that, Norman went back out in the rain, stood closer to the ball and found a rhythm that held up until his legs gave out.
"[Tom] Watson came out to the ranch," Norman said, dressed for the office in cuff links and an open-collared shirt. "We hunted for 4-5 days, and we sat down and talked about it. Tom doesn't have a lot to say, so when the words come out, you pay attention. He said, 'I could see your legs going.' "
Norman felt that on the first seven holes at Birkdale Thursday, but consciously made a correction and took the lead going to the back nine Sunday. Chrissie was out there in the baseball hat and sunglasses, walking every hole, waiting for Greg at two spots they picked out on the course.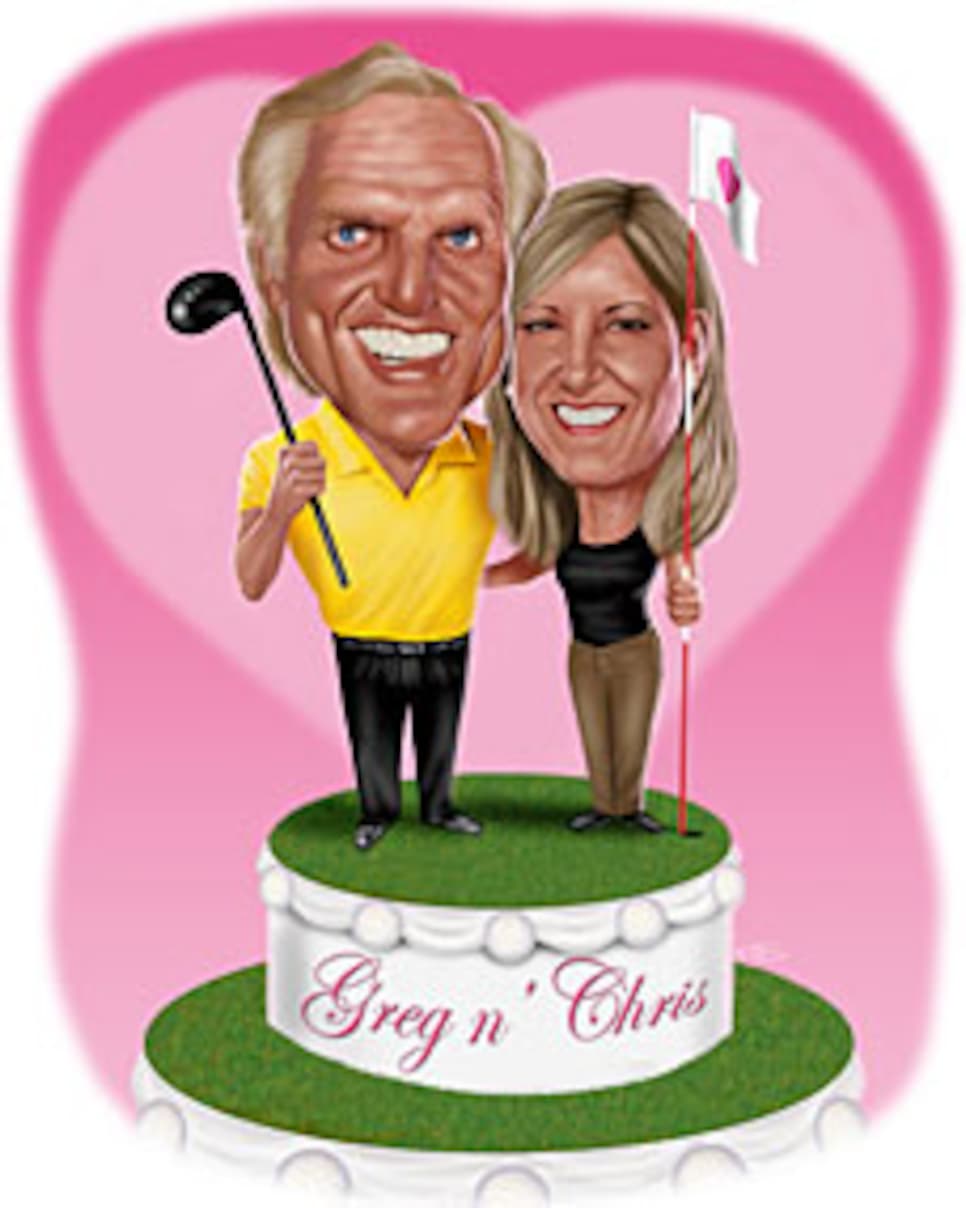 "Every hole I looked for Chrissie, every hole," he recalled. "I really felt it the first day on the 15th hole, something clicking in my swing, my mental attitude, my whole karma, and I needed to know where she was. She knew exactly where to stand. She gave me the encouragement. We had this routine, going to the sixth tee and 13th tee, she would be there for the walk from the green to the tee."
To Norman, it would have been different if he made the par putt at the 10th hole. "I was in a position I've always wanted to be in," he said, but the putts lipped out and in a way, it was the same ending for Norman as it was in the '80s and '90s, heartbreakingly close but not what the script called for. Harrington shot 32 on the incoming nine to pass him, but in the locker room afterward, and three months later, he was hardly gutted. He was living a new life.
The divorce from Laura Andrassy, his wife of 25 years, took its toll. He talked about the two years of the proceedings—most of which was reported regularly in the Palm Beach Post—and the wear it had on him. His trips to the office usually included meetings with lawyers. Friends, business associates and family members felt he was unapproachable, distrusting, not willing to let anybody in.
That has changed, they all say. As Evert pointed out, even the acceptance of Finchem's olive branch a decade after the commissioner snuffed Norman's pitch for a world tour indicates how her husband has gone through a metamorphosis.
"Like my mother said, via Chrissie, 'Welcome back to the guy I knew when he was 21,' '' Norman said.
The 45-minute interview ended, a door opened, and in walked Jimmy and Colette Evert, Chrissie's parents, Greg's new in-laws. They're one big happy family.