News
Alone with his thoughts: Karlsson by the shore inside the Arctic Circle at Vaisaluokta, Sweden.
The tall tale, especially one rooted in an unscrupulous combination of innuendo and outright lies, tends to grow exponentially less and less believable in the telling and re-telling.
And this one is no exception.
According to what has fast become a 21st-century Nordic legend, Robert Karlsson, the lanky, blond Swede whose record in the four major championships this year was second only to Padraig Harrington's, is a prominent member of a cult fronted by a mysterious corporation called SVC. OK, if not a cult, then at least a sect, or maybe a caste led by a mysteriously publicity-shy cigar-smoking individual named Annchristine Lindstrom (who declined to have her photograph taken for this story).
"Unfortunately, the media has made me sound very strange," says Lindstrom, by way of explanation. "I could make a long list of the things I have been called. None of them are true."
Indeed, the less reliable section of the Swedish media supposedly has been full of titillating details of downright depravity and wayward wantonness. Back in August 2004 a television program—the Scandinavian equivalent of "Hard Copy"—showed pictures of a leather-and-fur clad Karlsson, a 6-foot-5-inch Thor-like giant, taking part in what the show claimed was some sort of weird pagan ritual in the remote Lapland township of Vuollerim on the edge of the Arctic Circle. Never mind that the seven-time European Tour winner and his family were actually taking part in an innocent celebration of the village's 6,000-year-old history dating back to the Stone Age.
"It was a whole package of lies," he says. "In the program were a lot of things saying that SVC was a cult trying to enlist members. I have never been involved in that because it has never existed; there are no members."
Then there are the less sinister idiosyncrasies attributed to this 39-year-old father of two who will make his second successive Ryder Cup appearance at Valhalla next week. Over the years, so urban legend has it, Karlsson adopted a variety of increasingly eccentric self-improvement ploys designed to both enhance his on-course performance and cleanse an apparently terminally tortured soul.
There was the long night of short putting in the hotel room accompanied by the friend shouting loud abuse ("All he really did was ooh and ah," says Karlsson) whenever one was missed. There was the month-long diet of bread and milk. There was the no-food-after-4 p.m. routine. There was the two weeks of fasting. There was the re-enactment of conception, gestation and birth. And, perhaps most famously, there was the Jesper Parnevik-like experimentation with the culinary delights of volcanic sand ("It tasted really bad," says Karlsson).
All in all then, Karlsson, an 18-year European Tour veteran, is not your average tour pro.
"Robert has always been a bit of a loner and very focused on what he does," says Joakim Haeggman, the first Swede to play in the Ryder Cup and a direct contemporary of Karlsson (Haeggman is six days older). "He's always been a bit odd to the rest of us, even if he has always been a member of the Swedish gang. He just goes his own way within the group."
Fair enough, but where do the myths and mysteries end? Where and when does the separation of fact and fiction occur?
The real answers, far removed from the speculation that has dogged him since he first met Lindstrom in 2002, are to be found in Karlsson's on-going journey of self-discovery, one he claims he will never complete. Although there have been many talented professional golfers similarly driven almost to distraction and despair by the inherent frustrations of the game they play for a living, few have investigated themselves more thoroughly in an effort to enhance their peace of mind.
"Robert was a very arrogant person when we met," says Lindstrom, who describes herself as a "leadership coach" more accustomed to working with business executives than top sportsmen. "He had all the patterns of a person who was trying to prove himself to everyone in the room. He was very insecure.
"It has been humbling to work with Robert," says Lindstrom. "He is so determined to grow into the true him. We are not working with mind control or anything like that. There are no voodoo dolls, and we don't stick pins in anyone. In fact, I am no longer connected with SVC, which was actually founded to do one thing: conduct leadership seminars and courses for businesspeople. My work with Robert is all about why he gets angry and what drives him to get angry."
Today, that ire is largely gone. Indeed, it is hard to imagine a more contented individual than Karlsson. Married to the lovely Ebba and with two delightful children—Thea, 7, and Ceaser, 4—the family is happily domiciled in Monaco. Much of their time, however, is spent in Sweden, at a holiday house, what was once the local flower shop, in Vuollerim. The rest of Karlsson's outwardly idyllic life, judging by recent results—three top-10s in majors this year—is spent in contention to win golf tournaments.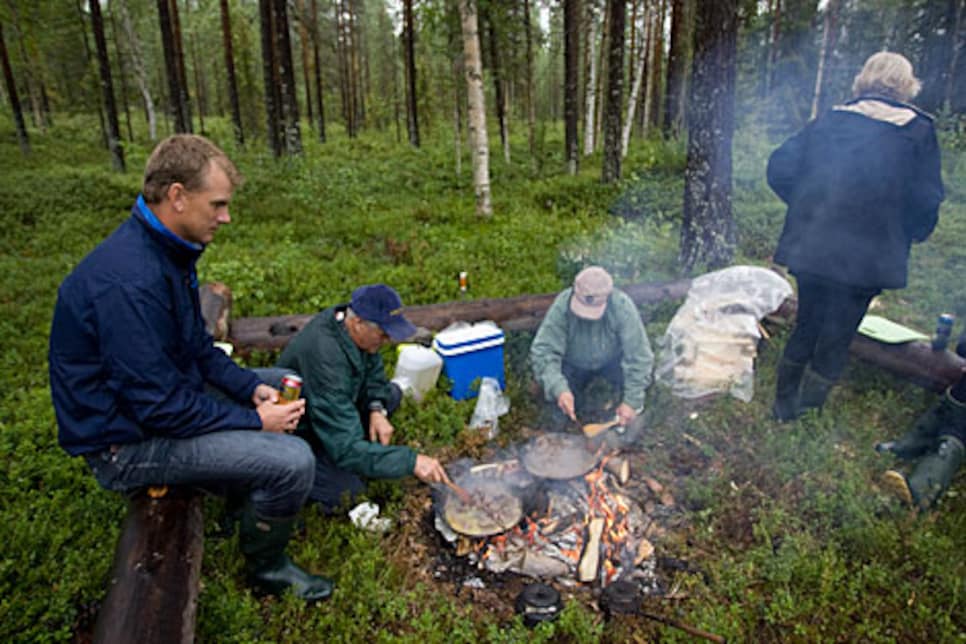 Vuollerim is where he is most at home, though. This tiny village is a remarkable example of how citizens can work together for the common good. In myriad ways, in fact, it is a model for the larger society we would surely all like to live in. As many as 40 clubs and associations flourish among the 800 or so population where teamwork and togetherness is the prevailing ethos.
Take the village hotel. Owned by 91 locals, including Karlsson, it is run largely by volunteers. At various times Vuollerim's only Ryder Cup player is employed as a dishwasher, floor sweeper and bartender. It is not uncommon for him to be last to leave at 3 a.m., his cleaning duties finally completed.
Another feature of the village is what is known as "house jumping" dinners, where the various courses are eaten in different locations. During Golf World's three-day stay, one took place. An appetizer of reindeer and the local beer were taken in a remote cabin once used by loggers working the nearby river. The main course was eaten in the Karlsson household, before dessert in the "summer" house—another cooperative owned and run by the villagers—on the edge of a lake a few miles outside Vuollerim. The only glimpse of near depravity came when a few of the local men followed a skinny dip with a refreshing sauna.
Through it all, Karlsson gave off an air of utter contentment. Far removed from the one-dimensional world of professional golf, he was merely one of the crowd. Clearly, he is a long way removed from the young man whose career was so nearly derailed by his intolerance of his imperfections.
"I was making myself unhappy by chasing happiness on the outside," he says. "But that is always a short-term thing. I had to let golf go, in a way. I needed to know what I wanted to achieve. I needed to know how I wanted to look upon myself on my deathbed. What is actually important? What would make me most happy and proud?
"It wasn't winning a major," says Karlsson. "It was, at the end of the day, me working through all my problems, playing a really bad round of golf and coming off really happy. That was my biggest goal."
Not at first, though. Only after a professional journey of many peaks and troughs has Karlsson arrived at his own nirvana. The son of a former car mechanic who became a greenkeeper, Karlsson lived as a child on the Katrineholm course two hours southwest of Stockholm, where his father, Bjorn, was employed until his retirement. It was there that Robert discovered the game, one in which he "didn't have to wait for teammates to go practice."
Robert has always been a bit of a loner and very focused on what he does.'—Joakim Haeggman
Karlsson turned pro at 20 in 1989 and finished 62nd on the European Order of Merit in 1991. Steady progress followed, but after winning in Spain early in 1995 and briefly topping the Order of Merit, Karlsson made "hardly a penny" between then and June 1996. It was the first hint that the young man was a stereotypically icy Swede. Underneath the stoic exterior lurked many demons.
"My driving was really bad," he remembers with a shudder. "And I was miserable off the course. I'd always been that way when things went badly. I had such high expectations, and it all got too much for me. I was trying to get the swing so perfect that it couldn't go wrong."
In 1996 Karlsson's search for improvement and personal discovery took him to see the late Dr. Bengt Stern, the man with "all the funny ideas," one of which was a ceremony where the participants pretend to emerge from their mother's womb. "My focus was to find out what was wrong," continues Karlsson. "A year before I had been in the top 30 in Europe. Now, suddenly, I could hardly play at all.
"I've never been afraid of looking outside the normal stuff. So with Dr. Stern we did that," he says. "We looked at my childhood, how I handled myself in certain situations. We looked at how I related to my parents. We did some role-playing. But I'm uncomfortable answering questions about that period of my life. It was really about understanding myself and who I was."
Not surprisingly, Karlsson's association with Stern wasn't something everyone around him agreed with.
"Robert's initial urge to go through this kind of in-depth internal examination stemmed from his inability to handle pressure on the course," says swing coach Simon Holmes, who worked with Karlsson from 1992 to 2002. "He used to have these famously massive collapses. In the early 1990s he had so many chances for success and converted none of them. The better he played, the more pressure he felt. And the more pressure he felt, the worse he felt. More effort equated to feeling worse. It was a weird cycle. His failings under pressure were rooted in his self-image," insists Holmes. "He did not see himself as a winner."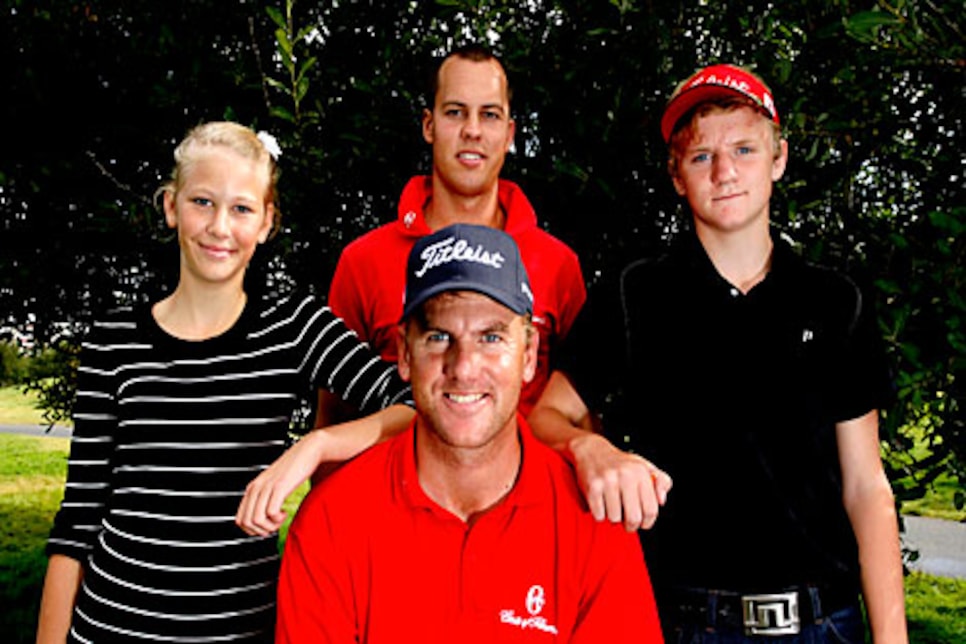 Regardless of the inner turmoil, Karlsson rediscovered his game. In 1997 he won his second European Tour event, the BMW International in Munich. But even then, his underlying problems were apparent.
"I thought I'd be happy if I won golf tournaments," he says with a smile. "But I wasn't. When I won the BMW, I was on a high, at least at first. Then, later that evening, I got back to my room, put the trophy on top of the television, sat back and thought, 'Is that all there is?' It was an empty feeling. What did I have? An empty envelope from the European Tour, a metal trophy and CNN for company."
Ironically, Karlsson would return to Munich two years later for what was, to that point, the most devastating blow of his career. He finished 11th on the European Ryder Cup points list—one place from an automatic spot—but captain Mark James passed over Karlsson for a wild-card pick, choosing Parnevik and Andrew Coltart instead.
Another career crisis would come along in 2000, when he finished 114th on the money list, but for Karlsson the true nadir did not occur until 2002. Ten years after a fifth-place finish at Muirfield in the 1992 British Open, he returned to the East Lothian links only to miss the cut by two shots, courtesy of a double bogey on the final hole.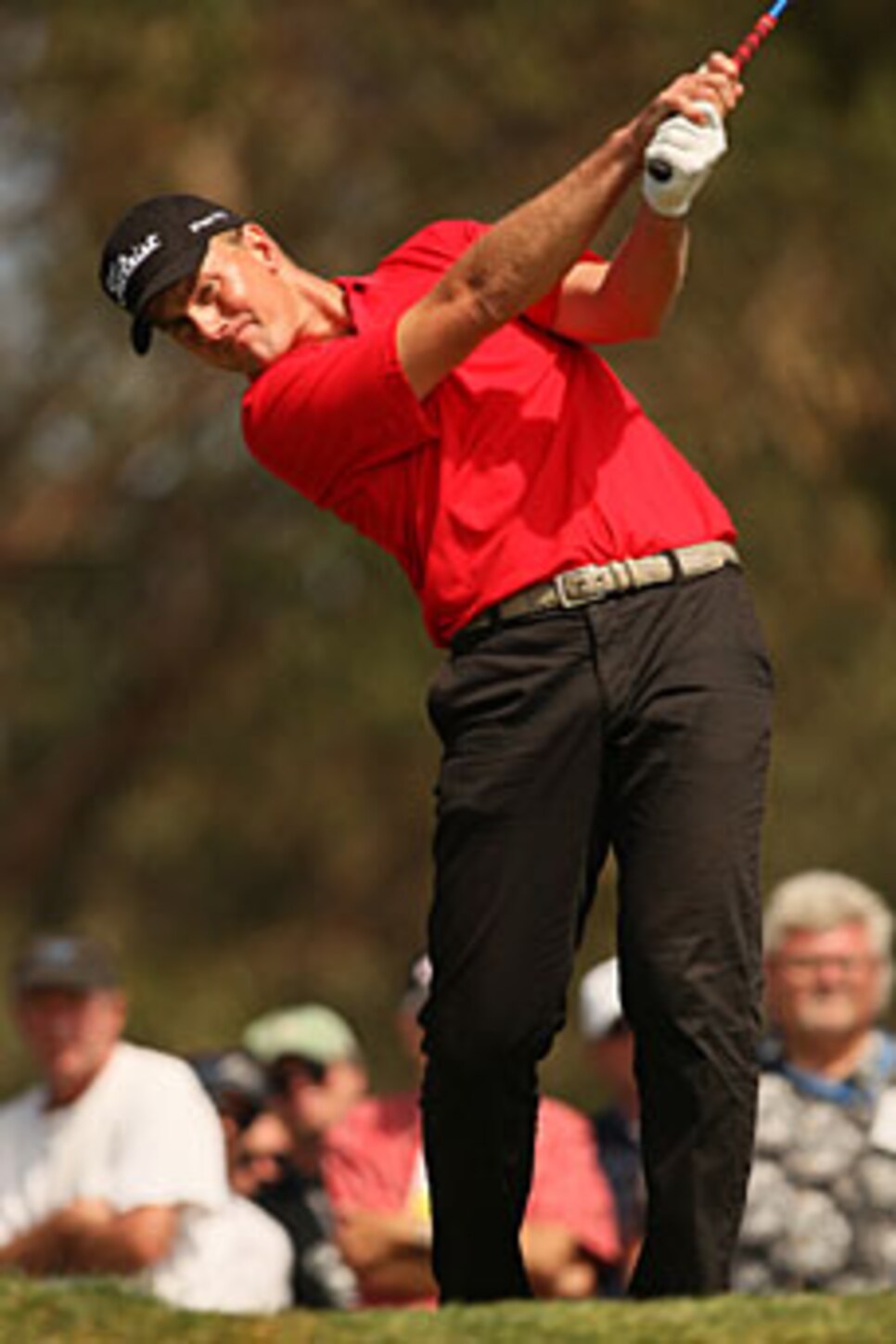 "I don't think I said a word until Sunday," he says. "I watched television and ate ice cream for two days. I lay on the couch the whole time feeling so p----- off. I couldn't believe what I had done. I knew I should have hit the 3-wood off the last tee. If only I had done that. Over and over and over again." Watching this rather childish and pathetic scene, Ebba, then his girlfriend, decided to take action.
"I had a friend who had been unhappy for a long time," she recalls. "But when she came to visit one time, she had changed. You could see it in her eyes. She was radiant. So I asked her what she had done. And that is how I came to meet Annchristine. I knew right away that this was what I was looking for.
"Robert and I held a seminar in our house, and we went from there. A lot has changed since then," Ebba says. "We have done a lot of experimenting and exploring. A game no longer makes him unhappy. And we are able to live our lives and be content, even when we are apart."
Still, with that inner glow has come controversy in the shape of Lindstrom, some of which has carried over into a project close to Karlsson's heart. Started in 2006, the Opening Key Foundation is financed by between 10 and 15 percent of Karlsson's tournament earnings.
Opening Key's goal is to give all kinds of people in all walks of life a boost when they most need it. A Russian childrens' home has benefited. So has a Turkish professional golfer whose tenuous grasp of English was holding him back. Karlsson also paid for the construction of Vuollerim's cart track. And a young singer helped with lessons was good enough to land the lead role in a Swedish version of "High School Musical."
Sadly, a local school near Vuollerim turned down the offer of help because of the adverse publicity surrounding SVC. "Robert was very hurt when he tried to help and was not allowed," says a friend.
Through it all, however, Karlsson has remained loyal to Lindstrom, the woman he credits with turning his life around. And why not? In their time together, Karlsson's career has taken off, to the point where his comfortable qualification for the upcoming Ryder Cup was almost taken for granted by those on the European Tour.
"Robert is many times the player he was back in 1999," says James. "It is hard to imagine him needing a captain's pick these days."
This time, too, he figures to be even more of a presence than he was at the K Club, where he emerged with an 0-1-2 record. "It is a nice feeling to know that I have been successful enough to make it into the side twice," says Karlsson. "It validates my career. And it proves that I am no fluke."
Nor, it should be noted, is he a flake.