News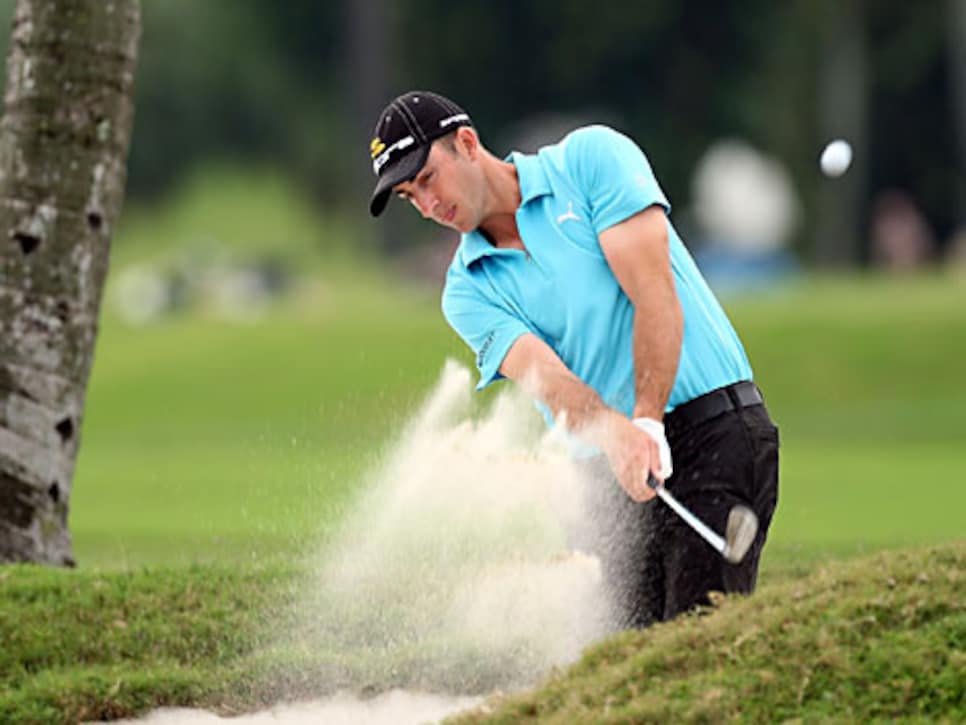 Ogilvy had a short work day Saturday, but came back to take control by shooting a third-round 68 for a four-shot lead.
As the fawning and yawning father of an infant son, Geoff Ogilvy has been having more quiet days than quiet nights lately. But his dry patch this spring ended emphatically at Doral's drenched Golf Resort & Spa Monday morning when he fended off a spate of world-class players -- including Tiger Woods -- to capture the WGC-CA Championship by one stroke. An amiable Australian with distant lineage to British Royal blood, he might now be called Sir Ogilvy for stepping up and arresting Woods' recent collection of streaks: five successive PGA Tour victories, seven overall in as many starts, three straight in this event and three in a row on the Blue Monster.
"Too many mistakes," summarized Woods, who battled an estranged putter, yet still made his presence known before bowing out with 68 in the final, rain-delayed round. He finished two shots wide of the lead and one behind three heavies -- Retief Goosen, Jim Furyk and Vijay Singh -- all of whom also posted 68s, as if to announce they are warming just in time for the Masters. Ogilvy's arsenal also seems an excellent fit for Augusta National, especially now that he has rendered it impossible for Woods to plunder everything in his sight with a perfect season.
"Holding off that group is pretty nice," said Ogilvy, who closed his wire-to-wire triumph with a 71 for 17-under 271. "And Tiger's streak, it was going to end at some point. I'm glad I did it." Ogilvy expressed moderate frustration about overviews he reads and hears pertaining to Woods. "He's special," Ogilvy continued. "But when he's winning all the time, it's not like the rest of us aren't trying, or that we're waving the white flag." That isn't Ogivly trash talking. He is one of the more incisive athletes you'll ever encounter, and if you were listening during last year's U.S. Open, Ogilvy issued warnings when it was cool to wonder why Woods was drifting. Ogilvy played the first two rounds with Woods, whose scores were merely 71-74. Yet Ogilvy came away dazzled. He saw what Woods was attempting to do in concert with coach Hank Haney and pronounced the prospect as "scary."
Ogilvy secured his first title since the 2006 U.S. Open by registering nine consecutive pars in Monday's completion of a fractured fourth round. The last threesome was well behind everybody else, and the gallery was sparse, so there weren't many audio clues. The golf was fairly peaceful, too, save for Ogilvy's chip-in for par on No. 13 after his first attempt to exit the hairy rough beside the green pulled up well short. The next ball, the one that went in, was motoring when it clanked the flagstick and disappeared. "That's why you want to hit it straight," said Ogilvy, whose was in far better control of his game than deceptive statistics -- only 25 fairways in regulation -- would indicate.
Despite his only bogey of the tournament on No. 7 late Sunday, Ogilvy went to bed with a two-shot lead through 3½ rounds and no doubts about his ability to shut it down. He started at 9 a.m., stopped at 7:20 p.m., and still didn't play 18 holes for Easter. Besides, son Jasper, born in January, was sleeping like a baby (up every hour) in one room with wife Juli while daughter Phoebe Elizabeth (1½) was sleeping straight through, as usual, next door. "That's the room I'm in," said Ogilvy, who sank a 33-and 40-footer on his back nine for 68 to boost his cushion after 54 holes to four strokes over five players, not including Tiger, who was five behind.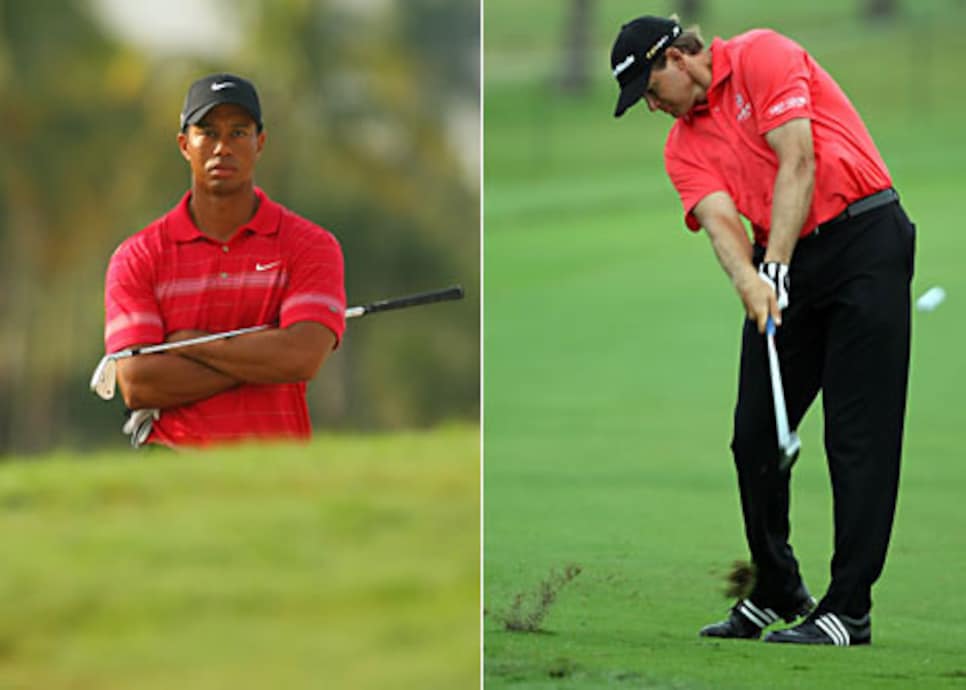 Neither Ernie Els nor Phil Mickelson challenged last week, but before Doral, the left-hander flew to Augusta, Ga., for a practice round. He pronounced the Masters layout in dandy shape, despite the huge tree that fell on the 11th fairway while he was on the 11th tee. By the time Mickelson's group reached the 14th green, remnants of the tree had been completely removed. They don't mess around there, even in inclement weather. But at least they played. The Monday finish at Doral was created by a domino effect after the third round, moved up because of incoming storms, was called at 1:15 p.m. Saturday. The third round was completed Sunday morning, but to protect the "integrity" of the championship, officials waited to regroup for the fourth round. That is, Singh, rolling it pure after being reunited with his long putter, and England's Graeme Storm deserved to be in the lead threesome after shooting 63s. But, as a result, Ogilvy had a 2½-hour break. Then, play was halted again Sunday afternoon for almost 3 hours. The troops were not thrilled, but were told the sponsor wanted to finish the NBC telecast as close to the scheduled 7 p.m. signoff as possible.
Woods shot 67 in an easy wind Thursday, and 66 in a more difficult wind Friday. But it was the third round -- interrupted by a cloudburst delivering four inches of rain -- that doused Tiger's streak. Conditions for scoring were excellent before the suspension, and again Sunday morning, when he reconvened with Ogilvy and Adam Scott at the 12th tee. Yet, Woods refrained from joining the feast. He had opened Saturday with a birdie attempt that rimmed around and out, his first score as high as par on No. 1 since 1998. On No. 2, he again three-putted when the ball did a curl pattern around the cup. A birdie try on No. 5 also hit the cup and failed to drop. Sunday morning he abandoned the putter and tried to chip in from the fringe for birdie. Another circle pattern. Woods logged a watery 72, compared with the field's scoring average of 70.18.
During down time, of which there was plenty, Woods yielded a few glimpses into what makes him tick. When last seen, Tiger was in a highly expressive mood, having clinched the Arnold Palmer Invitational with a 25-foot birdie putt. The next night, he attended an Orlando Magic game, during which Cleveland Cavaliers' star LeBron James made a point to come over to Tiger's courtside seat to press the flesh. Otherwise, however, Woods resumed his dedication to craft, and we don't mean where he, his family and caddie Steve Williams resided during the WGC-CA Championship -- about 20 minutes due east of the course. (Tiger calls "Privacy" his "boat," but that's like saying Eliot Spitzer has had a difficult month.)
Woods practiced at home before arriving in town, then again Wednesday at Doral with a 7:30ish tee time beside Furyk. The wind was so volatile, Woods halted the drill at 11 holes (Nos. 1 through 9, then 10 and 18). In a press conference Woods took questions and supplied answers as would a surgeon after performing a successful operation. In other words, one gets the idea that Tiger's post-victory indulgences last about the time of a pro basketball game. He was businesslike, but by no means corporate dull, during interview sessions. He cited the 10th anniversary of his association with Williams, but noted that their conversation on the 16th fairway of the final round at Bay Hill is something they do frequently. Only this time, TV made quite a fuss about it. Also, Woods sounded as though he had not been bitten by the fever over his serial conquests. If you win every tournament during a season, he said, but go 0-for-4 in the majors, you have not had a very good season.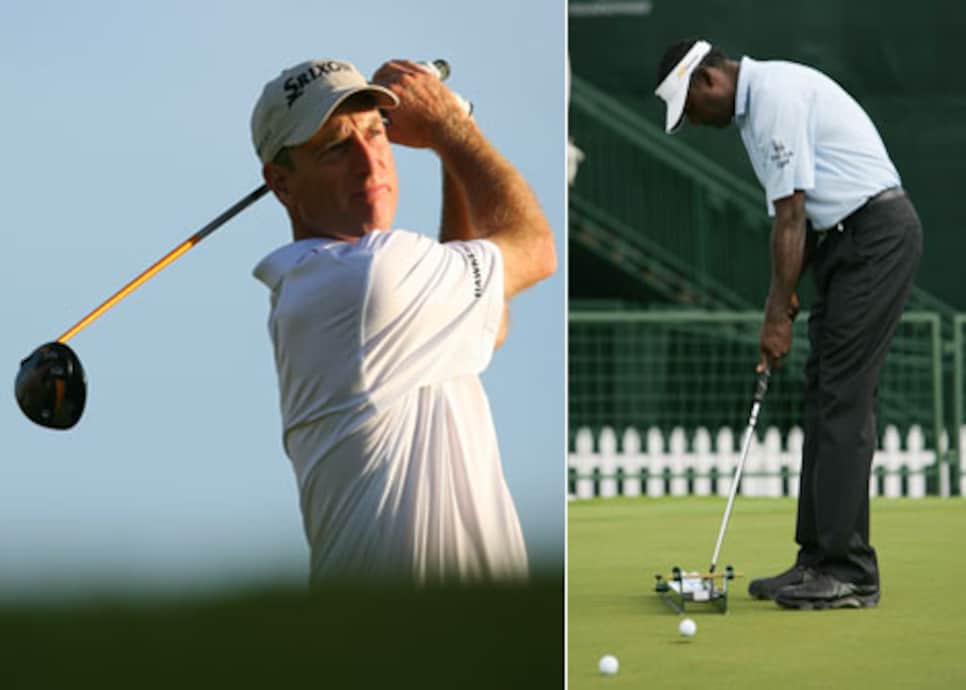 The lads in the locker room had to love hearing that. He's beating our brains in, and he's still not happy? Tiger also confirmed that he is mature enough now to make mid-course corrections better than ever. He not only has more shots, but more insight into how to implement them. He wasn't particularly informative about whether he thinks he's got his fellow competitors jumpy -- "I don't know if I'm in their heads or not" -- but he offered a peek inside his head. You cannot be "afraid to tell the truth to yourself ... people have a hard time with that, being completely honest with themselves and admitting when they've hit a bad shot."
Some 24 or so hours later, Woods schlepped in after a 67 to land just two strokes behind Ogilvy and Miguel Angel Jiménez. But Woods had also three-putted the 18th, he was wet from the beginnings of a rainstorm, and he was, well, telling the truth on himself. That infamously treacherous hole was playing tamely downwind, and to three-putt, even from 72 feet, did not leave Woods in a gleeful disposition. Ogilvy calls the Blue Monster "one of [Woods'] happy places," but not Thursday. When Woods left the grounds, it was as though his latest victory had occured the previous century, not the previous week. "When he's not winning, like around that U.S. Open stretch a year ago," Ogilvy concluded, "he's still hungry. But it seems like when he wins one tournament, he's even more motivated to win the next one and the next one. Seven in row, coming in here? That's a good career. He's not easily satisfied." Such is the attitude that floats Tiger's ocean liner. Now, he prepares for the next wave.