News
The LPGA's New Money Game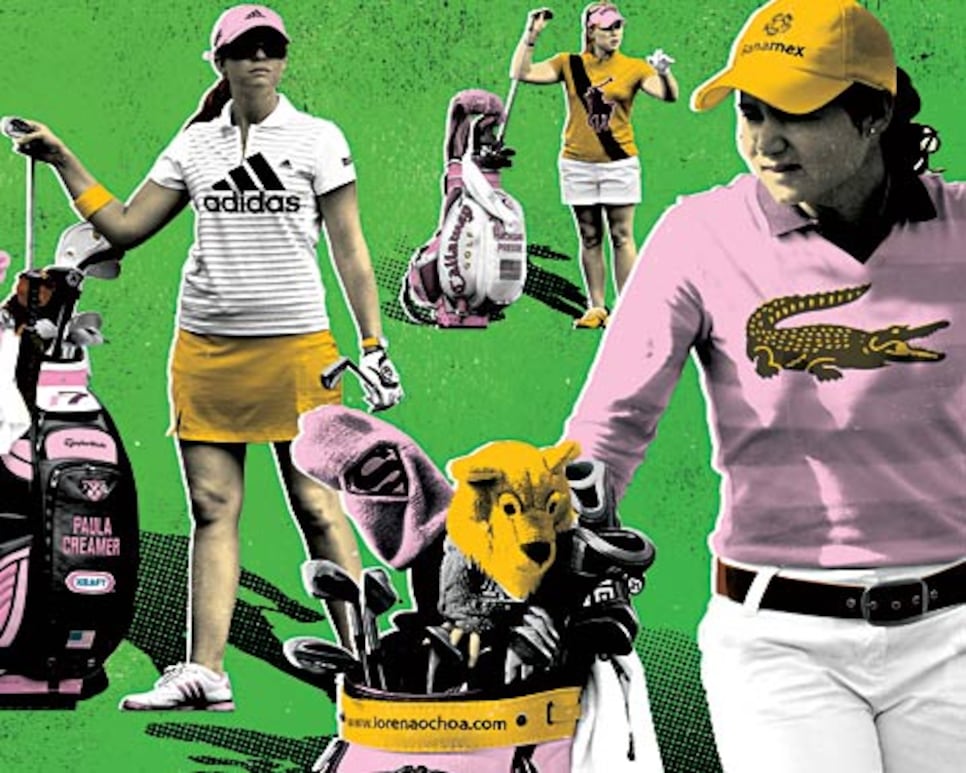 The top LPGA players have portfolios nearly as impressive as the men.
When Meg Mallon won the 2004 U.S. Women's Open she wore a hat purchased in The Orchards golf shop and her caddie carried a bag uncluttered by corporate logos. The following week, after she took the Canadian Women's Open, Mallon received one congratulatory call from an equipment rep -- and no endorsement offers. What made the situation more depressing was that Mallon had 17 LPGA victories, including four majors, and possessed one of the most marketable personalities in her sport.
"It's very frustrating when you watch the men's qualifying school and the winners say [golf manufacturers] are throwing money at them right and left, and our tour can't even get a bonus pool," she said at the time. She was not alone in her frustration: Beth Daniel, Juli Inkster and Rosie Jones were unrepresented or under-represented in endorsement deals.
Fast forward to today and LPGA players are hot commodities -- at least the stars. All four major winners from a year ago had endorsement deals well in excess of seven figures annually, many from multinational companies outside golf. Three have lucrative equipment deals. As the tour embarks on its 59th season at next week's SBS Open at Turtle Bay in Hawaii, Mallon said she was "ecstatic that [equipment companies] have finally found the value in the women's game. I hope the trend continues."
When then commissioner Ty Votaw unveiled his Five Points of Celebrity marketing plan in 2002, it was greeted with rolled eyes by skeptics who had heard predictions the women were ready to break through the cash ceiling. But Votaw lacked the Five Peeps of Celebrity enjoyed by Carolyn Bivens, who replaced him in 2005. Lorena Ochoa, Suzann Pettersen, Paula Creamer, Morgan Pressel and Natalie Gulbis each had yet to play as LPGA members when Votaw spoke. But the last few years have seen the tour become younger, fitter and deeper in talent. Equipment companies paid attention -- and started paying.
Of Votaw's five points, performance will always be the key. Relevance, passion and approachability lend the tour a unique identity, but the last -- appearance -- has played an undeniable role. As Tiger Woods did for the men, Annika Sorenstam emphasized fitness in golf. The result has been better-conditioned athletes who make for good television, as well as fetching commercials and print ads.
"They bring youth, they bring athleticism, they bring sex appeal and they bring great talent," Chuck Presto, TaylorMade senior VP for global sports marketing, said about Creamer, Gulbis and Nicole Castrale, whom his company sponsors. But, he notes, "The PGA Tour is still the big dog. It doesn't move the needle to have 50 or 60 women [under contract]. It makes more sense to have two or three top stars and promote them."
Of at least 11 companies having full-line deals with LPGA players, only one has more than four under contract: Ping (13). The top five in the Rolex Rankings -- Ochoa (Ping), Pettersen (Nike), Karrie Webb (Srixon), Sorenstam (Callaway) and Creamer (TaylorMade) -- have rich pacts. About half the top 40 have deals, not as high a percentage as the men, but improving.
"The LPGA has made a huge change in the public's eye," said Creamer, No. 37 in the Golf Digest 50 all-encompassing money list for 2007, earning an estimated $4.3 million off the course through six endorsement deals and appearance fees. (She co-stars with Nick Price in a Bridgestone ball commercial, another sign of rising marketability.) Michelle Wie ($12.5 million off-course), Sorenstam ($9.5 million) and Ochoa ($1.9 million) joined Creamer in the GD50. Other women earning seven figures off the course (yet outside the male-dominated GD50) included Webb, Pettersen, Gulbis, Pressel, Cristie Kerr, Se Ri Pak, Mi Hyun Kim, Jeong Jang and Ai Miyazato. Only Sorenstam, Webb and Pak were at that level in 2004.
The top LPGA players have portfolios nearly as impressive as the men. Ochoa's 10 deals include worldwide brands such as Audi, Lacoste and Rolex. Pettersen has BMW and LG Electronics; Kerr, Lacoste and Mutual of Omaha; Pressel, Polo Ralph Lauren and Stanford Financial. Sorenstam is associated with brands such as Lexus and has launched a company that designs courses, runs an academy and develops clothing.
The LPGA has taken a perceived weakness -- the large number of foreign players, including a top five representing as many nations -- and made it a strength. Its largest revenue stream is money from Korean TV broadcast rights, followed by TV money from Japan. Still, one reason endorsements do not go as deep as the PGA Tour is domestic TV time. The men's tour has a consistent home with Golf Channel and annually receives hundreds of millions in rights fees from networks; the LPGA purchases air time and sells ads itself. That won't change until the LPGA's domestic contracts expire in late 2009.
While the PGA Tour remains moored in the U.S., the LPGA starts with two events in Hawaii, one in Singapore and another in Mexico before reaching the mainland the last weekend in March. It has three weeks in Mexico and single stops in Canada, England, France, Japan and Korea. Next spring Thailand gets back into the mix. In 2004 only five LPGA events were played outside the United States. That's a lot more exposure in some key markets that even the PGA Tour does not penetrate, and just about every equipment maker wants at least a small piece of the pie.