News
Is There Gold In Your Garage?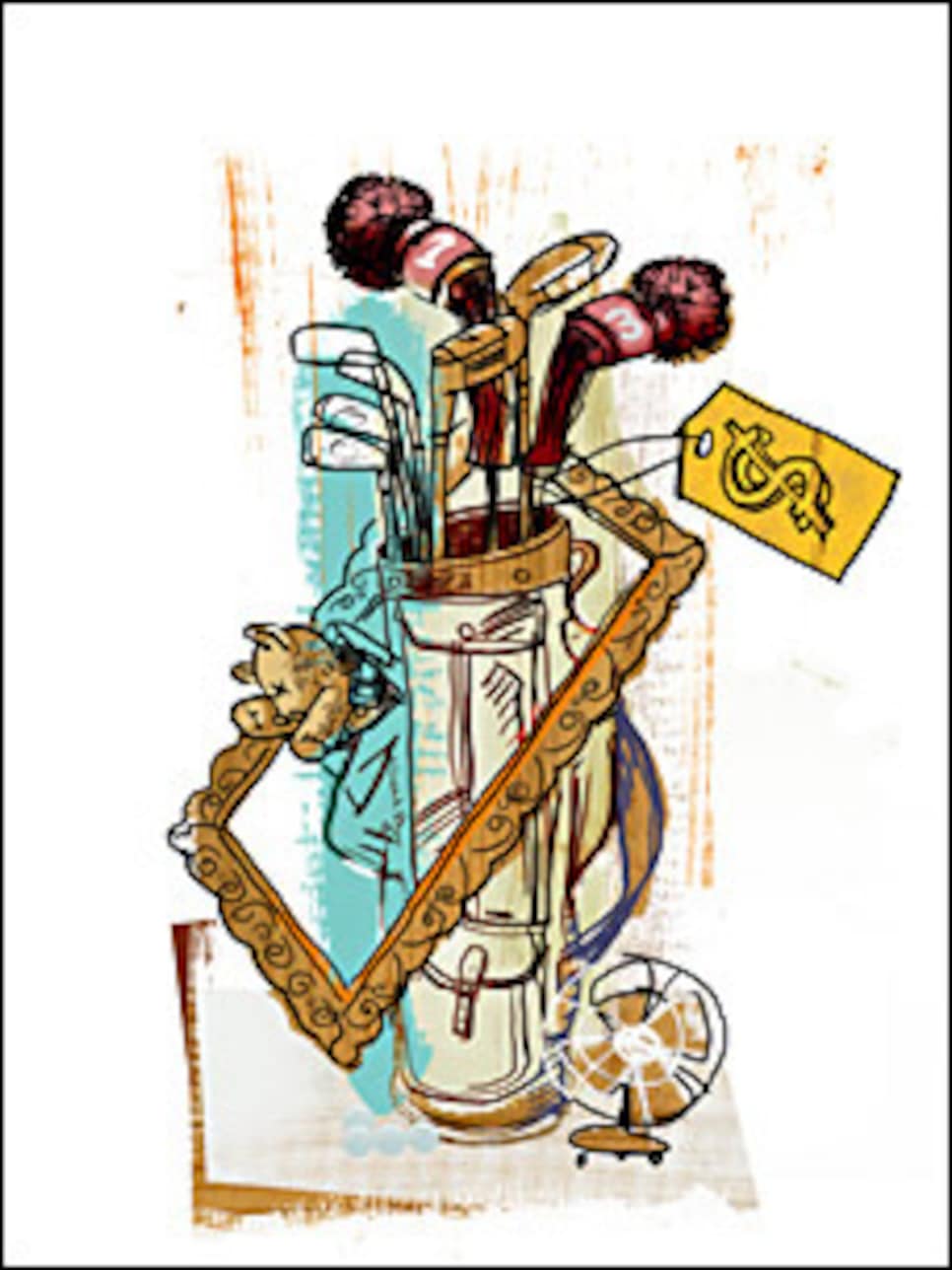 Those old golf clubs banished to your basement or garage aren't really golf clubs. Sure, they have a grip, shaft and head, but the moment they started gathering dust, they became something else: a gift card toward your next purchase.
The idea of trade-ins might be foreign to many golfers, but they bring American-dollar value. That TaylorMade r7 460 driver you bought two years ago? It's worth $62. And instead of breaking that Scotty Cameron Futura putter over your knee after that last four-putt, you might want to take the $59 trade-in instead. Clubs don't have to be recent to be worth something, either. If you have a set of beryllium copper Ping Eye2's you can bear to part with, they're currently fetching $209. That's right: Two. Hundred. Nine. Dollars.
Bottom line: If you're not trading in your old clubs, you're leaving money on the table. You're also not alone. Despite an increase in methods for consumers to avail themselves of trade-ins, estimates by several retailers indicate only 10 to 20 percent of new-club purchasers take advantage of the opportunity.
The reason is a lack of consumer education. The PGA.com Value Guide is used by more than 6,000 golf facilities. Large retailers such as Golfsmith, Edwin Watts, Dick's Sporting Goods and Golf Galaxy all take clubs in trade. Even some manufacturers, such as Callaway Golf with its Trade In! Trade Up! program, have stepped up. But consumers still have not entirely warmed to the idea.
"People need to wake up and realize those bags of clubs they never use have value," says Ken Morton Jr. of Haggin Oaks Golf Super Shop in Sacramento, Calif. "Only eight to 10 percent of our sales include a trade-in. That's not all that many." Part of the problem is mindset. Golf clubs are not a disposable item, but rather a durable good that retains some of its value. But for years equipment manufacturers -- primarily because there was no outlet for used clubs -- wanted consumers to view golf clubs as disposable. And consumers did.
The year 1999 marked a shift in that thinking. That was when Golfsmith launched its trade-in program by creating an online blue book on the trade-in value of golf clubs -- the first retailer to do so. "It took a while, but I think the industry finally realized that trade-ins were significantly important to the sale of new clubs," says Fred Quandt, senior VP of merchandising for Golfsmith. "Golf clubs are not like other products. They don't break or wear out. It's an aspirational purchase. Trade-ins help lower the barrier to that purchase. It's an area of steady growth."
Three years later Callaway launched its Trade In! Trade Up! program to encourage golfers to upgrade to newer technology at a lower cost. "Many green-grass shops were not in the used-club business, and that meant it was difficult to trade in old clubs," says Greg Sabella, senior manager for woods for Callaway. "Our program allows shops to participate in an easy, low-hassle way while providing an opportunity for golfers owning used Callaway equipment to get rid of their old clubs, get value for them, and reduce the cost of a new-club purchase."
Still, while Golfsmith's and Callaway's efforts marked a beginning, trade-ins were limited in scope until 2003 when the PGA.com Value Guide (an online listing of used-club values derived from the selling prices of hundreds of thousands of clubs on auction site eBay) made its debut. Shortly thereafter the PGA Trade-In Network was established, providing PGA professionals the opportunity to effectively wholesale any club they took in trade. The pro would receive the amount listed in the Value Guide and send the club to the Trade-In Network where it would be sold online through 3balls.com (eBay's single-largest seller of golf equipment with more than 231,000 user reviews to date). At any given moment more than 2,000 auctions of used equipment are being conducted -- each a five-day auction with a 99-cent reserve (minimum bid) price. If that sounds like a risk, it isn't -- the average margin on re-sale is 35 percent.
But doesn't all that used product in the marketplace hurt new club sales? For years that was the thought, but it's not the reality. "The golfer looking to purchase used clubs is a totally different animal," says Morton. "You're not going to get them in a $299 driver, no matter what. But what you can do is get them in better equipment than what they might have bought otherwise -- equipment that might help them play a little better or help them enjoy what good shots they do hit. Long-term that might keep them in the game longer, and that's good for everyone."
Sabella adds that Callaway will do between $4.5 million and $6 million per year in business on Trade In! Trade Up! -- the result of 25,000 trades, each of which results in a new-club purchase. And while a lot of the evidence to date is purely anecdotal, Golf Datatech's John Krzynowek contends trade-ins are helping shorten the purchase cycle.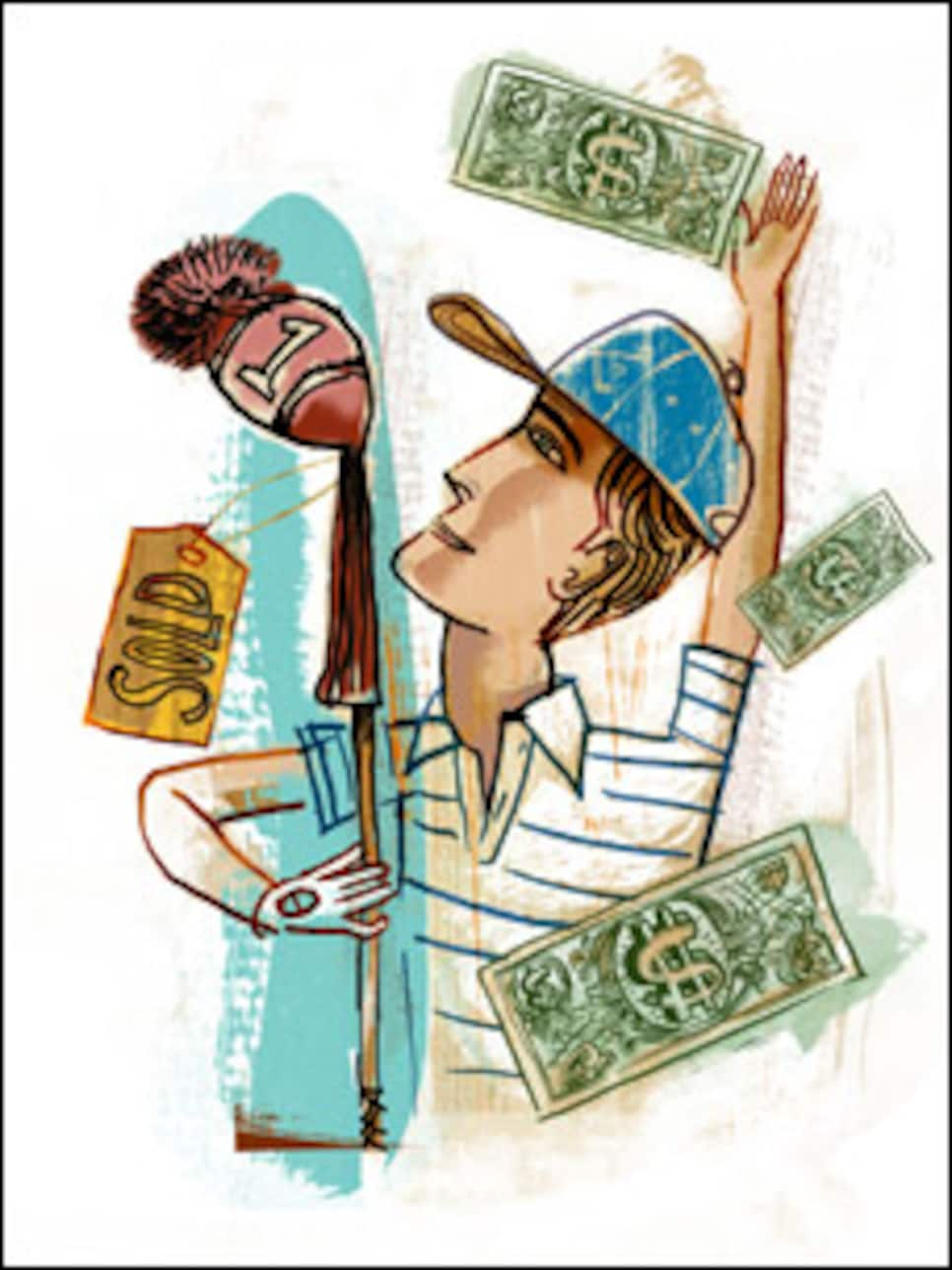 "With product life cycles shorter, it makes sense to make the connection between trade-ins and a faster purchase cycle," Krzynowek says. "In the 1990s studies revealed that avid golfers bought a new set of irons every five years and a new driver every three years. Now it's every three years for a set of irons and about 12 to 18 months for a driver. Trade-ins are not the only reason for that, but I think [they have] had an impact. The guy looking at a $400 driver likely has something to trade in. In fact, he probably has a lot to trade in."
Still, awareness is an issue. In a recent survey conducted by PGA.com Value Guide, 61 percent of visitors to the guide said they had never traded in a golf club. Twenty-eight percent of those respondents added that they didn't realize they could trade in used clubs, despite the fact that 60 percent said they had a driver they could trade in and 51 percent had a set of irons. Only 12 percent responded they had no clubs to trade in.
Progress, however, is being made. Consider these numbers. In the past 12 months the PGA.com Value Guide has had 1.8 million unique visitors (out of a total of 2.4 million visitors) with nearly 17 million club searches. Part of the reason for the rise is that 6,200 retail locations (employing more than 10,000 PGA professionals) now take part in the network's program.
So, if you go to trade in your clubs, do you have to buy something to effect the trade? The answer is usually yes, but it's as individual as the retailer who accepts the clubs. Some facilities only take in a trade when you're purchasing new equipment, while others will allow you to purchase pretty much anything in the store or shop. Still others may offer a gift certificate. "More and more retailers are realizing that it doesn't matter if you trade in a driver but buy a putter, wedge or shirt," says 3balls.com founder Leigh Bader. "And in the future I can envision that expanding to food and beverage, and perhaps cart fees or lessons, too."
Although the ways you can apply your credit are expanding, very few places will pay you cash for your clubs. However, the convenience factor often trumps the lack of a cash payout because trade-ins eliminate the headaches associated with trying to sell clubs on your own. "[Trading] is a much cleaner transaction for the consumer," says Haggin Oaks' Morton. "But a lot of people are disappointed with the trade-in price. They place more value on the clubs than they have."
So what clubs hold their value best? Typically sets of irons do well because there is a greater market for used irons and the purchase cycle for new irons is longer than most categories. Drivers, on the other hand, are somewhat hit or miss. "A driver may only be two years old, but it could be five generations old," says Morton. "The technology in that category is moving fast, and the drop-off in value is just as quick."
Worst value, however, is wedges. They get beaten up more than any other club in the bag. Even after just a few rounds, their value is greatly diminished. Take Cleveland's new CG 14 wedge: Although it is the latest product in the company's wedge line, the trade-in value is just $38 for a club in pretty good condition (and just $40 for the same stick in very good condition). But for all the variables, one thing remains constant: Branded equipment will bring more in trade than non-branded almost every time.
Indeed, identifying the peak time to unload your old clubs is hardly a science. Unlike the auto business where there is a marked decline in trade-in value when a car reaches 60,000 miles, there's no clear-cut demarcation line for golf clubs. But just like Branch Rickey's (the old Brooklyn Dodgers general manager) philosophy of trading ballplayers a year too soon rather than a year too late, don't wait to trade in your clubs. The falloff in value can, at times, be swift -- especially if a new technology is introduced in the category. A good rule of thumb is 12 to 24 months with the sweet spot being around 18 months -- the time where a product starts to get closed out and a newer version readied for introduction.
"Too many people wait too long," says Bader, who is also co-owner of Joe & Leigh's Discount Golf Pro Shop at Pine Oaks GC in South Easton, Mass., a frequent winner in Golf World's 100 Best Golf Shops competition. "They don't receive under value on their trade, but they are past peak market. A club doesn't have an odometer. There is just age and sometimes age gets tough to figure out. But consumers can look on resources like the Value Guide to monitor what they can get for their clubs."
And for those who simply don't care what they get for their clubs but still want to clear out the basement, there's another avenue -- donations. Condé Nast (parent of Golf World) has partnered with the Susan B. Komen Foundation's Rally for the Cure on a program that will soon accept donations of used clubs. Donors will enter the details of the clubs and the website (www.rallyforthecure.com) will indicate the value that will go to the Komen Foundation. A shipping label can be printed from the website -- simply box the clubs and drop them at any UPS store. Shipping is free and donors can deduct the value of the clubs as a charitable donation for tax purposes. The clubs will then be auctioned like any other club by the Trade-In Network with proceeds going to Rally for the Cure.
Now that is turning your garage into gold.