News
Life Beyond The Spotlight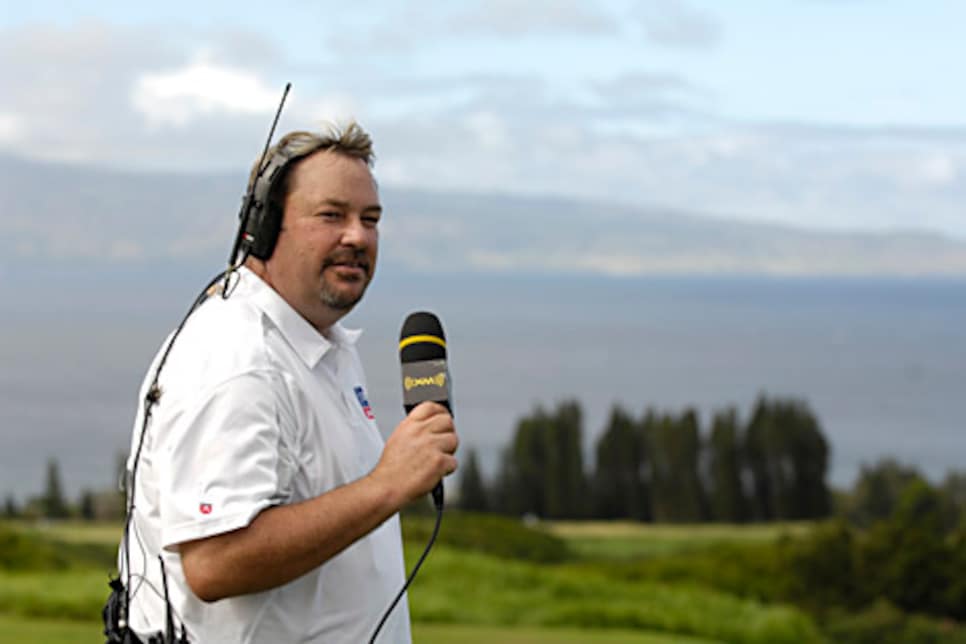 Calling the shots:Carnevale in his radio role as the PGA Tour season began last week.
After nearly a decade of trying to get on the PGA Tour, years of waiting tables and waiting for his time, Mark Carnevale finally got through Q school in 1991. He was 31. His father, Ben, a hall of fame college basketball coach who roomed with him that week at Grenelefe Resort in central Florida, was back at the hotel packing for his flight home when his son finished his final round. "I called him in the room, and he couldn't speak," Carnevale recalls. "That was one of the few times in my life I ever heard him choked up. It's probably the most memorable moment in all of golf, just making that phone call."
His ticket to the tour punched, Carnevale did his dad proud in 1992. Fellow rookies Phil Mickelson, who turned pro for the U.S. Open at Pebble Beach, and David Toms didn't win tournaments in 1992 -- Mickelson was 90th on the money list, while Toms was 101st -- but Carnevale broke through at the Chattanooga Classic. Five strokes behind after 54 holes, Carnevale shot a closing 64 to beat Ed Dougherty and Dan Forsman by two shots.
Carnevale finished 70th on the money list. His peers voted him, at 32, rookie of the year, a fact that Carnevale, now an announcer for PGA Tour Radio, reminded Mickelson of last year. "I asked Phil if he had gotten over the fact that I beat him out for rookie of the year," says Carnvevale, "and Phil chuckled a bit and said, 'I'm still a little bummed, but I think I have.' "
The only player to win the honor since it was first awarded in 1990 who isn't actively competing now (see chart, page 27), Carnevale was a largely self-taught golfer who believed it was his duty to entertain fans. "If I could make one spectator leave the course saying, 'There's a good guy,' that was my goal," he says.
In the immediate aftermath of his victory, Carnevale made a misstep. "I can tell you the moment -- the biggest mistake I made," he says. "I dog-cuss players for it now. Someone was interviewing me and asked what I was going to do now that I had won. I said I had to readjust my schedule. Why? I hadn't done anything that great. I wouldn't say I took things for granted, but maybe I didn't work as hard on my game. I think I was also afraid of becoming someone I wasn't. I liked the limelight but didn't need it."
"[Mark was] just a good-natured guy who was fun to travel with," says Fred Funk. "Whether he had a good day or a bad day, we'd go to dinner and have a couple of beers and forget about it. It wasn't the end of the world."
Carnevale's perspective came in handy following his rookie season as he struggled with his game. In 1995 he had only one top-25 finish and finished 185th on the money list. Playing a mixture of PGA and Nike tour events in 1996, his results weren't much better. After reviving his game on the Nike Tour in 1997, Carnevale made a splash in the 1998 U.S. Open at the Olympic Club. In second place after a first-round 67, he was still in the top 10 through 54 holes. It would be his last hurrah.
"I woke up in the middle of the night and said, 'If you shoot 64, you might win this thing,' " Carnevale remembers. "Ooops. I played the last three holes four over par and shot 78. If I had shot a good final round ..."
Instead, it was Carnevale's last experience in the spotlight. "His game was steady," says Funk, who also won his first event in 1992, the Shell Houston Open. "He was a great driver of the ball, though he wasn't long. He had a real solid, simple swing. But there's a fine line out here, and he just fell under it."
If there was a defining moment when Carnevale realized the game was passing him by, it occurred at the John Deere Classic in 2000. "It was the year Charles Howell III was getting his exemptions after coming out of Oklahoma State," Carnevale says. "I was paired with Charles, and here was this 150-pound kid blowing it 70 yards by me. I just felt it was time to start a relationship, maybe start having a family and move on to something else." A burly 235-pounder whose nickname is "Moose," Carnevale wasn't fond of working out. "I could have tried to get myself in better shape, but I didn't," he admits. "I never had any problem walking, but I'm sure it affected me a little."
Plus, the game was changing outside the ropes, too, something Carnevale didn't like. "It was becoming businesslike and too impersonal," he says. "You would go into a locker room and a player would have eight people sitting around him and none of them were golfers."
After playing a mixed schedule of Nationwide and PGA events into the 2002 season, Carnevale was hired to be the tournament director of the Nationwide Tour event in Virginia Beach. Following a stint there, he took a similar post at the new Champions Tour event near Hickory, N.C. "I thought I did a good job, but the fit wasn't there," Carnevale says.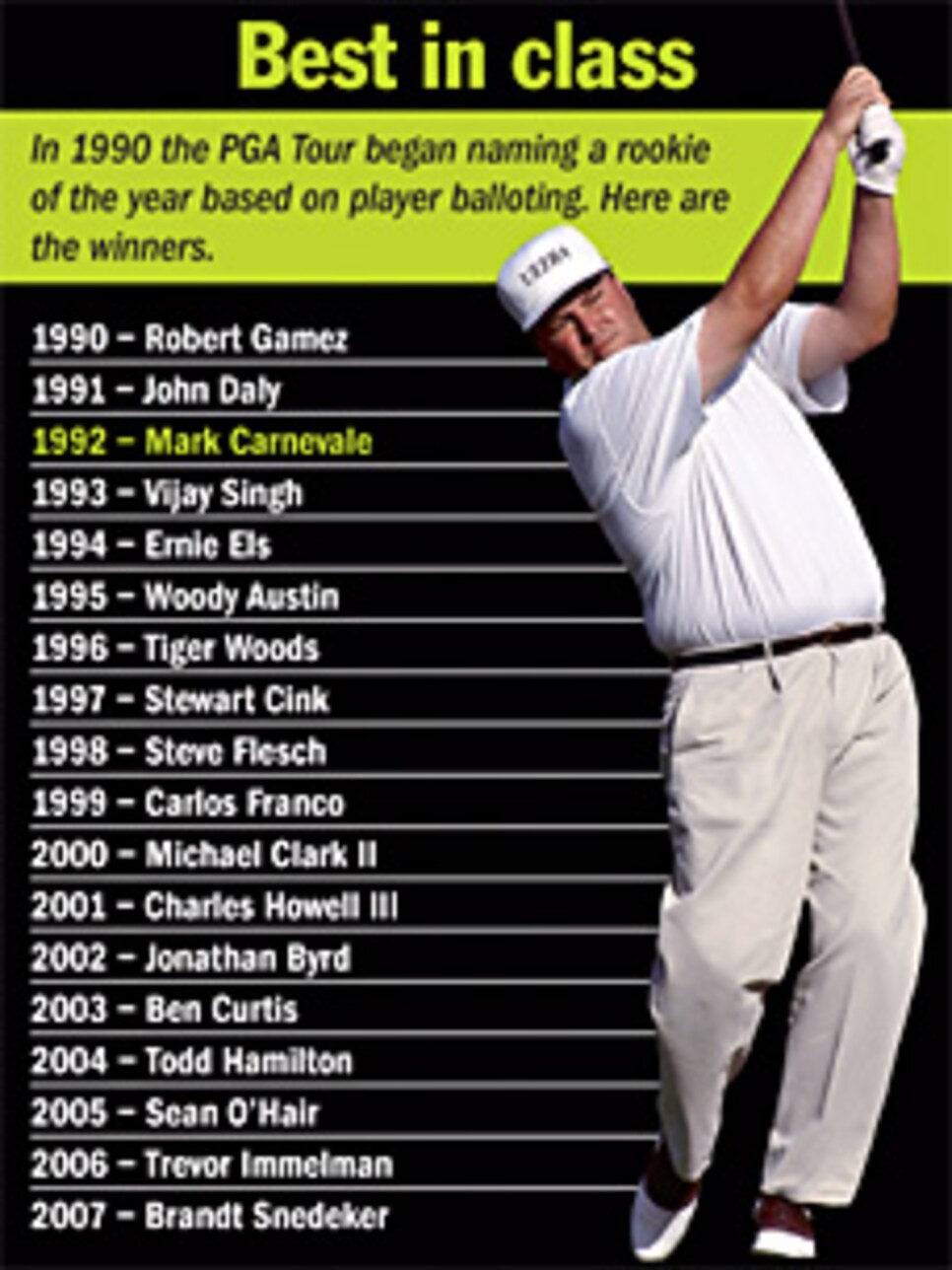 Because he had done some golf broadcasting for ESPN and Golf Channel in 1999 and 2000 to augment a partial playing schedule, Carnevale was interested when he was offered a position with the new PGA Tour Radio on XM Satellite in 2005. He has been a studio analyst and on-course reporter, frequently introduced as "1992 PGA Tour rookie of the year Mark Carnevale."
"Jay Randolph Jr., who I work with, was kidding me, saying he couldn't believe I didn't have a [vanity] license plate," Carnevale says. "So this year, I finally got it. It says: '92 ROY.' "
He will spend most of his time in 2008 following the action, where he believes his competitive experience is valuable. "I don't shy away from criticism," Carnevale says. "You can say [a player hit] a terrible shot, but you have to back it up with reasoning. You have to have a certain amount of credibility behind what you say. If you've been [a player], that lends credibility to what you say."
For the last couple of years, Carnevale has limited his competition to friendly games at TPC Sawgrass near his Ponte Vedra Beach, Fla., home, where he maintains a plus-3 handicap. But he turns 48 in May and is considering becoming a rookie again -- on the Champions Tour in 2010. "I think I owe it to myself to give it a shot," he says. "I'm just trying to determine the right path to get there."
The Nationwide Tour exempts three former PGA Tour players ages 48 or 49 into each of its tournaments based on their career money earnings. Carnevale also has eligibility as a past Nationwide champion ('97 Inland Empire Open). Q school is a possibility; so is competition on the Sunbelt Senior Tour for golfers 47 and older. "At some point," says Carnevale, "if I want to go to the Champions Tour, I've got to put the effort in. If I'm going to do it, I've got to focus my attention."
For the moment he is holding a microphone, not a driver. Other rookies are where he once was, wondering what their first year will bring. At the end of the season, one of them will have done better than the rest. Asked what he would tell someone who starts his tour career successfully, Carnevale is direct, mindful of his own trail.
"Don't change anything," he says. "You got there for a reason."