News
Old school: When Bolt won the 1958 U.S. Open, working the ball was a big part of the game.
Shotmaking is not quite a lost art as classically inclined students of the PGA Tour know and admire it. But it may not survive for another generation at the current rate of change. It's going the way of acoustic music, manual transmissions and the typewriter. Welcome to the new shotmaking: Hit it hard, hit it high, hit it far. At face value, the term shotmaking is as blandly generic as descriptors such as "filmmaking" or "dressmaking" or "newsmaking." But, to the cognoscenti, it traditionally has meant the ability to control the ball by maneuvering it left to right or right to left, high or low, making it stop or roll, from different lies in different weather conditions. The players have always recognized superior shotmakers, even if it is harder to appreciate from outside the ropes.
You hear a story about Roberto De Vicenzo seemingly stymied behind trees in the rough. He called his shot, gesturing that he somehow would make the ball bend left around the trees and then work back to the right with the hole cut on the right -- a hook-slice. He hit a brazen hook that nearly reached the green, then banked sideways off a mound to finish near the hole. Now that's shotmaking.
Today shotmaking shows more around the green than off the tee and into the green, where it consists mainly of controlling trajectory -- always a key aspect of the form but not to the exclusion of manipulating the ball to get it closer to Point B from Point A.
Such is his upbringing and talent level, Tiger Woods can pitch a tent in both the traditional and new-age camps, but he laments the decline in more resourceful play. "Most of today's young players never had to work the ball growing up because they were more concerned about distance," he says. "Shotmaking has changed because of the balls. They're harder to work. They go straighter."
If balata balls and persimmon heads were still in play, Woods might well win even more. "Any time a player understands how to shape a golf ball and can consistently hit the ball flush, you're going to want the ball to move more and the equipment to be less forgiving," Woods says. "It puts a premium on quality."
Tiger's custom golf balls, a version of the Nike One Platinum not available in the marketplace, spin more and are easier to maneuver. "They're the spinniest on tour," he says, showing he can coin words as well as craft shots. He doesn't mind giving up a little yardage off the tee to gain accuracy into the greens. Of course, he still averages 300 yards per drive (302.4 yards, 12th on tour in 2007, to be exact).
Woods, his coach, Hank Haney, and other insiders contend that the new shotmaking consists mainly of varying the height of a shot. It's a matter of how hard to hit it -- whether to try full shots or three-quarter shots or half shots. Faster greens and tighter hole locations force the issue. If the average tour pro today applies a touch of cut or draw to a shot, it's not much. He's probably committed to a go-to pattern of all fades or all draws.
It struck your weathered correspondent that the rainbow arc of his journalistic career extends from the pot of gold that was Tiger's most recent major victory, the PGA Championship at Southern Hills, back to Tommy Bolt's 1958 U.S. Open win at that same time-honored Tulsa venue. Without stretching the point or the memory too thinly, so does the evolution of shotmaking -- or its demise if you prefer.
Take the famous 12th hole at Southern Hills, a hefty par 4 that was a favorite of Ben Hogan and Arnold Palmer. It turns and slopes appealingly from right to left, with water in play to the left on the blind drive and then into the green and right of it. It was listed at 465 yards in '58, about the same in '07.
Tiger relied mainly on his "stinger" tee shot with a 2-iron, a scorching line drive that can travel as far as 290 yards depending on his intent and the firmness of the fairways. He positioned it deep into the bend of the dogleg, leaving himself short-iron approaches. He was one under par on the hole for the week as the field averaged over par.
Bolt hit driver every day on the 12th, usually power-fading it into the hillside on the right. One day he pulled his drive and had only a sand wedge home.
Bolt, closing in on his 90th birthday, says from his home in Arkansas, "Ol' Tom killed 'em all on that 12th hole." Ol' Tom played it three under par as other contenders stumbled over it in '58. He watched on television as Tiger took on the 12th. "It slopes toward that little creek, and he wasn't gonna hook it," Bolt says. "He's one of the very few shotmakers today, but he hits it so far he doesn't need to be. No way to compare the games today and then."
When Woods shot 63 Friday at Southern Hills, missing the lowest score in major championship history by a fraction of an inch when a short putt on the last hole lipped out, he made eight birdies hitting his driver only once. "Tiger's an incredible shotmaker," says three-time major winner Nick Price. "He understands the artistry of the game. That's why he's separated himself. You can't hide pins from a true shotmaker."
But Woods is pragmatic enough to take advantage of the new equipment and course setups most weeks on tour courses. When Vijay Singh won nine tournaments in 2004 and popularized what has become known as a "bomb and gouge" style, he routinely ripped drivers on par 4s with little regard for the rough, ranking 150th in fairways hit but second in greens in regulation and first in scoring average and money.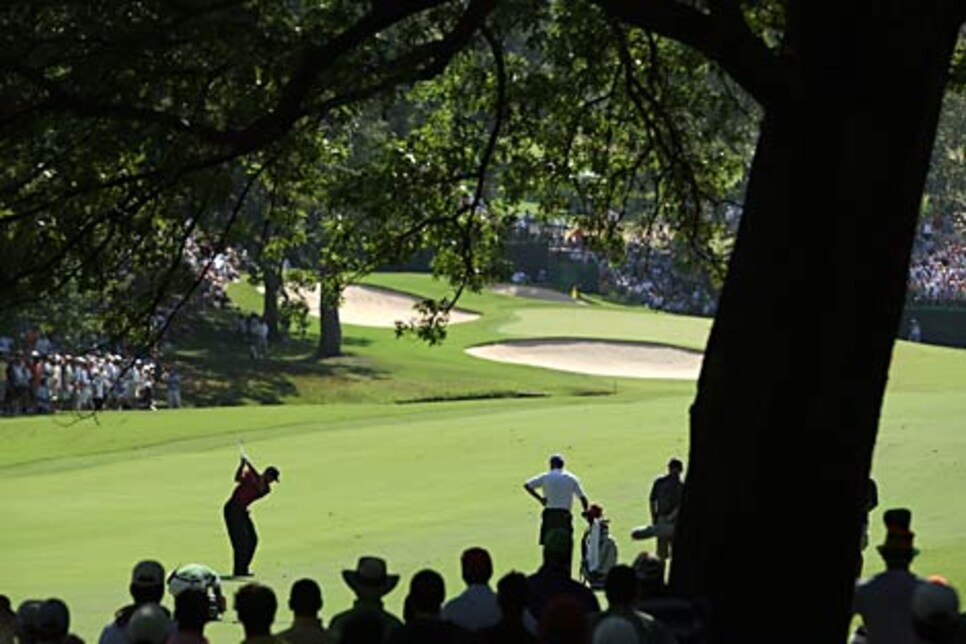 Singh said he would rather be in the rough with a wedge than in the fairway with a 6-iron. (Jack Nicklaus, a straighter driver, thought the same way a generation earlier with less media attention and no catchy phrase attached. He could maneuver the ball enough when the situation demanded it.)
Woods responded by switching to a higher-tech driver, from a 43½-inch model with a steel shaft to a 45-inch weapon with a graphite shaft. His basic distance increased from 310 to 330 yards. "Now his driver is basically a specialty club," says Haney. The world's best golfer relies on different game plans for regular events and major championships. His statistics tell as much, though golf statistics are freighted with variables.
On the PGA Tour in 2007, Woods' stats closely resembled Singh's 2004 numbers. He was 152nd in driving accuracy, but first in greens in regulation, scoring average and, need it be said, in money -- by a couple of hedge funds. The majors are a different story. At the PGA in overheated Tulsa, his driver staying shaded under his animal headcover, he was in the top 10 in driving accuracy. When he won his last British Open at Hoylake, also forgoing the driver, he was first.
If advances in equipment technology figure prominently in the new shotmaking, so increasingly do player size and strength, swing teaching and course design and setup. (Some would debate calling them advances, and it's chickens-and-eggs trying to pin down causes and effects, but in any case we are seeing a more one-dimensional approach to scoring that enables a middle-class tour pro to become wealthy in an age of runaway purses, thanks to Woods and his appeal to the television networks.)
Greg Norman considers Woods the exception to an unexceptional shotmaking norm. Noting that he grew up in an era when the better players could maneuver the ball maybe 60 feet in the air either way, the entrepreneurial Aussie finds the modern game boringly predictable. He thinks restrictions should be put on equipment for the pros since amateurs don't play the same super-tweaked gear anyway. A fellow fiftysomething says Norman doesn't play the Champions Tour more because too many players can make too many birdies too regularly.
The ball comes up most often as a deterrent to versatile shotmaking. "It's ruined the game," Lee Trevino says. "It doesn't bend as much. The USGA dropped the ball with the golf ball."
"In some ways the old ball was better," says Johnny Miller. "It spun more, so you could get to just about any flag. The irons today are weighted at the bottom to get the ball up, but you can't put sidespin on it."
Steve Flesch concurs. He dropped his ball-endorsement deal for the '07 season after going winless since 2004, experimenting with different models until he found a Srixon ball that suited his control game better. Playing it for free, he won twice. Fred Funk, of average size and modest driving distance, continues to play more on the regular tour than the senior tour with his five-year exemption for winning the 2005 Players Championship. He played 32 tournaments in '07 on the two circuits combined.
On the big tour he made more than $1 million and won a tournament, in Mexico opposite the WGC-Accenture Match Play Championship. To contend, he must pick his courses carefully, drive the ball his usual 270 yards with GPS accuracy and catch fire with his short game. He has not been a factor in recent majors. Funk made nearly another million and achieved another victory on the Champions Tour, milking the best of both cash cows.
Smaller old-school tour winners such as Funk, Corey Pavin and Justin Leonard went through phases late in their careers when they tried to hit the ball farther -- and slumped. In turn, they have gone back to the tactical style that got them to the winner's circle.
Today's tour pros, from seasoned veterans to raw rookies, do extensive testing with their equipment companies to arrive at the most complementary combination of club and ball. They optimize performance in ways amateur golfers cannot approach (or comprehend). But the testing is seldom done in an effort to foster more subtle shotmaking, though Phil Mickelson has gone so far as to carry a second driver fine-tuned to fade the ball.
Butch Harmon, who coaches Mickelson and Flesch among a flock of tour pros, says, "The young players today don't see an image of turning the ball around doglegs, and the equipment doesn't allow you to do it. The kids are stronger and have sounder swings, and they only see way up high -- they go over everything. It's a power game. You couldn't do that with the old equipment.
"Tiger says he plays in pictures, but he has more creativity and imagination than anybody I've ever seen except maybe Seve Ballesteros," Harmon says. "When we were preparing for the Masters, [Woods] would practice with a wooden driver because he could feel the ball on the clubface longer to turn it. And he has the guts to play any shot he can see at any time in any situation."
Brandt Snedeker, the 2007 PGA Tour rookie of the year, played an experimental round this year for USA Today with clubs and balls from both the previous and present generations and came away with a new respect for his predecessors. He said he had trouble hitting the old driver straight, and he took huge divots with the irons that precluded clean contact. Mis-hits with the older equipment went much farther off line.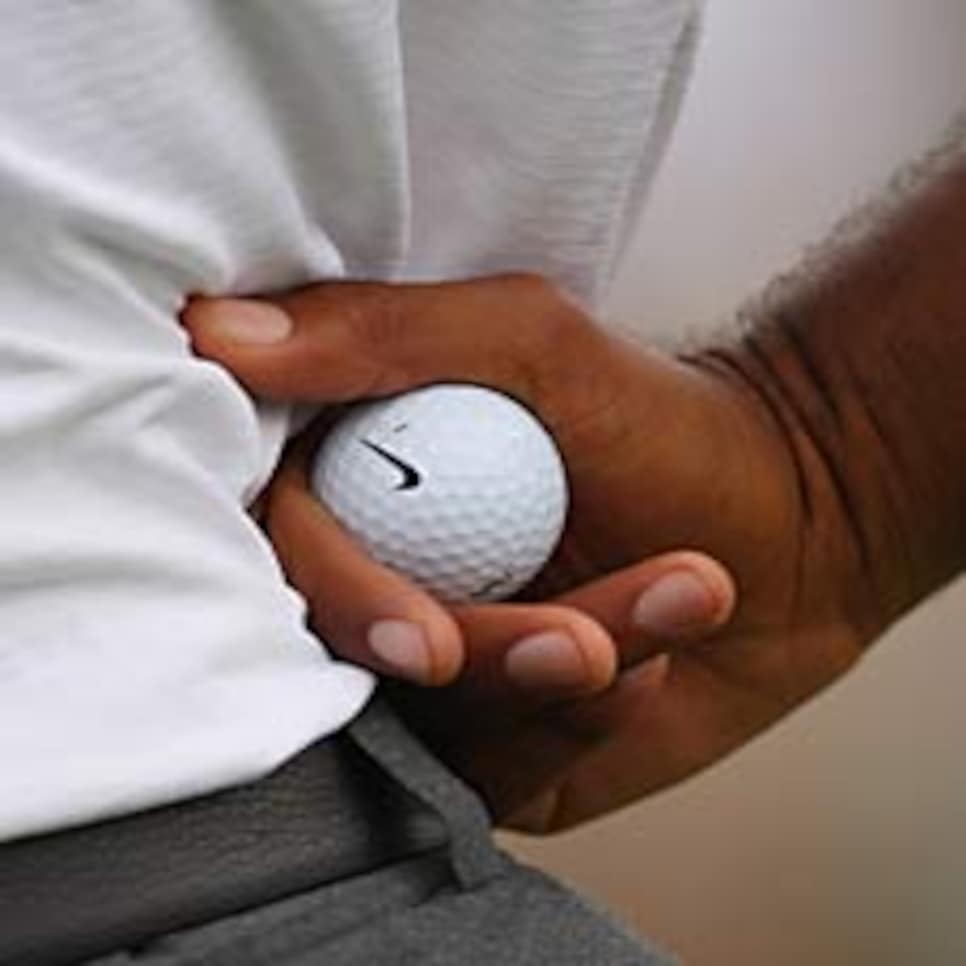 "It proved the old guys were so much better course managers," he said. "They had to think their way around the course much more. It was great fun to curve the ball a lot left or right into a pin. They had to have great tempo to control the ball." Adds Harmon: "A champion is always going to be a champion, but I think it would be much easier for the great players of yesteryear -- the Hogans, Nelsons, Sneads, Middlecoffs -- to perform with modern equipment than it would be for the younger players today to go back to the old equipment. The kids today don't see shapes, don't work the ball."
Teacher Jim Hardy, who played the tour with Harmon, sees common ground -- scruffy ground it was -- in how the great shotmakers developed their games, not only the players Harmon mentioned but the following generation that featured Trevino, Chi Chi Rodriguez and Ballesteros, among others.
"They grew up playing hardscrabble conditions," Hardy says. "If you tried to lift the ball up, you'd never make it. They had to learn what we call a trapping move. Hogan said Jimmy Demaret was the greatest shotmaker he ever saw, and nobody squeezed down harder on the ball than Demaret. Hogan was no slouch either."
Hogan was the consummate shotmaker of them all in the opinion of the venerable Jackie Burke, who knew him well in Texas. "He could work the ball near his target from funny-assed lies," Burke says. "Ben shaped shots with his hands -- held on for a fade or rolled 'em for a draw. I never saw him hold a meeting on yardage out there either."
I watched Hogan late in his career hit balls one sunny summer afternoon at his home club in Fort Worth. It was like watching Vladimir Horowitz practice the piano for a concert at Carnegie Hall. A series of shots with a 4-iron curved one way or the other and one-hopped to his caddie. I remarked that he must be pleased with that kind of consistency. He frowned and said there was several feet difference in the trajectory. Harmon says you could hang a big hula hoop in the air, and Hogan would shape every shot right through it.
Burke says he himself came to appreciate the value of shotmaking during a 1951 Ryder Cup match with Clayton Heafner as his partner. "He was a mean guy," says Burke. "I had an approach shot to a pin cut on the left, and he growled at me to 'Bend it in there right to left!' I was wonderin' what page in the manual that was on. That's how I learned."
How does Burke evaluate the shotmaking skills of Nicklaus and Woods, the greatest player of all time and the young challenger on pace to surpass his 18 professional major championships? "Jack couldn't curve it like the best old guys, but he could play the shot he needed," Burke says. "Tiger's doin' it more and gettin' better at it. He sees the game better than the guys he's beatin'. He takes himself out of the shot and hits it with a certain recklessness, the way a great pitcher throws a curve ball."
Dissecters of the new shotmaking refer to space-age clubs through the bag as well as the driver. Teacher Dean Reinmuth believes tour play is bolder and easier due in large measure to the new wedges because they are more lofted with less bounce, making them suitable for multiple purposes. "If you want shotmaking to be more of a factor," he says, "you could say that 56 degrees is the maximum loft allowed in tour events. And you would see guys have to play different shots because they couldn't get so aggressive, throwing the ball straight up in the air and stopping it with no spin." (Ballesteros' own proposal was to limit loft to 54 degrees.)
Complicating any such analysis is the fuzzy issue of square grooves in irons, though combined with bombastic power off the tee they can make for flashy entertainment. Tour players say there is no longer such a thing as a flier lie that causes the ball to take off with diminished spin like a knuckleball, even from average rough.
"It's irrelevant whether these big hitters drive it in the rough unless it's really deep rough, because with the square grooves they can stop the ball on the green anyway," says Price. "And the 60-degree wedge has made the guys fearless because if they short-side themselves they can still get it up and down.
"Seve was probably the best I ever saw with a 56-degree wedge -- he was a wizard with that club, from any kind of lie," adds Price. "But when the more-lofted wedges came along he lost a lot of his advantage -- the way Norman and I lost our edge as long and accurate drivers when the big-headed drivers came out."
Hardy says: "Square grooves changed the game to a bombers' game. Where the shotmakers used to have the best of it and the bombers the worst, it's the other way around now."
Conventional wisdom has held that rough should be a half-stroke penalty. Missing fairways still negatively affects scoring on tour, but not as much as it used to. The statistics of two players from 2007, the long-hitting Woods and the light-hitting Funk, show that on approaches of 175 yards and in, the difference between playing from the fairway versus the rough was less than a quarter of a shot for Funk and a third of a shot for Woods.
The USGA has been studying the effect of square (U-shaped) grooves on spin performance from light, medium and heavy rough versus V-shaped grooves and has found square grooves control the ball better in all three circumstances. The testing further shows that a 5-iron with square grooves spins the ball more from light rough than from the fairway. "That means the rough at Augusta is actually a bonus for the crooked hitter," says Funk's caddie, Mark Long. "Yikes!"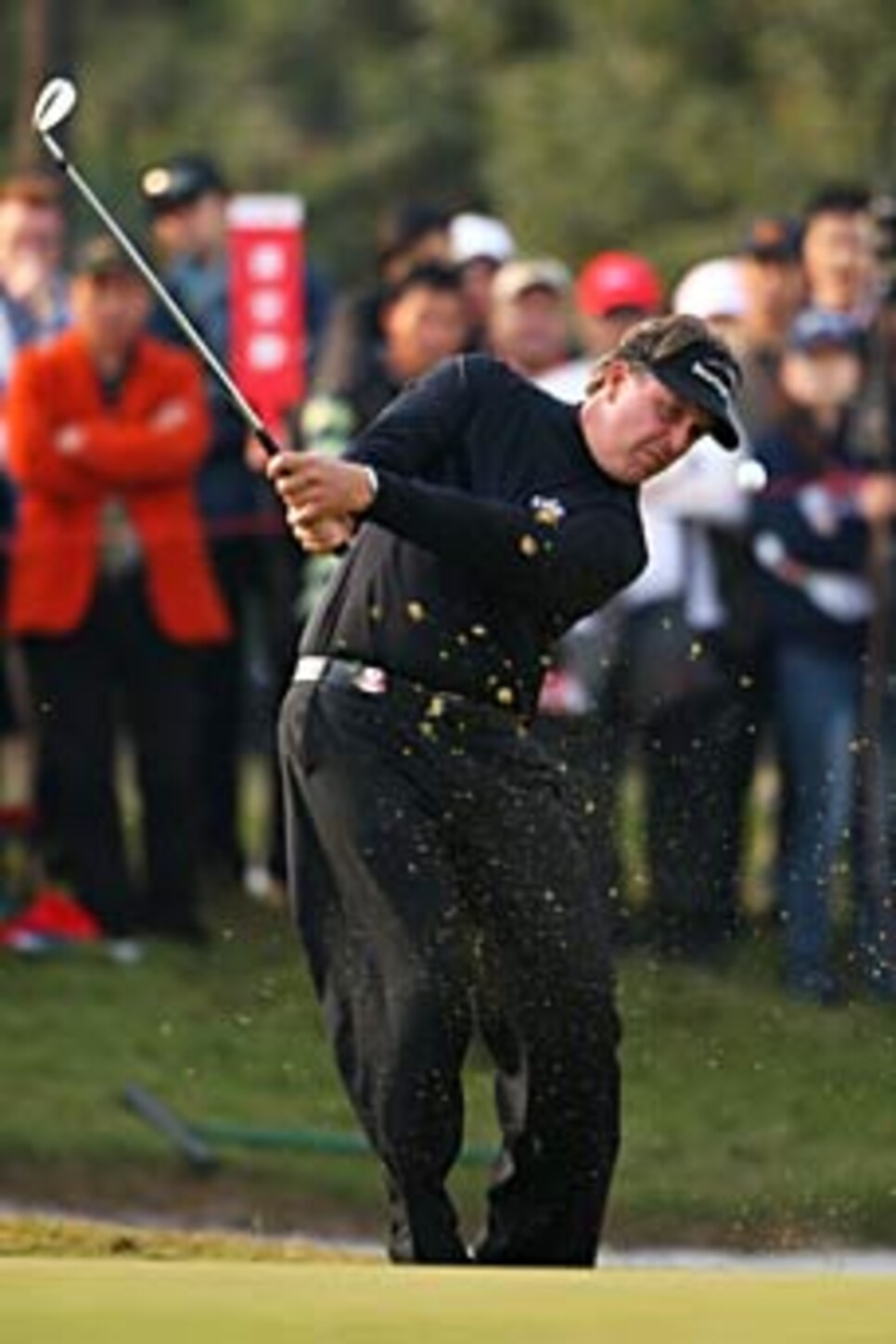 A proposal by the USGA, after gathering data for three years, is to go back to V-like grooves in 2009 for "elite" competitions such as tour events. Rumors are afloat that the tour might set its own grooves standard sooner, but a tour official expects his people to follow the USGA's lead. For now it's only a proposal, with some manufacturers resisting it.
Course architects have responded to the different game current equipment has imposed mostly by building longer courses and moving tees back, often against their better judgment. Week to week on the PGA Tour, the setup on pristinely conditioned layouts doesn't encourage imaginative shotmaking. The majors can present a more rigorous test. Some fans find the new-look tour more entertaining, some find it less fulfilling. Long drives impress people, but so do daring trouble shots. The best players always want stronger setups, but the tour operates largely for the benefit of the majority of its membership, with a watchful eye on its TV ratings.
"The youngsters have learned a different game," says NBC's Bob Murphy, a longtime advocate of tough courses before retiring from tour golf after 39 years to devote himself to commentating. "They hit a high 4-iron to a soft green, and it stops within a few feet." Murphy says the best chance to see tour conditions that encourage working the ball ironically could be the Players, the tour's flagship event, now that the Stadium course at TPC Sawgrass has been renovated.
Developing a rounded game comes with potential downsides. It's no sure path to lower scores and can leave the finesse player considering too many options, sometimes deciding to test himself or vary the routine. Trevino, shotmaker supremo, recalls being in the middle of a fairway and telling his caddie, Herman Mitchell, he was "going to hook a little 7-iron in there." Mitchell said, "Why would you want to do that? There's no tree in your way."
The game also is changing by attracting bigger, better athletes who are bypassing the team sports. Price, for one, is concerned that smaller greats such as Hogan and Gary Player will be eliminated. The player of the future, he projects, will be 6-foot-5, weigh 230 and bench-press a small building. This specimen will be better conditioned, nutritioned and psychologized, and his swing speed will be a vague blur, leading to further gains in distance.
He will learn a power swing ("and power gives you trajectory," says Haney). Kevin Weeks teaches at Cog Hill outside Chicago and has built a reputation working with good young golfers and aspiring pros as well as several tour players. "It's no longer the game we grew up with," he says. "You have to hit it higher and harder. With this equipment, you teach mechanics to achieve that."
Weeks watched the pros up close during the BMW Championship at Cog Hill last September and reports the only versatile shotmaker he saw among the young recognizables was, of all people, Bubba Watson, who leads the tour in driving distance with his pink shaft. "He maneuvered every shot on the range, a 7-iron, whatever, and that's the way he plays."
Says a tour source, "Bubba never hits a stock shot. He hits huge hooks and cuts, even with wedges. But the clones all swing the same. They're focused on avoiding errors rather than creating shots." (Style didn't translate into seamless peformance for Watson in 2007: He ranked 188th in driving accuracy, 68th in greens hit and 120th in putting -- a vital category that can make up for deficiences.)
How does the self-taught Watson, who enjoys playing friendly rounds at home with only one club, explain his surprising fondness for old-school golf? He says he hit plastic golf balls around the house and yard as a kid, and they curved like crazy, so he was always trying to shape the balls around things. Like Hogan, he thinks the hardest shot in golf is a straight shot.
Is there a future for classic shot­making? A thoughtful minority believes there is. "The best and smartest players will strive to work the ball and give themselves the greatest arsenals for all courses and conditions," says Rick Smith, who coached Mickelson for nearly 10 years. "They'll make adjustments in their equipment the way Phil did when he went to two drivers, one to cut the ball and one to draw the ball. And working the ball keeps your swing honest if your cut turns into a slice or your draw into a hook."
Hardy is another who thinks oldfangled shotmaking should have a place in an age of newfangled equipment. "The scores go high on tour when the wind blows," he says. "Back in the days of the real shotmakers, when the wind blew, they killed 'em. Because they could still control the ball." Let it blow, let it blow, let it blow, say classically inclined students of the tour. Yet the new balls are believed to penetrate wind better.
Worth noting along with the question of whether classical shotmaking will become extinct is the realization that the best shotmakers often have been the game's most colorful characters: free spirits, entertainers, flakes if you will. (Tiger, at least the public Tiger, would be the exception. But then isn't he always?)
The unpredictable Trevino once staged a spontaneous clinic in ball control for a British Open caddie who suggested a 6-iron for a practice-round approach shot when all Trevino wanted to hear was a yardage. Disdaining the 6-iron, he proceeded to hit the green with half a dozen other clubs, showing off a repertoire of skill shots that included the bump-and-run shaped off mounds.
He concluded the exhibition by hitting the green with the 6-iron. The rest of the week the caddie spoke only to give the yardage.