News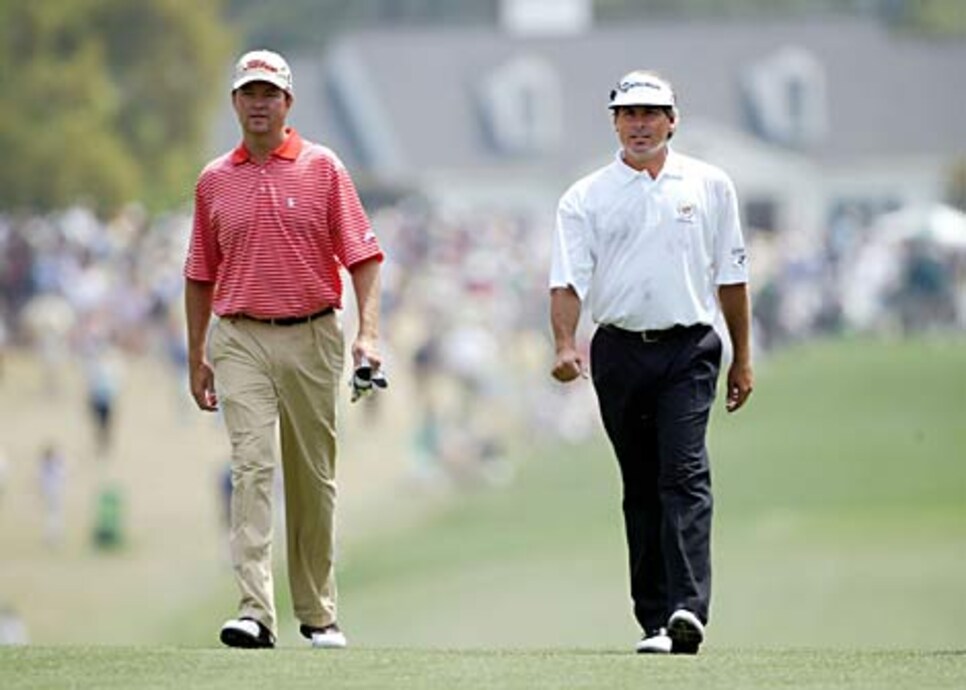 Once considered inseparable, pro golf's ultimate wingmen, Fred Couples and Davis Love III, haven't seen each other since the Masters. They didn't talk between Augusta, when Couples ended his season, and October, when Love had ankle surgery. It's not as if anything was wrong between them -- Freddie was purposely laying low on the West Coast, and when Davis wasn't on tour, he was being a father and enjoying life with his full toy box in Georgia.
"I'm bad on the phone, and Freddie's famous for not returning calls, but he called me when I got hurt," says Love, who tore ligaments in his left ankle Sept. 19. "Of course he had to find an excuse, have somebody else call and then hand the phone to him. Then we talked for an hour. Once you get him or sit him down, he can't quit."
In their catch-up session, Couples and Love talked about their wives, their kids and how they would come back from injuries that hampered their 2007 seasons. Love came away from that conversation thinking they could both be candidates for comeback player of the year in 2008. Couples has lower expectations. "For me, I want to play well a couple of times," he says. "I'm not asking to go out and shoot 69 every round. For Davis, he's a handful of years younger, and his swing is as good as anyone's."
Couples and Love. Love and Couples. Before Tiger Woods they were the faces of American golf, associated as much with one another as themselves, linked by friendship and back pain, by the trauma of lost major championships and on a personal level, loss of life. So recognizable they were known simply as "Freddie and Davis," they shared laughs on the road for more than a decade, as well as hope to captain Ryder Cup teams someday and ultimately be inducted into the World Golf Hall of Fame -- despite admitting to underachievement in the majors. Couples' Masters victory came 15 years ago; it has been 10 years since Love won the PGA Championship under the rainbow at Winged Foot.
"With the talent they had, there's no question they should have won more majors," says Hall of Famer Nick Price, who won three during the same era. "When we played against them at Lake Nona [in the 1993 World Cup], they were unstoppable. They could both hit their 3-irons higher than I hit an 8-iron."
Couples, 48, is now on the cusp of the Champions Tour, while the 43-year-old Love is ready to make the final push of his PGA Tour career. He enters his 23rd season 67th on the World Ranking and hasn't qualified for the first three majors of the year. Couples, who joined the PGA Tour in 1981, returns to Augusta hoping to do more than break Gary Player's consecutive-cut record. When he's not taxed by the wear and tear of tournament golf, Couples is still world class. He proved this by taking out Vijay Singh in his Presidents Cup singles match in 2005 and by nearly winning the 2006 Masters over Phil Mickelson. Couples knows he can't contend in as many tournaments as Love, but when it comes to Augusta, "that's a tournament we all feel [Love] can still win, and I feel like I can win."
The old friends were never bookends. Love is the son of a famous teaching pro. Couples' father worked in parks and recreation for the city of Seattle. While Couples was raised in a baseball family, Love was a Southern boy, always at a country club driving range. In 1988, before they knew each other, Love's father, Davis Jr., died in a plane crash. Love was 24 at the time and sought the guidance of Tom Kite and Ben Crenshaw, who were close to his dad. Couples had already won a Players Championship (1984) and was the coolest guy in golf -- somebody both men and women had a crush on. Love admits, "I wanted to meet Fred Couples, hang around Fred Couples and see what he was doing, why he was so good. I was enamored by Fred Couples."
Their friendship blossomed after their only head-to-head battle, a playoff win by Couples in the 1992 Nissan Open. "They were all rooting for me extremely hard, and if it was anyone else, we might have lost a little friendship over it," Couples says. Not Davis, who won the Players Championship two weeks before Fred won the Masters that same spring. It was the height of Couples' popularity -- he was No. 1 on the World Ranking -- and Love seemed not only to understand it but also play the understudy in it. Always well spoken, he volunteered to sit next to the media-shy Couples for interviews during some of their early World Cups, when trips to Spain and Puerto Rico cemented their bond. The pair won the cup four times (1992-95) and teamed for a 6-4-1 record in Ryder Cup and Presidents Cup matches.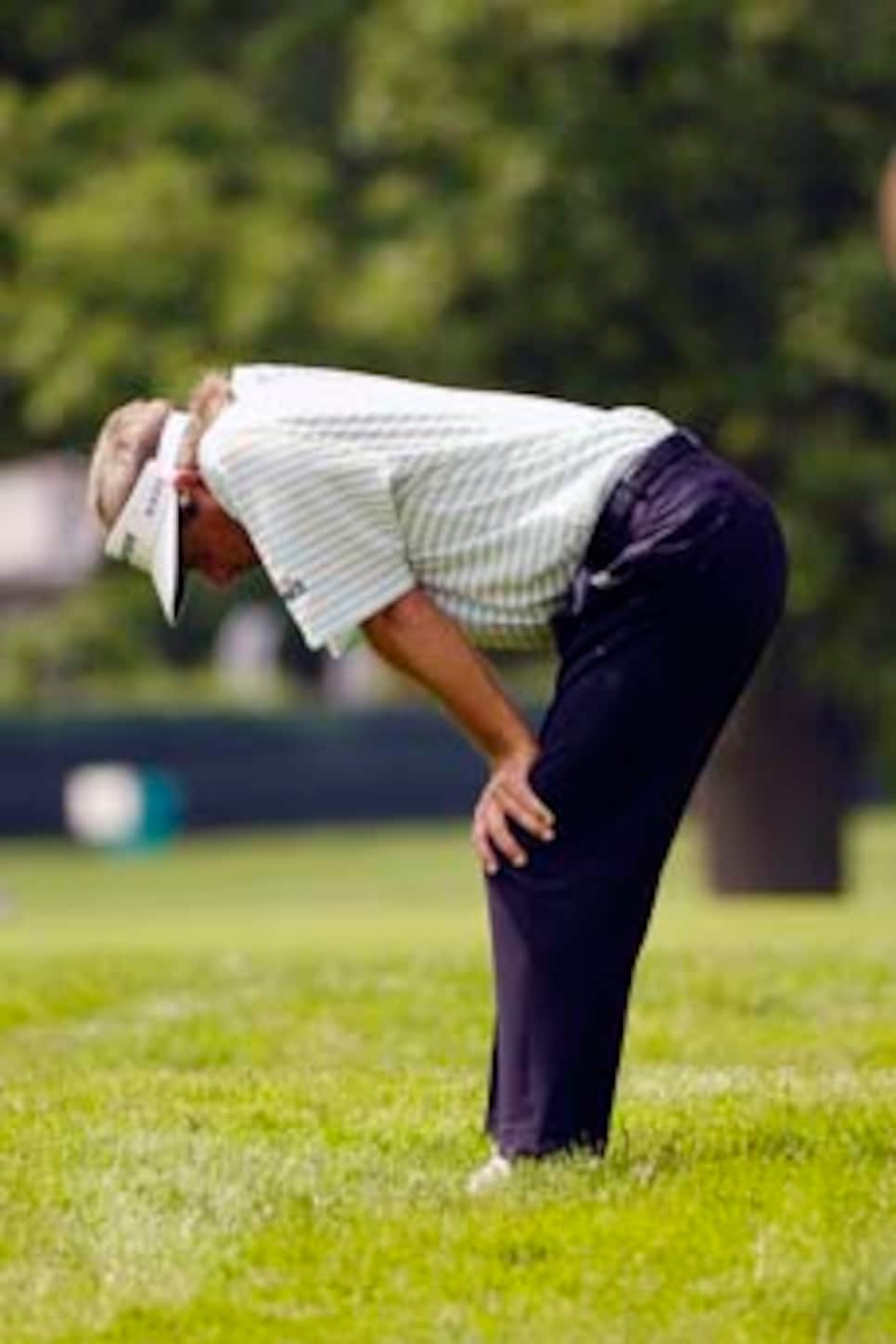 Love figures he went to more movies and ate more dinners on tour with Couples than he did with his wife, Robin. When Fred won the Players for the second time in 1996, he drove to Love's home in Sea Island and the kids hung banners for him in the front yard. When Love three-putted the 72nd hole to lose the 1996 U.S. Open at Oakland Hills, Couples was the only player to call and offer consolation. When Love won his second Players in 2003 with a final-round 64, he was paired with Couples. Couples loves to talk about the time he rented a motor home just so he could park next to Love's motor home. "After that they gave me a bus one week and talked to me about buying one," Couples says. "I told them, 'Davis, unless I'm parked next to you every week, I can't do it.' I'd go to his bus at 10 o'clock [at night] and all the lights would be out. I'd shuffle back into my bus and sit there."
This past year Couples took a figurative bus ride off the golf map, disappearing for nearly eight months after a performance at the Masters that was arguably the year's most courageous. In brutal cold, with excruciating pain running from the bottom of his spine down both legs, he extended his cuts-made streak at Augusta to a record-tying 23 straight. "You know how much he loves the Masters," says swing instructor Butch Harmon. "He'd go to the first tee in a wheelchair."
That was Couples' last public sighting until the Tiger Woods Block Party Oct. 6. Even longtime caddie Joe LaCava didn't hear from him until September, when Couples called wanting tickets to a Yankees-Angels game in Anaheim. "Of course he wanted to be on the field before the game and a have a parking space," said LaCava, who knows one of the Yankees coaches. "I told him, 'Let me see if [Joe] Torre can get you in the lineup while I'm at it.'" Couples didn't make the lineup, but he did get into the Yankees clubhouse, where he hung with the manager and the players for the three-game series. He and Torre went to dinner. "Since he's based in California, now he's a so-called Dodger fan, wearing Dodger blue instead," says LaCava. "Next year Fred plans to spend some time on the road with [Torre and the Dodgers]."
Couples spent most of 2007 in Santa Barbara, Calif., trying to work things out with his wife, Thais, from whom he is separated but not divorced. He also dealt with a career-altering decision. With two different opinions on his back, he chose rest over surgery and has found some relief recently through John Patterson, a specialist based in Waco, Texas, who works with basketball's Tracy McGrady and baseball's John Smoltz.
The situation at home is just as tender -- and is not the first time he has experienced marital trouble. Couples' first marriage ended in 1993 with Deborah Couples receiving a reported $600,000 a year in alimony. Eight years later Deborah jumped to her death from the roof of a chapel at the Claremont (Calif.) School of Theology. Asked about his marriage to Thais, who has been fighting cancer, Couples says, "the best possible answer is that I spent most of the year [with her], we're talking every day and we're seeing each other enough to make both of us happy. There are a couple of things that happened, and we need some space. We're together, but it's certainly not perfect."
Love is four years removed from the best year of his career, but the most turbulent of his life since his father died. Love won four times in 2003, but that year his brother-in-law, Jeffrey Knight, committed suicide and so many rumors abounded about the state of his marriage that Love had to debunk them on national television. All that is behind him now, as he and Robin face the challenge of raising teenagers. Their daughter, Lexie, 19, a sophomore at the University of Alabama, has won Grand National championships in Paso Fino horse riding. Their son, Dru, 14, is an apsiring junior golfer. Between hunting trips, golf tournaments, horse shows and a fantasy football league, Love stayed busy in October and November while his ankle was in a cast.
While Freddie is famous for sitting on the couch with a TV remote control, Davis is the consummate Type-A personality. They have made plans for Fred to bring his stepson, Oliver, for a week of recreation at Camp Love -- but it's hard to book a time on Love's schedule. "I will say this, the last two times I've been to Sea Island, I've never seen him," Couples said. "He's just a busy, busy guy."
Even Love's mother, Penta, made a crack that it's a wonder her son didn't get injured jumping out of a helicopter with a snowboard in Sun Valley or falling on an ATV at his hunting property in south Georgia. The injury occurred during a recreational round with Dr. Tom Boers in Columbus, Ga., when he stepped in a hole while returning to his golf cart to get a provisional ball. If there is an irony, it's not that Love birdied five of nine holes before his ankle turned the color of a bruised grape; it's that his first ball was in play.
The surgery was Oct. 2. Every ligament on the outside of his left ankle was torn, but despite the invasive nature of the operation, his orthopedic surgeon, Dr. Melvin Deese, said the hardest part would be "holding down" Love during his rehabilitation. Davis begrudgingly complied. "He told me the other day that snowboarding is out this year," says Mac Barnhardt, his longtime friend and business manager. "He was very calm about it, but he said, 'I am going to be able to play golf,' so that's a good thing. Is he going crazy? Yeah. The novelty of not [being able] to do anything is getting to him."
There is a consensus in the Love camp that had this not happened, Davis might not have finished off his career in style -- and that he's even more motivated now after being written off. Earlier this month Barnhardt witnessed the desire as Love dressed more in his golf attire or workout clothes than cargo shorts, a T-shirt and his medical boot. "If he's supposed to do his rehab for an hour, he's doing it three hours," Barnhardt says.
Prior to his injury, Love was dedicated to a workout program supervised by strength-and-conditioning coach Randy Myers, who set up shop in Sea Island two years ago. He was hungry for competition after missing most of the late summer with kidney stones and planned to play the Fall Series as a way of improving his World Ranking to qualify for the 2008 Masters. "Talking to him, he's going to come back in the best shape he's ever been in," says close friend Justin Leonard.
While Love was getting cabin fever, Couples appeared at Harmon's golf school in Las Vegas. Although Butch said Fred was in better form at night during dinner at the Bellagio than on the tee, Couples did show Harmon he was ready to work. "He seemed all right mentally, but physically, he can't hit that many balls," Harmon said. "You know how it is with him, one wrong move and he's screwed."
At one point Couples played 14 of 17 days in some money games at Shadow Creek to prepare for the LG Skins Game, the Merrill Lynch Shootout and the Target World Challenge -- but he rode in a cart every round. He won $325,000 at the Skins during Thanksgiving weekend, good for second place behind Stephen Ames. But the back pain returned prior to the Shootout. Not yet halfway through the three-event stretch, Couples said the pain was the result of a cross-country flight from Palm Springs to Naples, Fla., his first coast-to-coast trip since the Masters. He addressed the media after the pro-am at Tiburón GC and adjourned to the Ritz-Carlton to spend three hours with an electrical-impulse machine strapped around his back. He and partner John Daly would finish ninth in the 12-team field.
At the Target at Sherwood CC in Thousand Oaks, Calif., Couples finished last among the 15 players who completed 72 holes, shooting three-over 291, 25 strokes behind Woods.
Love hoped to join Couples at the Target, but that never materialized. Instead he alternated swimming-pool therapy and hitting 40-yard wedge shots. "The thing I've missed is being around the guys," Love says. "It killed me to miss the Father-Son with Dru, and Tiger's tournament is one of the great hangs of the year. Freddie and I would have too long a breakfast and too long a lunch, that's what I miss." Plus, like a good wingman, Love missed being next to Couples on the range, "because he's the star, and anybody who wants to be entertained goes and looks for Freddie."