News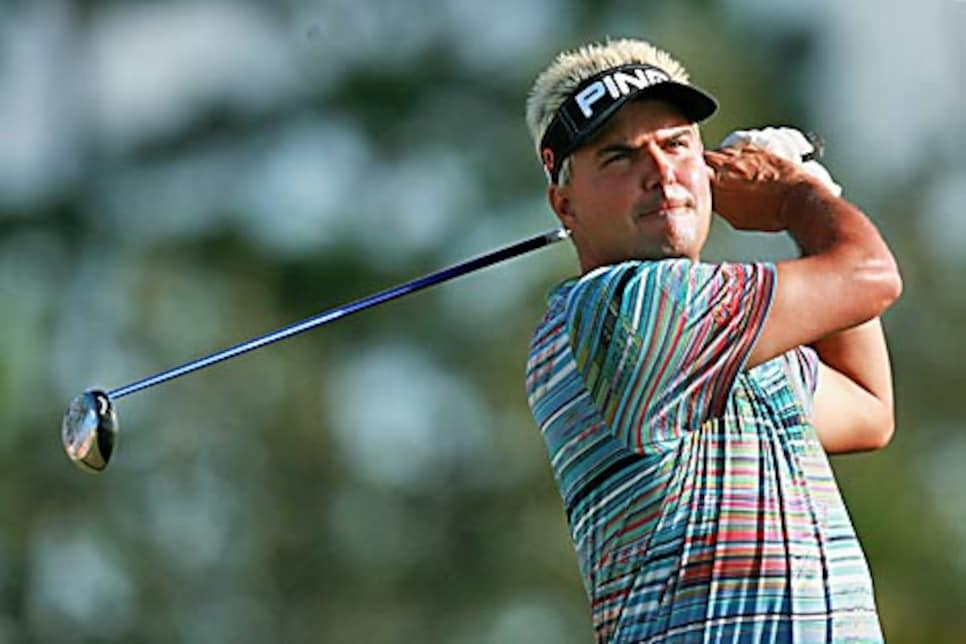 Chopra spent a restless Sunday night visualizing his stretch run at the Tesoro Club.
Worldwide winners Daniel Chopra, Fredrik Jacobson and Shigeki Maruyama came back Monday morning tied for the lead in the Ginn sur Mer Classic at the Tesoro Club in Port St. Lucie, Fla., but it was Chopra who had the easiest hole on the golf course, the par-5 16th, yet to play. He took advantage of it, hitting 3-wood off the tee, a 9-wood out of a bad lie in the rough and a gap wedge to nine feet for the birdie that led to a 19-under-par 273 and his first victory on the PGA Tour.
The darkness Sunday came just in time for the struggling half-Swede, half-Indian who jokes he would carry dual citizenship if India would allow it so he could play the Presidents Cup and Ryder Cup. After having a four-shot lead in the final round, Chopra stumbled with a three-putt at the 10th -- his only one of the week -- and was caught by Maruyama and Jacobson. Before he left the golf course after play was suspended, Chopra said, "If I come out on top, I'll treasure it so much more [because I had] to really fight for it and work for it. I'm going to have to do that tomorrow morning."
Waking up just past midnight, Chopra tossed and turned and played his remaining three holes over and over in his mind. "Never once did I play them the way I actually played them today," he said after scratching out his one-shot victory with a birdie and two pars.
When the Running Horse Champion-ship galloped to the glue factory (Tour Talk, Feb. 9), the Ginn golf machine had four months to fill the void in the Fall Series, adding the PGA Tour event to its Champions Tour and LPGA tournaments. The Tesoro clubhouse wasn't even finished until six days before the event. Unfortunately, you don't play the clubhouse.
Due to a confluence of aggravations, not a single round finished on the day it began. To begin with, the size of the field and the diminishing hours of available daylight didn't bode well from the get-go. Then, there were the heavy rains early in the week and again Friday afternoon, the latter halting play. What with the off-and-on downpours adding a little more than 3½ inches of rain to three-plus inches the course received the week prior, the ball was in the players' hands all four -- make that five -- days. Lifting, cleaning and finding just the right piece of turf on which to put little precious back down (taking full relief from casual water, of course) takes some doing. And, lastly, there were the lengthy commutes between holes. All this combined for rounds that reached six hours and invariably lasted overnight.
In fairness, the 7,381-yard, par-73 Tesoro Club was never intended to be walked, much less host a $4.5 million golf tournament with agility-challenged spectators. It is a Florida real-estate development, built for thumpity-thumping golf carts across miles of wooden bridges traversing prime alligator habitat while sipping piña coladas and occasionally terrifying a blue heron or two with wildly erratic hybrids. All in all, an ambition to which the course seems comfortably attuned.
On the other hand, it wasn't so much the vast distances between tees and greens as it was the fact you can build strip malls with cinemaplexes between most of them, environmental permitting notwithstanding. But, regardless of what anyone thinks of Tesoro's suitability as an interim host (next year it will be at Hammock Beach in Palm Coast, Fla.), it was a darn sight better than a bankrupt piece of bare dirt in Fresno, Calif., roughly 2,800 Google Map miles away.
When Bobby Ginn rescued the tour from the ill-fated Running Horse, he transported it from California to a part of Florida where a man was recently attacked by a flesh-eating bacteria and the most popular spectator sport involves the you-know-who Normans, taxes on a private jet and a brand-spanking-new subpoena for Chris Evert. Flesh-eating bacteria might look like a reprieve to Greg right about now.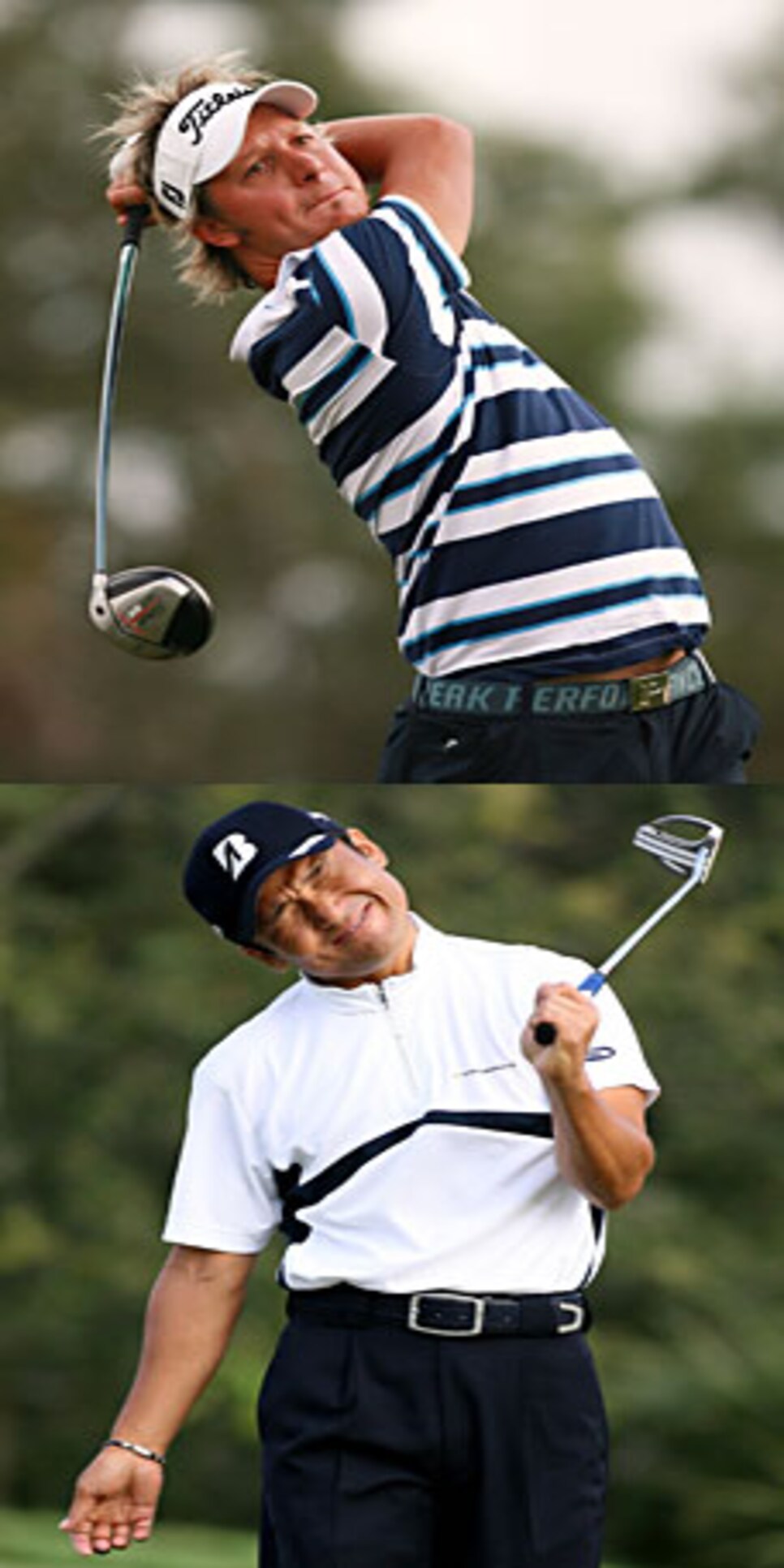 Contrary to the name of the event, Tesoro wasn't anything close to sur mer. Sur swamp or sur turnpike, maybe, but it was about as close to sur mer as Tiger Woods was to sur there. Sur Mer is the Ginn golf/marina/spa/casino development in Grand Bahama. It's the hopeful '09 venue for this event, which is otherwise destined to wander the Ginn empire like the Black Pearl. Who knows, a luxury resort in the Bahamas might just attract a few of tour's better known yachtsmen.
When all was said and done, the first- and second-round leads were held jointly at nine-under-par 64 and 14-under-par 132 by taciturn Tommy Armour III and voluble Bob Estes. If you could take their interviews, add them together and divide by two, you'd wind up with a couple of normal conversations. Johnson & Johnson doesn't have as many Band-Aids as the lanky 41-year-old Estes has applied over the years to his putting, short game, full swing and equipment. On the other hand, the 48-year-old Armour, who has sipped his golf career as if it was Chateau Mouton Rothschild, occasionally stops smelling the roses long enough to go low just for the heck of it. "A lot of guys out here are 33 years old and they know where 32 golf courses are," said Armour who happens to have the tour record for low 72-hole score, a distinction he shrugs off with a simple, "It's about the only record I can probably hold."
When the third round was finally completed, following yet another cloudburst Sunday morning, Armour had self-destructed with a pair of double bogeys and the formerly raven-haired Chopra, who a month or so ago returned to his natural frosted look, was at 17 under par, two shots clear of Estes and Briny Baird, who after a brief flirtation with normalcy has returned to addressing putts like he's digging in his turnip garden.
Speaking of down the road, that's where Baird now lives (about four miles away) and where he went off the first tee to begin Sunday afternoon's fourth round, bounding across Via Tesoro and out-of-bounds. He never really recovered and finished Monday morning nine back. Estes bogeyed three of the first five and also dropped out of sight.
When the sun finally came out Sunday afternoon, so did the wind and the scoring reflected it. Both Maruyama and Chopra made birdies on the first three holes of the final round, creating a little early separation. Chopra reached 20 under par with Maruyama at 17 under and Jacobson and Sean O'Hair at 15 under. After a Maruyama three-putt at the eighth, Chopra was able to make the turn -- a full three hours after he teed off -- with a four-shot cushion.
That's when it got a little dicey. Chopra, who is no stranger to leader boards but has a history of struggling on the weekends, played the first four holes on the back side two over, dropping back to 18 under. In the meantime Jacobson birdied four of seven holes from the ninth through the 15th to get to 18 under while Maruyama was kind of ho-humming along, three behind, until he made a 16-footer for a birdie of his own on the 15th and then holed a 75-foot bunker shot for eagle on the par-5 16th to snatch a share of the lead. As is usually the case, the biggest grin in the field belonged to Maruyama. His T-2 took him from 137th to 103rd on the money list.
When darkness came, the threesome was two shots clear of Dicky Pride, who was the feel-good story of Sunday afternoon. Capitalizing on the extra 16 yards he added with a month-old driver with a 47-inch shaft and a putting tip he got last week in Scottsdale from his old instructor, Todd Anderson, Pride closed with four straight birdies for a nine-under 64 to finish solo fourth, which, if you're currently 194th on the money list, looks like a T-bone to a starving man.
The mildly vision-impaired Jacobson proclaimed darkness on the par-3 17th tee with Maruyama while Chopra packed it in with the eminently birdieable 16th still in hand.
In the morning, with more bad weather threatening from just off the coast, the remaining six players warmed up under the lights and then, in the week's only major upset, sprinted to the finish.