News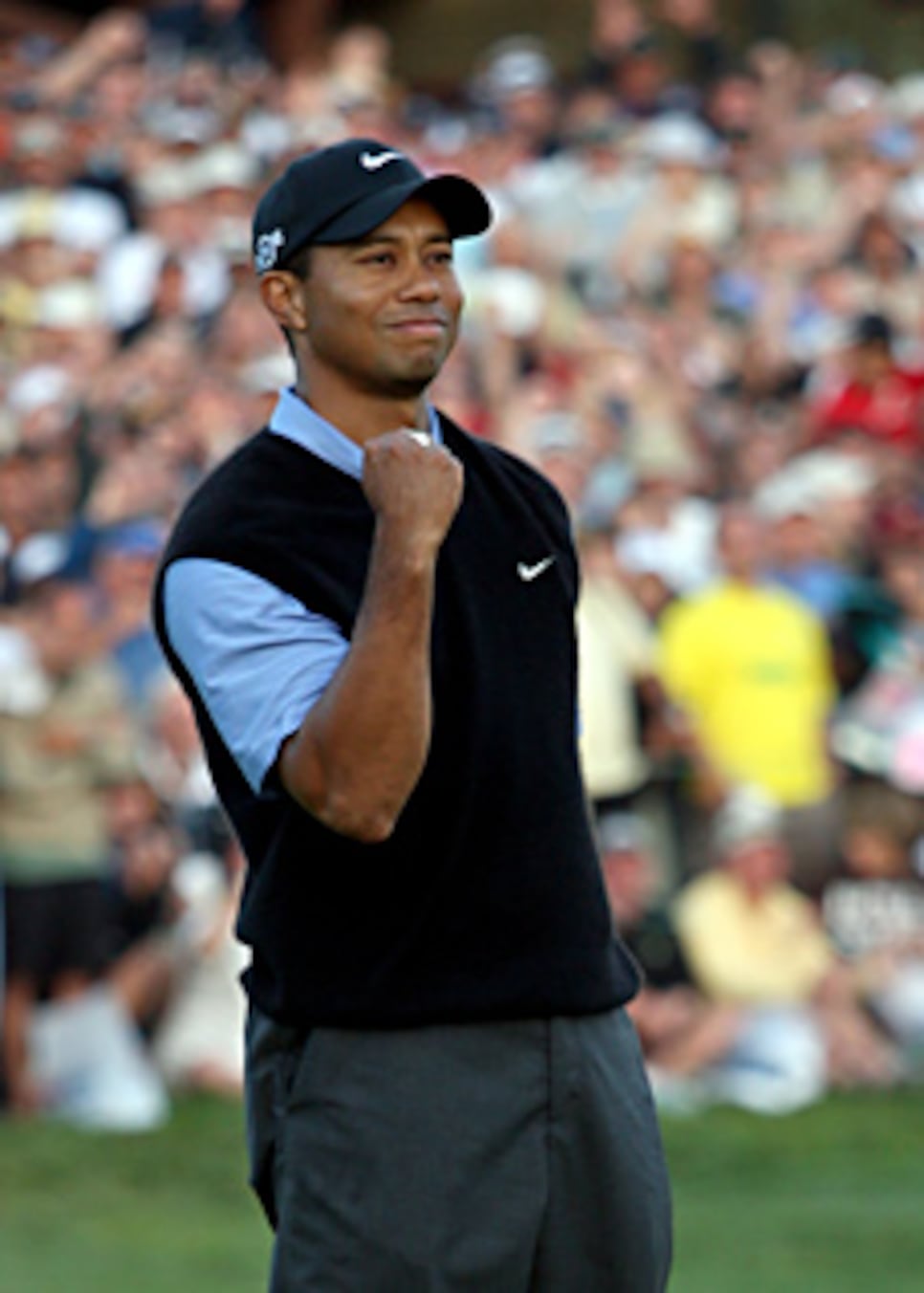 Tiger celebrates after sinking an eagle putt on the 18th hole during round three of the 108th U.S. Open
AS daylight crawled toward dusk Saturday at the U.S. Open, my cell phone vibrated alive with a text message from a guy I have known since third grade, a person with whom I played golf almost constantly from the age of 10 until 18, when college and careers took us in separate directions. Rick Plonka was thinking about Tiger Woods, and fathers no longer with us.
"I am just glad to be alive to see this," Rick pecked into his phone at 10:17 p.m. as he sat in front of his television in Atlanta, "and am sorry my father died in '99 because he loved Tiger and missed a lot." Rick was inspired by the last 90 minutes of NBC's prime-time broadcast of the third round of the U.S. Open from Torrey Pines. It was, quite simply, the most exciting golf played on a Saturday since Seve Ballesteros won the 1979 British Open at Royal Lytham & St. Annes when that championship still ended on the first day of the weekend and he was making birdies from the car park.
Thanks to the fan-friendly USGA, the maximum number of people had an opportunity to witness it. But if the USGA was the producer and NBC the director, the show was a success because of the actor.
Woods stepped onto the spectacular stage that is Torrey Pines and pulled off at least three impossible shots in the space of six holes. Twice during that stretch his surgically repaired left knee buckled, almost sending him to the ground. It was as dramatic as golf gets, capped by a 40-foot eagle putt on the last hole that gave Woods the lead.
The decision by the USGA to push the final tee time for the third round back to 6 p.m. Eastern time was one of several brilliant moves made by the governing body for last week's event. Prime-time golf was an unqualified success. Using the World Ranking to create the Thursday-Friday threesome of Woods, Phil Mickelson and Adam Scott might have made for more difficult viewing by the 42,500 fans at Torrey Pines trying to follow them, but it left the millions of TV viewers watching on ESPN well served.
Perhaps most important, the graduated rough -- first introduced by USGA setup man Mike Davis at Winged Foot in 2006 -- has restored the most exciting shot in golf to the U.S. Open: the recovery shot. No longer does missing the fairway mean automatically grabbing the sand wedge and pitching back to the fairway. Players now have options, and bogeys (or worse) are no longer a foregone conclusion. Rick's text message reminded me of my own father, who died when I was 15 and is the reason I love golf. He handed me my first cut-down club when I was about 7. Rick's father, Henry, worked in the steel mills like my dad. They were simple men who simply loved golf. They would have loved to have seen what Tiger did Saturday at Torrey Pines.
Because of prime-time golf, millions of fans had the opportunity to witness a virtuoso performance by the most compelling athlete of our lifetime. It was an early Father's Day present to those dads at home, and those in our hearts. Happy Father's Day to Earl Woods, Henry Plonka and John Sirak from a trio of grateful sons. Thanks for introducing Tiger, Rick and me to golf. And thanks to the USGA for making it possible for so many to enjoy a spectacular Open Saturday.