News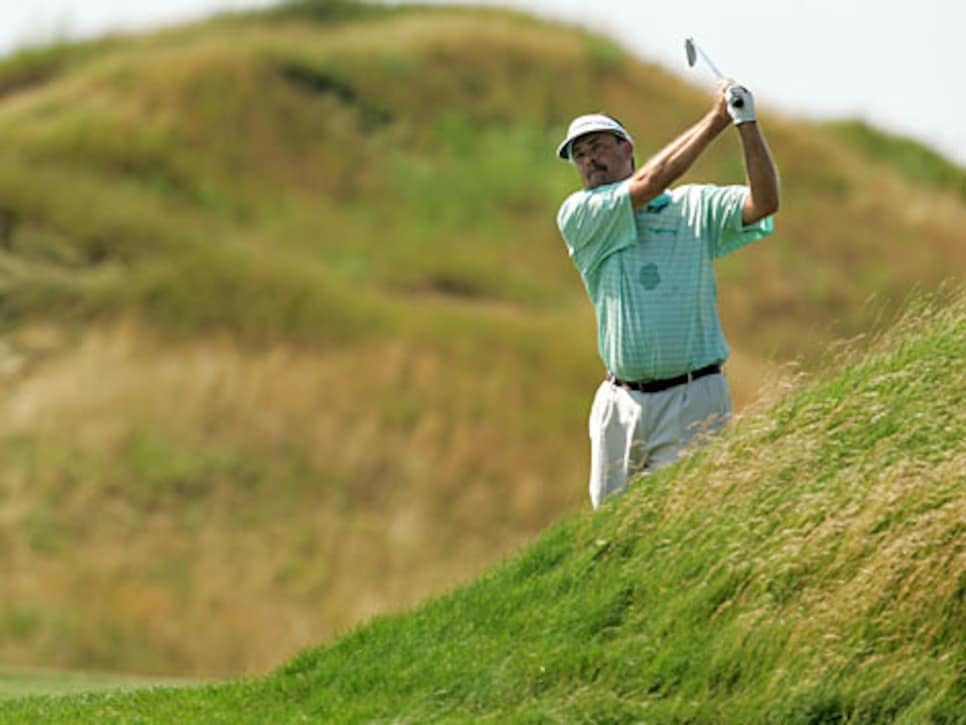 Sticking to the task at hand, Bryant didn't know he had taken the lead until the final hole.
With a pretty-as-you-please birdie from 15 feet on No. 10, Tom Watson assumed a three-stroke lead Sunday in the final round of the 28th U.S. Senior Open. Through 64 holes, a full eight-ninths of the championship, it sure looked as if the unrequited love between Watson and this event was about to turn into something real. On a sunny, windswept bluff next to Lake Michigan, at Whistling Straits in Haven, Wis., the boy was going to get the girl. His ship was coming in. The fairways might as well be covered with four-leaf clover, because in about two hours Watson, after three runner-up finishes and 25 years since he won the U.S. Open at Pebble Beach, figured to finally have the Francis Ouimet trophy in his possession. "Yeah," he said the previous evening, "maybe it is time."
Instead, beginning with a drive on the par-5 11th hole that was only a couple of yards off target, it was time for Watson's lead to start melting like a popsicle on a stove. His scorecard from there to the clubhouse was a sticky mess of double bogeys (Nos. 11, 15 and 18) and bogeys (Nos. 12 and 13) that added up to a back-nine Richard Petty (43) and a closing 78. That was a full 10 strokes higher than the final round of Brad Bryant, who trailed by five shots after 54 holes and was stunned when his caddie, Tony Smith, told him on the 72nd fairway that he led by three.
"I was blissfully unaware of what was going on behind me," said Bryant, whose 68 gave him a six-under 282, three strokes better than Ben Crenshaw, four ahead of Loren Roberts and five clear of the 57-year-old Watson, who has now finished in the top 10 in six of his eight U.S. Senior Open appearances. The legacies of great players--and with 39 PGA Tour victories, including eight major championships, Watson is that--aren't altered by what happens to them in senior golf. But while their accomplishments may end up on the evening news instead of epitaphs, don't think for an instant that legends don't care about golf after 50. "It's a very special tournament for me," said Watson, "and I had it in my grasp. I have to look back at why I failed. Forty-three ain't very good."
While the Senior Open is shaping up as the PGA Championship (the only regular major he didn't win) of Watson's senior years, it provided Bryant with a dream come true. Having had a career as ordinary as Watson's was illustrious, the 52-year-old was overwhelmed when the USGA's Rand Jerris pointed out that his victory put him in some fast company, among fellow champions Arnold Palmer, Jack Nicklaus and Lee Trevino. "As for having my name listed with those guys, what an honor," Bryant said. "Let's face it, I'm not in their league. I wasn't, and as far as golf goes, I never will be. Those are the greats of the great. I'm a journeyman who happened to have a really great week."
Bryant, who picked up his nickname, "Dr. Dirt," decades ago from Gary McCord because of his heavy 5 o'clock shadow and a tendency toward rumpled clothes, always has tended to downplay his skills. "He's a professional self-deprecator," said Smith. "[Tour chaplain] Tom Randall knows how he is. We have a new rule: Every time he says something bad about himself, he has to say something good about himself, too."
There were more valleys than peaks in Bryant's PGA Tour career. He tied for second at the 1982 Tournament Players Championship, in his fourth year on tour but hurt his left shoulder hitting a shot at the 1984 PGA Championship. The injury plagued him for several years, but he maintained a sense of humor. Crenshaw recalled being paired once with Lanny Wadkins and Bryant at the tour stop in Abilene, Texas, and how the first-tee announcer identified the threesome. "He goes through Lanny's spiel, his tournament wins, and he goes through my spiel," Crenshaw said. "And then he said, 'And Brad Bryant.' And that's all he said. Brad just dropped his club and said, 'Now, god dang it, everybody around here knows that I've never won anything.' "
That changed in 1995 when, in his 18th season and 475th tournament, Bryant won the Walt Disney World/Oldsmobile Classic. But his putting seldom was as good as his crisp ball-striking, and at age 45, after the 1999 season, Bryant quit and spent much of the next five years with his wife, Sue, and sons Jamieson, now 16, and Jonathan, 14. "I got to do a lot of cool things with my kids," said Bryant. "And let's face it, at that point I was not a world-beater. Me leaving the PGA Tour wasn't big news. I didn't have full exempt status. My back was hurt, and to tell you the truth, I really didn't want to play anymore. I [played] golf then for one reason, and that was to make money. I came here this week for one reason only, and that was to win the tournament."
Bryant believed he could win because he has--twice in 2006, when he finished third on the Champions Tour money list, and earlier this season at the Regions Charity Classic. He is realistic about what kind of player he was and why he is a better golfer now. Changing to a claw-style grip resurrected his putting. Not having to survive a weekly cut relaxed him. Poor rounds don't eat at him like they once did. He candidly admits that equipment advances have paid dividends. "The ball flies straighter, stops faster [and] goes farther," said Bryant, who also enjoys the evolution to a more aerial game. "I have probably gotten a greater percentage [of help] out of the newer equipment than some of the other guys. It's helped me sort of catch up."
He also has seen the light when it comes to how success can be achieved. "Years ago I thought you had to hit great golf shots to win," Bryant said. "Now I find out, guess what, you can hit a couple of bad shots and make a couple of good putts and all of the sudden you win a golf tournament."
The type of patience and resiliency that have marked Bryant's rise toward the top of the Champions Tour were valuable commodities at Whistling Straits. Eduardo Romero surged to the first-round lead with a 66, but he was brought down to earth with a 77 the next day when he finished with a triple bogey on No. 18, the week's most difficult--and most criticized--hole. It was Watson's turn Friday to fire a 66 and take a three-shot lead into the weekend over Roberts, Crenshaw, Vicente Fernandez, Des Smyth and Lonnie Nielsen.
The wind picked up Saturday, along with the stress and the scores. "They definitely turned up the volume today," D.A. Weibring said of the course setup and conditions, in which Watson maintained his lead. Whistling Straits is a visually stunning creation by Pete Dye. Scot Sam Torrance was among several golfers who noted that it mimics a links in appearance but mandates target golf. Aerial views of the scores of irregularly shaped bunkers amid manufactured dunes present a kind of landscaped Rorschach Test. On clear days the lake unfolds in color chart of blues. When the wind is up, the tall fescue ripples like a million Slinkys.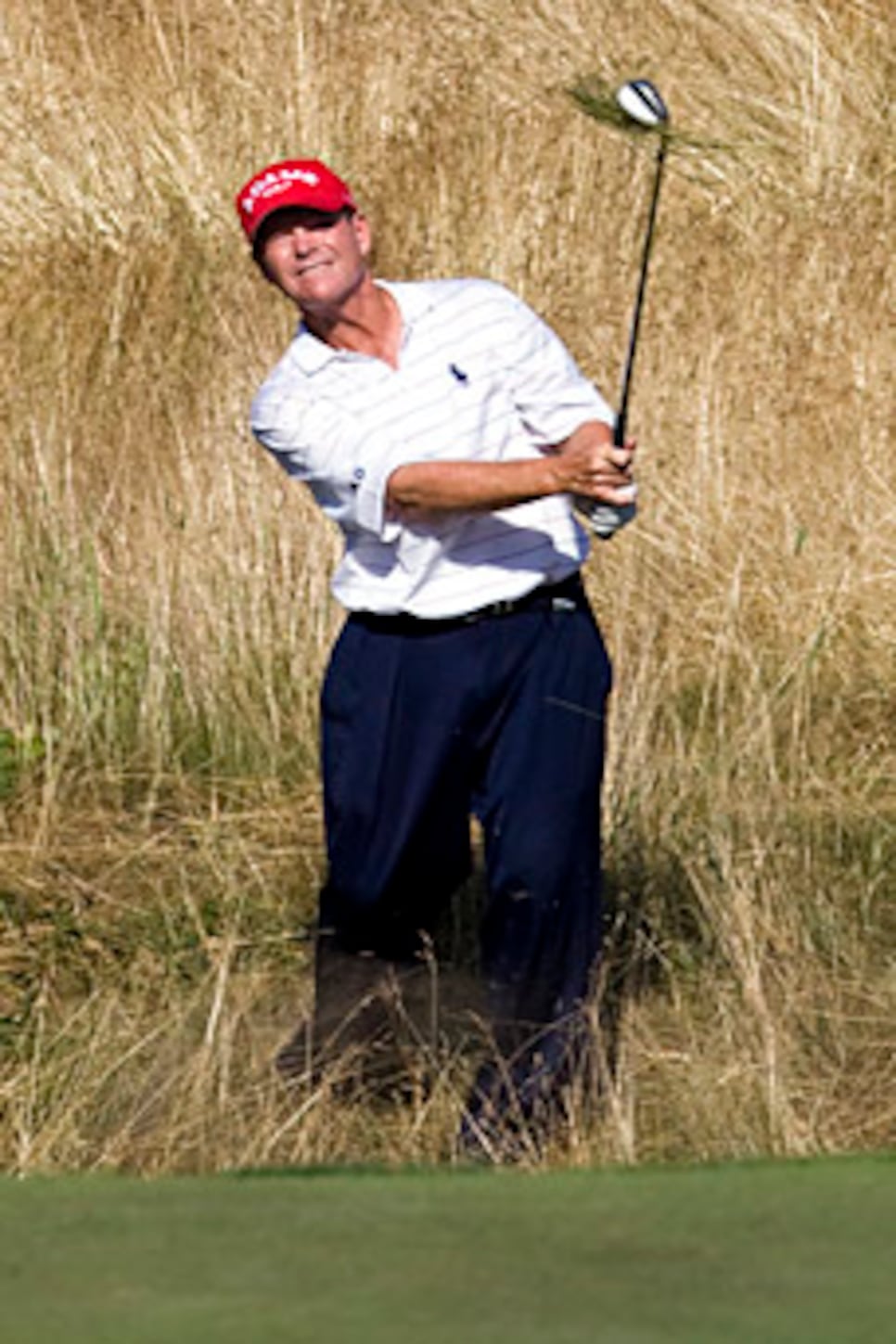 "I guess it's a nice place to play golf if you don't get a scorecard on the first tee," said David Eger, after finishing T-22. "It's a beautiful place, but not to play golf for a score. It's over the top."
Bruce Lietzke shared a similar view. "I have decided that great golf courses are the ones that as soon as you've putted out on 18, you'd love to go tee it up on No. 1 again," he said. "This course doesn't fall into that category at all. To me, it's just bizarre. Some of Pete's courses are my all-time favorites and other ones I never want to come back and play." Lietzke is a car buff from way back. "In the '60s, when I was growing up, if you had a really bad car, you either had it painted on your back window, or you had a bumper sticker [that said] 'Evil, wicked, mean and nasty.' I've love to have a bumper sticker and paste it here. That would apply to this golf course."
The rigors of the setup and conditions, especially the breeze that kicked up for the latter stages of the 90-degree final round, seemed to ripen the chances of the sentimental favorite. "It was really scripted for Tom Watson," Bryant said. "The winds, the heat, it really was his day."
Watson and Roberts were in Sunday's last pairing, as they were Saturday. Roberts was confident throughout the week, having gotten a lesson Monday from Manuel de la Torre in Milwaukee that simplified his swing thoughts and raised his hopes of winning his third senior major. A beautiful tee shot to six feet set up a birdie at the par-3 seventh to get him within one shot of Watson, but he then bogeyed the next two holes after errant 7-iron approach shots. "The bogeys at 8 and 9 really hurt me," said Roberts, "and then I just kind of struggled on the back nine. I just didn't make any putts at the right time."
Watson struggled through the bag on the last eight holes, hitting only one fairway and two greens in regulation. "If he drives the ball in the fairway on 11," said Roberts, "he probably knocks it on the green in two and makes a birdie and goes on and wins the tournament." Instead Watson exacerbated his pushed tee shot by three- putting from the fringe for a 7. Despite missing par putts from six feet on Nos. 12 and 13, Watson only trailed Bryant by a shot going to the par-4 15th hole. But he sealed his fate by making a 6 after an errant drive put him in a nasty spot behind a bush that deflected his approach. "I had to put the ball in the fairway today, and I didn't do it enough times," Watson said. "That was the killer for me."
It was left for Bryant to finish off the round with style. A textbook birdie at the par-5 16th was followed by solid pars on the last two holes. Jonathan Bryant had predicted a 66 for his father, but a 68 was more than good enough. "For a preacher's kid from New Mexico, this is unbelievable," said Bryant. "It just lets you know dreams can come true."
With the most important trophy and largest check ($470,000) of his career, Bryant looked forward to a Monday night celebration in his hometown of Lakeland, Fla. "We have a bunch of guys from our church who get together at Beef O'Bradys and eat chicken wings, and if you don't eat chicken wings, you don't get to come," Bryant said. "Tomorrow night, guess who gets to buy for everybody? I do! And it will be a great celebration."
There were no excuses from Watson, only an explanation. "He's got some game," he said of Bryant. "He's got more game than I do."