Courses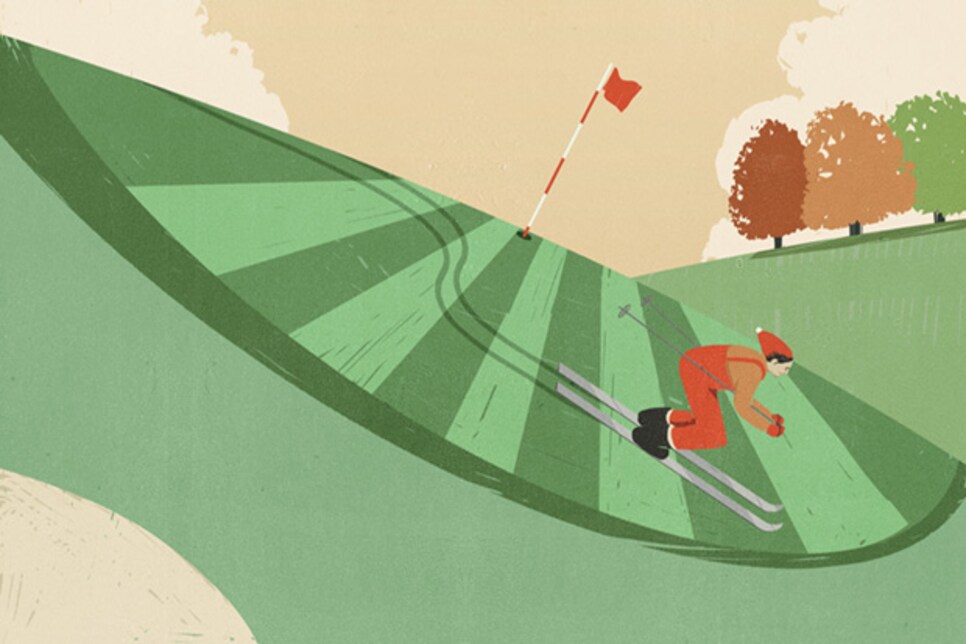 We've all done it. Sank countless putts on the practice green, only to leave it four feet short on the first hole. Or play the same course two days in a row and watch putts race by a hole that were stone dead the afternoon before. It's enough to make you want to snap a Stimpmeter over your knee. Why aren't a course's greens a consistent speed? We posed that question to a panel of top superintendents from around the country. Here's what they said.
Why can speeds differ from green to green? Mostly because each green is its own micro-climate. Is there some structure (a tree, a mountain, a building) that blocks air movement or sunlight?
Troy Flanagan The Olympic Club, San Francisco
Green speeds don't have to vary. Superintendents can increase frequency of cut, change mowing heights and incorporate rolling practices to maintain consistent speeds each day. But they can do this only if they have enough staff, equipment and time for the additional work. Russ Myers, Los Angeles Country Club
Greens grow in a harsh environment and are subject to some horrific beat downs every day. The fact that they live at all amazes me. Superintendents can provide better green speed in shoulder seasons because of shorter days and cooler nights. In the summer, they need to back off just to keep the greens alive and keep their jobs.
Matt Shaffer, Merion Golf Club, Ardmore, Pa.
Humidity affects green speed. The higher the humidity, the slower the green speed. If it's dry, greens will be faster. If it's dry and windy, they will be even faster. In hot, humid weather, it can be risky to strive for fast greens. The lower you mow, the shorter the root system and the smaller the margin for error. Grass will be more prone to disease, insects and drought.
Tim Hiers, Old Collier Golf Club, Naples, Fla.
Grass grows throughout the day. As a result, the green slows throughout the day. When the turf is growing aggressively, it's very difficult to maintain consistent green speeds.
Fred Gehrisch, Highlands (N.C.) Falls Country Club
The type of turf on your greens will have different speeds depending on the time of year. Bentgrass growth slows down in the spring and late fall, so green speeds are faster then.
Rick Tegtmeier, Des Moines (Iowa) Golf And Country Club
Uniformity in construction and maintenance practices will ensure uniformity in putting conditions over 18 greens.
Mark Kuhns, Baltusrol Golf Club, Springfield, N.J.
Maintenance practices such as single-cutting, double-cutting or rolling the greens also affect putting speeds.
Paul Carter, Bear Trace At Harrison Bay, Tenn.
Does a marathon runner train with 26-mile runs? No, his or her body could not sustain it. Nor can quality greens. Once at the desired speed, the turf is under a certain amount of stress. It can't be sustained indefinitely. A period of relief must be given. Therefore, greens speeds are always changing.
Curtis Tyrrell, Medinah (Ill.) Country Club
It's Mother Nature. We're at the mercy of weather patterns that can vary from hole to hole on the same golf course.
Josh Heptig, San Luis Obispo (Calif.) County Golf Courses