News
Grayson Murray wins Barbasol Championship, a turning point for controversial PGA Tour rookie?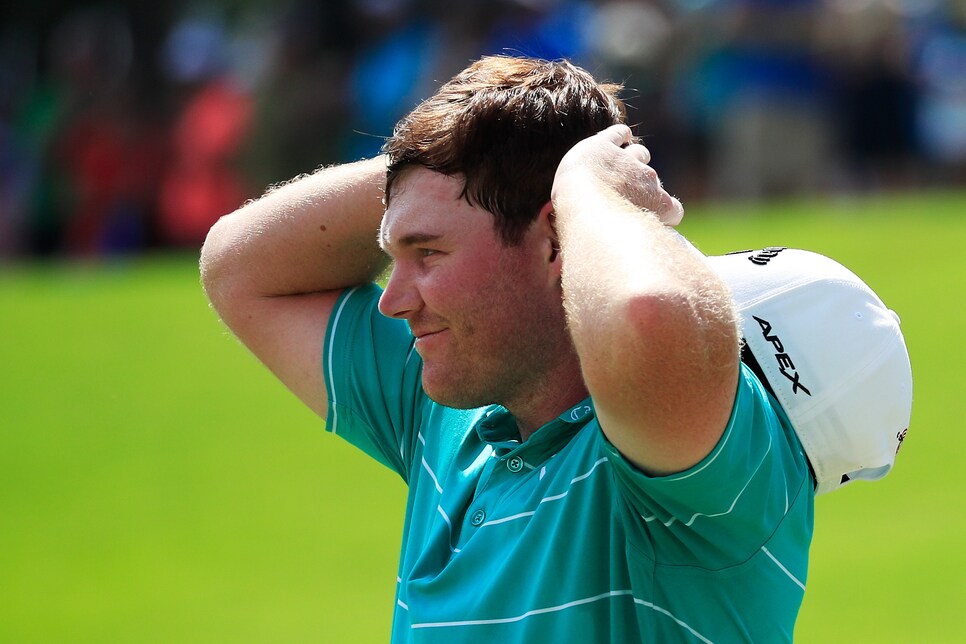 The Barbasol Championship has an unfortunate distinction, the PGA Tour event played in the most imposing shadow in golf, if not played in a vacuum altogether.
Grayson Murray no doubt would ask a different question: Who cares? For Murray, his victory in the Barbasol Championship on Sunday likely was as personally significant as Spieth's win was in golf circles generally.
Murray, 23, is a PGA Tour rookie of uncommon potential that was under threat of going unfulfilled because of a variety of factors, among them the social anxiety with which he was diagnosed, according to this story by Ryan Lavner of GolfChannel.com.
He attended Wake Forest on the Arnold Palmer Scholarship, transfered to East Carolina and then to Arizona State before deciding to turn professional.
He was better known for having parted ways with his caddie mid round and for his various Twitter feuds, as well as his Tweet asking a Playboy model if she'd caddie for him in the Par 3 Contest at Augusta National in the event he qualified for the Masters. He didn't.
Nor will this victory gain him a Masters invitation, inasmuch as Augusta National does not confer them to winners of events played opposite a major championship or World Golf Championship events.
Nonetheless, it was a victory that could prove to be the fulcrum on which his career turns. The $630,000 he received for the victory increased his season earnings to more than $1.3 million. He also has secured his PGA Tour status through the 2018-'19 season as well as receiving starts in the PGA Championship next month, the SBS Tournament of Champions, the Arnold Palmer Invitational and the Memorial next year.
Murray had rounds of 67, 64, 64 and 68 on the Lake Course at Robert Trent Jones Golf Trail — Grand National, 21-under 263, that defeated Chad Collins by one and Brian Gay, Scott Stallings and Tag Ridings by two.
He trailed Ridings by a stroke at the par-5 16th hole, where he made a birdie that along with Tidings' double-bogey thrust him into the lead. He closed with two pars, the latter by holing a five-foot putt for the victory.
Murray, incidentally, has only Tweeted once in the last month, that to thank Lavner for the story he wrote about him.