News
Grant Spaeth, former USGA president and visionary, dies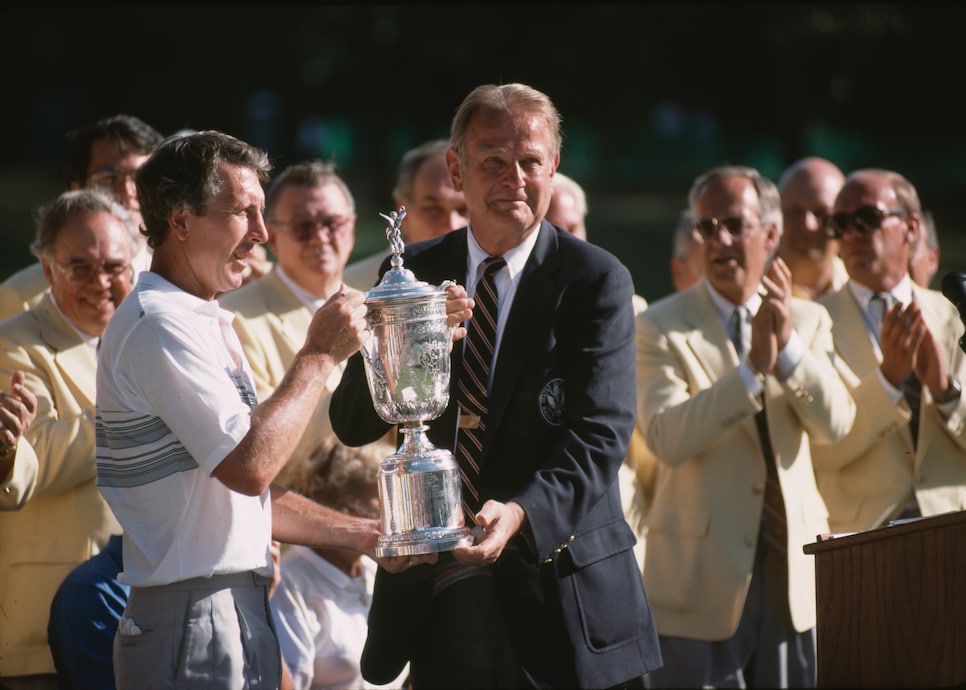 Grant Spaeth (right) poses with Hale Irwin after Irwin won the 1990 U.S. Open at Medinah Country Club.
PGA TOUR Archive
Grant Spaeth's universe was not one dimensional, though at its core was the game that came to define him.
A former United States Golf Association president and a visionary, Spaeth died on Monday. He was 88.
"A titan of the game," Stanford golf coach Conrad Ray called him on Twitter.
Spaeth, who played for Stanford's national championship team in 1953, served the USGA in several capacities before his elevation to its presidency in 1990-'91.
He had a role in creating the U.S. Mid-Amateur and U.S. Women's Mid-Amateur, recognizing that those 25 and older represented the heart of amateur golf.
Spaeth's biography was blue blood through and through, yet he often was said to have had a common touch and "humanized the USGA," his friend and long-time starter at the U.S. Open, Ron Read, noted in a Tweet.
He was born in England and took up golf as a boy in Uruguay, where his father was stationed. The family lived across the street from a golf course, where he was taught by a Uruguayan professional known as Espinacas, or Spinach, for reasons unknown.
Spaeth settled in Palo Alto, Calif., when his father Carl was appointed dean of Stanford's law school in 1946. Carl became known as the Red Dean, "part of the new wave of liberals who came to the campus," a story in the Stanford Lawyer publication, said, "and at one point he came under fire for hiring a professor, the later renowned criminal law scholar Herbert L. Packer, whom some conservative critics derided as a communist sympathizer."
The Red Dean might have foretold Spaeth's iconoclastic tendencies that eventually made him somewhat of an outsider at the USGA after his presidency.
A Stanford graduate, Spaeth went on to get his law degree from Harvard. He returned to Palo Alto and began practicing law there. In 1978, he served as the Deputy Secretary for the Department of Health, Education and Welfare and also did a stint as a Palo Alto city councilman.
Spaeth once cited a concern for litigation from equipment manufacturers as a principal challenge of his tenure as the USGA president. Just before ascending to the office, the USGA had settled a lawsuit with Ping over square grooves. It has been suggested that the organization, wary of how Spaeth might respond to it, chose a swift resolution instead.
Among Spaeth's other concerns dating to his tenure as president was the distances the ball was going, "how to anticipate these developments and cap the distance somehow," he said in an interview with Golf Club Atlas in 2008.
In 1994, Spaeth captained the U.S. team in the World Amateur in Versailles, France. Among his players was Tiger Woods, whose father Earl was concerned for his son, who had encountered difficulties in a prior overseas trip. Earl phoned Spaeth for reassurance that it would not happen again.
"Well, don't you worry, Earl," Spaeth told him. "I'll assign Lori, my wife, to make sure he's OK." He followed through on his promise, and forever after, Tiger called her "Mama," Spaeth said.
Spaeth was inducted into the Northern California Golf Association Hall of Fame, part of its inaugural class, in 2011.
"I want more people exposed to the game," he said in the NCGA's news release. "Those who take to it will be lucky and should be thankful."