News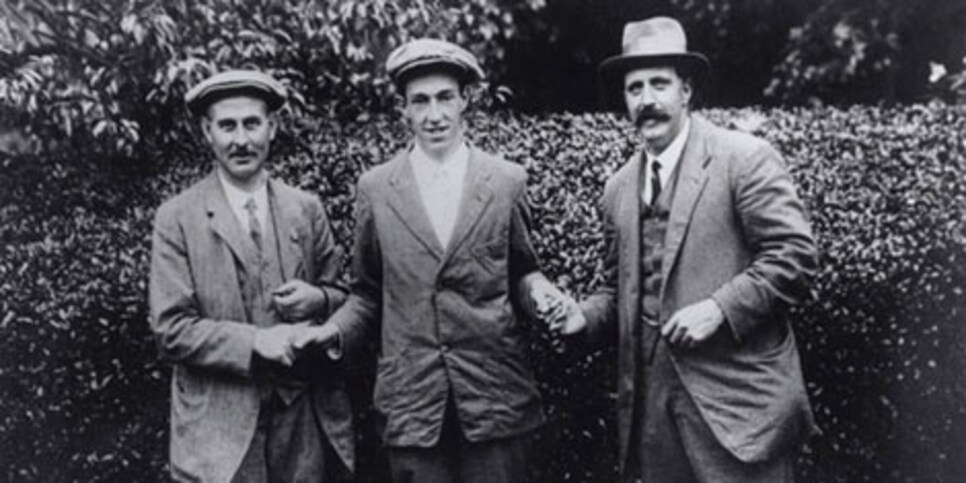 Francis Ouimet's playoff win over Harry Vardon (left) and Ted Ray (right) in the 1913 U.S. Open still stands as the greatest upset in golf history, if not in all of sports.
Former USGA president Sandy Tatum was fond of saying the mission of the U.S. Open was to identify the best players in the world. And in the 50 years since Jack Fleck stunned Ben Hogan in a playoff to win the title at the Olympic Club in 1955, the USGA has rarely come up short in that quest. In fact, you'd be hard-pressed to question the credentials of more than a handful of Open champions during that time frame.
Lucas Glover's win at Bethpage notwithstanding, the Open has produced its share of upset winners in its 110-year history -- Cinderfella stories in which players' careers enjoyed a jumpstart, a resurrection or simply one moment of glory. Here we present the top-10 all-time U.S. Open underdogs -- winners who raised not only their profile, but plenty of eyebrows as well, by capturing the national championship.
Leading up:: The 20-year-old former caddie's biggest accomplishment had been winning the Massachusetts State Amateur.
How he won: With five-time British Open champion Harry Vardon and reigning British Open champ Ted Ray in at 304, Ouimet navigated the final four holes at The Country Club in Brookline, Mass., in one under to forge a tie. In the playoff, Ray played poorly and Ouimet secured the title with a 3 on the 17th.
Aftermath: Ouimet's win ignited interest in golf in America. He remained an amateur, taking the U.S. Amateur title in 1914 and again in 1931. Also played on nine Walker Cup teams and captained six others. Became the first American captain of the Royal and Ancient Golf Club of St. Andrews in 1951.
Leading up:: The club pro from Davenport, Iowa, won less than $6,800 in 31 tour events prior to 1955 U.S. Open. Fleck came to Olympic Club having finished no better than T-10 in any tour event in 1955.
How he won: Made two birdies over the final four holes to tie Ben Hogan. In the playoff, Fleck birdied Nos. 8, 9 and 10 to go three ahead. Hogan got to within a stroke, but double bogeyed the 18th.
Aftermath: Had a steady, if unspectacular career, winning two more events. Best year was 1960 when he ranked 18th in earnings. Threatened in 1960 U.S. Open, finishing T-3, three strokes behind Arnold Palmer.
Leading up:: After serving 14 years in the Army, Moody joined the tour in 1968, finishing 103rd in earnings. Came into the Open ranked 26th in earnings in 1969.
How he won: Trailed Miller Barber by three entering the final round at Champions GC near Houston. But Barber bogeyed five of the first eight holes in the final round, leaving Moody to duel Bob Rosburg for the title. After Rosburg missed a three-footer on the 72nd hole, Moody, a superb ball striker, parred the 18th to win by one.
Aftermath: The Open was Moody's lone win during a 16-year PGA Tour career in which he finished outside the top 100 in earnings more often than not. His senior career, however, was as surprising as his Open triumph as Moody captured 11 titles (including the 1989 U.S. Senior Open) and won more than $3.5 million.
Leading up:: Parks learned the fundamentals of the game from Gene Sarazen in 1922 but didn't play professionally until 1933. Had just four top-10s (including a second in the Pennsylvania Open at Oakmont CC in 1934) in two-plus years prior to his Open win.
How he won: Park played Oakmont more than 100 times before the Open. The preparation paid off as he was tied for the lead after 54 holes. The final round was played in poor weather and none of the players in the top 20 broke 75. Despite bogeying three of the last four holes, Parks' 76 was enough for a two-stroke victory.
Aftermath: Parks quit the tour in 1942 and went to work for U.S. Steel, eventually becoming a member of Oakmont.
Leading up:: Although Manero, a club pro by trade, fashioned a handful of wins in lesser professional events, he needed to prevail in a playoff during qualifying to make the field.
How he won: Harry "Lighthorse" Cooper fired a tournament-record 284 on the Upper Course at Baltustrol GC in Springfield, N.J., but Manero's final-round 67 was two strokes better. Playing with boyhood friend Gene Sarazen, who had requested the pairing, calmed Manero's nerves, but after Manero holed out on the 72nd green, a complaint was filed with the USGA claiming Sarazen had provided Manero advice during the round. The USGA reviewed the matter, decided there was no validity to the claim and let Manero's win stand.
Aftermath: Manero collected on a $50 bet he had made on himself the final day. A member of the 1937 U.S. Ryder Cup team, Manero made the semifinals of the 1937 PGA and won the 1938 Glen Falls Open. He effectively quit the tour after World War II, later opening a steakhouse in Greenwich, Conn., with his brother-in-law.
Leading up:: Even Walker, whose lone claim to fame was winning the 1920 Pennsylvania Open, questioned his chances. "It takes a strong man to stand the strain of 72 holes over two days," said Walker, who weighed a mere 118 pounds. "I'll crack on the second day."
How he won: Walker, an agonizingly slow player, shot steady, if unspectacular rounds of 74-74-74-75 at Oakland Hills CC in Bloomfield Hills, Mich., good enough for a three-shot win over defending champ Bob Jones.
Aftermath: Walker never won another tournament after his Open triumph. He played in only three more Opens, his best showing a T-47 in defense of his title. Heavy drinking led to health issues and he died in 1948 at age 56.
Leading up:: Goodman made the finals of the 1932 U.S. Amateur. He also finished T-11 in the 1930 U.S. Open.
How he won: Holding a six-stroke lead over Ralph Guldahl entering the final round at Illinois' North Shore CC, Goodman proceeded to play a wild front nine, going eagle-birdie on Nos. 2-3 to take a nine-shot lead before butchering the next six holes in six over par. After another bogey on 14 his lead had evaporated. Guldahl then missed a four-foot par save on the 72nd hole, handing the tournament to Goodman, the fifth—and last—amateur to win the Open.
Aftermath: Goodman continued his fine play as an amateur, making it to the semifinals of the U.S. Amateur in 1935 and 1936 before winning a second Amateur crown in 1937. Goodman eventually turned pro but did not duplicate his success while a member of the play-for-pay set.
Leading up:: A winner of four PGA Tour events in 1988-89, Jones spent nearly three full seasons off the tour after a dirt-bike accident in Nov., 1991, left him with a dislocated shoulder as well as severe ligament and joint damage to his left-hand ring finger.
How he won: Using a version of a reverse-overlap grip to protect his injured finger, Jones shot under par in each of the final three rounds at Oakland Hills to become the first sectional qualifier in 20 years to win the Open. Trailed Tom Lehman by three with 10 holes to play but made three birdies over the next four holes, taking the title by one over Lehman and Davis Love III.
Aftermath: Posted a pair of wins in 1997 and added one more in 1998 before physical troubles again led to poor play. Problems with an irregular heartbeat and a bad shoulder have kept Jones outside the top 100 in earnings all but one year since 1998.
Leading up:: Although considered one of the more accurate players of his day, Burke's resume listed only four non-tour wins.
How he won: The marathon of all Opens had Burke and George Von Elm tied after 72 holes at Ohio's Inverness Club. The 36-hole playoff also ended in a tie, necessitating a second 36-hole face-off—a rollercoaster affair that saw six holes with two-stroke swings and only 11 holes in which Burke and Von Elm had the same score. After the first hole in the afternoon 18 Burke never trailed again, winning by one.
Aftermath: Extensive overtime caused USGA to move to 18-hole playoffs. Burke made the semifinals of the PGA in 1931 and played on 1931 and 1933 Ryder Cup teams. Burke won only one more individual title, at the 1935 Cascades Open.
Leading up:: Although he left the tour full-time in 1951 to pursue a club job in Missouri, Furgol had stretches where he was an ironman, playing more than 40 tournaments twice. Although one of the tour's top earners, Furgol won just twice prior to the 1954 Open.
How he won: Furgol, who had a withered left arm and hand from a boyhood accident, played magnificently steady golf over the final round at Baltusrol GC's Lower Course, putting 16 pars on the board against a pair of bogeys (both three-putts) to beat Gene Littler, who missed an eight-footer to tie, by one.
Aftermath: Although he was named the PGA's Professional Golfer of the Year for 1954, health problems in the form of bone spurs in his good arm effectively ended his playing career in 1957.