News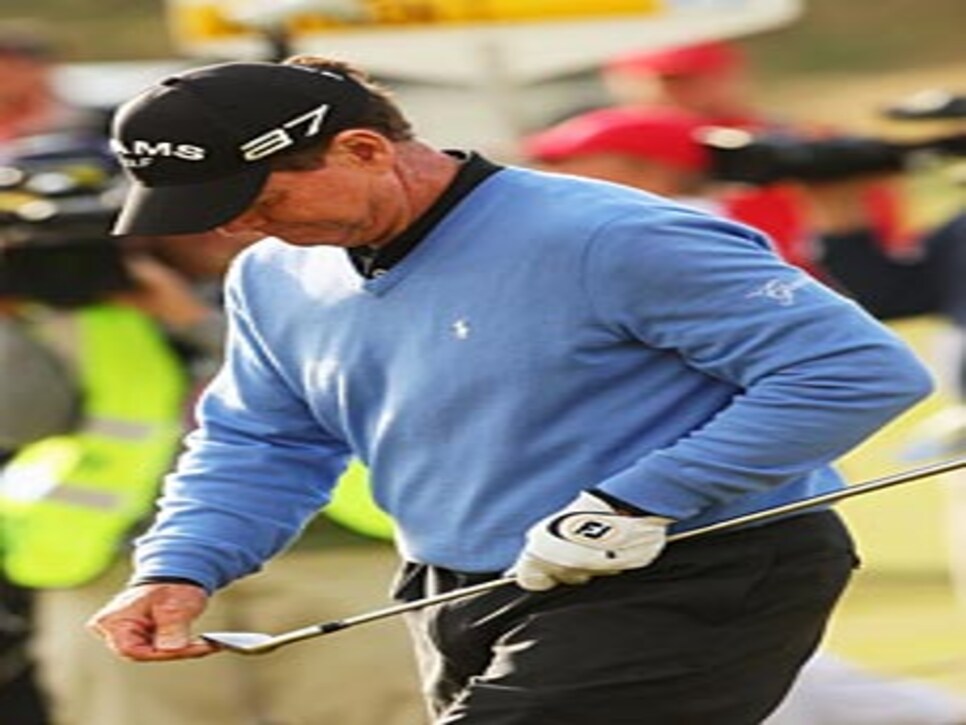 Tom Watson came up just short in his attempt to win a sixth British Open title at the age of 59.
TURNBERRY, Scotland -- It was too much to ask, after all. But for a fleeting moment, you could close your eyes in Sunday's fading sunshine at Turnberry and clearly see Tom Watson standing there, smiling during the awards ceremony, raising the Claret Jug for a sixth time.
That's not the way it turned out, of course. Sometimes, the sentimental pick isn't the right one and the fairytale story doesn't end the way you think it should. On this day, you can't blame Stewart Cink for that.
Instead of holding up the Claret Jug in the awards presentation, Watson choked back tears and could only manage a tight smile as he was showered with cheers.
Not long afterwards, Watson was asked if he could provide a headline for what had happened at the 138th Open Championship. Watson didn't wait long to offer his suggestion.
"The Old Fogey Almost Did It," he said. "It would have been a helluva story, wouldn't it? It wasn't to be."
For sure, the Old Fogey came close. In fact, he was one shot away from winning. Watson was right there, standing over a putt for par from eight feet away on the 72nd hole, a putt that would beat Cink by one shot, win the British Open and make history. He missed it.
It would be Cink's day, as the four-hole playoff eventually proved, and the process was painful to watch. Cink won the playoff and the Open by six shots, Watson spent most of the same time trying to find his ball in knee-high rough.
"It was just one bad shot after another," Watson said. "I didn't give him much competition.
"It tears at your gut. It's not easy to take."
Maybe it was because of where he was hitting it, but you could tell that Watson had hit the wall. There was none of the bounce left in his step, and for the first time all week, he looked every bit of his 59 years.
"It looked like it, didn't it?" Watson said.
Cink had grown up watching Watson and now spent part of his afternoon beating him.
In the end, the numbers were simply too highly stacked against him. If Watson wasn't the longest of shots, he was close. The day before the tournament began, the local odds makers listed him at 250-1.
But Watson evidently changed some minds ... his odds went down to 100-1 after Thursday, then 40-1 after Friday and 7-1 after Saturday.
What do bookmakers know anyway?
After all, Watson was ranked 1,274th last Monday. He would have been ranked 45th on Monday if he had won. But those numbers don't matter anymore either. What really mattered is that, try as he might, this just wasn't his day. Maybe it would have been 32 years ago when he defeated Jack Nicklaus to win the Open Championship here, just not now.
He had one more meeting with the media on his agenda, and Watson noticed the looks on the faces as they filed into the tent. He grinned easily.
"Hey, this ain't a funeral, you know."
But what had happened Sunday on the same links where he defeated Nicklaus more than three decades ago really did feel more like a defeat for Watson than a victory for Cink.
Watson and Turnberry and the British Open have had this mutual attraction for each other for a long time. When he thought about it, Watson said he knows what he'll take away from the week.
"A lot of warmth, a lot of spirituality in the sense there was something out there that helped me along ... it's Turnberry, great memories here. This would have been a great memory."
And so Watson put on the best face he could to mask his disappointment. He said it wasn't easy, but he handled the loss with grace. Yes, it would have been a great memory, even though Cink now has his own thoughts about it, and deservedly so.
Next year, Watson will play at St. Andrews and he'll be 60. Unless he qualifies in 2011, it will be his last British Open. He was 26 when he played his first in 1975 at Carnoustie ... and won it. He's played in 30 more since, covering 111 rounds, 8,027 shots, five victories, seven top threes, eight top fives and 10 top 10s.
That's a record that makes Watson proud and a measure of what he has brought to the table. Watson said it sort of reminds him of a goal of his.
"What I've always said is that when all is said and done, one of the things that I hope will come out of my life is that my peers will say, 'You know, that Watson, he was a hell of a golfer.'"
He doesn't have to worry about it. That was a given, long before another Sunday at Turnberry.