News
What We Learned At Turnberry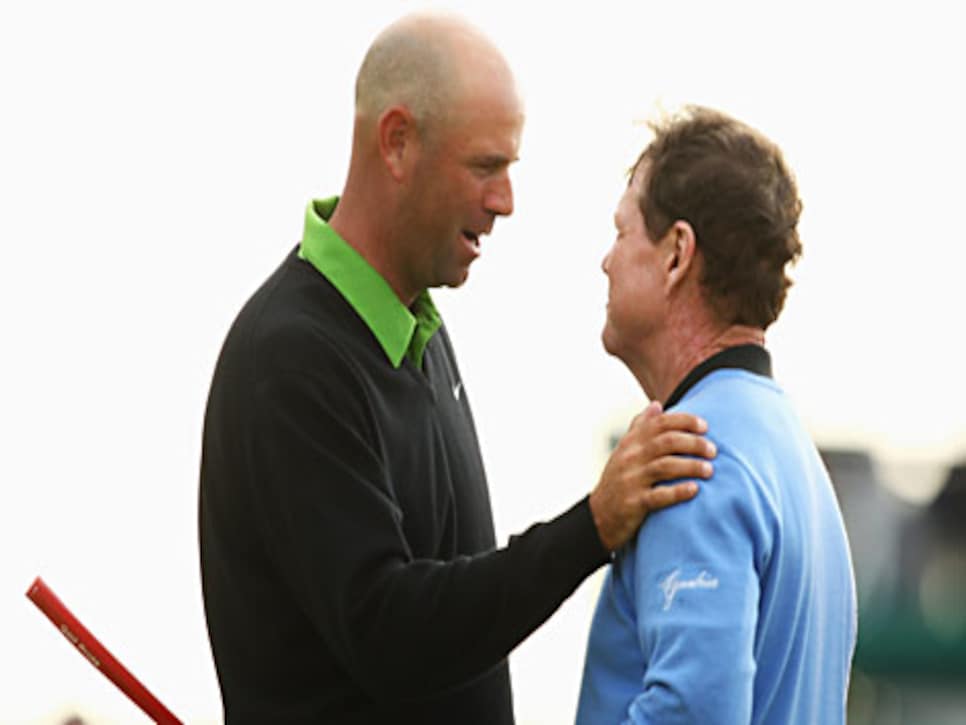 The Open finished with three huge surprises named Cink, Watson and Woods.
TURNBERRY, Scotland -- This just in from the British Open champion, Stewart Cink: He's the first Twitterer to win a major. But you can't put what Sunday's victory at Turnberry means to Cink in just 140 characters.
At 36, Cink is a first-time major winner, which means he's sort of late to the party. But he could have been there long ago, if not for his misery putting the 72nd hole of the 2001 U.S. Open at Southern Hills. There's not a lot that would have indicated Cink was on the verge of something big, but who would have thought 59-year-old Tom Watson would make it all the way to a playoff, either?
Cink had missed the cut in three of his past four British Open appearances, yet he was the one who birdied the 18th hole to earn the playoff. While you're at it, consider the fact Cink missed the cut in his last event, at Hartford, and had one top 10 in stroke-play events this year, at the Memorial.
He's the one holding the Claret Jug, and that's that.
That's not all we learned during the week at Turnberry. It's a long list.
Missing: ABC had scheduled Watson to work Sunday's fourth round in the network's so-called halfway house, a booth near the lighthouse. But that didn't work out, of course, due to the fact that Watson happened to be leading the tournament at the time. On Saturday, Watson ran into ABC's Mike Tirico. Said Watson: "Am I fired?" Said Tirico: "You fired yourself."
__ We should have seen this coming:__ Within hours of Tiger Woods missing the cut, there was already speculation that he ought to consider a serious talk with his swing coach, Hank Haney. Although Woods has gone out of his way to diffuse it, it's a line of thinking began after the Masters. BBC analyst Mark James offered the same Woods-Haney critique after Woods missed the cut here. Even though Woods worked with Haney the week before Turnberry, had said on his Web site that he and Haney were good and Woods had won at Congressional in his last tournament before he got here, the Haney Rumor Wagon is probably going to be getting new wheels. Adding to any speculation is the fact that Haney was not at Bethpage for the U.S. Open and neither was he at Turnberry. For what it's worth, Jack Nicklaus missed the cut in three of his first 49 majors as a pro. Woods' missed cut was his second in the same span of majors.
Bad numbers: Woods had only six birdies in two days, ranked 94th in fairways hit and 98th in greens in regulation. But he was 12th in putting. So figure out what his problems were. And, if you're targeting Woods' next tournament, figure either the Buick Open the last week of the month or the WGC Bridgestone Invitational at Firestone Country Club, the week before the PGA Championship.
AK MIA: If Anthony Kim was supposed to make a dent in the British Open landscape again (he tied for 7th in his debut last year at Birkdale), he didn't. Kim's 73-73 missed the cut by two shots. He beat a hasty retreat from Turnberry and continued an up-and-down year: tie for 2nd at Kapalua, then one top 20 until the U.S. Open, then two top 20s and a third place at Congressional.
Quote of the week (Misery Division) came from Ian Poulter, who shot 14 over: "I could have had a set of spades in my bag and I still wouldn't have found the middle of the fairway."
Paddy update and it's not good: At least Padraig Harrington played the weekend and that was unusual for him -- he had missed the cut in four of his last PGA Tour events. Still, it wasn't a good week for the 2008 and 2007 British Open champion. He was nine over on the weekend and 12 over for the tournament. Just don't say he's trying to shorten his swing, which is what Watson did. "I've never tried to shorten my swing. It's very nice that he would take time out and give me a helping hand, but obviously he's got the wrong information, as many people have."
Here comes JD: He wasn't hard to spot on the course (closely cropped bleached blond hair, darkly tinted sunglasses), but John Daly stood out anyway, and not just because of his wildly colorful trousers (think tablecloths at Gymboree) or the lime green shirt followed by the bright orange shirt (think sherbet). Daly closed with a 72, wound up tied for 27th, played decently and actually seemed on the verge of getting his act together. The possibility that Daly could be on the comeback trail is only good news.
Try the Holiday Inn Express: Not good news was the venerable Turnberry Hotel, across the road from the golf course, and the main hotel for the players. The Open happened before the hotel could complete all of its remodeling, which was stalled after the contractor was changed. The hotel opened the Thursday before tournament week and parts of it were to close again to finish the renovation work as soon as the players checked out. Typical problems: unfinished areas, ladders in hallways, sporadic power outages.
And speaking of outages ... no, on second thought, let's not get back to Tiger.