News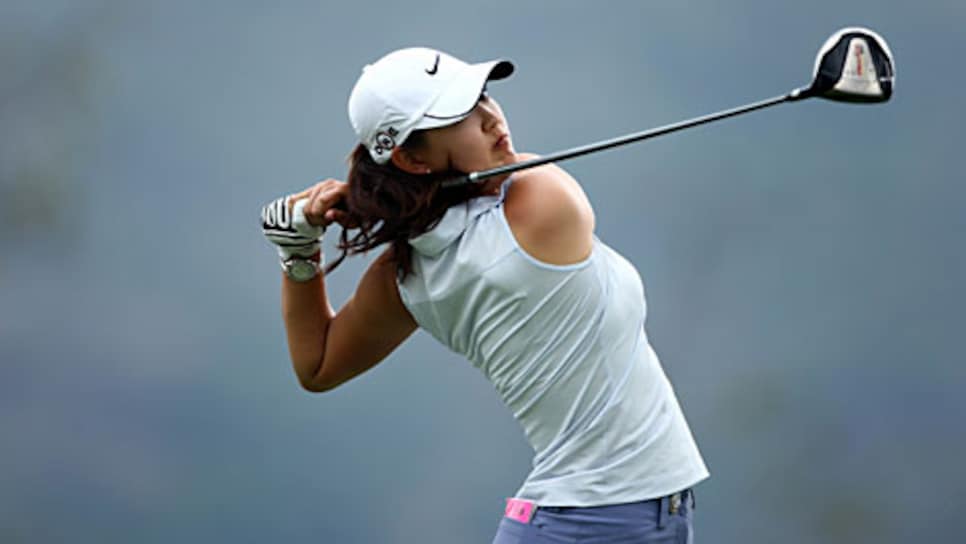 Michelle Wie's ball striking remains impressive, but she continues to be held back by her putting.
CLIFTON, N.J. -- A man outside the scoring trailer at the LPGA's Sybase Classic late Friday afternoon had just gotten an autograph from one of the most recognizable names in golf. Her signature on the bill of his white cap was another matter. "That's 'Michelle Wie,' but you can't make it out," the fellow said, pointing at a rapidly-written scrawl in which one could at best make out a "M."
Wie's golf is better than her penmanship, but as for her putting at Upper Montclair CC during a second-round 69 that left her T-6, six strokes behind leader Brittany Lincicome, it was a push. And perhaps a pull or two, with some misread putts and Poa annua hops thrown in for good measure. Wie hit 16 greens in regulation but converted only three of nine putts from 10 feet or less. One of the misses was a two-footer for birdie on the par-5 fifth, her 14th hole.
"You're always like, 'If I made this, this and this, it would have been that much better,' '' Wie said, "but I still have two more days and I'm pleased with the way I'm hitting it. It's a little frustrating at times. You're rolling it good. You do the best you can. There's a lot of grass between the ball and the hole, so a lot can happen."
That was as philosophical as Wie got in a post-mortem that lasted slightly more than two minutes. She is, after all, only 19, but might be 29 in golf years, maybe older than that given that she was only 10 when she played in the U.S. Women's Amateur Public Links Championship.
I had seen Wie play lots of times on television but never in person until Friday. Following her around on a sun-splashed afternoon, I kept trying to square the swing I was eyeballing with the one I pass every day in the office, a 2005 photographic sequence of her swing by my colleague Dom Furore. The action in those pictures is so good you practically sense the rhythm that, back then, earned her the "Big Wiesy" nickname and earned Wie five top-five finishes in LPGA major championships before she turned 17, an unparalleled achievement.
"There is no doubt that at about age 15, nobody had ever seen a talent like that, male or female," said Hall of Famer Judy Rankin, who is at the tournament as an analyst for ESPN2. "As beautiful a golf swing as it was, it has evolved. She's worked on things to change it. At one point, it seemed to me it was tightened too much to where she lost all of her rhythm, and her change of direction was so quick. It seems to be a little bit different now, that there is a little rhythm to her swing. When I watch her on the practice tee, she looks to be pretty position-oriented. That is not what I would think would make the best player. But I've seen great players of all kinds -- I would not say it's not going to work. I think she's almost back where she needs to be. She still has all that talent inside of her."
All that talent played hide-and-seek Friday. Wie often was glorious tee to green. Her swing is more compact than in her wonder years, the tempo quicker. If the pace of her action resembled Ernie Els at her peak, it is more like Camilo Villegas' through the ball now -- a definite "hit" -- as she tries to work her way back.
Wie's power -- which probably has been hyped at times beyond what it really was, and is matched by others on the LPGA now, such as Kraft Nabisco champion Lincicome -- hasn't gone anywhere. She averaged 271.5 yards for the day but drove the ball 60 yards past fellow competitors Wendy Ward and In-Kyung Kim a few times. But a 290-yard beauty on No. 5 was negated by a pushed iron and then the bungled two-footer. A 300-yarder at her finishing hole left her only 100 yards to the flagstick, but she couldn't convert from 15 feet after a wedge approach. She birdied only one of the four par 5s. Hitting 15 greens, her iron game gave her plenty of chances, but she mostly came up empty, as her total of 30 putts indicates.
Wie has a very athletic posture when she's hitting full shots, and she seems to carry that over to her putting, where she takes a fairly wide stance (Dave Stockton, a master putter, probably would say nothing wrong with that). There is no one best method to putt well. In their respective primes, Jack Nicklaus sure looked much different from Tom Watson over a putt. But many of the great putters do seem to have something in common: they look relaxed, comfortable, little tension to be found. Think Greg Norman when he was holing everything, or Tiger Woods. Wie could borrow a bit of what those two have.
When she wasn't standing over a putt, Wie looked at ease. "Nice birdie," she said to Kim on the 16th tee after the diminutive South Korean's birdie on No. 15. Wie flipped a ball to a young girl near the eighth tee. Outside the ropes B.J. and Bo Wie, her parents, were in a gallery as large as any on the day, dad carrying a sizable pair of binoculars, mom with a laser rangefinder that she sometimes used to surmise what daughter had left to a green.
So far in 2009 Wie has a runner-up finish, a T-10 and a T-15 in five LPGA appearances. She is on her way to another good week, maybe better than that, if her putter is a bit more obliging. The phenom has evolved into another golfer looking for her first victory, but win or lose this weekend, one again can make out Michelle Wie. That is good news for her and the game.