News
Low Scores, Low Pressure: Haas prevailed Monday at 30-under for his maiden victory in an event marked by gloomy weather and a weak field.
Water was never as scarce in the Southern California desert as some might have believed, the springs in Palm Springs providing the only necessary clue. Last week proved instructive, at least, by demonstrating how its massive aquifer occasionally is refilled. The desert sun, it turns out, has nothing on the desert rain on the intensity scale.
At that, the deluge was only part of the story at the beleaguered Bob Hope Classic in the neighboring town of La Quinta, a tournament that at times was navigable only by skiff. Ultimately, it was less about a boat than a row, the latter evolving from the defection of Anthony Kim.
A La Quinta High graduate and former resident at PGA West, Kim opted for the European Tour's Abu Dhabi Golf Championship and an appearance fee over the Hope, played on four courses, two of them at PGA West. To play in Abu Dhabi required that he request of, and be granted by, the PGA Tour a conflicting-events release, which frees a tour member to play an overseas event opposite a tour stop.
The tour routinely grants them sans controversy, and that would have been the case had the tournament had a field half as deep as its puddles and a sponsor to secure its future with something more substantial than Hope.
It was won by 27-year-old Bill Haas, who entered the tournament ranked No. 200 in the world and exited with his first PGA Tour victory in an event his dad, Jay, won in 1988. Haas had a two-putt birdie at 18 to win over Tim Clark and Matt Kuchar, two of seven players in the field in the top 50 in the World Ranking, and Bubba Watson. The highest-ranked player was Mike Weir (37th). It was the first tournament with a full allotment of FedEx Cup points that didn't attract a top-30 player since the 2007 Wyndham Championship. Of the 12 highest-ranked Americans in the World Ranking, none were present at the Hope -- and only Kim was playing overseas. Tiger Woods and Phil Mickelson, skipped the first three tournaments of the year; Jim Furyk, Hunter Mahan, Nick Watney and Kenny Perry skipped the last two (Watney and Perry played the SBS). Their presence would have deflected the loss of Kim and the international players.
Hope tournament director Michael Milthorpe was disappointed Kim was not playing and suggested a moratorium on conflicting-events releases. "We wish we had a few more players," Milthorpe said. "That's why the tour should have looked at it hard and just did something for this year and said, 'We're not going to grant any conflicting-events releases, stay in the States and support what we have here.' "
Milthorpe fostered an important question in a troubled economy that hasn't neglected golf: Is the PGA Tour shirking its responsibility to tournaments and their sponsors by not doing more to ensure representative fields that might heighten interest? "Tim [Finchem] has a relationship with everybody involved, and right now it doesn't seem like he's doing a good job keeping the players and helping our sponsors," Paul Goydos said. "I think Tim needs to do a better job at that."
Scott McCarron, recently elected to the player advisory council, concurs. "The tour does not have to give the conflicting-events release," McCarron said. "It's up to Finchem. He can say, 'Anthony Kim, you can't go to Abu Dhabi. You've got to play here. Sorry.' Guys like Anthony Kim -- with local ties, he should be here at the Bob Hope. We're at the start of the season, we need sponsorship, we need everybody playing here. And I mean everybody."
Finchem considers it a non-issue. In a news conference called to tout the new McGladrey Classic, he was asked about Milthorpe's suggestion and dismissed it. "I'm not much aware of a groundswell on that issue," he said.
Later pressed on the matter in an interview with Golf World, Finchem replied, "We believe, in general, that the conflicting-events guidelines are working fine. We will not overhaul the conflicting-event guidelines just because of one week."
It's now going on two weeks. Perry, the fifth highest-ranking American player, chose to play the Commercialbank Qatar Masters, opposite the Farmers Insurance Open at Torrey Pines GC outside San Diego. Only an 11th-hour bailout by Farmers Insurance precluded the Torrey Pines event from moving forward without a sponsor. Only three of the top 20 players in the World Ranking were entered there.
Finchem even acknowledged a concern in December 2008, via a video sent to players and their agents, when he implored tour members "to add a tournament or two to their historical schedule to assist the tournaments that historically have weak fields."
Presumably he didn't mean Abu Dhabi and Qatar.
Recall, too, that Kim was peeved when he was unable to secure sponsor's exemptions after tying for second in his PGA Tour debut in 2006. "That's a slap in the face," he said then. "I'm definitely going to remember that."
And in 2007, Kim was given a sponsor's exemption to play in the Bob Hope. Might one conclude that his memory has become selective, recalling those tournaments that stiffed him while forgetting those that didn't?
"I have no real reaction to what is being said back home," Kim said from Abu Dhabi. "I completely understand that the PGA Tour is losing sponsors, but unfortunately I couldn't be at the Bob Hope. I really wish I was there. [Abu Dhabi] is such a great tournament, and I didn't want to pass up the opportunity. I've always wanted to come to this part of the world, and I feel lucky to be here right now."
Kim added that he also is a member of the European Tour, which provides him company, if not necessarily cover, for skipping out on what for him at least is tantamount to a home game.
"I don't think it's fair to pick on Anthony," Goydos said. "The problem is we've got one American playing over there and seven or eight non-Americans who have dual memberships. We're getting on Anthony, but we're not getting on Sergio [Garcia]; we're not getting on the others. They're members of the PGA Tour, too. You think any of those guys would be over there playing if [event organizers] weren't paying an appearance fee? How about we decide that if appearance fees are paid, there are no more World Ranking points?"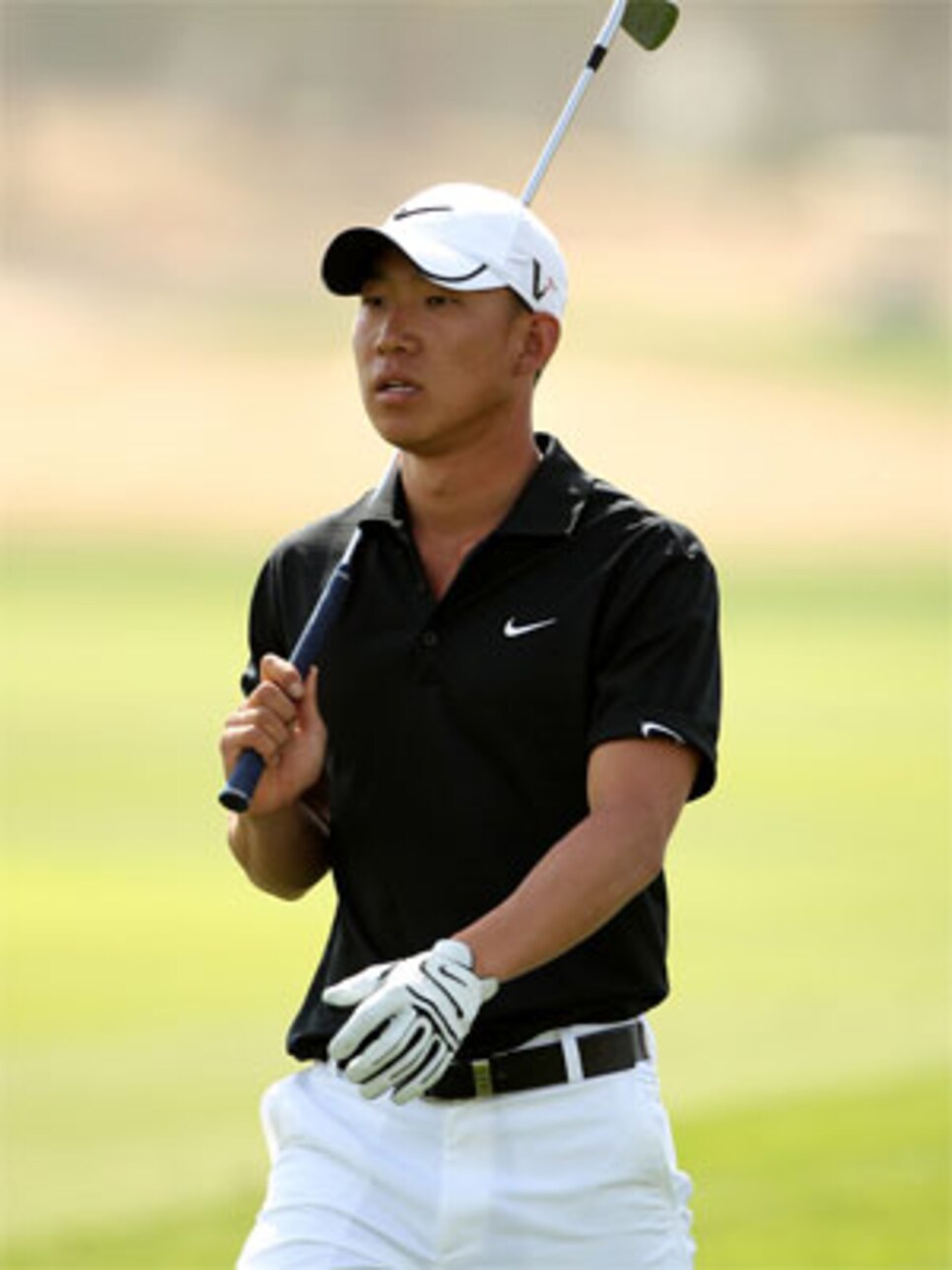 Photo: Andrew Redington/Getty Images
Players are independent contractors, as some will reflexively remind you, and as such are disinclined to surrender a lucrative perk that comes with playing well for an extended period. The pragmatic approach suggests that it is incumbent on the players to react without coercion to the economic realities on their tour. "We are independent contractors, but we all have to work as a team right now," veteran Billy Mayfair said.
Kim was the only player among the top 12 Americans to request a conflicting-events release last week, Finchem noted, adding that their absence from the Hope might prove a boon to the AT&T Pebble Beach National Pro-Am. "The fact that Pebble has a new course, a reduced field and is going to be the U.S. Open venue could well have prompted players to skip the Hope so they can play at Pebble," he said.
Or it could be that the Hope format is a liability: Five rounds, four courses and three amateur playing partners (through the first four rounds). Only the myopic would demand a change, McCarron argued, noting the benefit of the pro-am formats employed by the Hope and the AT&T Pebble Beach National Pro-Am, beyond the charitable dollars they produce. "The Bob Hope and the AT&T are our two most important tournaments," McCarron said. "The reason is that [some of] the amateurs playing here are CEOs of companies. We're mingling with these guys. They're the guys who possibly will write the check some day and sponsor a tournament. We need everybody to play here."
All hands on deck were necessary as well last week to help bail. Rainfall for the week at PGA West (the Arnold Palmer Private Course there was the tournament host) measured 3.35 inches, nearly three times more than fell there in all of 2009 (1.2 inches). It washed out play Thursday and cost the amateurs a round.
Four of five rounds were played with lift, clean and place rules, an additional benefit on courses that typically play easier than most. Haas' winning total of 30-under-par 330 included an eight-under 64 in the final round, with his dad in the gallery (though his son didn't know he was there).
The weather, incidentally, was postcard perfect Sunday and Monday, the black clouds, physical and metaphorical, beneath which the Hope was mostly played last week mercifully taking their leave.