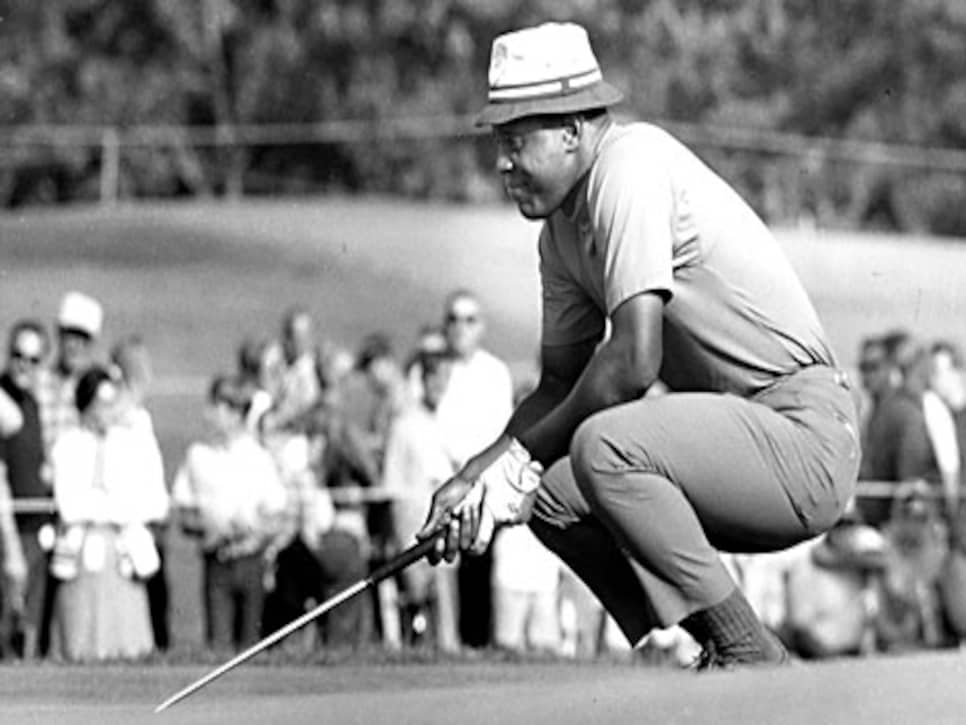 Lee Elder's success in the Skyview Open served as a springboard for a decorated career on the PGA Tour.
ASHEVILLE, N.C. -- As the amber sun dipped behind the lush Blue Ridge Mountains last Thursday, enveloping the victors and vanquished in near darkness at the 50th Skyview Pro-Am/Junior, the enduring truth about golf's back roads shone through like a million fireflies in formation: They might not be paved with gold, but the precious metal mined there is in the form of dreams every bit as legit as those chased on golf's main street.
In a battle of ultimate dreamers, South Carolinian Nick Biershenk, a 25-year-old who competes on something called the Carolinas Mountain Professional Golf Tour and whose brother, Tommy, plays on the Nationwide Tour, beat local favorite J.D. Bass in sudden death for the pro division championship. The feat would rate little more than a Twitter item for all except local media if it weren't for the fact that it's the same championship won several times by Lee Elder and every other African-American player slow-tracked to the PGA Tour by policy and politics. That's when the tournament was known as the Skyview Open -- a mainstay on the North American Golf Association slate of tournaments along the East coast.
The NAGA was the South's version of the United Golfers Association, which spawned great black players like Ted Rhodes, Bill Spiller and Charlie Sifford. During their lifespan (1920s to 1970s), those predominantly black tours were affectionately called the "chittlin''' or "neckbone'' circuit, where sparse purses and hard times were constant companions.
In that regard, little has changed for the Skyview, the lone survivor from an era long past resuscitation.
"It was very rough this year,'' said longtime tournament director Billy Gardenheight, a founding member of the NAGA in 1964. "Our sponsor (Michelob) dropped out at the last moment. Thank goodness for the city (Asheville, N.C.) giving us a break on green fees.''
Kudos are also due the city for a new irrigation system on the front nine of the Donald Ross design, once so green-challenged that the superintendent had to paint the greens to get them visually tournament-ready. Of course, complaints from players of green paint stains on their Sansabelts were numerous.
Another drought so burned up the fairways on the hilly back nine that officials lined the course with two-by-fours where the rough would have started on the par-5 14th and 17th holes to keep balls from rolling into the woods and out-of-bounds.
The challenges were many from the start.
"We played it in September to avoid the rainy season,'' Gardenheight said. "Guess what? It rained in September the next year, so we moved it to July. In 1963, we increased first-place money to $500. That's when Lee Elder and Will Mays and the bigger names started coming.''
The Skyview Golf Association, which has conducted the tournament since it began as an 18-hole event played on a Monday (the only day blacks were allowed to play) in September of 1959 at the municipal course (the only one blacks could play), managed a $12,000 purse for pros (seniors included) and $9,000 of prizes to amateurs this year. Biershenk's $1,200 check was 12 times that of initial winner Ralph Alexander of Charlotte but less than half that of 2007 winner Greg Parker, who earned $2,500.
Paltry purses are proof positive that the Skyview has never been about the money. Rather, it's always been about providing a playground for dreamers -- even when the dreamer is a little long in the tooth.
"The Skyview has meant a lot to my career because they gave you a place to play where you could make a little money,'' said Bobby Stroble, a 64-year-old refugee from the Champions Tour. "It was a great little stop for me. I used it as a spin-off to something bigger and better.''
So did a long list of luminaries including Elder, Jim Thorpe, Jim Dent, Calvin Peete, Pete Brown, Rafe Botts, Charlie Owens, James Black, Junior Walker, Nate Starks and Chuck Thorpe, Jim's older brother who attained legendary status around Asheville.
"Of all the prominent black golfers who came through here Chuck was by far the best,'' said Skyview president Lee Shepard. "I never will forget Chuck holing out about a 90-yard shot off hard pan on number 12. A little low skipper that took two bounces and ducked into the hole. Only he could hit that shot. I think he shot 21 under that year.''
Jesse Allen bested Thorpe and the rest of the field seven times at the Skyview. Perhaps more than any other player, the 53-year-old is the poster boy for the black golf tour.
"I've never had a real sponsor,'' said the winner of more than 40 mini-tour titles who came within a stroke of getting his Champions Tour card in 2006. "I've always played with what we used to call short arms and deep pockets.''
Allen played collegiate golf at Prairie View in the Southwestern Athletic Conference (SWAC) where he was a small college All-American. He competed on the Florida mini-tours against future PGA Tour stars Tom Lehman, Mark Calcavecchia, John Huston and Paul Azinger. After three failed attempts at Q school, Allen's only constant has been getting a job in the off-season to build up a bankroll and a mid-summer start to his season on the back roads.
"When I played in Senior U.S. Open last year that was my first tournament of the year,'' Allen said. "I was like a deer in headlights.
Playing once every three months is a huge disadvantage. That's playing with if the Lord's willing in your pocket instead of 'In God We Trust' like the other guys.''
There are unrealistic expectations of black players fortunate enough to get sponsorship, Allen says.
"They want to plant the corn today and pick it tomorrow.''
The historical significance of tournaments like the Skyview might be lost on Biershenk and the youth movement prevalent there in recent years.
For them, it's only a pit stop on what they hope is a fast track to victory lane on the PGA Tour.
They should, however, appreciate the lasting legacy of a tournament born of necessity and give a tip of the cap to tournament organizers for their perseverance.
"More than anything, the Skyview is like a big family reunion,'' said past winner Kevin Logan. "It's special. I'd like to see it continue. One day I'd like to be up there on the rock wall watching the youngsters and telling stories about the good ol' days.''
Those stories still shed light on a colorful history in American golf.