News
Out Of Sight, Out Of Mind?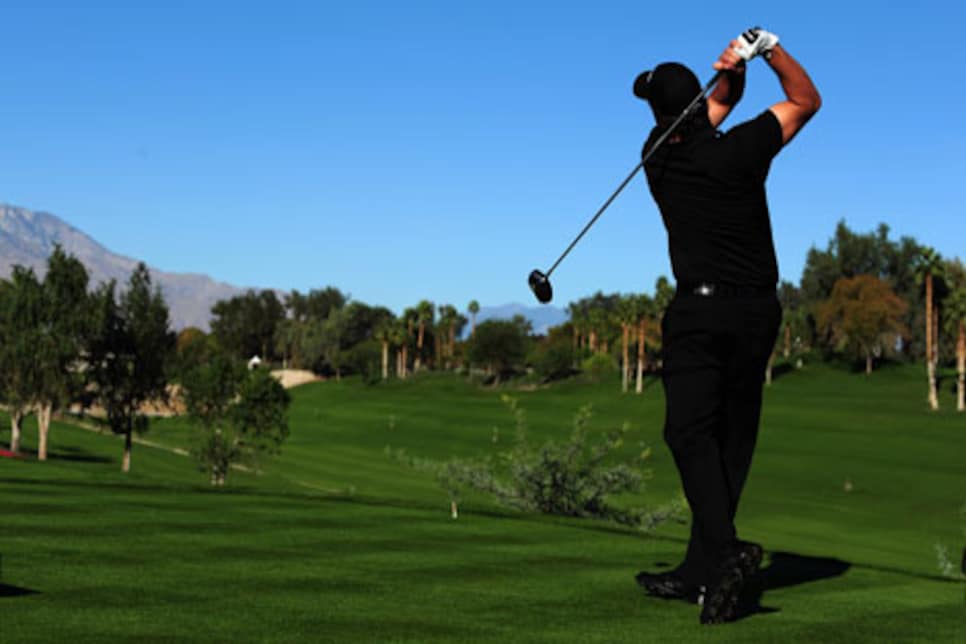 The appearance of Phil Mickelson in last year's Skins Game did little to attract interest.
Each year brought more recognition to Curtis Strange. He was the first PGA Tour player to earn $1 million in a season in 1988, then he became the first player in nearly a half-century to win the U.S. Open in consecutive years.
Success brought another perk, even if it sounds silly now to mention it with the others.
He was invited to play in the Skins Game.
"That was huge," Strange said in a telephone interview. "Remember, we didn't play for that kind of money back then. More importantly, it was huge for everyone because of the exposure you got for two straight days. Careerwise, it meant you had arrived."
The original Skins Game has left the sports landscape, maybe for good.
Thanksgiving weekend will have its usual television lineup of NFL games in Detroit and Dallas, college rivalries such as Alabama-Auburn, Florida-Florida State and USC-UCLA, and way too many meaningless college basketball games.
It will not include the Skins Game for the first time since it became a Thanksgiving tradition in 1983, when Jack Nicklaus, Arnold Palmer, Gary Player and Tom Watson played in a made-for-TV sensation.
Will anyone notice that the Skins Game is gone?
The Skins Game drew a paltry 0.7 rating on Saturday and a 1.1 rating on Sunday last year when K.J. Choi defeated a field that included Stephen Ames, Phil Mickelson and Fred Funk. Even when Tiger Woods played for the last time in 2005, the Sunday rating was a 2.6.
"On the one hand, it will be the first Thanksgiving I've had at home in a long time, which is good," said Barry Frank, executive vice president of IMG Media who has produced the Skins Game since its inception. "As part of the bigger picture, I miss the event. Not having it this year is kind of upsetting. I'm hopeful for next year."
The Skins Game was canceled when it lost its corporate sponsor, and Frank continues the search for another. Golf sponsorship is a tough sell these days.
It is easy to blame the demise of the Skins Game on the players it attracted. The years of Palmer, Nicklaus, Lee Trevino, Fuzzy Zoeller and Fred Couples gave way to Fred Funk, Rocco Mediate and Brett Wetterich.
Golf became so rich that stars had little reason to spend Thanksgiving in the California desert with no guarantee of a paycheck. Strange earned $200,000 for his second U.S. Open title in 1989. He won the Skins Game five months later and made $265,000.
Prize money at the Skins Game remained $1 million. First prize was more than that at 27 PGA Tour events last year.
"I don't think it went wrong, it got bypassed," said Alastair Johnston, vice chairman at IMG who delivered the Fab Four for the inaugural Skins Game. "When the money didn't become competitive, when the silly season became overburdened, when golf was on television 52 weeks, it wasn't something special. There was no point of distinction."
Johnston said the Skins Game in 1983 was "a relief from football," which sounds ludicrous now until put into context.
Back then, golf went off the air after the World Series of Golf at Firestone. The PGA Tour had eight more tournaments through the end of October, and the only coverage came from print.
Then along came a unique event among four superstars, big money up for grabs on every hole.
"The Skins Game had money at stake on every shot, and people were watching," Johnston said. "It was a very different event. It wasn't like the Shell's Wonderful World of Golf. It was real time. There wasn't a great player who didn't play in the Skins Game. You had press guys always looking for the scoop on who was going to be in the Skins Game."
Johnston recalls one golf magazine noting that NBC Sports "finally got its major." This was before NBC had the rights to the U.S. Open. The first play-by-play announcer? None other than Vin Scully.
"It became a staple of Thanksgiving weekend," Johnston said. "We even thought about using Roman numerals, like the Super Bowl."
It wasn't long before the silly season became crowded - the Shark Shootout, the Kapalua International, the PGA Grand Slam, Diner's Club Matches, Wendy's 3-Tour Challenge, the Skills Challenge, even something called the Tommy Bahama Challenge.
Cable networks started televising the occasional PGA Tour event on weekdays, and now The Golf Channel combines with networks to bring all four days of every tournament. It's a rare week when golf is not on TV.
Frank recalls the Skins Game getting ratings in the 8-9 range in the early days, second only to the Masters. Not even PGA Tour events won by Woods get that kind of rating now. And the arrival of Woods brought TV contracts that quadrupled the prize money in a decade.
Not as many people were watching the Skins Game in the final years, and some might not realize it is gone.
All is not lost. If fans want to watch golf this weekend, they can see the World Cup in China on The Golf Channel. It comes on every night at 10:30 p.m. EST. The Americans used to win the World Cup all the time with teams that featured Sam Snead, Ben Hogan, Nicklaus and Palmer, Trevino, Couples and Davis Love III.
The Americans are represented this year by Nick Watney and John Merrick.
Total prize money is $5.5 million.