News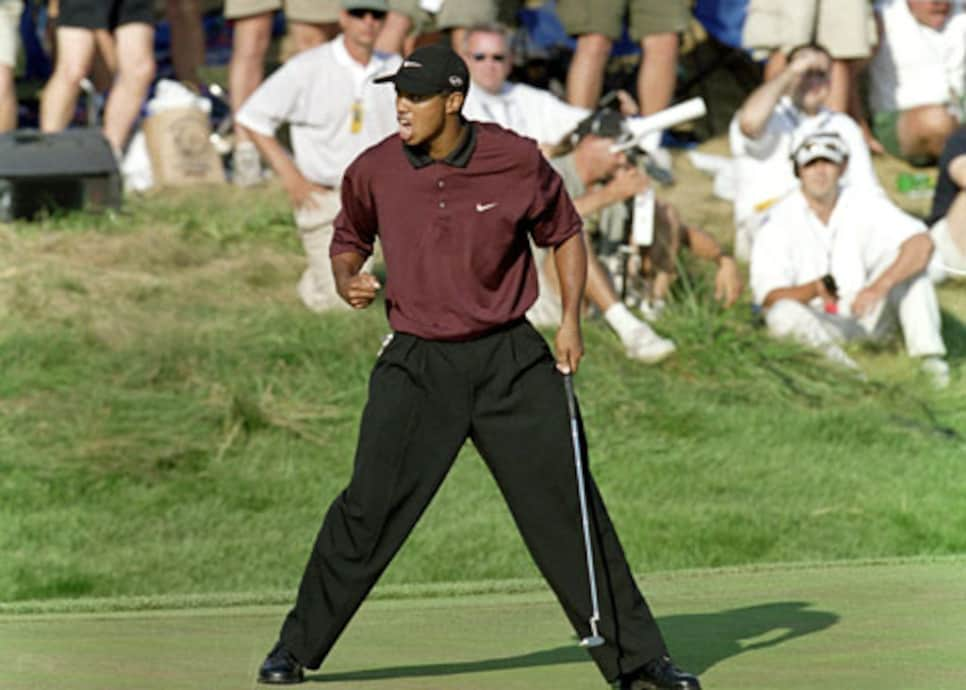 Tiger Woods' dramatic win in the 2000 PGA was an important landmark in his career, but also in the history of the PGA.
AKRON, Ohio -- It might have been that the PGA Championship was required to pay a penance for its complicity in Arnold Palmer's one professional regret, this son of a club professional never able to win the PGA of America's showcase event. Deny the King at your own peril.
This, at least might explain why, only a generation of golfers ago, this tournament with history to spare was so maligned that ostensibly it was in need of an overhaul, like some ramshackle Skins Game.
It once was routinely called a minor major. In 1995, Golf Digest's Jaime Diaz, then writing for Sports Illustrated, made a compelling argument that the PGA Championship ought to revert to the match-play format it employed, to rescue it from itself and differentiate it from its more luminous brethren. Diaz was leading a chorus of critics then. It was the fourth major not only on the calendar, but also in regards to prestige, supplying the dog for the dog days of summer.
The PGA Championship, which begins Thursday at Hazeltine National Golf Club in Chaska, Minn., still ranks fourth on both counts, but it no longer has to bob and weave to avoid the body blows that had bruised its reputation over the years. No one is calling for match play any longer.
It is, in fact, in the midst of a renaissance, boosted by great courses generally set up to the players' satisfaction, strong fields and a series of compelling story lines, none more so perhaps than the slugfest in which Bob May and Tiger Woods engaged in 2000.
Yes, the Tiger Woods Era has been a factor, too. In Tiger's dogged pursuit of Nicklaus, every major has become as important as the last one or the next one.
"When you win on the PGA Tour, you earn a place in the record books," Joe Steranka, CEO of the PGA of America, says. "When you win a major championship you win a place in the history books. Tiger Woods embodies both those things. But he cares so much about majors. He's on a historical trek to win more than anyone else has won before him.
"On top of it, he has a dramatic style of play, whether it was him holding off Sergio (Garcia) at Medinah (in 1999), the finger point on the first hole of the playoff at Valhalla (2000), lipping out for 63 at Southern Hills (2007), or winning by making everything at Medinah the second time around (2006). We can't as golf fans get enough of watching him compete. It helps all of golf, especially the majors, because of the history."
The PGA of America has helped itself, too, even sacrificing a group of its members, who, perhaps to their chagrin, have contributed to the PGA's strength of field -- "the strongest of any of the four majors," Scott Verplank says.
The PGA of America used to allow 40 of its rank-and-file into its field, club pros who all had game, though generally not enough of one to compete with the best players in the world over 72 holes. In 1995, the PGA cut the number of club pros in the field to 25, then reduced it to 20 in 2006.
"As soon as we did that we had as many as 98 of the top 100 players in the world playing in the PGA Championship," Steranka says. "We have more of the top 100 players year in and year out than any other major."
Steranka counts the 20 club pros who lost access to their association's championship among 22 key players who have helped restore whatever luster it had lost. One of them was his predecessor, Jim Awtrey, whose reign, Steranka says, could be summarized in the form of the advice Golf Digest's Dan Jenkins gave to him: "Don't screw it up."
"Jim came up with the idea of packaging the Ryder Cup with the PGA Championship to strengthen our informal rota of sites," Steranka says. "We hadn't been to Oakland Hills in decades and went back there. Hazeltine and Medinah, we'd never been to them. And we continued to do things a little different. We weren't afraid to tab a new site. We did that with both Valhalla and Whistling Straits. Jim was involved in both."
Medinah, Hazeltine and Whistling Straits have all hosted the PGA and are scheduled to host the Ryder Cup and contribute to a galaxy of courses that has erased the stain of lesser lights, among them Kemper Lakes in 1989.
But what they've done with the courses they've had has also been a key component in restoring the glory. "They do a pretty good job of having the guys playing the best rising to the top," Verplank says. "Anytime you do that you're probably doing it the right way."
The word often heard (and occasionally missing -- see Oakland Hills, 2008) is fair, allowing it to stand in stark contrast to what a U.S. Open course setup historically has been.
"Sometimes the course is little bit more like a tour event, so you shoot a little bit lower," Stewart Cink says. "Sometimes a course can get your nerves really beat up. If it's softer and a little more playable, frustration doesn't kick in as much."
That was generally the case, at least, before Oakland Hills in 2008. The players' collective dissatisfaction was not only palpable, but it was audible. "This course is 7,395 yards long, the greens are firm and the pins are tucked away," Lee Westwood said after the first round. "They are sucking the fun out of the major championships when you set it up like that."
It was an aberration for which deceptive weather largely was responsible. Rain predicted for Tuesday and Wednesday failed to materialize, leaving the course unreasonably hard and fast and Kerry Haigh, the PGA's managing director of tournaments, exposed to criticism.
That, too, was an aberration. Haigh is the last of Steranka's 22 key players in the PGA Championship's resurrection, the master key at that, the man most responsible for unlocking its potential and allowing it to return to its rightful place in the pantheon of great championships.
"Kerry is unique in the industry," Steranka says. "He's a certified rules expert and manages inside the ropes as well as outside the ropes. Under Kerry's guidance, our course setup has led to producing dramatic finishes. He's meticulous when it comes to what yardages are, how holes are going to play different, depending on if fairways remain firm or soft. It's hard to think you can orchestrate the ebb and flow of a championship, and I'm not saying he does, but he comes as close as anyone can come."
The players, meanwhile, seem to be reserving judgment, Oakland Hills having shaken their faith. "Really, the last few years it's almost been tweaked the other way, where the U.S. Open is almost the fairest," Steve Stricker says. "The PGA is kind of teetering, going the way the USGA was five, ten years ago. Hopefully they set up Hazeltine fairly, because it's so long."
They need not worry, Steranka says, though the listed yardage for Hazeltine is now 7,674 yards. "It won't play that long," he says. "We'll have a composite based on a lot of conditions.
"At the end of the day, tournament golf is about celebrating the best players in the world. It's not about making the course as hard as it possibly can be."
Stricker, incidentally, is among those who won't concede that the PGA Championship ever lost its sheen, particularly to those with ties to club pros.
"I married into a club professional family and I know what that means," Stricker says. "The game's much bigger than the PGA Tour. The club professionals are working it day in and day out. I think it's a very important major. I don't think any player has thought about the PGA in lesser terms as a major goes."
Perhaps not, but that doesn't square with a part of its past, when it was known as a minor major, until the PGA of America surgically removed the appendage and it again became, simply and suitably, a major.