News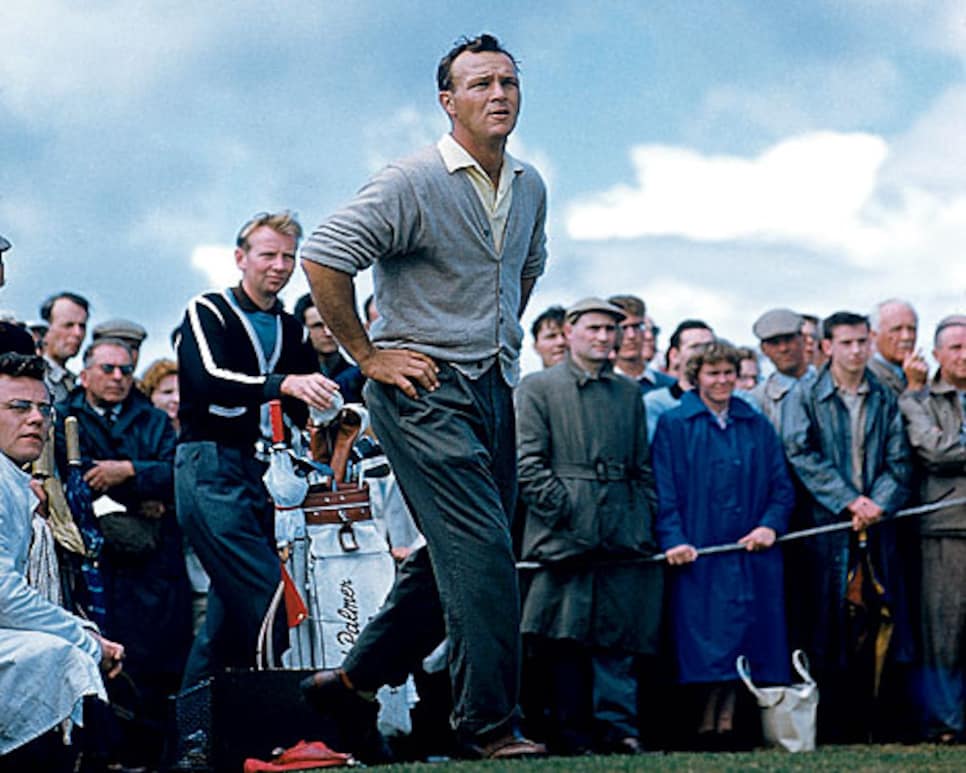 defining an era: Palmer, with Tip Anderson on his bag, came up short in his bid to win the third leg of the modern Grand Slam at St. Andrews in 1960 but was already on his way to iconic status.
A professional athlete, it has been said, dies twice, his initial demise arriving on the hour his competitive career ceases. What then to make of Arnold Palmer, who turned 80 years old on Sept. 10 but remains an ageless standard bearer for his sport, a Methuselah in a wool sweater?
Palmer's prime ended in the Richard Nixon era, his last PGA Tour victory coming in 1973. His final major triumph came almost a decade earlier, in the 1964 Masters. He now is one of the tournament's honorary starters, and his only official role in the game is as wise onlooker at his eponymous event at the Bay Hill Club and Lodge in Orlando. Yet even today Palmer seems thoroughly contemporary.
"Arnold Palmer is timeless, that's all there is to it," Rocco Mediate says.
To grow old is a blessing, but it is also a curse, because, inevitably, you stop and look around and realize friends and familiar faces are gone. But Palmer, with his magnetism, congeniality and charm, still connects with people, regardless of the difference in age or background. Undoubtedly, he has never struggled to connect with his peers, who can thank the King for shepherding golf into the modern era and lining their silk fairways with money trees.
As Tom Watson says, "Frank Beard said that we owe 80 cents of every dollar we earn to Arnold. That's true."
Of course, Palmer isn't just timeless, but priceless. Fellow professionals from yesterday and today recognize that. Here they share their thoughts:
Jack Nicklaus: "Arnold brought a lot more to the game than just his game. What I mean by that is there's no question about his record and his ability to play the game. He was very, very good at that. But he obviously brought a lot more. He was there at the right time with television, and his flair and his charisma were things that were really very, very important to the game of golf at that time."
Davis Love III: "Guys like Arnold and President Bush, No. 41, and people that you've looked up to for a long, long time, you know they're not going to be around forever, so when they hit a milestone, you have to stop and think about how much you appreciate them. Arnold has always been a leader who stood out from the rest, and for a lot of different reasons. He always said the right thing, did the right thing. He is as solid a human being as you could ever find in any walk of life."
Boo Weekley: "I love that comment that he's made about when you sign an autograph, sign it so people can read it. I think it might have been [my] first year out in '02. I used to just scribble my name, but now I take the time and the effort to sit there and write my name. Arnold, and Jack, too, they understood that the people pay our bills. They always gave back. I try to do the same, not that I can ever do all they did."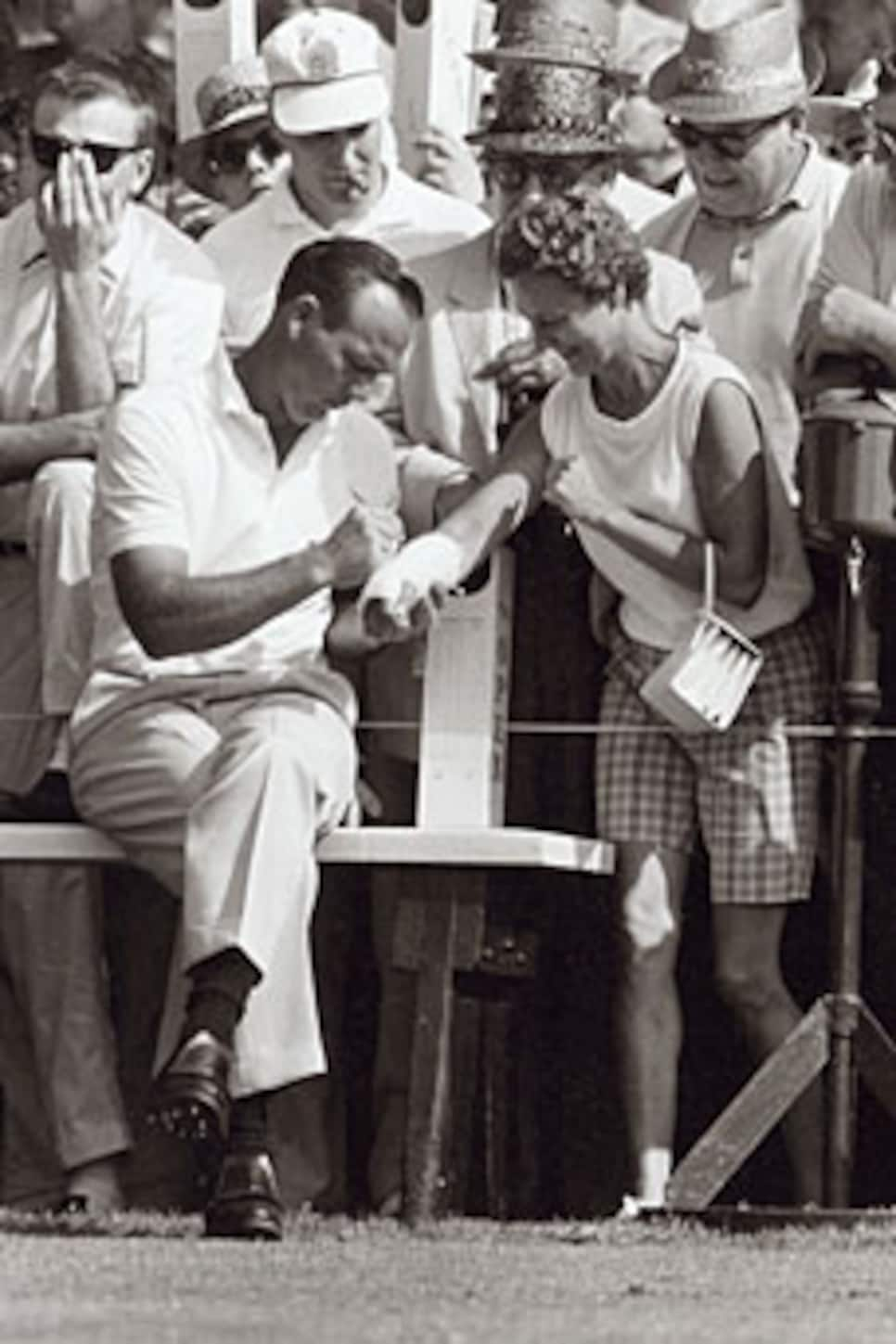 Loren Roberts: "I've always thought that young guys who come out of Q school or the Nationwide Tour or wherever … rookies ought to have to play a couple of rounds with Arnold Palmer just to see how he treats everyone on the golf course, how he treats the fans, how he conducts himself. It should be a prerequisite to play with Arnold and learn a few things."
Ben Crenshaw: "I met Arnold in 1970. He was playing in the PGA at Southern Hills CC that year. He came to the Texas Open Junior tournament at Wichita Falls CC to give an exhibition, and I played nine holes with him and two others. He just couldn't have been nicer. I was 18, and I was just in awe of him. Made an impression on me, though, too, because he was just so genuine. He understood what an impact he could have on younger people, and he took that responsibility and set an example."
Padraig Harrington: "I was in a restaurant where somebody ordered an Arnold Palmer [a drink of lemonade and iced tea that Palmer made popular]. That says it all—that you can go into a random restaurant and order a drink named after a professional golfer. Even ­Tiger hasn't got there yet."
Jim Furyk: "You can always go back in time—Bobby Jones, Byron Nelson, Sam Snead, Ben Hogan—and go through great upon great, but I think he was the pioneer. Tiger might have made golf cooler, but Arnold was probably the first cool golfer—a good-looking guy, the shirtsleeves showing the big arms, go for broke. Everyone rooted for him. I think that our sport would be a lot different and look a lot different without him."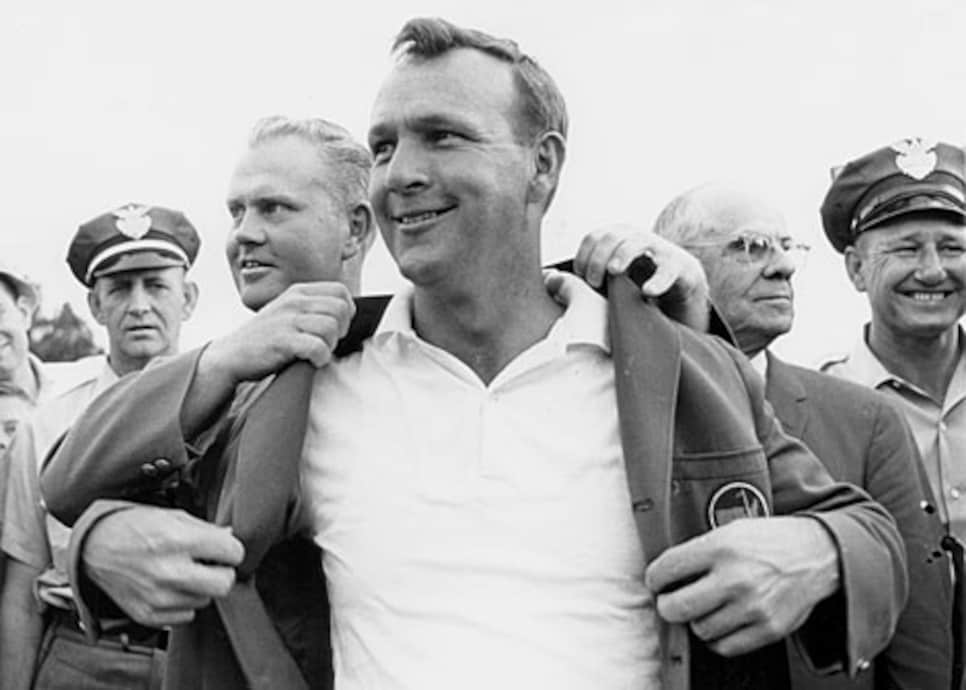 Nick Price: "I met him at Muirfield at the British Open in 1980. He walked past me, and I said, 'Hi, Mr. Palmer,' kind of sheepishly. I got to really know him later when I lived in Orlando. You build someone up in your mind to be bigger than life, and I'm sure this happens a lot where maybe you get disappointed once you get to know them. That wasn't the case with Arnold. I mean, he was bigger than life, and yet he was just this very personable guy who you could really talk to."
Tom Watson: "I first met Arnold when I played an exhibition with him at Brookridge GCC in Overland Park, Kan., when I was 15 years old, and I remember it so clearly. I stepped up to the first tee, and I gave it my absolute best Sunday punch; I almost drove the green on this par 4. He had to take a pretty good swipe at it to knock it by me, but he did it. I tied him on the front nine, 34-34, and then he got me on the back, 40-34. Not bad for a kid playing with the King."
Mike Weir: "Just being around him, what I associate with Arnold is just how much he puts everyone at ease. Chatting with him, like at the Masters Champions Dinner, is so much fun, and you always get a sense of just what a nice man he is."
Geoff Ogilvy: "He's got such a magnetic personality, you can just tell that he has that something. He lights up the room when he walks in. The women want to be close to him, and men want to be him. You don't know how he does it, but he can be in a crowded room and everyone in that room could leave thinking Arnold connected with them at least once."
Bob Charles: "We all take our hats off to Arnold because without him we probably wouldn't have all had the success we've enjoyed in our profession. Between Arnold and President Eisenhower, they popularized the game at the right time, and the two did a lot for the game. I enjoyed my tussles with him. He was easy to play with, but the galleries he brought along made it tough to play alongside him. But that's what he did for golf. He made it more exciting for fans, but he also made it more exciting for us, too, because there was an energy on the golf course when he was around."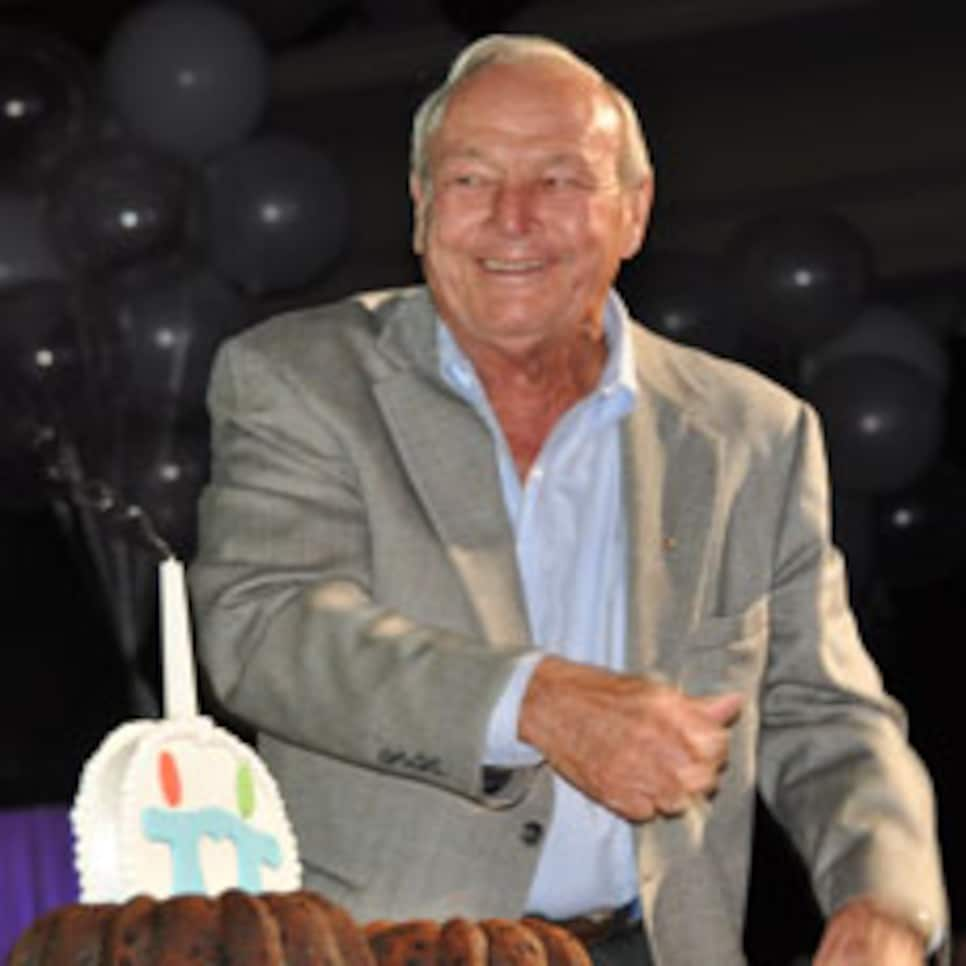 Johnny Miller: "He has had such a great run for so long, being such a force for golf overall. The timing to have an Arnold Palmer come along when he did was really something special. What he did—and Jack did this, too—was that Arnold was the prototype for all of us pros to copy. How you work on your game, handle the press, how you conduct an interview on TV … if you copied what he did, you'd be fine. Arnold is a man's man, and his own man. He did it all and in a genuine way."
Mark O'Meara: "Arnold Palmer is the epitome of what a professional golfer is and how a professional golfer should act. But he's a great example for everyone in any walk of life."
Paul Goydos: "The King, what a nickname, an interesting identity. That's a nickname you have to earn. It's not necessarily things he did. It's the generosity he has shown. After I won he played a practice round with me at the Masters before the Champions Dinner. He's the epitome of a professional golfer."
Charles Howell III: "When you think of Arnold Palmer, you think of the King and what everyone talks about, which is his charisma. But he's still a guy who is a man of the people. That's his gift. It's just unbelievable how he interacts with people, how involved he still is in the game and charities. You still think of him as being that vibrant champion and golfer, and he doesn't look like he's slowing down. Whatever magnetism he had in his prime, he still has it."
Jeff Sluman: "He's the world ambassador for golf. That's a man who truly loves the game, loves to be out playing in front of people, and his love for the game has meant a lot to other people. I've been around Arnold many times in my life, and I feel lucky for that. Growing up in Rochester N.Y., we were Arnold fans. My dad took me out to watch him play, and we actually got film of him at the Carling World Open in 1967 coming out of the clubhouse with Gary Player. My dad loved Arnold, he's around the same age, so there was the connection with my dad like Arnold had with so many people. Arnold was 'the man' in his eyes. He had a lot of company in that."
Ernie Els: "When you think of Arnold, you think of a friendly guy, very outgoing, someone who always has a kind word, encouragement. I always have a special place for him, special feelings because of the friendship he showed me, the way he treated me right from the get-go."
Joe Durant: "I'm not sure you can sum up Arnold in a few sentences. A lot of things run through your mind: Great player, great ambassador for the game of golf, he's done it all on the course, he's a great businessman, a great friend to so many people in and out of the game. He's done so much for the game, be it his tournament, and he's does a lot of great things, whether it's his charities, playing with presidents and leaders from around the world. He's been a spokesman for eight million companies in and out of golf. He connects with everyone. That's that charisma everyone talks about when they talk about Arnold Palmer."
Scott Verplank: "I think it's phenomenal that we still have him around at 80 years old. We had Byron [Nelson] around for a long time, and you know what he meant to me, and I think it's great for all of us, everyone in the game, that Arnold is still here representing our sport and setting an example, and we just get to enjoy his presence."
Fred Couples: "First time I met Arnold was in Portland at Peter Jacobsen's tournament, and that was something special because ever since he's basically been like another father figure in a way. You have a chance to talk with him, and he gives you so much. He's asking you questions—how's your game, how are you doing? He's like your grandfather, really. That's almost how I look at him. There isn't a time when I see him that I don't give him a kiss on the cheek. That's how I feel about him, and I know that a lot of other guys sort of feel the same way, that you love him like he's your father or grandfather. I love all the old guys … Jack, Ray Floyd, [Lee] Trevino. But would any of them say that Arnold wasn't the most special of them all? I don't think so."