News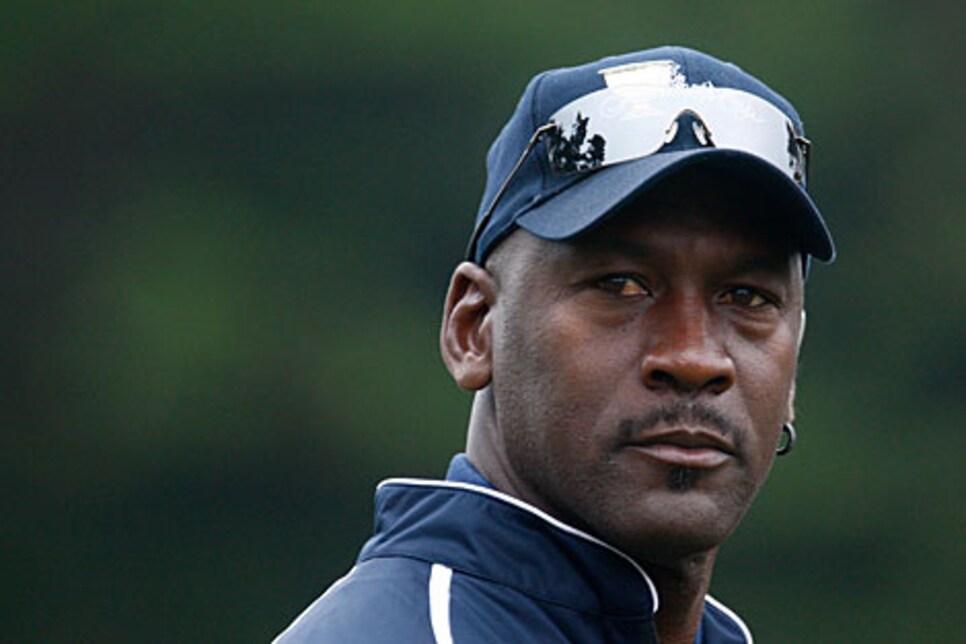 USA Team assistant Michael Jordan watches the play during the Day Three Morning Foursome Matches of The Presidents Cup at Harding Park.
Michael Jordan did not attend the Presidents Cup to supply speeches or interviews, but he could not contain his Hall of Fame self. "I keep hearing how these guys can't be a team, they aren't close, they don't play together," he said. "But when you see them on the course, when you see them at dinner, it's all bull." Two items merit insertion for clarification. As holder of six NBA championship rings with the Chicago Bulls, Jordan possesses a sixth sense about what it takes. Also, he volunteered his impressions of the U.S. team days before it throttled the Internationals by a five-point margin. That is the same spread by which America vanquished Europe a year ago in the Ryder Cup, not that we're here to compare.
But besides four majors, there are 48 other weeks, and there is nothing not to like about two dozen of the world's best golfers competing on a compact, balanced and appealing course such as Harding Park for bragging rights in Orlando. If this is too friendly, if you need a war, read all about it on the front page. And if billionaire Tiger Woods or mega-millionaire Phil Mickelson care little about swinging for the flag every autumn, they did a spectacular job of feigning involvement last week. The Presidents Cup is gaining traction, and if the PGA of America was watching, one can only wonder: Why not a Ryder Cup on the West Coast for a prime-time finish in the East? Golf doesn't have to go to Rio for more eyeballs. Just go to Sunday night. Also, we vote for the four-day format over three, and if you monitor growth of the game, see the visitors roster: Y.E. Yang and Ryo Ishikawa.
As for Fred Couples, we should all have him for a boss. He thought Jordan would matter as an honorary assistant, drew some barbs about such a weird idea, and nailed it. Celebrities flocked to observe. Barry Bonds, Jerry West and Condoleezza Rice strolled inside the ropes. Jack Nicholson and Joe Pesci had tickets at will call. But MJ was in the team room, and the Americans shall not soon forget him, or he them. Especially Sean O'Hair, who is happily married and thus not up for adoption. Freddie also promised just to let his players play, and he has some serious firepower. Woods and Steve Stricker lately have seen more of each other than their wives, but their magic took a brief sabbatical Saturday until The Great One sank a birdie putt on No. 17, then followed with a 3-iron you would pose for (he did) on No. 18. In cold blood at high noon, the U.S. stole a point, probably the turning point if there was such a thing, from Tim Clark and Mike Weir. Stricker, not wishing to feel like baggage, putted like a crazed man in the afternoon while Tiger went into the arms-folded formation, as if attending a movie.
Tiger logged a perfect record, if not perfect radar. On Friday, for example, his tee shot drifted well right, crashing portable toilets in regulation. Woods cackled as he neared the situation, knowing he would never hear the end of it from the likes of Jordan. But, always the strategist, Tiger arrived to discover that he had left the ball below the hole. On the same day, Mickelson wore the wrong pants, a wardrobe malfunction that somehow did not surprise teammates. Like Tiger, the left-hander went undefeated and oozed enthusiasm, although it might be wise to remember when he was a winless mess in South Africa in '03, Jack Nicklaus praised Mickelson for his attitude regardless. Maybe Phil would have done better if O'Hair had been there. Everybody wants to be O'Hair's best friend—Tiger, MJ, Phil. "What is it about my husband?" wondered Jackie O'Hair.
There was only one notable glitch to the production, and it had zero to do with golf. Jordan was set to join Wednesday's opening ceremony, his first mistake because these banal parades do not belong in sports. True, there are opening and closing ceremonies at the Olympics where golf is headed, but we said sports. Anyway, Jordan was ready to go, as was girlfriend Yvette Prieto. However, inasmuch as Michael's role was only ceremonial—see the irony there—he was informed that his presence would not be required. PGA Tour Commissioner Tim Finchem, who should feel blessed that Jordan loves golf enough to abandon cigars for several days, apologized profusely. Still, U.S. caddies were so annoyed that they had "23" drawn on their caps in protest. Jordan, seeking no sympathy, opted to pop next door while the bands played for 18 holes at the Olympic Club. Asked whether the bureaucratic slight offended him, Michael responded, "Nope. Shot 78."