News
Song-Hee Kim Opens With A 65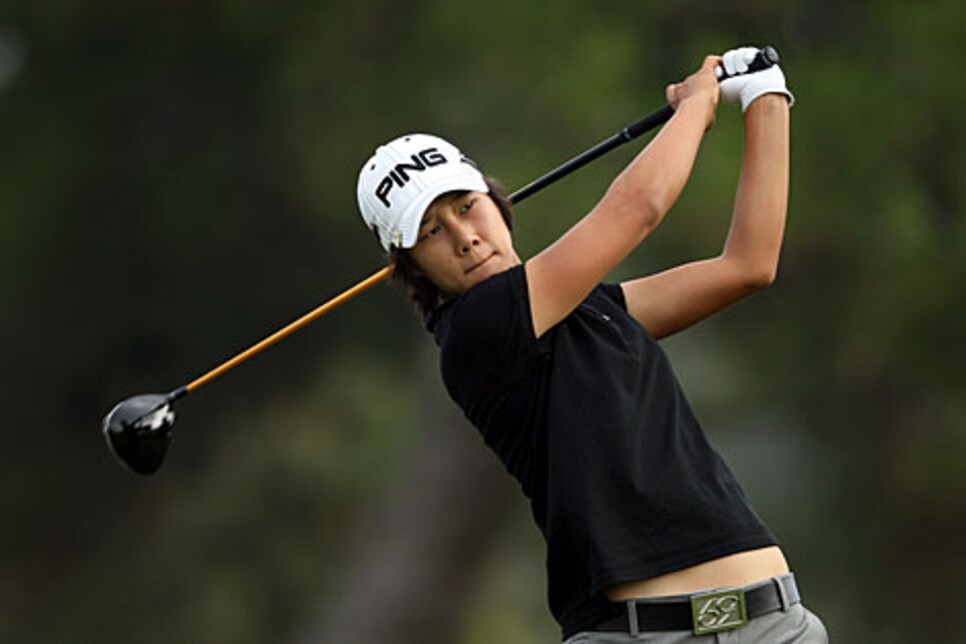 Song-Hee Kim is looking for some momentum heading into next week's Tour Championship.
GUADALAJARA, Mexico (AP) -- Song-Hee Kim shot a 7-under 65 on Thursday in the Lorena Ochoa Invitational to take a two-stroke lead over Jiyai Shin, Paula Creamer and Mariajo Uribe - and six-shot advantage over the top-ranked Ochoa.
Kim had six birdies on the first 10 holes at Guadalajara Country Club and also birdied the last to top the 36-player field. Winless in three seasons on the LPGA Tour, she's trying to become the ninth South Korean to win this year.
Shin, a three-time winner this season and the money leader, has already won the rookie of the year award and leads Ochoa in the player of the year race. Ochoa finished with a 71 on her home course.
Catriona Matthew and Eun-Hee Ji opened with 68s, Cristie Kerr, Brittany Lincicome and Brittany Lang had 69s, and Michelle Wie, Katherine Hull and M.J. Hur shot 70s.
Ai Miyazato, second on the money list, had a 71, and defending champion Angela Stanford finished with a 73.
Kim has 10 top-10s this season, including a fifth-place finish two weeks ago in South Korea at the Hana Bank KOLON Championship. One of 47 South Koreans on the tour, Kim said she believes she's close to winning.
"I have had a lot of chances this year," Kim said. "I think I didn't have luck and that is why I lost the wins. If I play well this week, I think I can win."
She savored her 12-foot birdie putt on the 18th hole.
"That one I was thinking if I make this I can get more confident," she said. "That was really important to me."
With two tournaments remaining, Shin leads Ochoa by four points in the player of the year race. The season ends next week at the LPGA Tour Championship in Houston.
If Shin wins this week she will wrap up the player of the year award if Ochoa fails to finish at least seventh. Nancy Lopez is the only player to win both the rookie and player of the year awards in the same season, accomplishing the feat in 1978.
Ochoa also has won three times this season, but that pales compared to the 21 she won in the previous three seasons. She plans to marry next month and has acknowledged off-course obligations have hurt her tournament results.