News
No. 25 -- The Open Doctors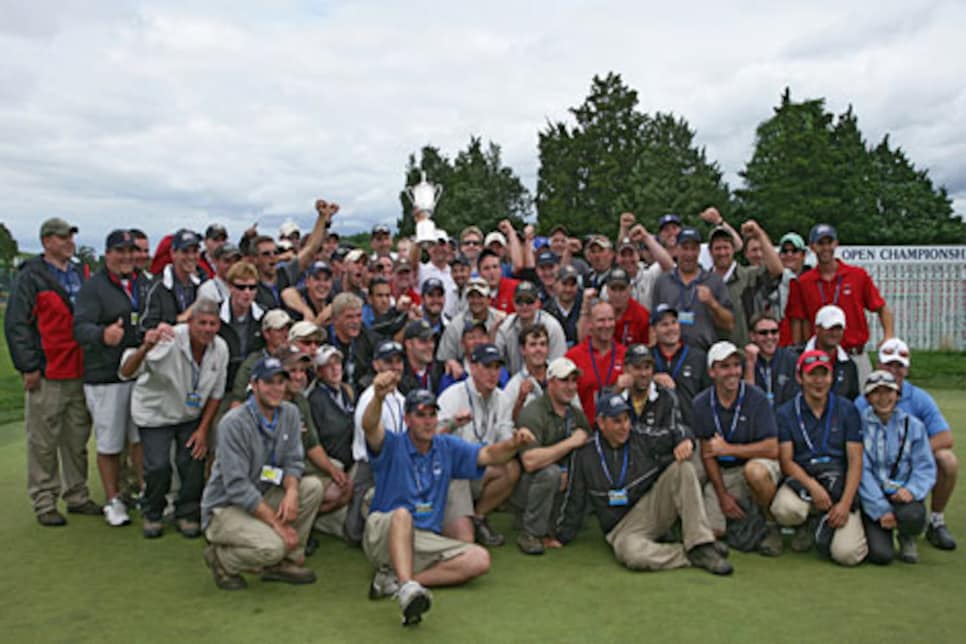 REIGN MAKERS: Lucas Glover (center, rear) raises the U.S. Open Championship Cup, celebrating his first major victory and the yeoman work done by superintendent Craig Currier (front left, blue shirt) and his many helpers. PARDON THE INTERRUPTIONS: With three weather delays and two stoppages due to darkness, the 109th U.S. Open had its own, quirky rhythm. Typical scenes included squeegee work on the 18th fairway.
On Father's Day, a year before the deluge at Bethpage Black, Matt Henkel, who had yet to turn 30 years of age, was lying in a hospital bed at the University of Wisconsin watching a courageous one-legged Tiger Woods bounce a downhill putt into the hole on the 18th green at Torrey Pines and roar his way into a playoff against Rocco Mediate. Henkel, an assistant golf course superintendent at a course outside Rockford, Ill., was in the hospital because a couple of days earlier doctors discovered a brain tumor located just above his right ear, conveniently described as being the size of a golf ball.
A year later, virtually to the day, working hours before dawn by the ghostly light of a merchandise tent, Henkel was one member of a much larger crew, some going barefoot (because, after all, what did it matter?) who pushed squeegees up and down the 16th fairway of Bethpage Black, trying to salvage what they could of a U.S. Open in which the lone dramatic element seemed to be whether or not they would get a chance to play it at all. "They finally pulled us off," he says of that rainy Sunday morning. "It was a lost cause."
Hardly. That week the patron saint of lost causes was wearing a Gore-Tex rainsuit. He, and even a she or two, was rolling greens and fluffing rough, running pumps and pushing water hogs. Henkel and all the 175 or so staff and volunteers like him made the impossible possible at Bethpage, and in so doing became emblematic of the week's credo: I squeegee, therefore I am.
If it was possible to expunge the words "rain" and "mud" from the English language, the most fitting remaining description of the eight-day week at Bethpage was "blur." The normal benchmarks of anything resembling a golf tournament had been completely stripped away. Everyone knew what they were doing at 3:30 a.m. but, as to what day it was or what round it might have been, well, fuhgeddaboudit. In the army they say no battle plan ever survives contact with the enemy. At Bethpage the best laid plans of superintendent Craig Currier on how to deploy his troops dissolved, literally, inch by inch in a rain gauge.
I remember being amazed at how calm and cool and collected Craig [Currier] was. … He said, 'You know, if it's going to be bad, I want it to be historically bad. Record-setting bad.'
-- Dave Otis, USGA Agronomist'
"It's the only time in my professional career when I think I've used the words 'miserable' and 'exciting' in the same sentence," says Frank Rossi, who teaches turfgrass science at Cornell and was on hand as one of Currier's volunteers, people who had come from as far away as Japan and as near as Garden City, N.Y., some even showing up unasked and unannounced Monday morning to grab a squeegee because they knew others wouldn't be able to stay the extra day.
"I remember being amazed at how calm and cool and collected Craig was," says USGA agronomist Dave Otis. "A lot of guys who might be wrapped a little tighter might have started losing it. We just couldn't catch a break. It was just laughable. I remember at one point Craig looked at me and smiled and he said, 'You know, if it's going to be bad, I want it to be historically bad. Record-setting bad.' He laughed and joked at 4 in the morning. He'd be standing in front of everybody with a microphone and say, 'OK, who wants to mow greens today?' Twenty hands would go up and he'd go, 'OK, you, you, you and you.' Half of it was joking and half of it was serious."
Seat of the pants. On the fly. Improvise. Whatever worked. Dan Rogers, a superintendent from Waterford, Conn., who had spent five years working at Bethpage, was a volunteer, too. "The quality of the people we were working with was awesome. A lot of guys who I had worked with during my time at Bethpage came back so it was like a reunion," he says. "Everybody was in the industry in one way or another. Superintendent. Assistant. [If] you're mowing fairways, you're mowing fairways with 10 other superintendents. There was no talking required. Everybody knew what they were supposed to do and did it."
Joe Gardner was among the huge group of volunteers from various Long Island courses. "That was probably one of the worst weeks of weather I've ever been associated with in my 20 years of golf course experience, and there wasn't one complaint," says Gardner. "There wasn't one guy who didn't show up because it was raining. Everybody who needed to do something was right there, and they did it with 100 percent effort. Superintendents. Interns. Salesmen."
Sometimes the effort exceeded the need. Sean Elverd from Signal Mountain, Tenn., was a summer intern at Bethpage. He'll graduate from the University of Tennessee next month. He spent U.S. Open week sleeping on an air mattress in the red brick pump house No. 3 alongside various other interns and the just plain exhausted. He also made the NBC highlights and ESPN's "Not Top Ten Plays" when he face-planted with his squeegee on the 16th tee. It was the kind of comic relief every band of brothers relishes. "We just riddled this kid," laughs Currier, who may be leaving his Bethpage job after 12 years (see Bunker, page 15).
Pete Cash, another of the Long Island superintendents, could easily have had an excused absence. His wife, Carolyn, gave birth to their third child, Trevor, on Monday of the U.S. Open's first week. "I didn't work on Tuesday," says Cash. "I came back and volunteered Wednesday through Monday, just in the mornings primarily."
Mind you, mornings at Bethpage began at 3:30 and Cash's first one back went something like this: "Craig announced to everyone, 'Here's Pete. Congratulate him on having a baby. Being that he's here volunteering with us and not with his wife and new son, he probably won't get ...' " (Well, you can finish the thought.)
They had four shotgun starts in a row, which meant having every hole playable all at once when play was set to resume, and, when it was called, they had to be everywhere at once to keep the flags and tee markers from becoming souvenirs on eBay. They had squeegee teams at every green and a man at every tee. They had to weave their heavy equipment through thousands of people and rivers of mud in the middle of the day to mow or roll greens between rounds and then shepherd the crowd out in the darkness because there weren't enough other people to do it. At night they strung the hole flags up with fishing line in the plumbing shop to dry in front of a blower and used a Tide Stick pen to remove the mud from the white numbers. They mowed fairways in the dark with a man walking in front of each mower to scout out ball markers, then carefully lift and return them to the same location. On the greens they kicked the skinny guys off the rollers and called in the full-figured boys from the bullpen, then added tractor weights to squeeze out the water and seal in the speed. The greens were so saturated, when they rolled them the existing holes smashed down and they had to reshape them by hand just to get the cup setter back in to make them round again.
Players from Phil Mickelson to David Duval to Padraig Harrington went out of their way to thank them. Lucas Glover's parents wrote Currier a thank-you note. They slept in college dorms, on air mattresses and crashed on couches. They tumbled their shoes by the dozens at Laundromats. And, even knowing now what they didn't know then, there isn't one of them who wouldn't do it again, though the only thing most of them got out of it was a souvenir picture on a cell phone -- if they were one of lucky ones whose cell phone still worked.
And, if it hadn't been for the crew permanently stationed in the 18th fairway, running pumps basically every minute there wasn't a player within earshot, all of golf might still be stuck on the Long Island Expressway. It was that simple.
"The picture that will never leave my mind," says the USGA's senior director of rules and competitions, Mike Davis, "are the guys with the pumps down on the 18th fairway that were there, literally, all night long. When I would get ready to go back to the hotel and it was dark, I'd make one last trip around. I'd see these guys in their yellow, orange, fireman-type rainsuits and they're down there and it's just a quagmire and they're pumping these drywells out and I'd get there at four in the morning or something and it's pitch dark and I'd get [Craig] and we'd go down and you'd see the same guys. I'll never forget that. If we'd lost the 18th fairway ... well, it actually used to be a swamp. That's why they call it Round Swamp Road. Once the drywells filled up, once it got to that point, we're done. We couldn't have played the 18th hole."
And, after all the rain and the mud, all the wood chips, straw and gravel, at 6 o'clock Tuesday morning, they were out putting it all back together again. Like some ex-Presidents and World No. 1s, Currier likes to hang nicknames on his guys. There is no way to write a story about 175 people. So, for Milky and Showtime, Goose and Gilbert, Magic and King, Cow and the Colonel, and all the rest who go unnamed, know this: The U.S. Open wasn't rescued by a man but by a brotherhood. Maybe it's true that Bethpage Black never got the opportunity to be seen at its very finest, but its people did.