News
A Five-Step Plan To Revive The LPGA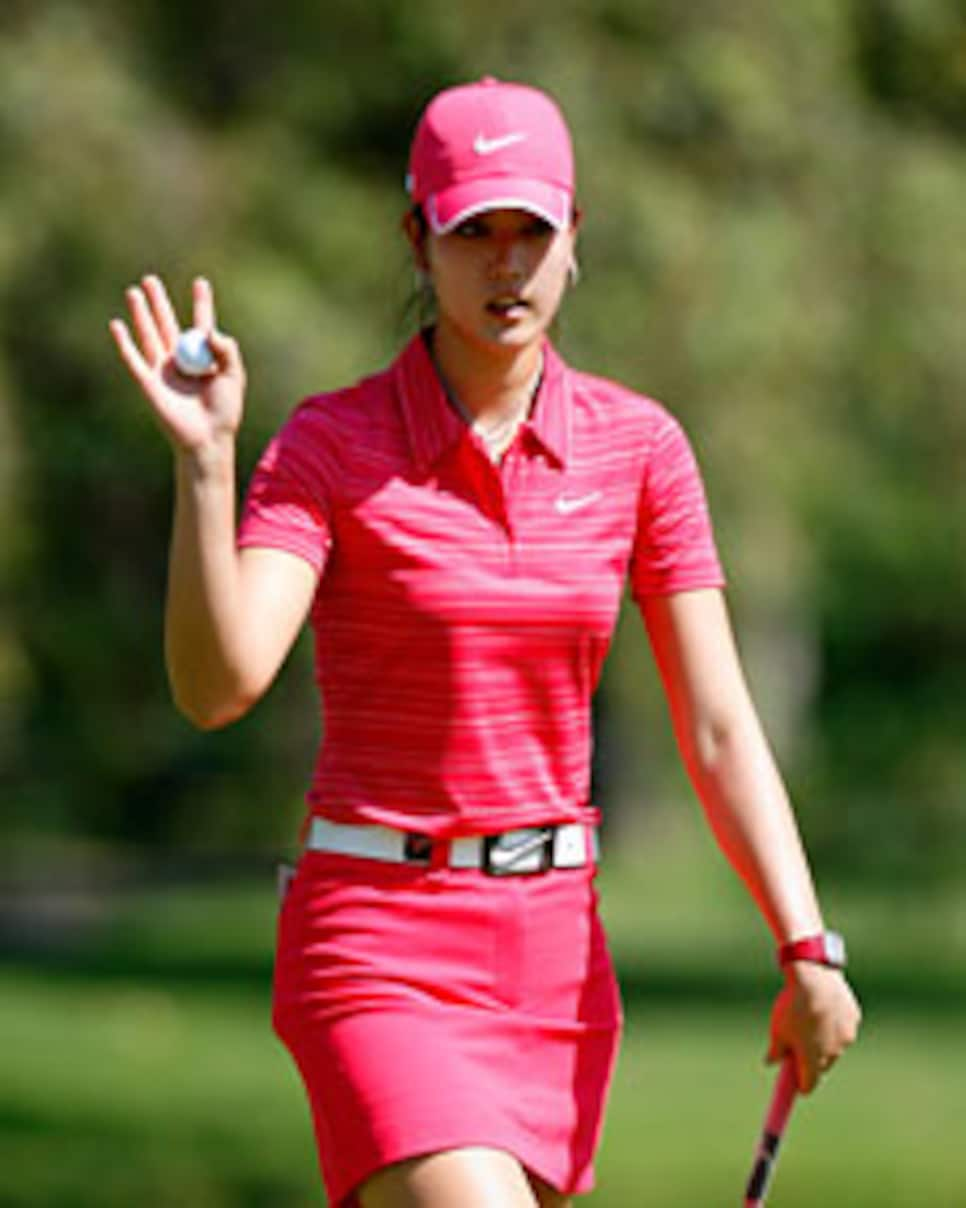 Wie's win was a good sign for the LPGA, but it needs more to survive.
On Jan. 22, the LPGA will mark the 60th anniversary of its first tournament winner: amateur Polly Riley, whose 295 beat Louise Suggs by five strokes in the Tampa Open. The new tour played 14 tournaments in 1950 and with a small number of bankable stars -- Suggs, Babe Zaharias, Patty Berg and Betsy Rawls among them -- the LPGA was on its way.
By 1953, the tour had 24 tournaments. Now, after a year of turmoil marked by poor decisions and an even worse economy, the LPGA season concludes at the Tour Championship in Houston, an event fittingly without a title sponsor. It will be the 27th tournament of 2009, the fewest for the LPGA since 21 in 1971.
After 60 years of scratching and clawing -- but always surviving -- the LPGA now must redefine its business model if there is to be a year 61. With that in mind, a wide variety of stakeholders in the game were asked about the future of the LPGA. These included tour officials, both past and present from the men's and women's game, executives from tournament management, sponsors, TV executive and players.
From those discussions were gleaned shared ideas that would radically change the business model of the LPGA, changes that seem not only inevitable but unavoidable. But, as an extremely wise man told me during the depths of the financial crisis, "Sometimes situations like this force us to make decisions we should have made long ago."
If I am correctly hearing the words of those who understand professional golf, marketing and media, here is what the LPGA needs to do:
1. TAKE ON A BUSINESS PARTNER
You have to spend money to make money and the LPGA has no money to spend. Part of the tour's operating revenue comes from a 6 percent cut of prize money. The total purse dropped by more than $13 million in 2009 and will be even less in 2010. You do the math.
Where can this capital come from? One possibility is for the PGA Tour to take over the LPGA. The upside is enormous for both. They can coordinate schedules to provide better TV exposure for each tour, especially since the LPGA and PGA Tour have long-term deals with Golf Channel.
The PGA Tour and LPGA could also create innovative ideas for competition. What about having an LPGA event and PGA Tour event on the same course at the same time with alternating threesomes of men and women playing different tees with the men competing against the men and the women against the women?
What about a mixed team co-ed event that counts on both money lists? And, if the Fall Finish should fade away in 2011 as more of those events are moved into the FedEx Cup portion of the PGA Tour schedule to fill in for departing sponsors, LPGA tournaments could cover the fall portion of the Golf Channel programming schedule.
Another possibility for a cash influx would be the behemoth International Management Group. IMG's founder, the late Mark McCormack, had innovative ideas about marketing women's golf years ago. Those ideas -- a more global tour with smaller fields -- could come into play now.
Most menacingly for the LPGA would be for someone to form a competing women's tour that would not be bound to any of the existing TV or sponsorship contracts. What if Donald Trump and Rupert Murdoch got together and used their enormous financial resources, business savvy and media outlets to create an alternative tour? More on this later.
2. CREATE A TWO-TIER TOUR
Many of the top players want fewer tournaments and smaller fields -- somewhere in the 60 to 90 range instead of 144. When the LPGA purchased the Duramed Future's Tour this became a real possibility. But to make it work purses on the Futures Tour must be high enough for second-tier players to make a living. This year, the Future's Tour leading money winner earned $88,386 and No. 5 made only $42,939. That's not enough to cover expenses.
There are several advantages of fewer tournaments and smaller fields:
• If there were 24 events, for example, the stars could play all of them. There would be no weak-field tournaments.
• With no cut, like the recently completed Lorena Ochoa Invitational with 32 players, sponsors don't have to worry about the stars not playing on the weekend.
• The value of a pro-am spot is enhanced since all of the competitors will be "name" players.
How would you determine which 60 or 90 get to play? How about two-thirds of the field qualifies off the Rolex Ranking and the rest is filled out through sponsor exemptions? This allows sponsors to add box-office attractions who may have fallen in the rankings and it provides an opportunity to get fresh young talent into the field.
3. GET BETTER TV EXPOSURE
The single most important thing the LPGA needs to increase its popularity is better TV exposure. When people see the product they love it, but they have to see it. One problem is no one knows what channel has the LPGA -- a problem solved by the 10-year cable-exclusive Golf Channel deal that goes into effect in 2010. Another problem is too much delayed tape -- and that is not helped by the Golf Channel deal.
The third round of this year's CN Canadian Women's Open, in which all of the top 50 in the Rolex Rankings competed, was shown on Golf Channel from 11:30 p.m. to 2 a.m. ET Saturday night. Michelle Wie's landmark win on Sunday in the Lorena Ochoa Invitational aired in prime time, but that broadcast was also on tape delay, shown while news of Wie's victory was already available online. Delayed tape just doesn't work for sports. We love sports because it is live, improvisational theater.
Right now the LPGA is fifth in line at Golf Channel behind the PGA Tour, Champions Tour, Nationwide Tour and European Tour. Golf Channel does not deny that many LPGA events will be on delayed tape in 2010 -- it's still not saying how many -- but GC insists the ratings for the LPGA hold up well on tape compared to live. But even if it is true the ratings won't drop, what is needed is for them to grow. Will they grow on delayed tape?
For fans, a perfect Sunday would be to have the men's European Tour on Golf Channel from 9 to Noon, the LPGA on from Noon to 3 and the PGA Tour on 3 to 6 -- nine straight hours of live golf. Now that's entertainment.
Better TV exposure also helps players with endorsement deals. It's tough for an agent to try to sell a deal by telling a company its logo will appear on delayed tape at midnight. Live TV is a much easier sell.
And then, as I said above, there is the threat for the LPGA if someone puts together a plan like the World Tour concept Greg Norman had 15 years ago. What if someone gets a TV partner for the exclusive rights to 24 events (Norman had FOX and Murdoch on board) then goes to a few dozen top players and says, "Come with us, get on live TV and we will guarantee you a paycheck every time you tee it up because we have no cut?" The big names could even get a cut of the action -- bonuses for playing. There will be takers, I guarantee it.
4. COORDINATE WITH INTERNATIONAL TOURS
What some perceive as a weakness of the LPGA is actually a strength: It has global appeal. The most lucrative revenue stream for the LPGA is Korean TV rights, which will bring in $4.5 million in 2010. The LPGA, Japan LPGA and Ladies Europe Tour need to build an integrated schedule with more co-sanctioned events.
This will help fill out a full-year competitive schedule, and it will help grow the game globally by taking its biggest stars to all parts of the world. One problem with this idea is that the JLPGA is financially healthier than the LPGA right now. Still, it would benefit all three tours down the road to work together now.
5. GET THE ADT CHAMPIONSHIP BACK
The most innovative idea in years was the ADT Championship, in which 32 players qualified for a season-ending event with multiple cuts and a $1 million first prize with only $100,000 going to second. The ADT format, Trump International golf course and Mar-a-Lago mansion for the year-end awards dinner combined to make for a perfect conclusion to the season.
Neither ADT nor Trump wanted to leave the LPGA but were forced out when former commissioner Carolyn Bivens decided to give the season-ending date to Stanford Financial for the Tour Championship. How'd that work out? And what sense does it make to have a Tour Championship with a 120-player field? What's exclusive about that? Trump loves women's golf and would return in a heartbeat if given his old date back.
Not all of these ideas can exist simultaneously. In fact, some are mutually exclusive. The point, however, is this: There is significant economic opportunity in women's professional golf but to capitalize on that opportunity it is going to take some creative thinking -- and a new business model.
The talent is there. What's missing is the financial resources and a visionary plan. Both might be right under the LPGA's nose, if their eyes and ears are open, as Mike Whan says his will be when he takes over as commissioner on Jan. 4. Otherwise, someone will make an end run and totally marginalize the tour we have known and loved for 60 years.