News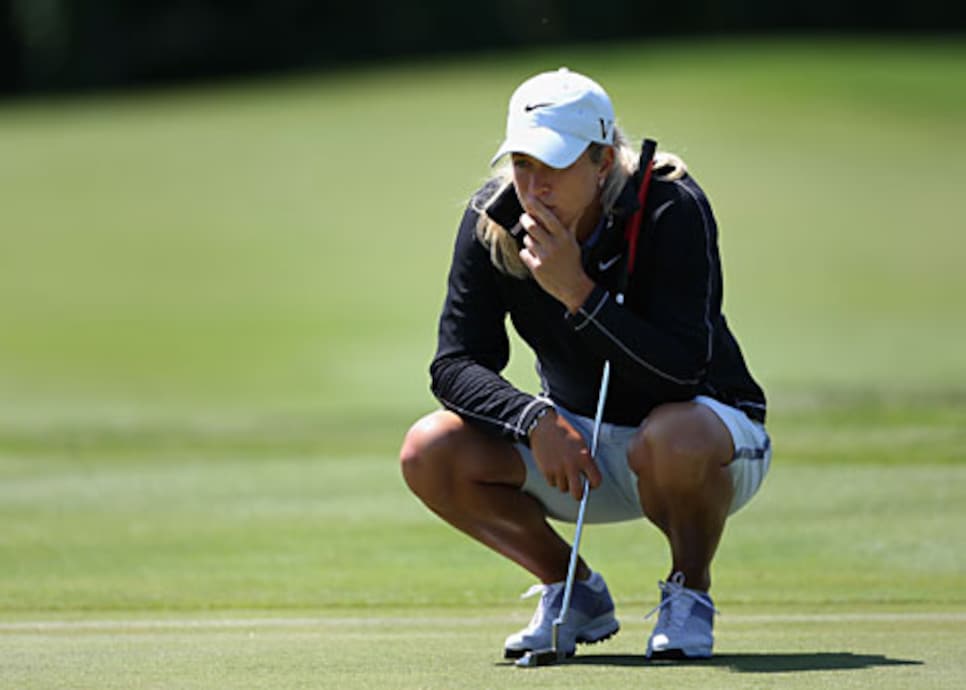 Suzann Pettersen has played 37 LPGA events without a win.
HAVRE DE GRACE, MD. -- Progress is rarely linear, more often than not following a circuitous path fraught with potholes and detours. Even Tiger Woods has endured several "What's wrong with Tiger?" stretches during his remarkable career, the most recent ending last week with breathtaking birdies on the final two holes at the Memorial. Suzann Pettersen would like to provide a similar dismissal of doubts this week at the McDonald's LPGA Championship.
The 28-year-old Norwegian is one of the most compelling players in women's golf. An impressive athlete with the physique of a skier, one of her passions, a sharp wit and no fear of speaking her mind -- remember the casual obscenity dropped into an NBC interview at the 2002 Solheim Cup -- she needed only success to become a media darling.
That success was slow in coming -- it took 82 tries to get her first LPGA victory -- but when it came it was in such a rush there appeared to be little doubt the women's game has discovered its next great star. Beginning with her breakthrough victory at 2007 Michelob Ultra Open, which was backed up by her first major championship here at the McDonald's less that a month later, Pettersen won five times in 15 LPGA events.
Then one of those unexpected detours popped up. Since the 2007 Honda LPGA in Thailand, Pettersen has played 37 LPGA events without hoisting a winner's trophy, although she has won in Europe during that stretch. She comes into the LPGA Championship, the last to be played at Bulle Rock and the final one to be sponsored by McDonald's, playing well enough to have six top-10 finishes in 11 LPGA starts this year, including two second-place finishes.
"I love this tournament and it's a great course for us to play a major at," she said. "Of course it was one unforgettable moment for me winning in 2007. Having said that, I need to play my very best in order to put myself into a position to win again. I think my game is good enough to do it." Bulle Rock, with its length and wide fairways softened by early week rain storms, will benefit players who are long off the tee and aggressive. Pettersen is both.
It's difficult to place a finger on exactly why Pettersen has gone so long without winning. While she has had physical problem in the past -- elbow surgery in '04 and back problems in '05 -- there is no injury to blame. And it is not like any particular part of her game has gone south. She is one of the best ball strikers on tour, drives it well and has impressive imagination and touch around the green. Her problem in closing out tournaments likely can be traced to her inconsistency in closing out holes.
"My game is there," Pettersen says about her chances to win this week. "I need a good week with my putter and I will be up there fighting. If I can take my best days on the green into each round I will be happy."
The numbers seem to back up Pettersen's assessment of herself. She has the sixth-best scoring average on tour this year (70.38) despite being T-20 in putts per GIR and T-44 in overall putting, needing 29.78 whacks per round on the greens. Some observers simply feel Pettersen needs a little more patience and to be a little less self critical to rediscover the winning formula that seemingly had placed her on a path to contend for the No. 1 spot in the Rolex Rankings.
Almost inexplicably, after her successful 2007 season, Pettersen changed coaches, caddies and equipment. While all of those changes could very well end up being for the better, the fact that there were so many in so short of a time meant there was a lot of adjusting to do. There have been indications in her play of late that Pettersen is ready to emerge from that period of adjustment an even better player.
One key element Pettersen has added -- and stuck with -- is the game coaches Pia Nilsson and Lynn Marriott, teachers of the VISION 54 peak performance approach to the game. They have improved her focus on the course, boosted her confidence and helped her learn to not be so hard on herself when the unavoidable bad shot pops up. That improved attitude along with a lot of hard work in the gym has Pettersen feeling something good is on the way.
"I have improved significantly in a lot of different areas and feel well prepared," she said going into the McDonald's. "A major reason for this is my physical condition which is better than ever, and my confidence off the tee is good."
For Pettersen to say her physical condition is better than ever is to say a lot. She has always been one of the best-conditioned athletes on tour.
And if she can find the same confidence with her putter she now feels about her driving -- a sometimes erratic club in the past -- she will have rediscovered the winning formula that had anyone who saw her win her in 2007 thinking she was the best big thing in women's golf.
While detours are usually marked, potholes pop up unexpectedly and wrong turns are only known after the fact. There is a sense of calm around Pettersen that leads you to believe she has rediscovered the road to victory, and that this time when she starts winning she may not abandon the habit quite so quickly.