News
14-Year Old Alexis Thompson One Back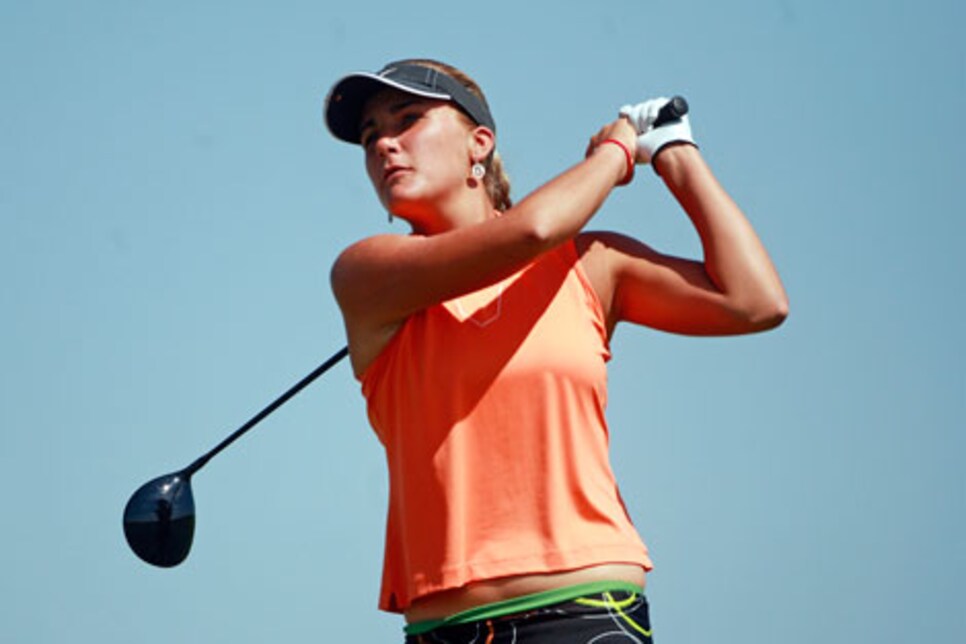 Thompson finished T-34 at the 2009 U.S. Women's Open and won the 2008 U.S. Junior Girls title
PRATTVILLE, Ala. (AP) -- Scotland's Janice Moodie shot a bogey-free 8-under 64 on Thursday to take a one-stroke lead over 14-year-old Alexis Thompson in the Navistar LPGA Classic, with Michelle Wie and top-ranked Lorena Ochoa two strokes back.
Moodie, a two-time winner on the LPGA Tour, played her final nine holes -- the front nine on The Senator course at the Robert Trent Jones Golf Trail's Capitol Hill complex, in 6-under 30. She birdied her final four holes and six of her last seven.
"All of a sudden I'm hitting driver, wedge, wedge, wedge," Moodie said. "I thought, you know, I better capitalize on this one, and I did. think I was more thinking about how the golf course has dried out compared to making the birdies."
Thompson had eight birdies and a bogey.
"Everything was working for me," said Thompson, a ninth-grader from Coral Springs, Fla. "My ball striking was good. My driver was a little off, but I'm not going to complain. I rolled my putter really good."
The sister of PGA Tour player Nicholas Thompson, she won the 2008 U.S. Girls' Junior and tied for 34th in July in the U.S. Women's Open.
The 36-year-old Moodie noted that Thompson was "almost a third of my age."
"The thing is, I think she wants to beat me more than I want to beat her," Moodie said. "I used to be that age. I know what it's like."
Thompson made a late decision to travel to Alabama to attempt to qualify. Event officials canceled a Tuesday qualifier when enough spots opened up to add all qualifier participants. "My dad was like, 'You want to go and try to qualify for this event?'" Thompson said. "I was like, 'Yeah, sure, why not?'"
Wie eagled the par-5 fifth -- hitting a 3-wood to 6 feet -- and had five birdies and a bogey on the links-style course.
"It's a fun golf course. It's interesting," Wie said. "It's really nothing like we played all year. You know, it's is fun golf course. You have to put it in the fairway and get on the greens and make the putt."
Ochoa, the defending champion who finished second last week behind Sophie Gustafson in the CVS/pharmacy LPGA Challenge in Danville, Calif., had a bogey-free round. She's winless in 11 starts since the Corona Championship in April and has two victories in 17 events this season after winning 21 times in the previous three years.
"I'm feeling good," Ochoa said. "I'm for sure really happy with my round. It was a good day, an easy day, because I didn't make any bogeys. It was just a lot of birdie chances, and we love to have those days."
Karine Icher also opened with a 66, and Alena Sharp, Lisa Strom, Katherine Hull, Na Yeon Choi, Meaghan Francella, Inbee Park, Eunjung Yi, Pat Hurst, Sung Ah Yim and Pornanong Phatlum shot 67s.
Thompson, who had a morning tee time, was the talk of the tournament, even after Moodie took the lead in the afternoon.
"It's amazing," Ochoa said. "I was warming up on the range when I heard that a 14-year-old was winning the tournament. It's very impressive. I wish her the best for the rest of the week."