News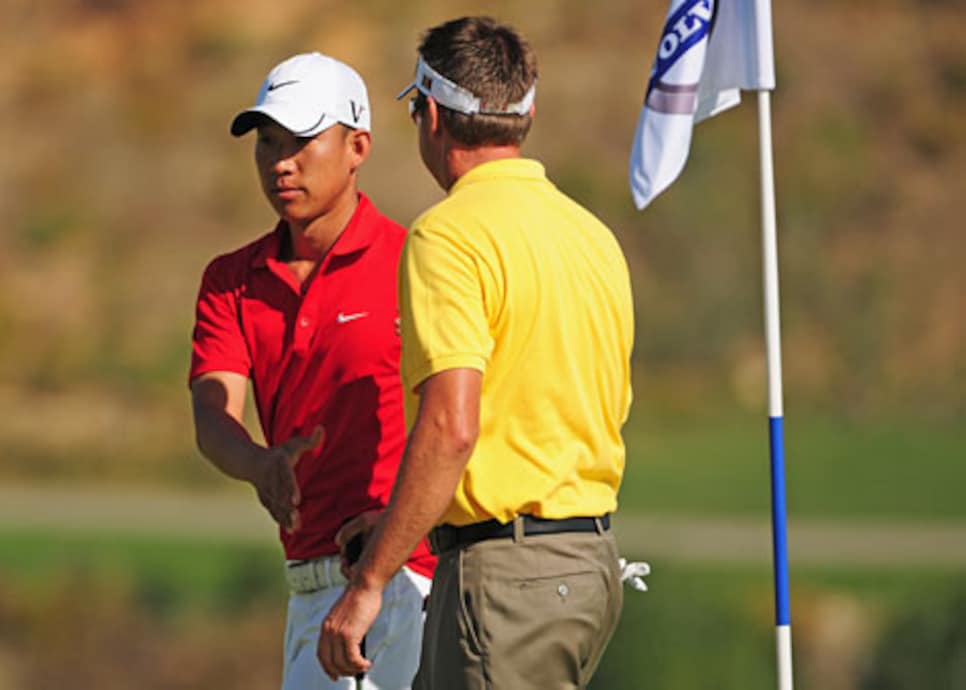 Kim defeated Allenby in the rematch of their Presidents Cup match. They also may have set the standard for the most awkward post-round handshake.
1. Rain-plagued Viking Classic becomes first PGA Tour event canceled since 1996.
Unfortunately for the Green Bay Packers, their "Viking Classic" was played as scheduled.
2. Marketing executive Michael Whan hired as LPGA's newest commissioner.
We know what you're probably thinking, but no, he's not from South Korea.
3. Rematch: Anthony Kim beats Robert Allenby in World Match Play semifinal.
Does Kim have a partying problem? Who knows? But can Allenby beat Kim? Obviously not.
4. For the 2010 British Open, R&A says it will build a new tee for the Road Hole.
So what are people supposed to call it now? The Freeway Hole?
5. Tiger Woods wins his 10th career PGA of America player of the year award.
We'll admit it: A year ago when his leg was in a cast, we never saw this coming.
6. Dwight Eisenhower becomes first president inducted into the World Golf Hall of Fame.
Critics say Ike didn't win any majors -- unless you count World War II.
7. Wisconsin's Erin Hills, rumored as a future U.S. Open site, sold for a reported $10.5 million.
Becoming the Bandon Dunes of the midwest isn't easy.
8. South Korean teen Chang-Won Han wins Asian Amateur, and spot in 2010 Masters.
Skeptical? Have you seen the British and U.S. Amateur champs' records lately?
9. Prince Andrew builds nine-hole layout on grounds of English estate.
He'll likely never be the King of England. But at least he's got his own golf course.