News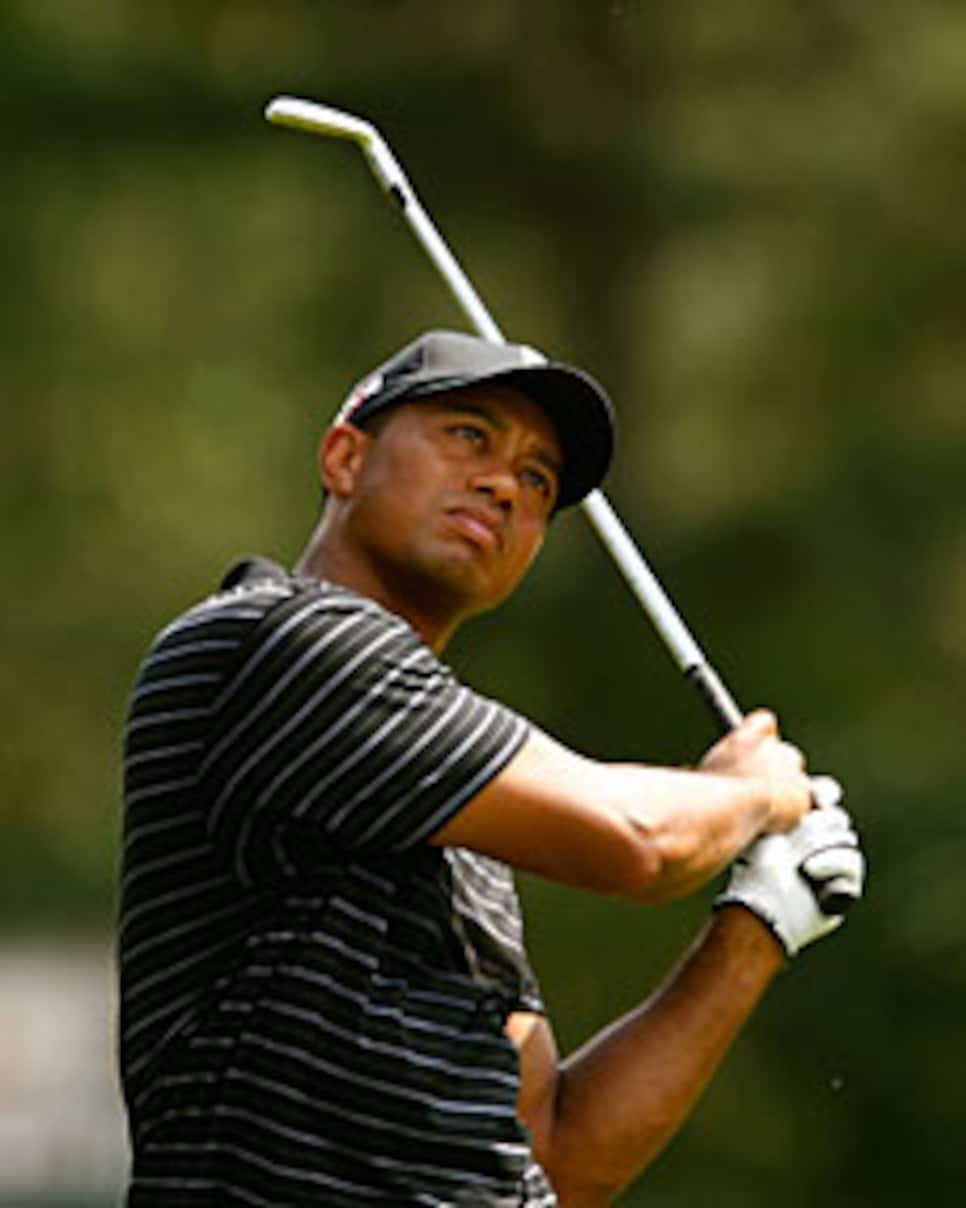 Two shots off the lead heading into the final round, Tiger Woods is within reach of his second FedEx Cup title.
ATLANTA -- Gentlemen, start your cash registers.
At some point in time, just not Sunday, the Tour Championship may actually be about something other than money. The silver winner's trophy that looks like a hood ornament for a Boeing 747 is a nice trinket to own, but right now there's no way right it can compare to the lucre at stake here, where piles of money are stacked as high as the MetLife blimp.
There is no way to underestimate the amounts to be handed out at East Lake Golf Club ... $7.5 million in tournament prize money and $35 million in FedEx Cup bonus money. And it's all destined to fill the pockets of the fortunate 30 players on hand this week. These players are aware of a simple fact: this is more than golf, this is high finance. They may swap out their caddies for accountants.
The winner of the FedEx Cup gets a $10 million bonus. And if that person is Tiger Woods and he also wins the tournament, it would be worth a cool $11.35 million -- the winner's share of $1.35 million added on.
"It's a lot of money," said Steve Stricker.
No one's arguing against that.
Woods had a quick answer when asked if he'd like to have a putt worth $11.35 million Sunday.
"Sure, and I'd like that putt to be about like this," he said, holding his fingers an inch apart.
If Woods does hit the jackpot, he can simply add it to the $82 million he's already made and go out and buy himself a new gadget. Like maybe a country, or something.
Kenny Perry, who leads Woods by two shots after three rounds, has made about $30 million in his career, so if he's lucky enough to win the FedEx Cup, he can take the $10 million back home to Franklin, Ky., and buy some new mowers for the golf course he built. Or buy another golf course.
The only way Perry can win the FedEx Cup is to win Sunday, not have Steve Stricker, Jim Furyk or Zach Johnson finish solo second, and not have Tiger Woods finish in a three-way tie for third or better. Another Perry scenario would have him winning the tournament, and there's a three-way tie for second that does not include Woods or Steve Stricker, or there's a five-way tie for second that does not include Woods.
"There's a lot of scenarios out there," Perry said.
One scenario Perry got out of the way early was being too sick to play. He was dehydrated the first day when it was hot and humid. He said his arms felt like "rubber bands." He wound up shooting 72 in the first round after starting to feel nauseous when he was getting ready on the driving range.
"It was like a sauna," he said. "It smoked me."
Perry smoked right back on Saturday with his 64, the low round of the tournament. He said the chance to win $10 million has gotten his attention.
"How could it not? But I'll tell you this -- it's not going to change my life if I win the $10 million. But it will definitely give me some opportunities to help some people. I want to start a foundation. There are some things I want to do for charities."
Sean O'Hair was tied with Woods at six under until he made a bad swing at the 17th tee and knocked his ball into the lake. O'Hair, who will be paired with Phil Mickelson in the next-to-last group Sunday, said the FedEx Cup playoff notion isn't just lucrative, it's entertaining.
"It's a completely different deal," he said. "This is like football and basketball, it's not about what you did in the regular season, it's all about what you do in the playoffs."
For O'Hair to win the FedEx Cup, he has to win the tournament, Woods has to finish in a three-way tie for second or worse and Stricker has to tie for second or worse.
For Padraig Harrington to win the FedEx Cup, he must win the tournament and Woods must finish in a two-way tie for second or worse. If it sounds confusing, that's because it is.
The PGA Tour produced a 28-page, spiral-bound, full-color booklet just to present the numbers and introduce the FedEx Cup scenarios. The guy who put it together and crunches the numbers to keep track of it all is an MIT grad.
Woods said he worked out his game plan on how to keep up with the FedEx Cup and all the money at stake a long time ago.
"I'd much rather just win the tournament and the FedEx Cup will take care of itself," he said. "Right now, I'm two back and have an opportunity and that's what I'm going to focus on."