News
Dark Ending To A Brilliant Week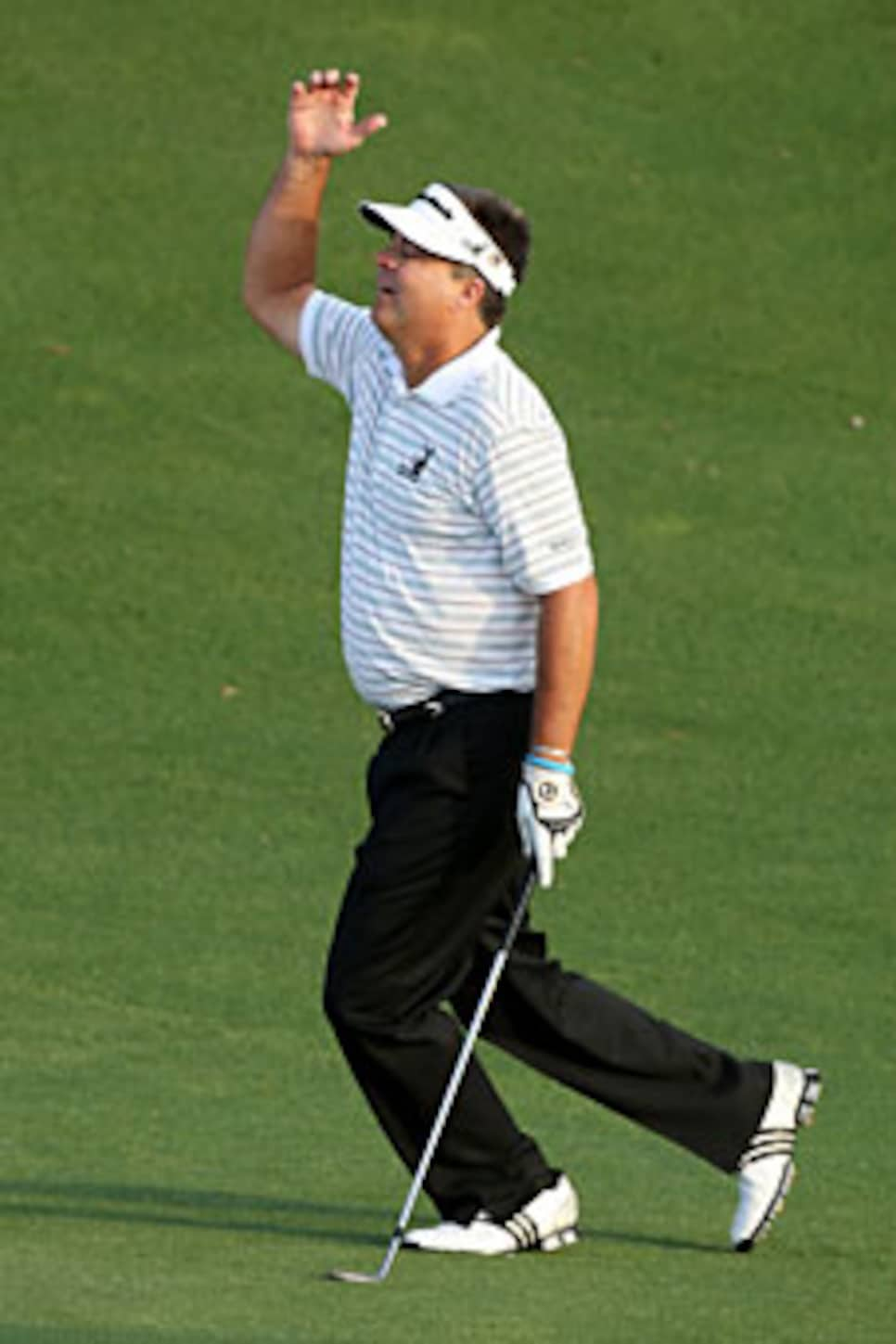 Kenny Perry's late collapse revealed the painful side of major championship golf.
Three days later, I'm still feeling bittersweet about this year's Masters. No offense to Angel Cabrera, who was certainly a worth champion -- he's won the Masters and the U.S. Open, my two favorite major championships, in the last 22 months -- but it was hard not to feel really, really sad for Kenny Perry. And maybe a bit sucker-punched as well.
Perry controlled the Masters for the first 70 holes, and looked like he was going to become the oldest player ever to win a major. And then he kicked it away over the last four holes -- two in regulation and two in suden death -- with some of the ugliest shots I can recall a tour pro ever hitting under pressure. And then Perry came to the media center at Augusta National and faced the music, giving a series of the classiest, calmest, most honest interviews you'll ever see an athlete give. He was the anti-Sergio Garcia, blaming only himself for his misfortune, and sitting there listening to him was both refreshing and heartbreaking at the same time. Maybe this is a bit unfair to Cabrera, but this felt like one of those majors -- still feels like one of those majors -- that was lost by the player who finished second instead of won by the player that finished first.
It reminded me of the 1990 U.S. Women's Open at Atlanta Athletic Club. For two and a half rounds, Patty Sheehan (who at the time had not won the championship, a glaring hole in her otherwise Hall of Fame-worthy resume) dominated the field, eventually amassing a 10-shot lead. But rainy weather all week caused a series of delays, which ultimately forced a 36-hole finish on Sunday. In the middle of the third round, Sheehan started to stumble. As good as she had been for 45 holes, she was worse for the final 27. She eventually lost the entire lead, and the championship, to Betsy King, then broke down sobbing in a post-round interview with ABC's Judy Rankin. The outcome was shocking to everyone, including King, who (as I recall) seemed more than a bit stunned in her press conference after the trophy presentation.
I still remember sitting in the media center that night -- an indoor tennis or basketball court at the Atlanta AC, I can't remember which -- staring at a blank computer screen, wishing the story would write itself. Jaime Diaz, now my colleague at Golf World but then the golf writer for the New York Times, was as stricken by Sheehan's monumental collapse as I was. At 2 a.m. we were the last two writers left in that makeshift media center, and neither one of us had written even the first paragraph of our stories.
What's my point? I guess it's that every now and then you get what I call a "sad" major. Last week's Masters, as terrific as it was for just about the entire week -- glorious weather, fantastic course set-up, great scoring (and thus the loud galleries), the dreamy Tiger-Phil Sunday pairing, and the drama of a sudden death playoff -- left me feeling more sad for the guy who lost than happy for the guy who won.