News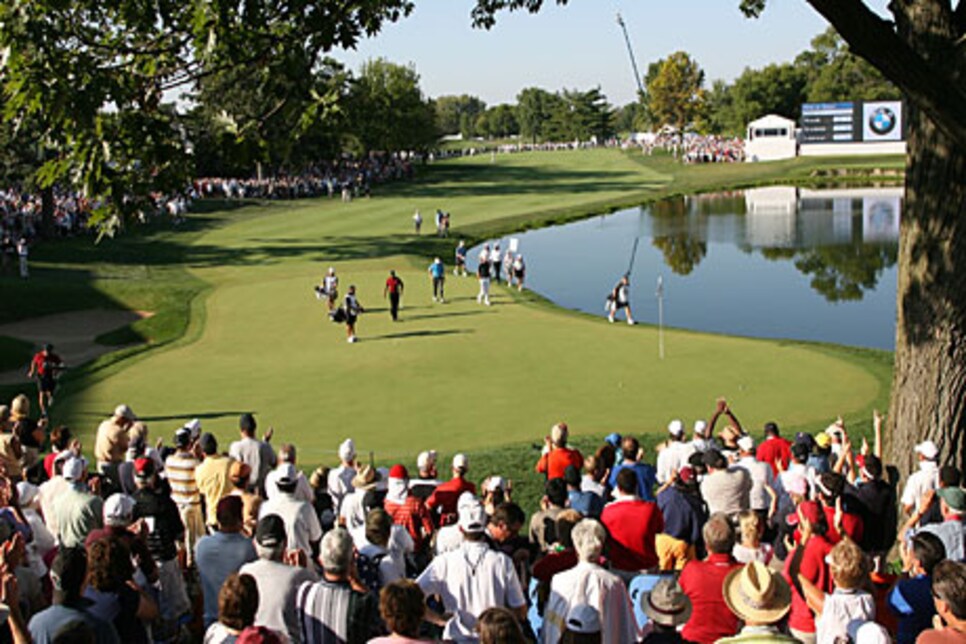 Should Chicago land the 2016 Olympics, Cog Hill strikes many as the natural golf venue
LEMONT, Ill. -- Ty Votaw has Oct. 2 circled on his calendar. The same for Oct. 9. Votaw, the PGA Tour's executive vice president and the point man for golf's possible inclusion in the 2016 Olympics, will find out on the first date what the host city will be, and a week later, he'll know if golf will actually be part of the Olympics in seven years.
And maybe sometime soon after, Cog Hill Golf and Country Club will become golf's home for the Olympics.
It's too early to speculate, Votaw said, but the reviews of Cog Hill by the players at the BMW Championship were generally favorable, if that accounts for anything. Even after Tiger Woods tore the course apart for a record nine-under-par 62 on Saturday, that did little to detract from the venue's luster.
"The golf course is fantastic," Padraig Harrington said. "It's a big, tough golf course. They can throw anything at you out there, if they play this thing from the back and put some tough pins in there."
Said Tiger Woods: "It's longer, the greens are much more difficult, the bunkers are a lot deeper."
After re-opening in May following a $5.2 million redesign by Rees Jones, Cog Hill measures 7,616 yards if played all the way back. Jones said if the course is played in the Olympics, there are teeing options that would come into play.
"Because of the gap in the quality of players in the Olympics, they could set up the course easier," said Jones, who also supports Cog Hill as a potential site for the U.S. Open. "Cog Hill last week proved itself a major championship venue."
Steve Stricker said Jones' revisions at Cog Hill worked out well.
"He's got a unique design to his greens, but I think here, the ridges that he put in are just a little bit softer than some of the other places that I've played that he's done," he said. "But very good, very good-looking changes."
Votaw emphasized there is a long way to go before deciding on an Olympic venue, the first hurdle is that Chicago is chosen as the host city over Tokyo, Madrid and Rio de Janeiro.
"There are just so many moving parts right now," he said. "Until we know whether golf is included, we can't really talk in terms of working with an organizing committee of that city and looking at the landscape of that option."
Votaw called Cog Hill a "good golf course" and indicated that a public course such as Cog Hill might be preferable as a venue rather than a private course.
"I would tend to say a public golf course would be the choice, but that's not an absolute. There are operational issues, security issues, proximity to the Olympic Village. We just haven't focused on any one site.
"It's a real open question mark. The security issues associated with an Olympic venue is a real dynamic, and I'm assuming the Olympics standards are a little more stringent than a week-in and week-out PGA Tour event."
Jones said that if golf is included in the 2016 Olympics and if Chicago is the host city, there are just two options for the golf venue: Cog Hill and Medinah Country Club, a private course.
He said a private course is a doable option.
"Remember, the first time golf in the Olympics came up a while ago, Augusta National was mentioned as a possible venue." Jones said.
All four potential Olympic cities have adequate golf facilities, said Votaw, who reiterated that the process of picking a city and including golf is still in motion.
"Until later, it's kind of moot to talk about it."