News
Rhoden Takes Title For 8th Time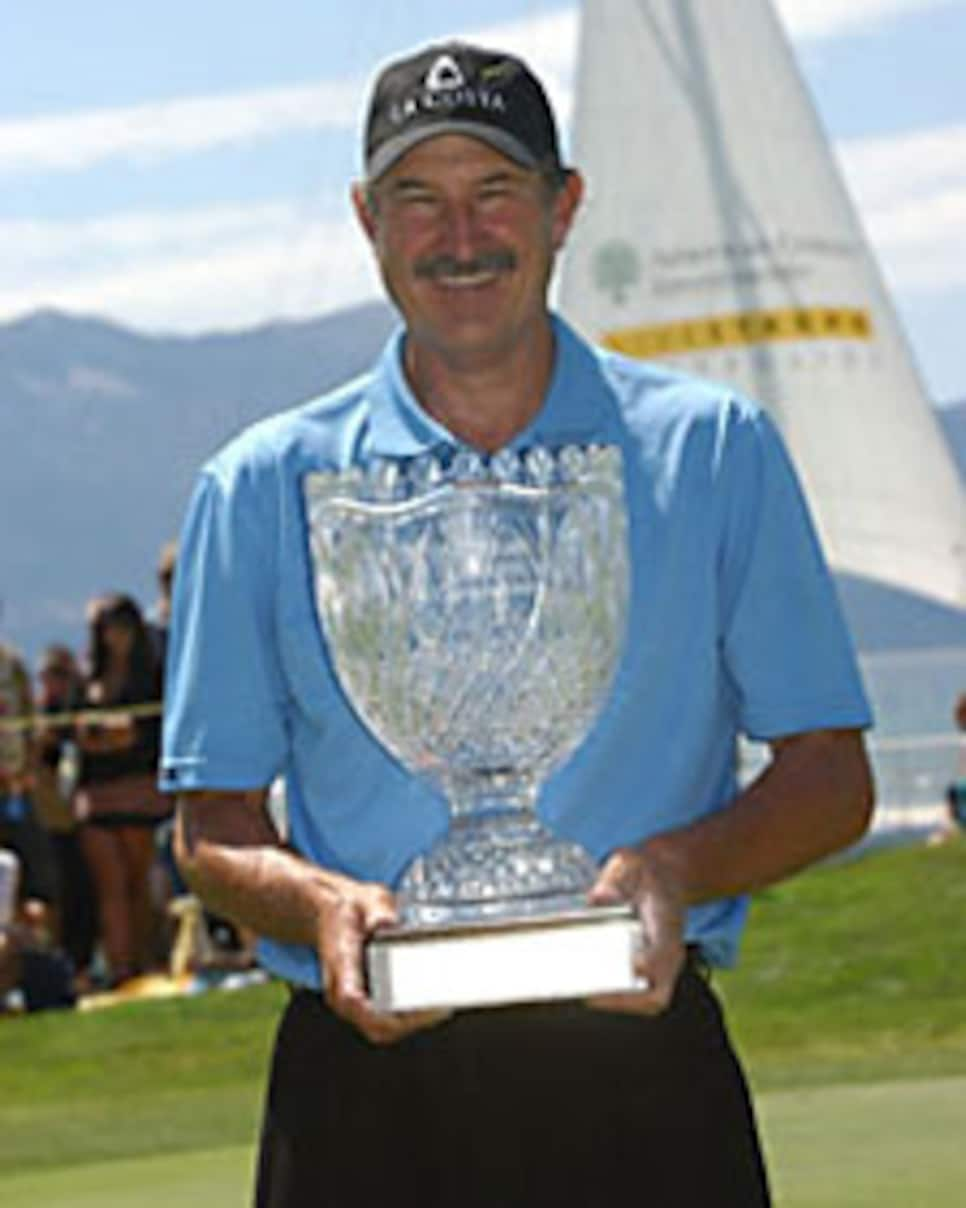 A former All-Star pitcher, Rhoden briefly played on the Champions Tour.
STATELINE, Nev. (AP) -- Defending champion Rick Rhoden led all day but had to hold on at the end to claim a record eighth victory at the American Century Celebrity Golf Championship after rival Dan Quinn's comeback attempt ended with a shot into the pond guarding the 18th hole.
Rhoden, the 56-year-old former All-Star pitcher, shot a 2-over 74 that was good enough to claim the $125,000 winner's check at the 20th annual golf tournament at Edgewood-Tahoe Golf Course, holding off late charges by the ex-hockey player Quinn, Dallas Cowboys quarterback Tony Romo and ex-quarterback Billy Joe Tolliver.
"Golf is like pitching, every day is different," said Rhoden, who had eight birdies during a 5-under 67 on Saturday but only two in the final round Sunday.
Rhoden used back-to-back birdies on the ninth and 10th holes to offset four bogeys for a total of 74 points in the modified Stableford scoring system that awards six points for eagle, three for birdie, one for par, zero for bogey and minus-two for double bogey or worse.
"Sometimes in golf, more than other sports, the harder you try, the harder it gets. Today was the most nervous I've been in a while playing golf," he said. "I'm happy I won but I didn't play very well."
Romo, who led after an opening round 3-under 69, shot a 71 Sunday to finish second with 71 points.
Quinn, who has won the tournament four times usually in head-to-head battles with Rhoden, trailed by 1 point headed for the 501-yard 18th needing a birdie to have a chance to win.
But his third shot from about 100 yards out hit in the rough, spun back with a bounce on a rock into the pond and finished with a double bogey. That left him with 70 points in a tie for third with Tolliver, who had four birdies Sunday on the front nine enroute to a 3-under-par 69.
"The door was wide open, that's for sure," Quinn said. "If I make birdie, it's mine. I tried to get cute on the last one and keep it below the hole ... and I pulled it a hair."
"If I don't win, to be honest I don't care if I finish second or 10th," he said.
Rhoden and Quinn both hit trees in the left rough with their drives on No. 18. But while Quinn hit his third shot in the water, Rhoden hit his 175 yards to about 20 feet behind the hole and 2-putted to seal the win.
Romo, who was third last year, was within striking distance but flipped his putter in the air after missing a 5-foot attempt for bogey on the par-4 15th. He birdied the 16th but watched a 20-foot birdie attempt slide past the left edge of the hole on the par-3 17th before finishing with a birdie.
"I still feel one year pretty soon Tony Romo is going to win this event," Rhoden said about the relative newcomer.
Hockey's Jeremy Roenick finished fifth with 73 points. NHL Hall of Fame goalie Grant Fuhr started the day tied with Rhoden for the lead, but struggled to a 6-over-par 78 Sunday to finish sixth with 67 points.
Marshall Faulk, who finished tied for 15th, came within 2 feet of his second hole-in-one for the week, but his timing was bad. He aced the 169-yard, par-3, 17th in Friday's first round, but that was before the $1 million prize for such a feat went into effect for the second and third rounds. On Sunday, he hit it just past the pin and it spun back but stopped before it got to the hole.
"I thought I made it," he said.
Although Rhoden has now taken home the trophy eight times, it marked the first time he has won two years in a row. The victory gives him career winnings of $1.125 million at Tahoe. That's more than the most money he ever made in a season in baseball -- $900,000 with the Houston Astros his final year in 1989.
Rhoden posted a 151-125 record with a 3.59 ERA in 16 years playing with the Dodgers, Pirates, Yankees and Astros. He also was one of the best hitting pitchers the game has seen with a career batting average of .238 with nine home runs and 75 RBI.