News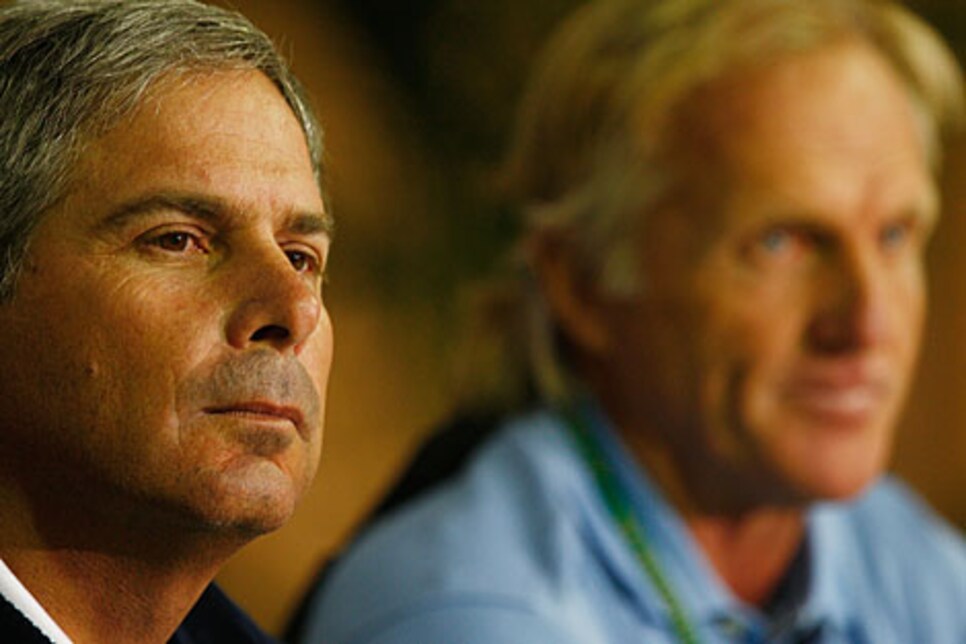 Fred Couples has admitted part of his goal as captain is to stay out of his players' way.
SAN FRANCISCO -- How hard is it to be a captain in the Presidents Cup? Well, how hard is to choose where to go to dinner? If every captain followed the lead of Fred Couples, the captain's job would be easy.
As Couples has said more than once this week, it's a "no-brainer."
After watching his team practice Tuesday at Harding Park, Couples set his mind on a bigger goal than how to captain his team -- which restaurant to visit when they have a chance.
"I'm thinking we'll go to Mickey Mantle's place," Couples said.
Uh, Mickey Mantle's is on Central Park South in Manhattan.
"Oh, I mean Joe DiMaggio's," Couples said.
There is a Joe DiMaggio's steak house here in North Beach, so Couples actually had it right. But then again, he's had it right from the beginning, this business of how to be the captain in this biennial match play competition between the U.S. and the rest of the world that doesn't include Europe. That's a mouthful and it probably sounds really involved and really complicated, but it isn't.
The Couples game plan at the Presidents Cup could be drawn on a napkin with a crayon.
"My style is, about every three questions I get, I answer one and I look to Jay [Haas] to find out where we have to be and at what time," Couples said. "So very easy style."
Couples and Greg Norman announced their teams for Thursday's six matches in the alternate-shot format. It took about two minutes to do, because the players had already told both captains who they wanted to play with and what order they'd like to play.
On Monday, while Couples walked down the fairway in a practice round, he said that everybody on his team wanted to be paired with Steve Stricker. And Stricker is going to play with Tiger Woods on Thursday, so guess who won that discussion?
It should always be that way. In fact, try it at the Ryder Cup, too. Let Tiger make up the pairings, since he seems to be running most everything else.
The fact remains that the pairings issue is one of the most overcooked, over-thought, overvalued situations in this match play setup.
Couples said a few days ago that he was just going to hang a chalkboard in the team room and let everybody figure it out on their own. He was joking, but not by much. The players decided the teams, not the captains.
"They basically came to me and told me who they wanted to play with, and that's how we did it," Couples said.
Norman said he sent an e-mail to each of his players asking who they wanted to play with and so he knew about a week ago what his parings would be. In other words, his players decided the teams, too.
Couples said the only problem he's had is that not everyone gets it when he tries to be funny.
"Just two or three guys that maybe won't get my sense of humor until tomorrow, the next day," he said.
This whole Presidents Cup thing hasn't been competitive, or side-splitting, with the U.S. holding a 5-1-1 lead, and there were more than a few questions asked this week about how to make it more even.
Like should the U.S. lose a few to make it more compelling? And you can't really paint the Presidents Cup in shades of anger or animosity because 23 of the 24 players compete on the PGA Tour (Ryo Ishikawa the exception) and most of the players here are neighbors in the same two country club developments in Florida anyway, or so it seems.
Like the role of captain, it's a lot simpler than that. The Presidents Cup just needs to be around awhile and history will take care of itself, sort of like the Ryder Cup, where the captain's job has a longer track record, but is no more important. Couples has played on four Presidents Cup teams and five Ryder Cup teams so he knows the motivation game that captains play.
He has heard former U.S. Presidents provide pep talks, seen videos designed to rally the players and instill patriotism, engaged in stilted team-bonding practices. These plans are all well-intentioned, but think about it for a second: Is a "Remember the Alamo" speech going to make Tiger Woods putt better?
Give Couples, and Norman, for that matter, some credit for laying off the heavy cheese. The scope of Norman's influence may be nothing greater than installing an auto-racing arcade game in the team room.
Meanwhile, Couples listens to Haas, delivers a couple of speeches, and tries to figure out which former Yankee's restaurant should figure in his dining future.