News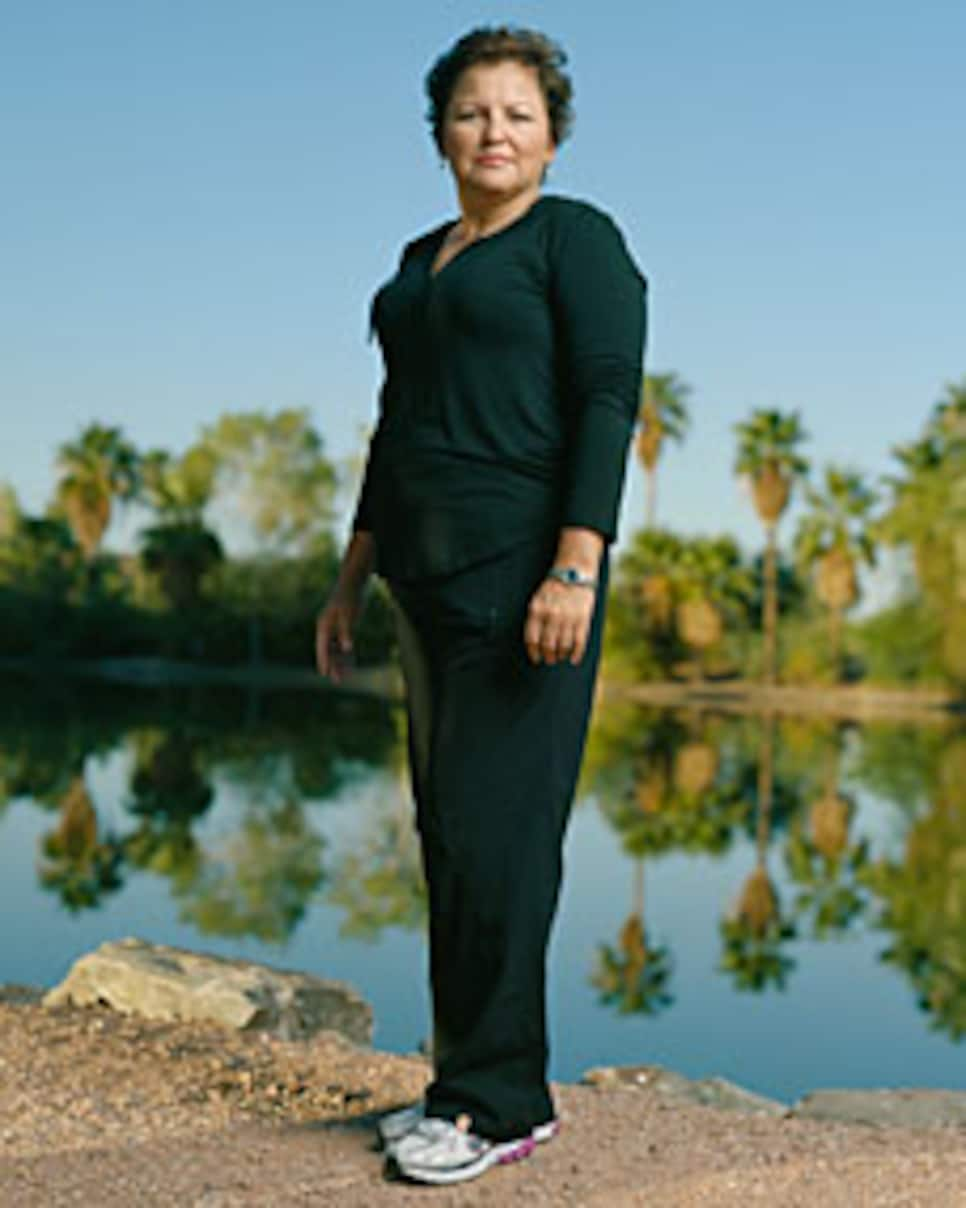 ROLE models: Farr-Kaye has fought her second battle against the deadly disease, continuing to draw strength from sister Heather, whose memory is honored (below) at Arizona State's Karsten Course.
Heather Farr was a wisp of a woman once cast as David to Laura Davies' Goliath in a Curtis Cup match at Muirfield. The Scots called her "The Wee One." She was a shade over five feet tall, barely a hundred pounds, all of it tenacity infused with charisma and accentuated by an infectious smile that was too deeply ingrained in her character to allow breast cancer to erase it.
A two-club wind could have knocked her down, but for 4½ years she stood her ground against the battering ram of a deadly disease, refusing to wallow in the toxic pool of self-pity. She saw a cure just around the corner of every hospital hallway she walked, including the last one.
"I've got to show you something," she said to her younger sister Missy Farr-Kaye, escorting her to a room in which a bone- arrow transplant machine was being installed. Once she regained her strength, she intended to have another transplant, she said, her enthusiasm and will unyielding even as death closed in.
It is here that Missy's own story begins, where Heather's sadly ends. Heather, for whom LPGA stardom seemed imminent, was 28 when she died in 1993. Four years later Missy, 30 at the time, survived her own breast cancer scare, only to have the disease return in July 2008.
Would anyone have begrudged her asking, Why me? She posed this question instead: "What would Heather do?"
Life does not come with instructions, but Heather left behind a tutorial on coping with cancer. Dignity and grace provided the subtext to its central theme: Surrender is not an option and a smile is obligatory.
"I have one bar of how to do it," Missy says. "Heather's my bar."
Farr-Kaye, 42, a former professional golfer and now the associate head coach of the women's golf team at Arizona State, has met her crisis with the kind of resolve and optimism that suggests that anything less would be a stain on her sister's legacy.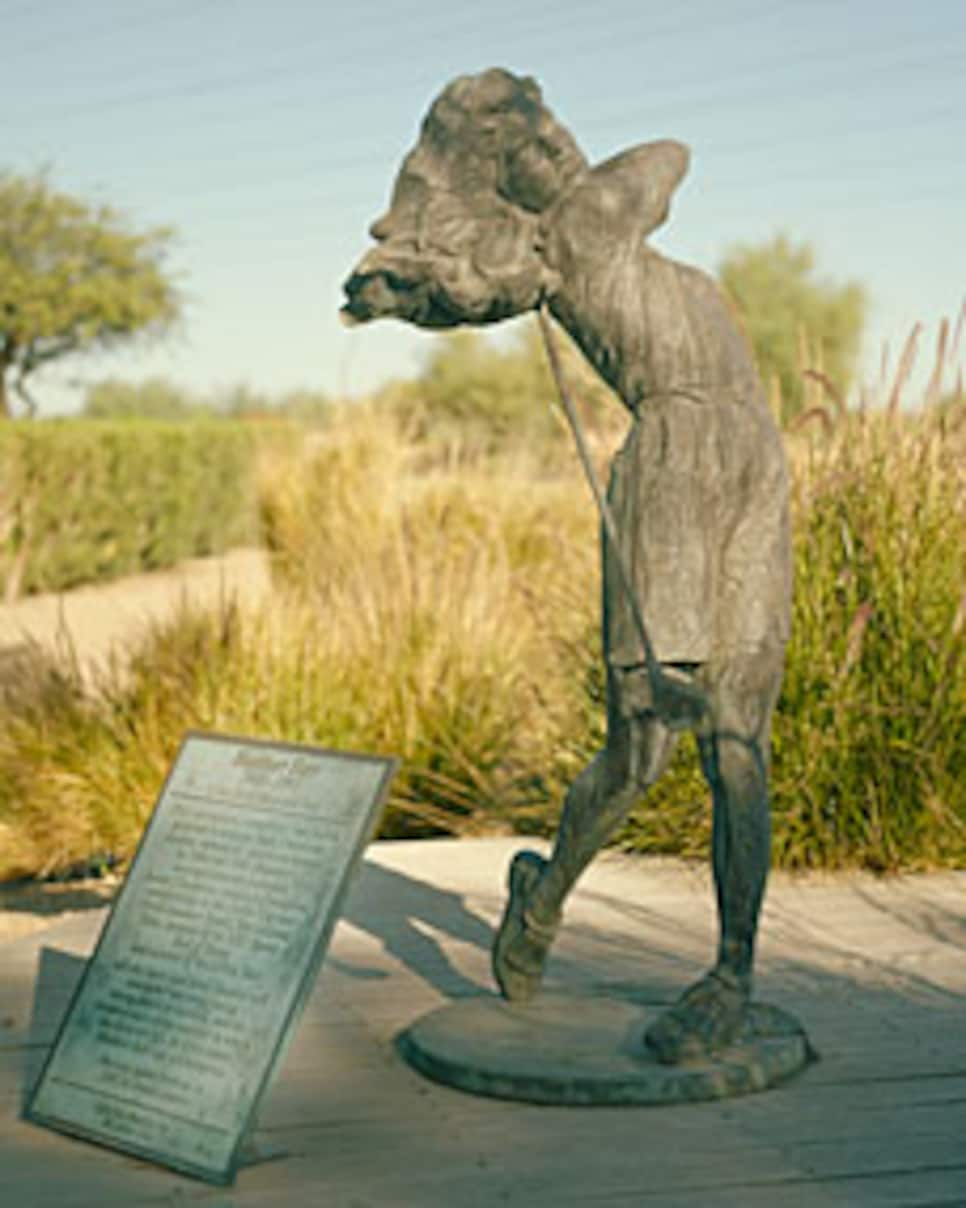 "It's not for me to question why," Missy says in a room adjacent to the pro shop at ASU Karsten GC in Tempe, Ariz. "Everybody has their cross to bear. For whatever reason this has been the Farrs'."
A bilateral mastectomy the first time around was thought to have precluded the possibility of Farr-Kaye's cancer returning. Doctors declared her cancer free. Go live your life, they said, the words an ode to joy for a mother of two young sons.
A decade later, a third son having joined her family, she discovered a lump. A biopsy came back positive. "I thought, 'Oh, my God, this can't be happening again. How in the world could this have come back?' " Farr-Kaye recalls. "The doctors said 'The breast tissue's all gone.' I had my pity party for a day or two, then I sat back and said, 'OK, what would Heather do?'
"Heather's outlook was so amazing," says Farr-Kaye. "Occasionally, among very, very close friends and Mom and Dad and me, she would break down. But she would always perk herself up. She never wanted anyone to feel sorry for her. She'd say, 'There are people out there that have it worse than me.' You have to be tough. You have to be strong to face it."
Yet even an iron chin can turn to glass in this arena; the cancer and the toxins required to eradicate it countervail the strength one might bring to the fight. "Your body starts to turn because of the effect of all the chemo," Farr-Kaye says. "It's a poison. Really, that's what killed Heather."
For Farr-Kaye, chemotherapy every three weeks begat the familiar cycle of illness, as well as hair loss that would have been the least of her concerns were it not for young sons incapable of understanding that it was a side effect and not indicative of something more sinister.
"Even if you're feeling good, if you don't have hair, they're like, 'Mom must be dying,' " she says. Only her oldest son, Dalton, 16, understood. Cameron, 5, "couldn't wrap his brain around it as to why" her hair was falling out. Riley, 11, went mute on the matter. "Didn't want to talk about it, nope, 'I know you're fine,' " she says. Two months into her chemo, his cone of silence lifted.
"I'm afraid you're going to die, and you're not telling me the truth," he said.
"I've always told you the truth," she replied, "and I'm telling you now that I'm going to be OK. If I had cancer everywhere and only had a couple months, I would tell you that to prepare you for it."
Death at that point was less of a concern than the minutiae of living day to day. Colleagues raised money to provide housecleaning for a year, and friends brought meals, allowing her to direct her depleted supply of energy toward her children and recovery. In the meantime, she buried her malaise beneath a perpetually cheery demeanor that her doctors wanted to bottle and sell as a prescription. "You would never know when Missy was having a bad day," says friend and former LPGA player Val Skinner.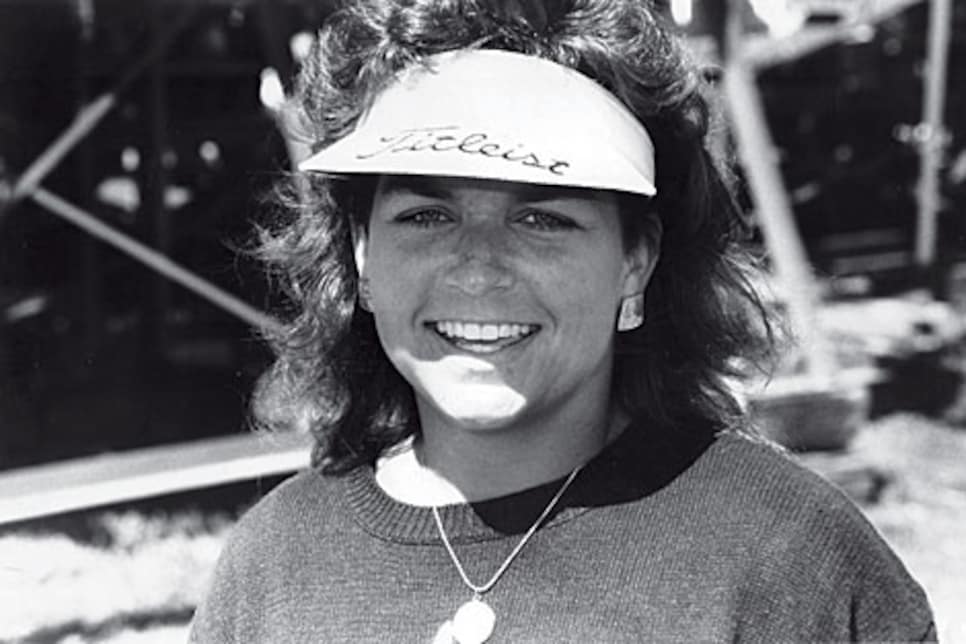 A colorful scarf concealed the only evident sign of her ordeal, that and the pink ribbons ASU golfers attached to their golf bags in her honor. Have they ever had a better golf lesson? "We had an amazing number of difficult challenges," ASU head coach Melissa McNamara Luellen says. Besides Farr-Kaye's cancer, there were the December defection to pro golf of ASU's best player, Anna Nordqvist, and the January wrist surgery of defending NCAA champ Azahara Munoz. "We couldn't really complain about any of them. We just had to face them and deal with them. Missy was a role model on how to do that. Life throws challenges at you. You just say, 'Bring it on. Let's figure out a way to handle it and beat it.' "
The Sun Devils responded by winning the NCAA Women's Championship last spring. More importantly, Farr-Kaye persevered; there is no evidence the cancer had spread. Even her hair is growing back, "curly, like Heather's," she says.
Her future has again been returned to her, its long view intact and indicative of the optimism that helped carry her through months of uncertainty. In the midst of her chemotherapy treatments, a close friend, Lynn Simmons, asked her to make a promise.
"When we turn 50, we've got to play in the [U.S.] Senior Women's Amateur," Simmons said.
"You have a date," said Farr-Kaye, a reinstated amateur.
Short term, there are more pressing concerns. Causes tend not to wait for you to find them. They find you instead. Missy has been unwittingly recruited to share. Cancer patients don't want to be defined by the disease, don't even care to talk about it much, but Missy's eloquence and the storehouse of knowledge gleaned from Heather and expanded by her own experiences won't allow her to seal her past.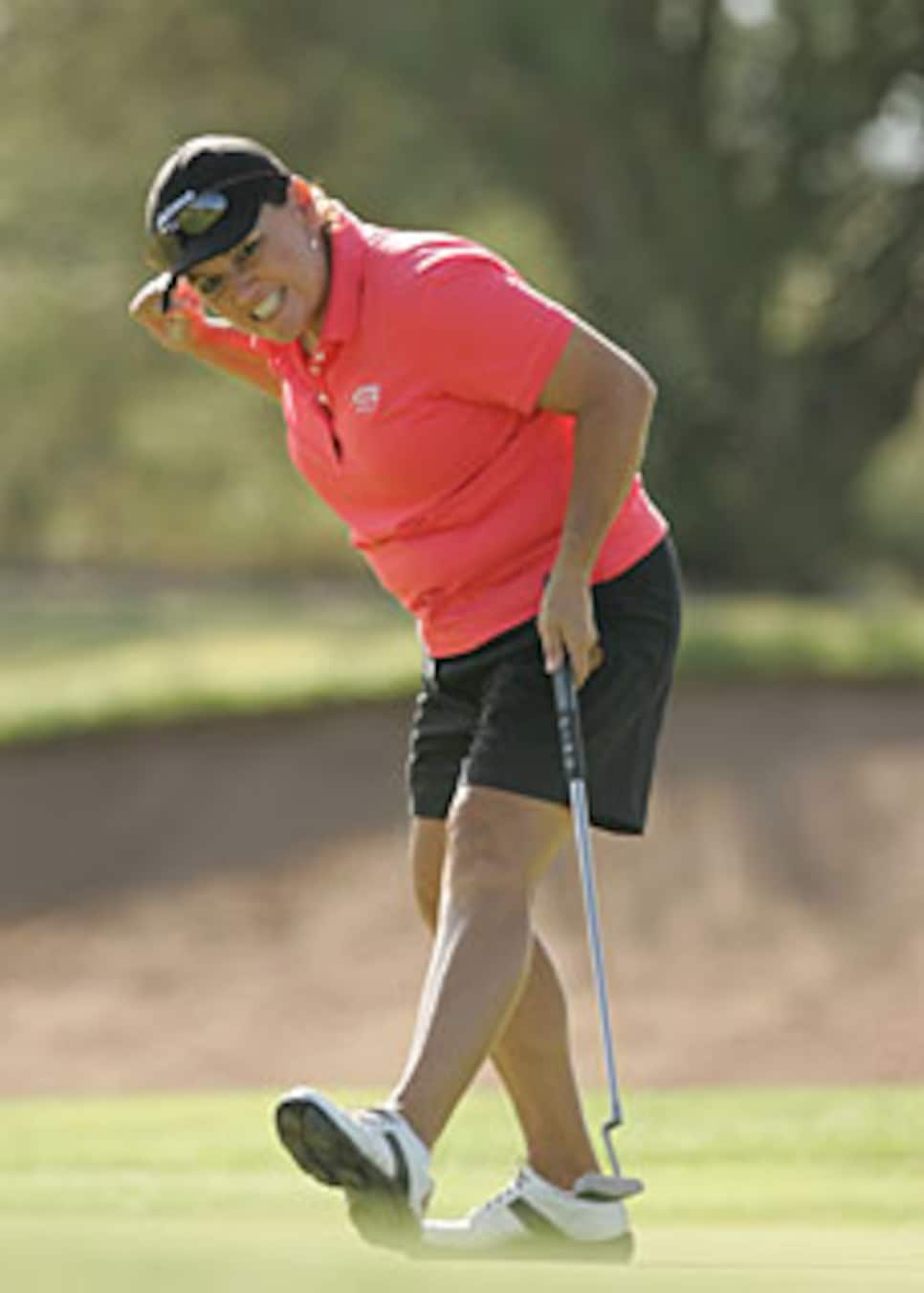 "My guess is that Amy Mickelson is at that point where, 'I just really don't want to talk about breast cancer.' I get there easily," Missy says. "But every month someone will say to me, 'I have a friend of a friend just diagnosed, will you talk to them?' Of course I will. It's such a scary world that if I can help anybody navigate it and give them an ounce of courage to go and get that treatment they need to save their life, I would do that in a heartbeat."
What would Heather do? This is it.
"We had a couple of discussions, Heather and I, specific to young women thinking they're bulletproof," Skinner says. From that chat and at Heather's urging, the Val Skinner Foundation (valskinnerfoundation.org) began an annual fundraising event as "a legacy to her," Skinner says, its mission to help eradicate breast cancer and to educate younger women on the importance of early detection. The American Cancer Foundation estimates that 192,370 women in the U. S. will be diagnosed with invasive breast cancer in 2009 and that 40,170 will die from breast cancer this year.
"I had an opportunity to see Missy this spring," Skinner says. "To see her go through treatment again, and hearing her talk about Heather and how painful it still is for her, and how scary it's been for her this past year, was unsettling, certainly. But I saw so much of her sister in her. Like Heather, she encourages those around her, that everything's going to be fine. Missy knows her voice will help other women. Heather was so incredibly good at that. Heather was such a pioneer for young women. I think Missy appreciated that, and also feels she would want to do the same."
Missy's pedigree in golf included four years playing for the women's team at Arizona State, two of them overlapping Phil Mickelson's tenure on the men's team there. "Hopefully Amy was able to lean on what Phil knows about Heather and me, that, you know what, they did this and you can do this, too, and get through it," Farr-Kaye says. "I've sent my well wishes through mutual friends and teammates. They know I'm a phone call away if they ever need me."
In the midst of her chemo treatments, Farr-Kaye received a visit from a friend bringing dinner. The friend stared at Missy for a few seconds and said finally, "I don't think I could do this."
"Yes you could," Missy replied.
"Yes, you could, and you'd do it because we would all help you get through it."
Near the Karsten Course's 10th tee is a sculpted tribute to Heather, a small statue of her honoring her courage and memory. Missy Farr-Kaye stands as a living tribute, one who has met the bar Heather set and now serves as a beacon for future victims of this insidious disease, each of them as frightened as she was and similarly searching for answers.
One of those answers is already available. It is awaiting only the right question.