News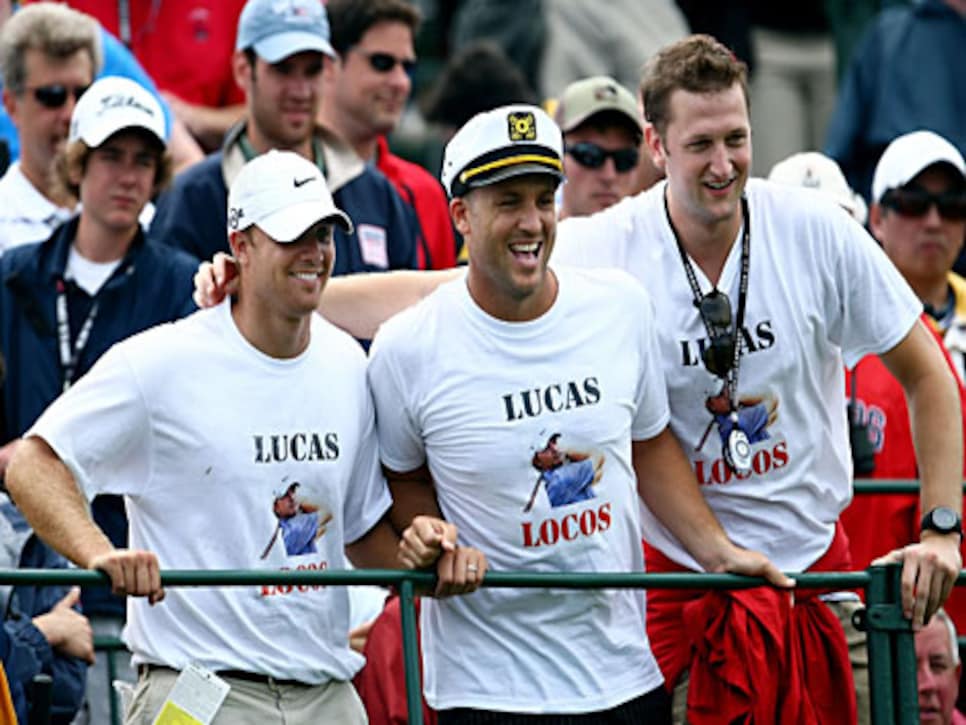 Lucas Glover had a small, but rowdy group of fans rooting him on to a U.S. Open victory.
FARMINGDALE, N.Y. -- Everybody who didn't go to work out here Monday, and that seemed to be just about everybody, showed up at Bethpage Black to see Phil Mickelson win the 109th U.S. Open golf championship. And if Our Phil couldn't win, let it be Tiger winning a major from behind for the first time. No way the nobody Ricky Barnes could do it unless some NASCAR pit crew tightened his lug nuts. David Duval! Yes! Duval, who took life's shots and refused to go away, could cause noise to race across Long Island through Brooklyn to Manhattan.
At the 16th green, P H I and L showed up.
Kids with those letters, in pink, painted on their naked chests.
"We get up there?" P said to a cop at a grandstand.
"Gotta be media to get up here."
"Aw, man, we're PHIL," I said.
"Move along, PHIL," the cop said.
Mickelson had made birdies at the ninth and 12th followed by an eagle at the 13th. He had made up a five-shot deficit and moved into a tie for the lead. On this sunny, breezy, happy day, Mickelson wore a cap with a pink ribbon printed on one side, a pink-ribbon pin on the bill, both symbols of the fight against breast cancer; his wife, Amy, is due for surgery within the month. How sweet if Mickelson would win now, with his wife at risk. How sweet to win at Bethpage, where galleries have loved him and on this day hoped that he could gain a minute's respite from nights of anxiety.
The assembled multitudes began a ballpark chant, "Let's go, Phil...Let's go, Phil," because their man could take the lead in this Open by making a 30-foot birdie putt at the simple 16th hole. Barnes had crashed and burned an hour earlier. Tiger couldn't run a putt into a dinosaur's mouth. Duval had just birdied the fierce 15th hole, the first of the four homestretch holes tucked into a corner neatly. He called it a "theater." That it was, with Mickelson and Duval now the actors on a great stage with the Open theirs to win -- but Phil missed the putt, and missed another on the 17th, and then ...
Sorry to shout, but if I could turn up the volume about six times more, it would reach the gravelly decibel levels achieved by a surfer dude in a sailor cap. Dave Yearwood stood near the railing of the grandstands to the right of the 17th green and shouted ...
"THIS IS YOUR DAY, LUKE!!"
Who's this "Luke" guy and how'd he get in here?
Somehow, the moment belonged not to Phil or Tiger, or even Duval, but to Lucas Hendley Glover. With a 64 in the second round, he was one shot off the 36-hole scoring record of 132 set by Barnes. But rare was the lady or gentleman who saw him hit a shot. He is one of those PGA Tour obscurities who jump up now and then to remind their betters how fine the line is between stars and stagehands. The 29-year-old South Carolinian, in his sixth full season, won once in 2005 but has only one other top-three finish. He became so frustrated late last season that he did what many a player has been advised to do: he took two weeks off, and then quit. For another month, in fact, Glover did "whatever I wanted to do, lay around, fish, whatever."
This Open was his when both Mickelson and Duval missed little putts at the 17th. About then, three galoots showed up in T-shirts with a picture of Glover on the front between the words, "Lucas' Locos." On the back, "Luke, We've Got Your Back." Two of the Locos were cousins, Billy Johnson, 30, and Todd Hendley, 25. The dude in the sailor cap was Dave Yearwood, 30.
They had driven up the night before, 10 hours from North Carolina, arriving just as Glover walked to the tee to begin the greatest day of his career. "We didn't get a chance to talk," Johnson said. "But when Luke saw the shirts, he laughed. We talked to his wife. She said, 'He's in a good place right now.'"
And there he stayed. By virtue of a sweet birdie at the 16th and a cozy-it-up two-putt par at the 17th, Glover led the Open by two with one to play. The 18th at Bethpage, unfortunately for lovers of drama, is an anti-climactic par-4 played on this day at 354 yards. For Glover it was a 6-iron off the tee, a 9-iron to 30 feet, and two putts. Barnes had used driver to leave himself a 50-yard pitch shot -- a birdie might put some pressure on Glover -- but his approach was only a little better than Glover's. And when Barnes's putt stayed out, Glover had two putts from four feet to win the Open. He needed one, and then, as if he had just won a nondescript event instead of golf immortality, he simply reached into the cup and retrieved the ball.
But a Loco's voice was heard across the land.