News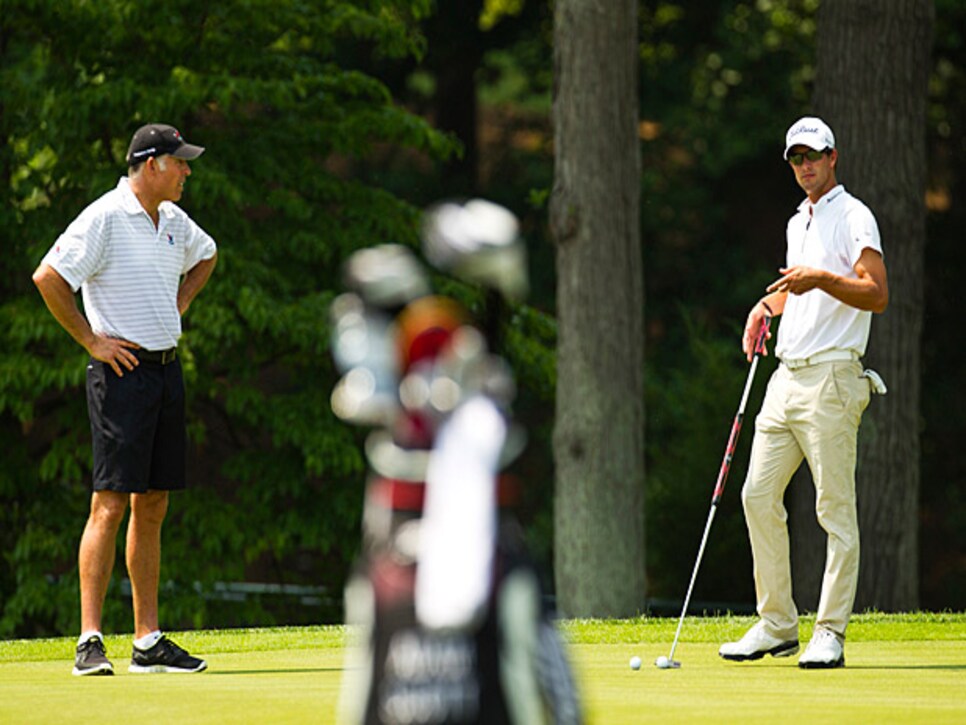 While Mark Steinberg says the Williams-Scott arrangement is temporary, questions remain about how long Tiger Woods will be out.
Here we go again. As if we needed more evidence that the life of Tiger Woods has taken on the characteristics of a Charles Dickens novel, containing enough subplots to addle the brain of even the most ardent follower, Steve Williams showed up to caddie for Adam Scott at Congressional on Saturday, in what appears to be preparation by Tiger Woods' longtime looper to work for the Australian in next week's U.S. Open. The player-caddie pairing was confirmed by sources on site at Congressional.
The knee-jerk reaction would be to assume that Woods and Williams are going to go their separate ways after 12 years and 13 major championships. That would be a fascinating story, to be sure, but there is another, more troublesome, possibility. Having Williams on Scott's bag could very well mean that Woods' return to competition is going to take longer than we all thought.
Could this mean that Tiger is going to shut it down for the year to get his left leg healthy? Could it mean that Woods is going to have yet another operation on his knee, perhaps even a knee replacement? With three more majors to play this year, and with Scott rediscovering his once-promising form, it would seem odd he would sign on a caddie for just one tournament.
And since Williams has been well compensated by Woods, he likely doesn't need to fill in an off week to pick up a paycheck. This feels like a move that has more to do with the future than with the present. It at least feels as if Williams is going to be with Scott through the rest of the majors this year.
Of course, we are not going to get any information on this from Woods. From the very beginning of his physical problems, which started on this particular downward slide when he had arthroscopic surgery on his left knee after the 2008 Masters, the information made public has been sketchy, at best, and almost always after the fact.
that Williams is only working for Scott temporarily, and that the caddie received permission from Woods to work the Open. "I think like anybody else, Steve doesn't want to miss a major, just like Tiger doesn't want to miss a major," Steinberg said.)
We were told of the severity of his leg problems at the 2008 U.S. Open after he defeated Rocco Mediate in a playoff at Torrey Pines. We were told he injured his right Achilles during his rehab from the June 2008 surgery at his return-to-competition-following-you-know-what news conference before the 2010 Masters.
And we were told he had re-injured his left knee and strained his left Achilles at this year's Masters two weeks after the fact, following a publicity jaunt to China and Korea. His announcement that he was not healthy enough to play Congressional came in a tweet on June 7 that said simply: "Not playing in US Open. Very disappointed. Short-term frustration for long-term gain."
. Consider this: Since he dislodged a fire hydrant on Nov. 27, 2009 Woods has:
Had his personal life reduced to a public punch line.
Been in rehab, but we don't know what for.
Delivered a televised apology.
Split up with coach Hank Haney.
Divorced from his wife Elin Nordegren.
Started working with swing coach Sean Foley.
Had endorsement relationships with Accenture, AT&T, Gatorade, Gillette and Golf Digest end.
Ended his 15-year relationship with International Management Group and went with Mark Steinberg when IMG did not renew his contract.
And, by the way, has not won a golf tournament.
My experience covering Woods extends back 16 years and one of the things I have learned during that time is how carefully he guards his secrets. And I don't mean just those secrets about his personal life, but everything about him. Tiger is, in many ways, a living, breathing Da Vinci Code that even fictional symbologist Robert Langdon couldn't crack.
The easiest thing in having the Tiger Beat is writing about his amazing feats on the golf course. And that's why the last 18 months have been so difficult to digest. For whatever reason -- or reasons -- the magic is lacking. Is it swing issues? Physical issues? Mental distractions? A confidence crisis? Most likely, it is a mix of all that.
Cracking the code and prioritizing the variables is complicated by the secrecy that shrouds all Woods does. Covering Tiger is like being a Moscow correspondent during the days of the Soviet Union. You figured out who was in and who was out of favor by studying the positioning of the portraits on the walls of the Kremlin, or by who stood next to whom at the May Day parade.
At the 1998 Bay Hill tournament, I asked Woods a question about the swing change he was working on at the time with Butch Harmon and his reply was: "It's too complicated to explain." My response was: "Give it a try, I've been around golf for a few decades; I just might understand." He did and I did. But the point is that there was a reluctance to share information.
At the 1999 tour stop at Torrey Pines, Woods showed up without Mike "Fluff" Cowan, his mustachioed caddie since first turning pro in 1996. On the bag was his high school buddy Bryon Bell and Tiger said it was merely a benevolent gesture on his part to throw some money Bell's way to help with his educational expenses. But rumors were swirling that Cowan had been fired.
Sure enough, we get back to Bay Hill a month or so later to find that Williams, a veteran of Greg Norman and Raymond Floyd, among others, was on Tiger's bag. Now, Williams is carrying for Scott at Congressional, the same Scott who almost won this year's Masters and then split with caddie Tony Navarro, who is now working for Angel Cabrera.
On his website, Woods says he will play next at the AT&T National at Aronimink GC near Philadelphia beginning June 30, only 11 days after the U.S. Open ends. It doesn't seem like it is going out on a very shaky limb to speculate that Woods will not be ready to play then. Or at the British Open. Or at the PGA.
But the fact is, all we know is what we don't know. Yet the appearance of Williams as Scott's caddie at the U.S. Open is a very interesting portrait on the wall of Tiger's Kremlin. And it could very well be that it's not a pretty picture, for the short term, although taking an extended break might be the best thing Tiger can do for the long term.