News
Wilson Grabs Second Title Of 2011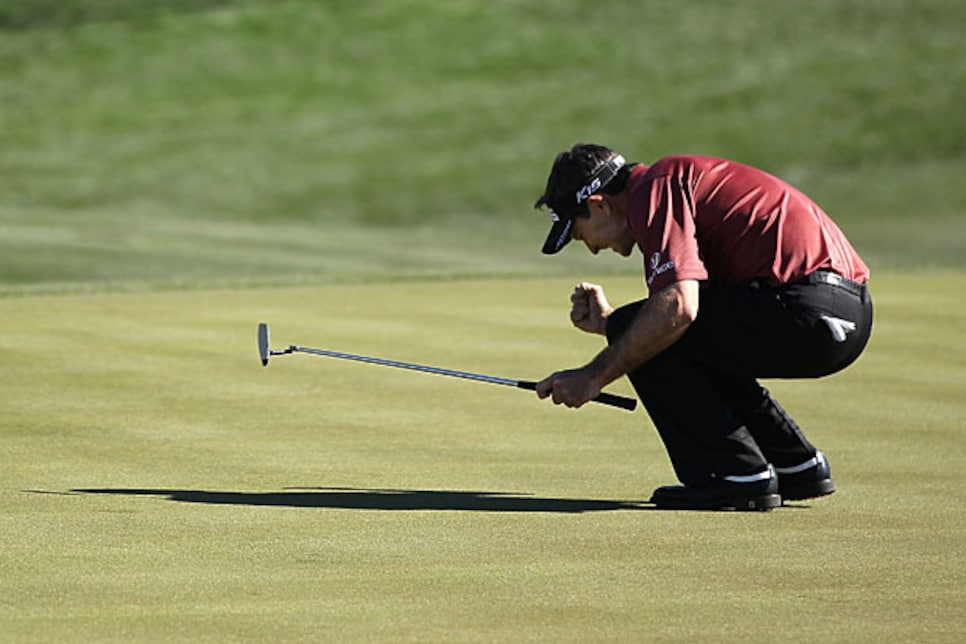 Wilson has two wins in three starts.
SCOTTSDALE, Ariz. (AP) -- Mark Wilson won the frost-delayed Phoenix Open on Monday for his second victory in three starts this year, holing a 9-foot birdie putt on the second hole of a playoff with Jason Dufner.
Wilson, two strokes ahead when play resumed Monday, closed with a 2-under 69 to match Dufner at 18 under. Dufner shot a 66, birdieing Nos. 16 and 17.
"I'm just enjoying the ride here and that's just kind of the way I'm going to look at the year here, just ride this train as long as I can," Wilson said. "Right now, the plan is to play through Bay Hill, take a week off, get ready for the Masters."
Wilson, the 36-year-old Wisconsin player who won the Sony Open last month in a 36-hole Sunday finish, made a 4½-foot par putt on the par-18th to extend the playoff after Dufner tapped in for par. Wilson won on the par-4 10th, setting up the deciding putt with a 7-iron approach from the middle of the fairway.
"That was an easy putt," Wilson said. "Just thankfully, I started it on line and knocked it in."
Dufner was facing a 7½-foot par putt when Wilson ended the playoff.
"Came out and made a couple birdies to put maybe a little heat on Mark, and he played great," Dufner said. "Great two-putt on the first playoff hole from 70-plus feet and makes birdie on the next hole."
Delays for frost and frozen turf the first four days forced the Monday finish.
Wilson earned $1,098,000 for his fourth PGA Tour title. The former University of North Carolina player also won the 2007 Honda Classic and 2009 Mayakoba Golf Classic.
He jumped from 91st to 51st in the world ranking - locking up a spot in the 64-man Match Play field - after finishing last season at No. 230.
After resuming play Monday on the 13th green, Wilson made seven straight pars before holing the winning birdie putt.
He nearly drove into the water on the left side of the 18th hole in regulation, but the ball cleared the hazard and ended up in a bunker. He hit a 9-iron approach to about 14 feet and two-putted to force the playoff.
"I got away with a bad tee shot on 18, but luckily got a good bounce and was hoping I'd finish it off there," Wilson said. "But the playoff was fun."
Dufner is winless on the PGA Tour. He also settled for par on the final hole of regulation after nearly holing out from a greenside bunker.
"It's a good start to the year," Dufner said. "To be honest, this is a course that I never really thought I could compete on. History on this golf course is a lot of long-ball hitters. Mark and myself probably aren't the longest, but we're probably not the shortest. But to be able to compete and be at the top of the field for the week is good, so it's definitely good momentum for the rest of the West Coast swing."
Martin Laird (65) and Vijay Singh (66) tied for third at 16 under, and Gary Woodland (66), J.B. Holmes (67) and Nick Watney (68) followed at 15 under.
Third-round leader Tommy Gainey, a stroke back with two holes, closed with a 74 to tie for eighth at 14 under. He made a triple bogey on the par-4 17th after hitting into the water twice on the driveable hole.
"I guess I've just got to deal with it," Gainey said. "You've got to win with class and you've got to lose with class, so I'm trying to deal with that right now."
On 17, his drive hit a red hazard stake and bounced into the water, though it still might have gone even if it didn't hit the stake. After taking a penalty drop on the shaved downslope, his chip came up short and trickled into the water.
"It was pretty bad because I had to drop on the sidehill," Gainey said. "I was worried about the ball rolling back in the water instead of trying to hit the shot. I was just trying to get over it fast and just kind of get it on the green and just take a two-putt or whatever. But I was very worried about the ball rolling back in on a severe slope like that."
Phil Mickelson tied for 29th at 10 under. He finished with consecutive 71s after getting into contention with opening rounds of 67 and 65.
After playing until dark Sunday, Wilson got to watch only a few minutes of his beloved Packers' Super Bowl victory.
"I had to wash Lane's face and put his jammies on, and I had to eat, too," Wilson said. "The chaos, with two little kids running around, I like the chaos, it's a good distraction. But at that time, I want to at least get to watch the last 15 minutes of this game. This doesn't happen every year, the Packers in the Super Bowl.
"Luckily, my son, after we played Candy Land in the middle of the fourth quarter, he said, 'OK, the last two minutes we can watch it together.' So we watched that last stand, and I was happy that they somehow pulled it off."
A day later, Wilson had a big trophy, too.