News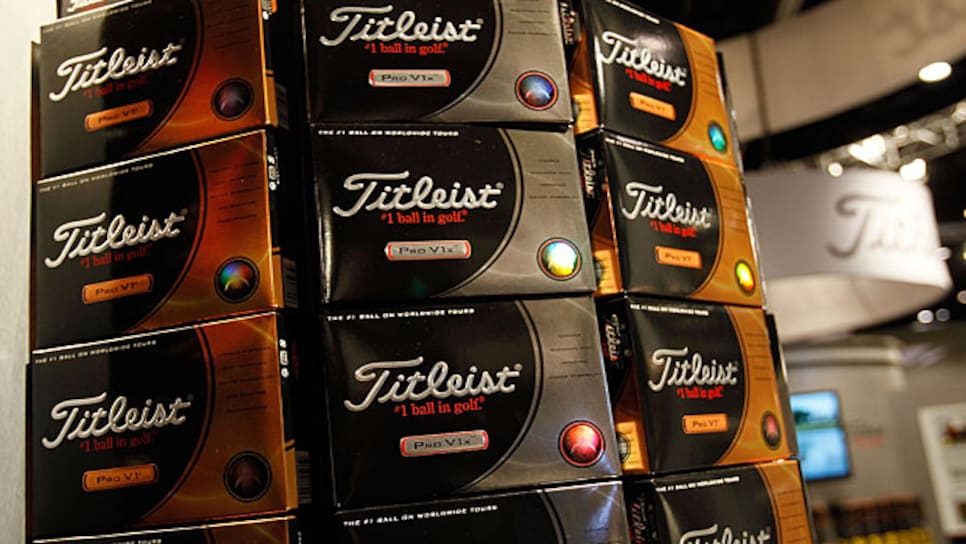 Acushnet Golf is unlikely to be bought by another golf company.
The news that Fortune Brands is looking to sell its golf division, Acushnet Golf, has sparked rampant speculation about who or what entity might swoop in to purchase one of the most successful golf companies in the history of the game.
Acushnet, with an estimated $1 billion in annual sales, encompasses the Titleist, FootJoy and Pinnacle brands and is home to the indisputable leaders in golf balls, golf footwear and golf gloves, and a legitimate force in just about every other golf equipment category that matters. It is a mighty attractive package, given its leadership positions in several categories, its dominance on the professional tours and a streamlined, but revitalized, club business that owns an unmatched presence at on-course golf shops nationwide. But despite the speculation running rampant across the blogosphere, what's not likely to happen is Acushnet being purchased by another golf company. Here's why:
First of all, the announcement by Fortune Brands doesn't necessarily guarantee that it will sell Acushnet Golf. It could simply leave it as a separate entity, which is the technical meaning of "spin off." That certainly makes it easier to sell Acushnet, which is the primary motivation of the corporate raider Bill Ackman, who owns 11 percent of Fortune Brands shares and initiated the Fortune Brands split-up talk two months ago. Still, the selling of Acushnet to another golf company, as appealing a prize as it might be, isn't likely.
First up, the price. This isn't going to be a situation like when Callaway purchased Top-Flite in 2003 for what amounted to a 1987 Scirocco with four decent snow tires. Top-Flite was a dying brand with only one meaningful asset: Its golf-ball patent portfolio. Callaway wanted it, bought it and used it well, but mostly because it didn't cost that much ($179 million). The swallowing of Cleveland by Japanese sports (and rubber) giant Sumitomo two years ago for $132.5 million was even less of an event. Acushnet Golf is more than a mouthful for several reasons. Its Titleist brand is arguably the most important brand in golf. It exudes a status that transcends the technological sophistication of its products. Among golf's intelligentsia, it simply matters more than any other brand. But more importantly, Titleist has real profits and real dominance in the marketplace. Its EBITDA (Earnings Before Interest, Taxes, Depreciation and Amortization) is approximately $120 million and historically sporting goods transaction multiples are between six and eight times EBITDA. Acushnet being an industry leader would seem to command the high end of that so let's start the bidding at $1 billion. Or possibly beyond.
Those are real dollars that could be better spent on your own business, whether you're Nike, Srixon, TaylorMade or Callaway (Nike and Callaway were contacted for this story but declined comment), so it is highly unlikely a golf company is going to spend that money to buy a brand whose leadership positions they've all been eating away at over the last five years. Plus, you're probably talking at least a decade to make up your investment, which in the 21st century might as well be an eon. In other words, this is an unacceptable amount of time to wait for the check to clear.
History also tells us this scenario is unlikely. In the last 25 years there have been 15 notable acquisitions in the golf industry. In 12 of the 15 cases, the acquired company and its brands were soon eviscerated. Not a promising history of sales and profit retention. In other words, there's only so many Callaway/Odyssey and Acushnet/FootJoy deals that work. Financially and, in some cases, culturally, these types of incestuous acquisitions usually don't work.
But forgetting the sheer numbers part of the equation, the anti-trust implications of the purchase of the Titleist ball brand or the FootJoy shoe brand by another golf company are prohibitive. Titleist has nearly half the market share of golf balls and close to 40 percent of the patents. Acushnet's shoe brand FootJoy also owns more than half the market in shoes. If the companies that have huge global golf ball patent portfolios (Bridgestone and Sumitomo Rubber, parent of Srixon/Cleveland) or are No. 2 or No. 3 in shoe sales, for instance, Nike and Adidas (TaylorMade), wanted to buy Acushnet, it's likely anti-trust issues would develop. Even if they somehow could be overcome, it would take time, probably significant time and legal maneuvering. That doesn't seem the preferred option, given that Fortune Brands announcement Wednesday included the statement, "The Board has directed management to develop detailed separation plans for consideration and final approval by the Board. The company expects to complete development of these plans -- including the structure, timing, and other related matters for each business --within the next several months."
Then there is the competitive landscape. It is unlikely companies would sit quietly on the sidelines while one of their competitors proceeds to take steps to de-leverage their competitive position. Retail accounts, too, would have their say. When the Department of Justice looks at mergers and acquisition filings, retail accounts are interviewed and it is unlikely major golf retail accounts would welcome a further consolidation of the golf-equipment landscape.
So a golf company purchase is a long shot -- at best. There are two other options that make some sense. The first is a private sector group. Private equity firms, filled, no doubt, with golfers not immune to the occasional trophy-like business decision, are relatively flush with cash. Acushnet is an attractive opportunity with a proven leadership position and a highly resilient demographic. But Acushnet is a relatively mature business and private-equity firms seek prospects for substantial growth. In other words, $1 billion is a lot to pay for a trophy. That's basically the value of an NFL franchise, and attractive as Acushnet is, it isn't as sexy as the New England Patriots. Still, a private-equity firm could decide to buy and hold the company until the economy turns around and then take it public when the IPO landscape is more attractive.
Finally, there is Asia, as in China, Korea and Singapore. Golf's great potential lies here. And so may Acushnet's most attractive buyers. There is a great amount of capital accumulation in that part of the planet and the business climate there reveals that recent transactions have proven to be favorable for sellers. It's also a part of the world where golf is growing at a fairly rapid rate. Some of Asia's top sporting goods company's that could perhaps have an interest would be Anta, China Dongxing, Li Ning and Peak.
It should be an interesting few months -- and probably not longer than that.